This year the event showcases nearly 200 artists from 30 different countries across Europe, Canada, The United States and Africa. In the midst of a pandemic and political uncertainty, it maintains an ongoing reputation as a cultural checkpoint for musicians, punters, writers and promoters around the globe – this year adding a second programme of activity in the border-city of Narva.
Such a reputation is an evident reflection of Tallinn Music Week's constant quest to go a step-beyond previous years, not only increasing the scale of the festival, but tirelessly shifting the goal-posts of the key messaging, discussions and programming that is most productive for the development of Estonia, and in-turn Europe's music scene. Sonically the festival is awash with a cross-continental fusion of styles and genres, cascading from folk, hip hop, R&B and electronic. As well as music, the festival offers a series of dynamic conferences, art exhibitions, and historical tours around Tallinn that are attended in mass.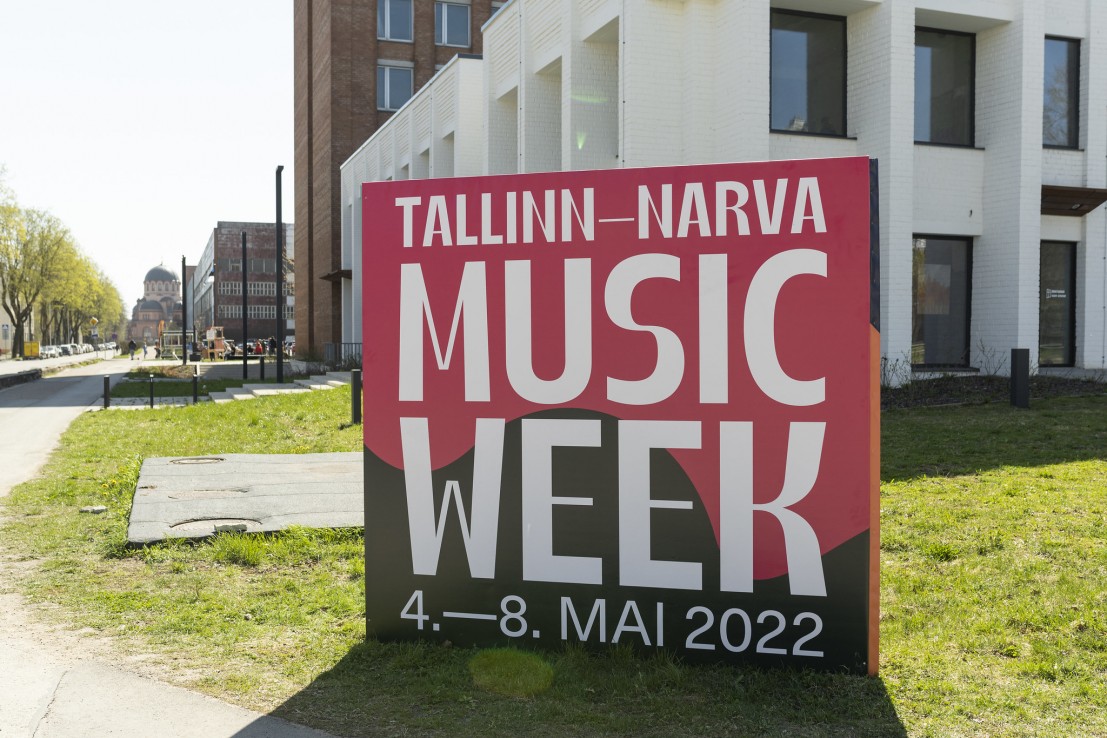 Estonia, a nation occupied since the medieval times, remained a Soviet republic until 1991 when it declared its freedom alongside several other Baltic states. It's a country that places tremendous value in its independence and cultural identity and its music week acts as a sonic statement, channelling messages of hope and prosperity through the arts.
Alar Karis – president of Estonia – echoes such sentiment in his opening speech in Narva. "We have recently seen many examples of what music can do. We have seen a musician heading into battle in the heart of Ukraine singing a traditional song about the red viburnum, turning it into an anthem for peace recognized the world over. The song gives hope and encourages to stand together. We've seen a pianist, wearing body armour, playing Chopin in front of the Irpin cultural centre, a building destroyed by bombs."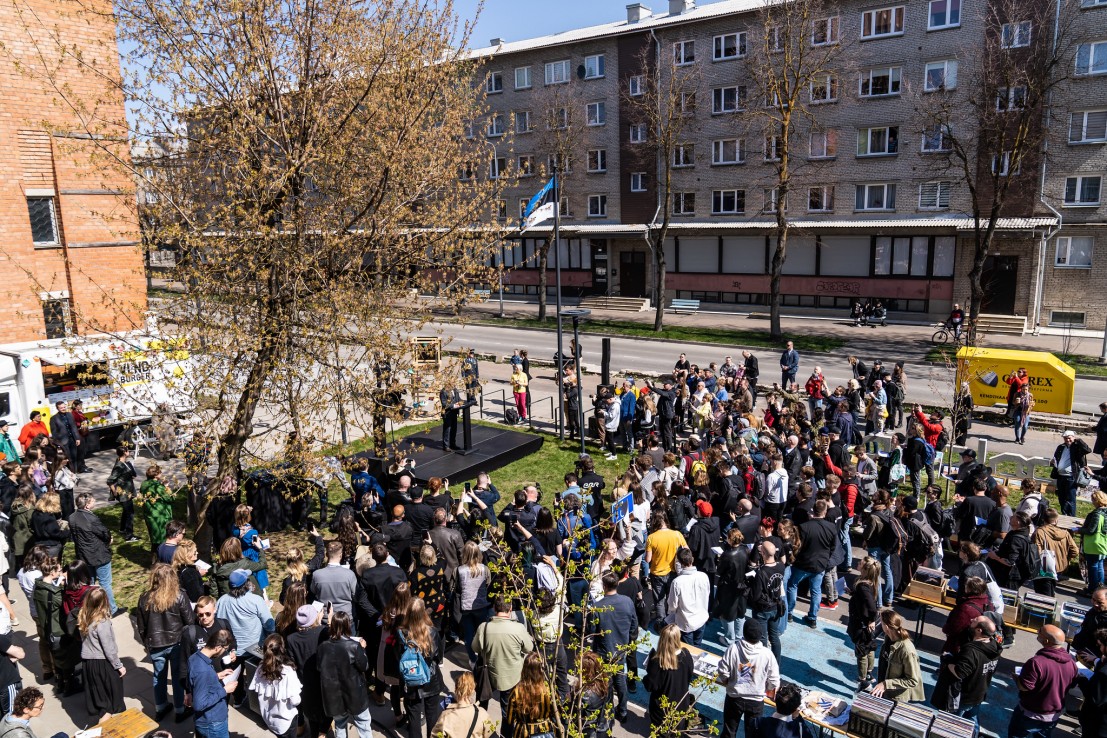 Karis (pictured above) in unflinching when it comes to addressing the political backdrop that the festival – and his country – finds itself in. He commends audience and organisers for their bravery to harness music as a tool for hope in such tough times: "Musicians and event organisers around the world have given countless charity concerts in support of Ukraine. In addition to the millions donated within these events, these concerts have drawn the attention of millions, tens of millions of people to this brutal war, and they have brought the world together to stand against evil."
Ukraine's Ivan Dorn (pictured below) is tasked with opening proceedings in Tallinn an his controversial shows are a wonderful concoction of old school house, pop and jazz that has made an indelible mark in his home country and far beyond. He takes to the stage in Tallinn with high-spirits, donning a stellar presence in the face of such tough times. Dorn is welcomed wholeheartedly by an ever-growing crowd of the festival faithful for his bold performance. Behind him are QR codes and links to encourage people to donate to Ukraine. He takes every opportunity to utilise his platform to echo the values and needs of Ukrainians: "We all have the same goal, it's the freedom of the world," he proclaims.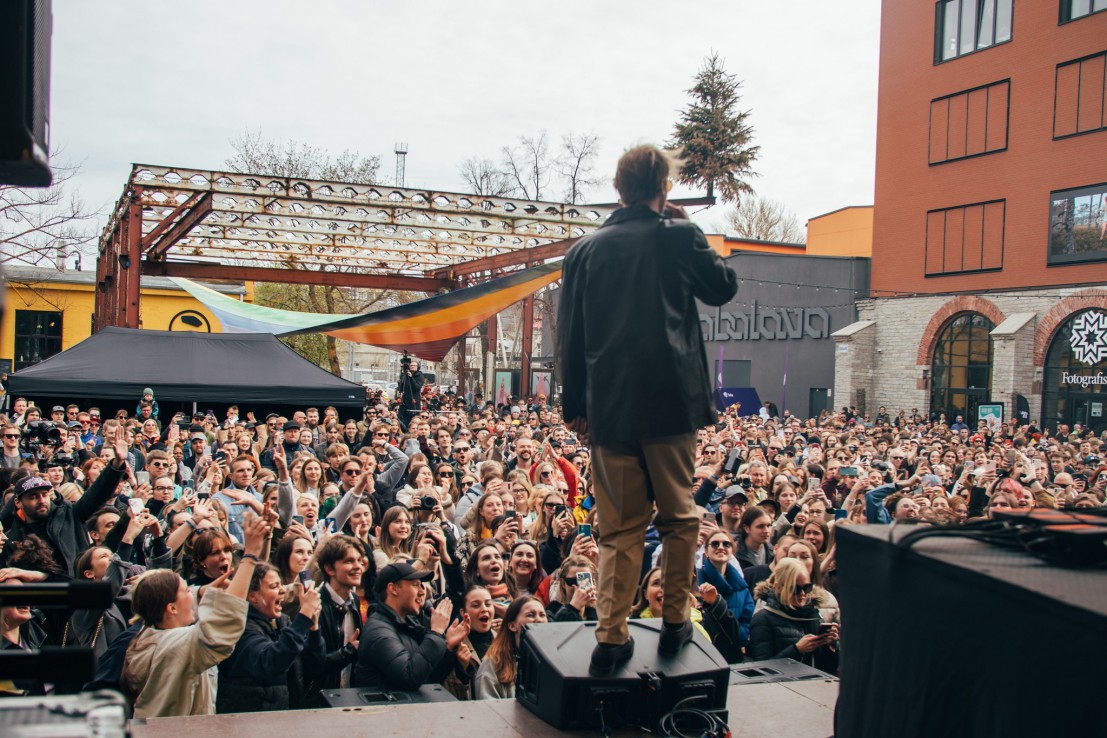 Support for Ukraine is a sentiment echoed by the festival, which provides free sound residency and accommodation in the Estonia capital for Ukrainian artists FO SHO, Gentle Ropes and Krapka;KOMA. "All three artists were forced to leave their homeland," explains Terje Trochynskyi, manager of educational programmes at the festival. "In addition to performances, they are looking for a chance to complete their unfinished works in Estonia in collaboration with our musicians who could support them either in recording drum parts or creating new beats. One of the residents is planning to stay here longer and is also willing to apply his skills in the service of the studio."
The residents boas some serious talent, with Ethiopian-Ukrainian hip-hop sister-trio FO SHO paving the way. They perform at the event's Africa stage, with a compelling performance that captivates the crowd with a seamless twang of modern trap and hip-hop that champions their musical and cultural roots. After their show, they explain, "even if we have gigs all over Europe, mentally we're still at war. we stand with our Ukraine and we won't stop fighting for our country through our art".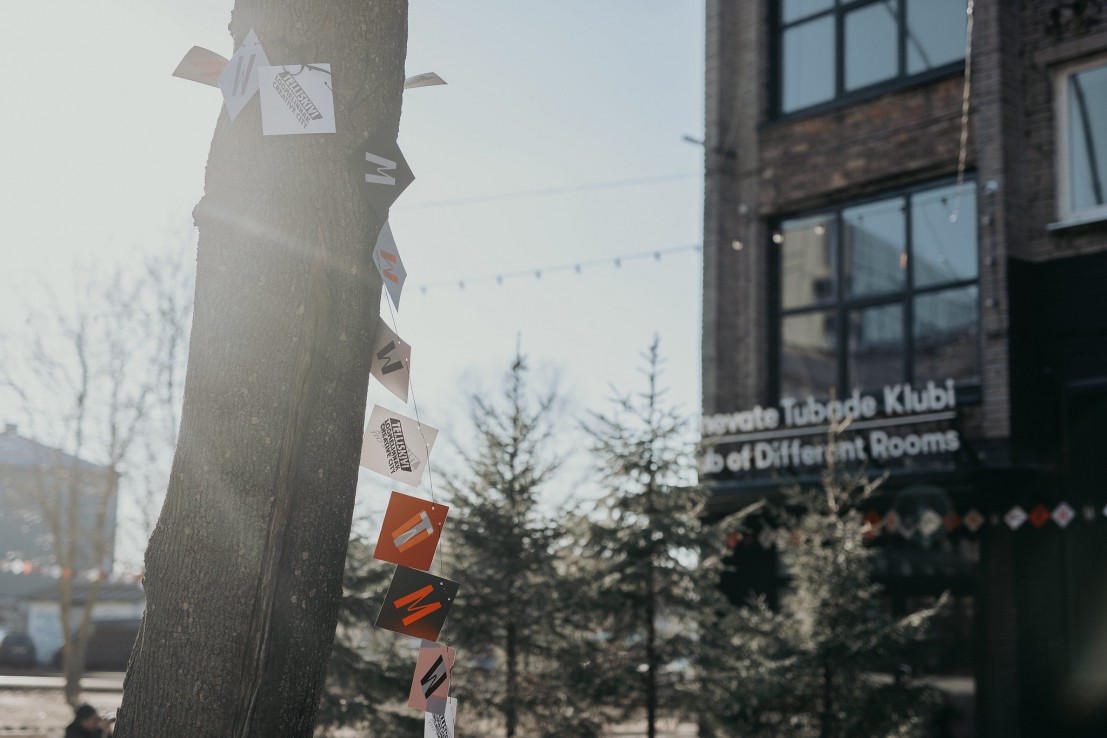 A real highlight of the week is the variety of venues. Entering the unique Club Of Different Rooms involves a climb up endless stairs, fighting against fatigue and curiosity. Upon reaching the top we are encouraged to swap shoes for sandals and are ushered into a marble-floored room with eccentric wallpaper, fuzzy TV's and retro photo hangings feel like a real-life version of Tranquillity Bass Hotel & Casino.
A few steps down the road takes me from NART, an intimate seated-ex-cinema, to HALL, a sweaty techno club that stays open until breakfast and resembles a factory. with a strict no photos policy. After beating the queues, I'm treated to arguably my favourite ever clubbing experience, with ravers are in a meditative state that somtimes breaks out into a dervish. There are installations, beds and break-off rooms scattered around the club, set to a musical backdrop of belching techno for the raving faithful.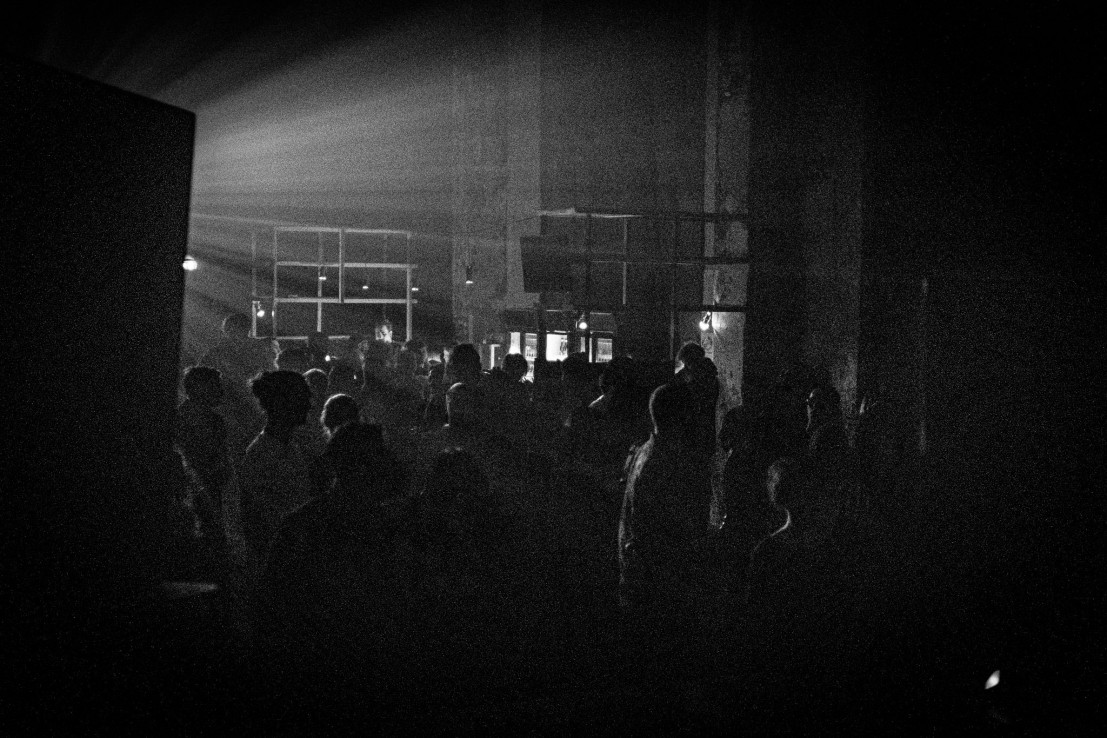 Whilst celebrating the present, the festival also looks ahead to the future of Estonian music. Tartu 2024 is a showcase night curated by House Ö Studio. Lee Scott, the head honcho of London hip-hop label Blah Records leads proceedings, hosting a livestream show on Estonian television and welcoming Manchester's finest hip hop talents – Black Josh and Sleazy F Baby – who served up gritty vocals with flawless samples. "We're trying to bring world peace wherever we go with our music, it's been very sick to see people still connecting with the lyrics, even though they are so far away from home," Lee Scott tells me. "I'm sure loads of them don't know what we're even saying, but by the way they are reacting they obviously love the beats".
Estonia's most promising Hip-hop artist Kiroto (pictured below) delivers an exquisite performance that beams with national pride. Justifying his decision to still keep making music in his native tongue, he explains, "When I started trying to make my music cater for a bigger audience, I lost touch. People know my music is real, I sing in Estonian so people in my country keep pushing the culture and music we love."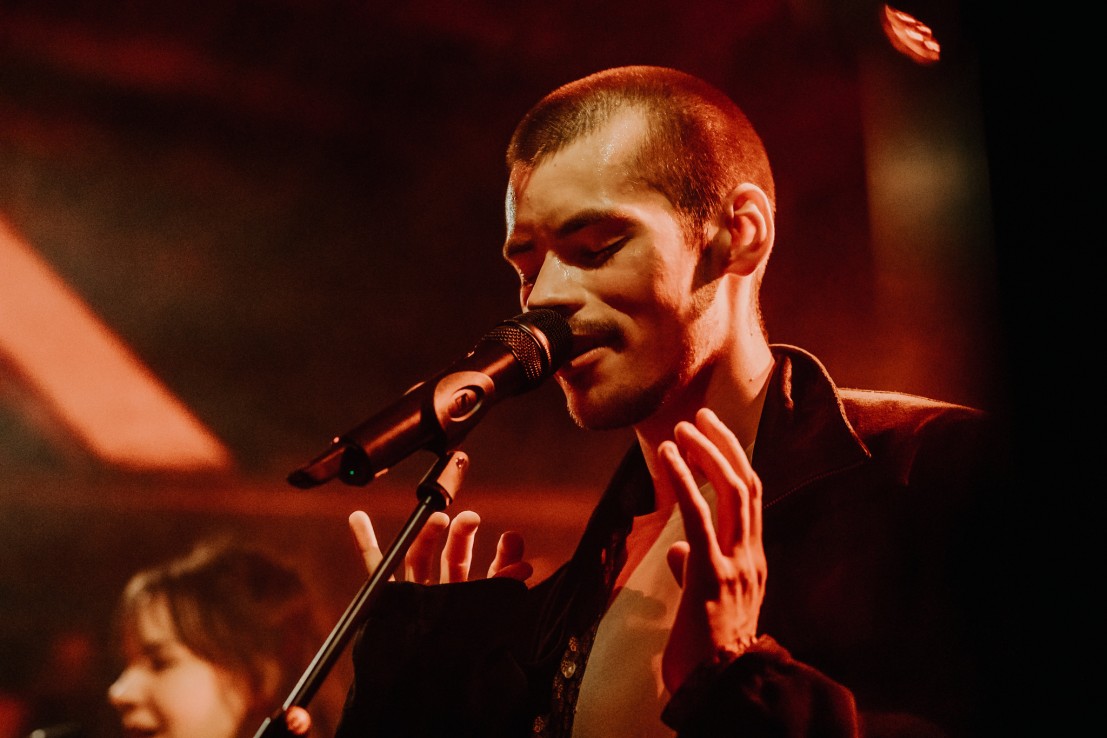 Once proceedings come to a close in Tallinn, I head to Narva for the second leg of the event. It's a city is separated from The Russian Federation by a river. On one side is the Ukrainian flag flying proudly, opposite the Russian flag – a bold statement that speaks volumes of the moral integrity and community spirit characteristic in Estonia.
The music programme in Narva kicks off in the Resurrection of Christ Orthodox Cathedral with Arvo Pärt's compositions "Da pacem Domine" performed by The Estonian Philharmonic Chamber Choir and conducted by Tõnu Kaljuste. Tirzah and Floating Points – aka Sam Shepherd – headline the festival's main stage in Kreenholm, with Shepherd praising Narva: "It's like an adult's playground here," he says. "I can't wait to come next time and catch all of the exhibitions!"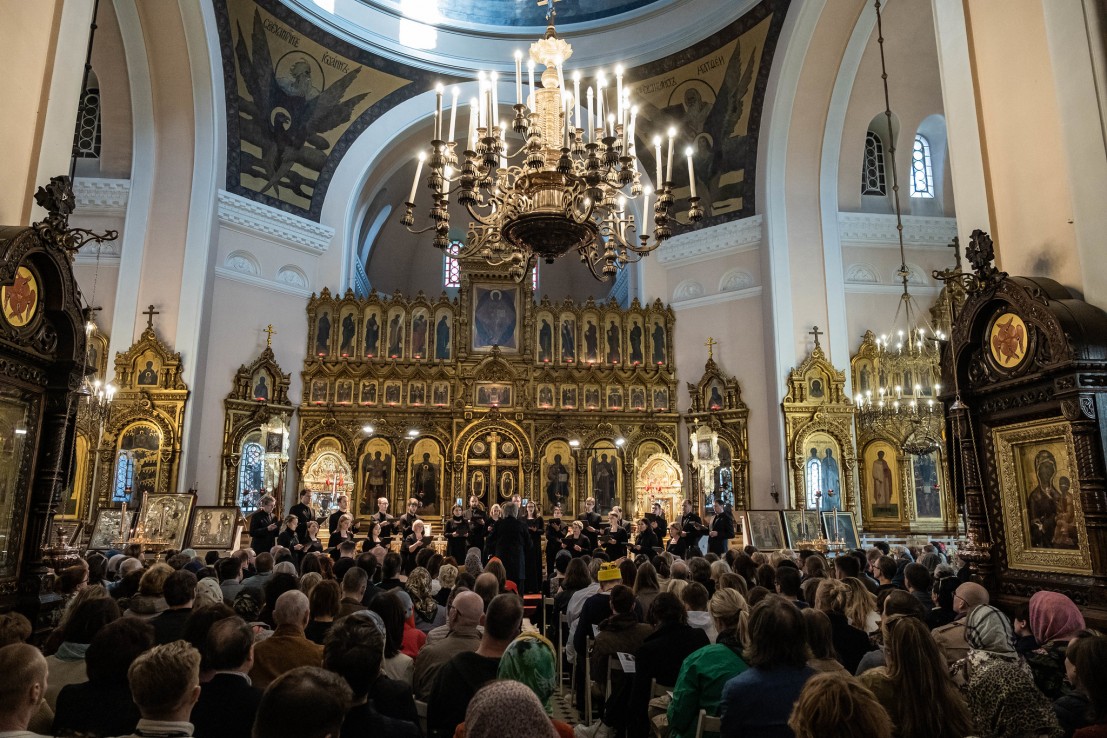 The Vaba Lava Narva stage features popular Estonian artists, including rapper Gameboy Tetris and folk acts Mari Kalkun and Trad.Attack! A live recording of the "Themes For Great Cities: Tallinn" from the 2021 event was released as a vinyl LP and the project's collaborators Erki Pärnoja, Jonas Kaarnamets, Jonas Bjerre and Alex Maiolo are also here performing its follow-up "From Tallinn to Narva" as part of the Narva Art Residency. The weekend ends in the riverside Art Club Ro-Ro with an afterparty hosted by Ida Viru County's festival Mägede Hääl that goes on into the early hours.
Photos by Patrik Tamm, Anna Markova, Feliks Voloz, Jaanar Nikker, Ken Mürk, Helena Pass, Aron Urb