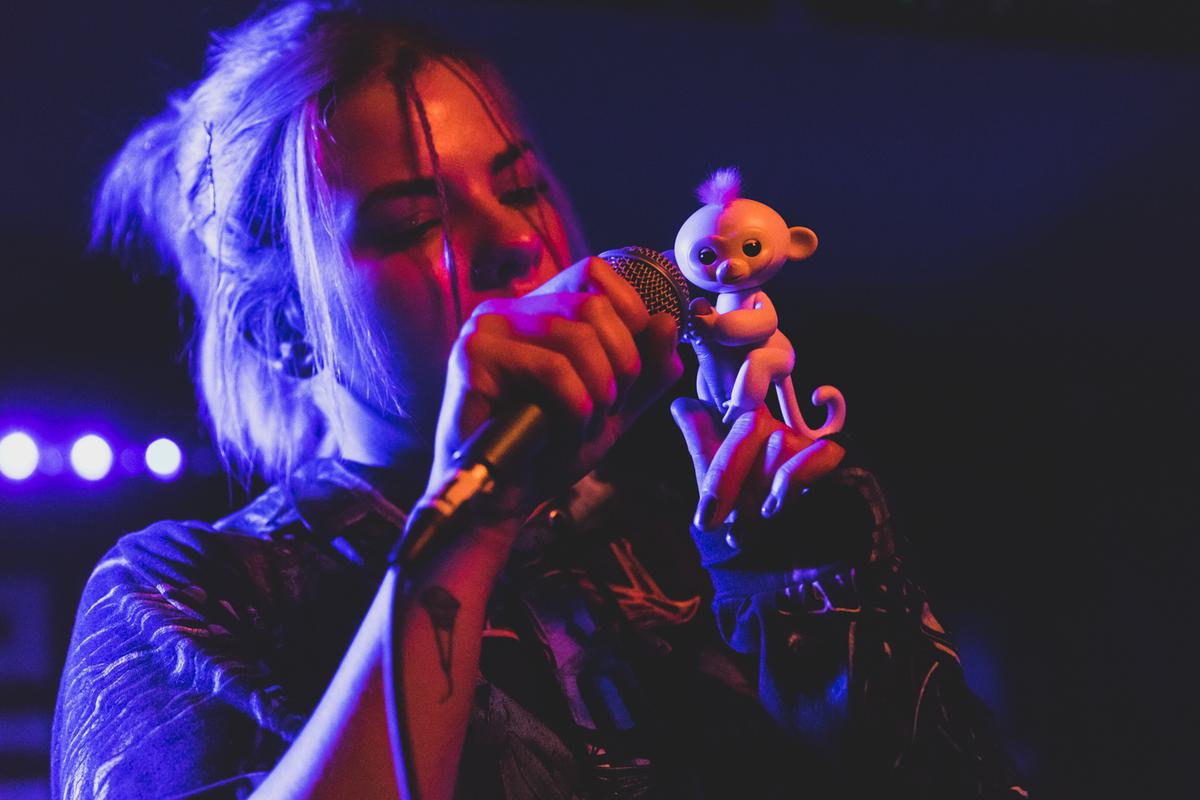 Stepping out of the cocoon on the final day of Iceland Airwaves
06 November 2017, 12:51
After enjoying a mild start of winter, the weather gods turned on Reykjavík and unleashed a storm that kept many festivalgoers at home. Having caught such an excellent show last year, we braved the weather and were rewarded for it
Fever Dream (pictured below) is Vigdís Howser's solo project, who is best known for being a member of the Reykjavíkurdætur collective, a local poet, and vegan activist. The first few songs are easy going and have some good hooks, but when she's joined by her brother the two start dropping bombs. With natural flow and good supporting beats, the two rap about politics, solidarity, and belonging to a tribe.
In this solo project, Sólveig Matthildur leaves her band Kælan Mikla and synth player behind and performs only with her powerful voice and preprogrammed instrumentals. As she performs her gothic and nihilistic set, she's bathed in blue and red stage lights that cast deep shadows, separating light and dark clearly. She's full of self deprecation and loathing, blaming herself for the mistakes in her life, but there's a certain beauty to be found in confronting one's own fears and faults so honestly.
Músiktilraunir is Iceland's take on Battle of the Bands, from which numerous great bands took their first steps, like Mammút, Samaris, Agent Fresco, and Hórmónar. Between Mountains was the band to win this year, and it consists of Katla Vigdís and Ásrós Helga who were 14 and 16 respectively when they won. When we saw them, they had played a total of nine shows already over the festival, and were in good spirits as the high school students performed their delicate take on indie pop. They performed confidently, and it will be interesting to see how they will further develop their sound.
Alvia Islandia is no stranger to the limelight, and we've written about her on numerous occasions. Perhaps best known for her song "Bubblegum Bitch", the trap star's evolution was easily visible at this show. At previous outings she had seemed to try to hard, or rely too much on gimmicks, but last night she was seemingly effortlessly in command of the whole show. Her vibe was cool, her delivery was smooth, and she was upbeat yet chill, delivering fiercely while maintaining a personable banter in between songs. The Bubblegum Bitch is dead, long live the confident and powerful Alvia Islandia!
After that, the night quieted down, with Lord Pusswhip making an honest effort to reinvigorate the crowd and get them to burn the last of their midnight oil with his high-octane techno-fuelled hip-hop show. But for so many, the festival was already finished.
See you next year.