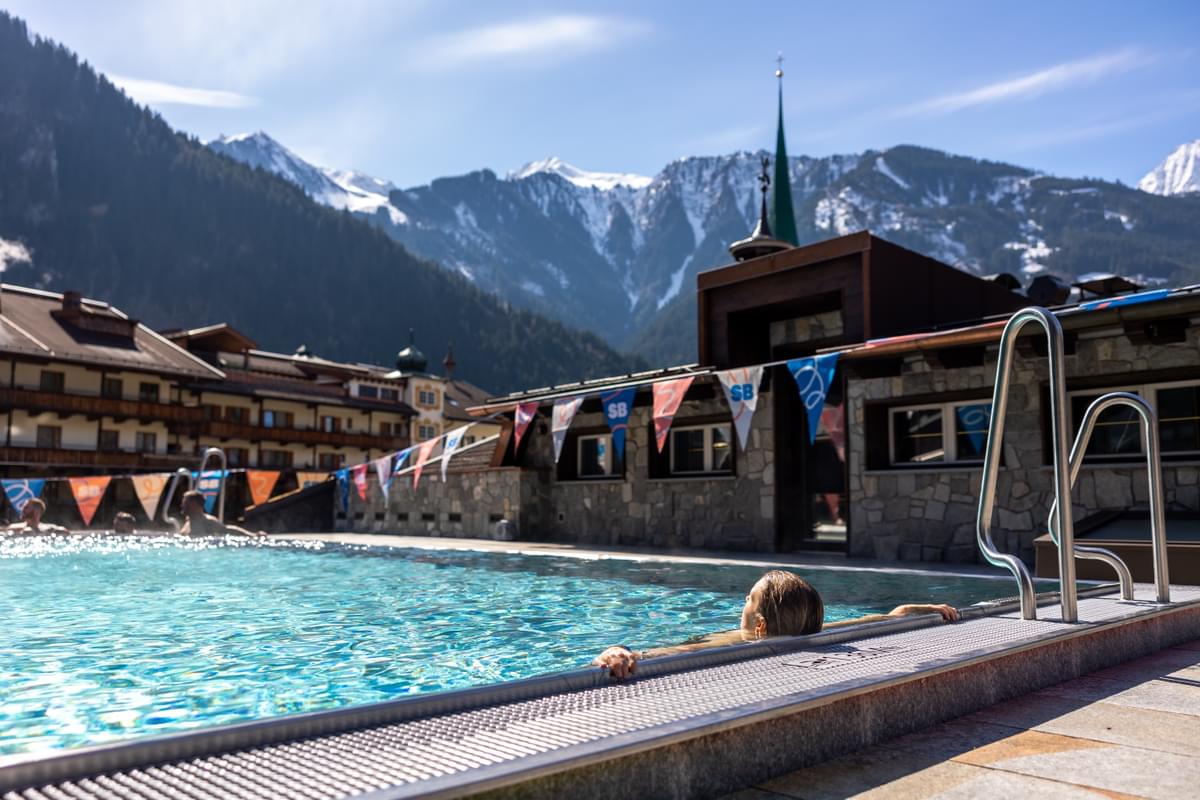 Snowbombing marks a triumphant return to kick off the festival season
15 April 2022, 14:18
Thousands of party-goers were welcomed back with open arms to the Austrian town of Mayrhofen this last month, which once a year is transformed from a quaint skiing village up in the mountains to a thriving European party capital.
The festival marked its 22nd edition by returning to its sonic foundations, rooted in electronic music. Other than a short-lived indie stint that featured the likes of Liam Gallagher, it's has been adorned as a worldwide checkpoint for the raving faithful, re-welcoming household names with whom they've had longstanding relationships, such as Fatboy Slim and Kurupt FM, alongside a plethora of rave-ready acts including Mall Grab, Overmono & Folamour.
Festivals are synonymous with the notion of escapism, but Snowbombing firmly distances itself from such an approach: it doesn't encourage you to escape reality, but rather to wholeheartedly embrace it. This feels a million miles away from the traditional festival experience – heading to some farm land in the middle of nowhere, with a muddy bag stuffed with dry shampoo, warm cider, and squashed cereal bars. Snowbombing has continued to pave the way as a model of what modern-day festivals can be. They actively compel you to go beyond your friendship group and meet the locals; ditch the burger vans and try out Austrian cuisine, and to shake off the classic festival hangover by heading to the slopes.
Festival-goers are constantly kept on their toes, with a dedicated app alerting surprise sets in the mountains: a notification sends me on a quick trip up the Schneekerhaute mountain where I catch a secret Mall Grab set. Wielding chaos in the palm of his hands, Australia's Jordon Alexander delivers a delightfully pungent set against a backdrop of dove-white mountains.There's a collective look of sheer awe on everyone's faces, alluding to just how surreal the whole experience is – hearing music in this mountainous cloud-enshrouded setting makes you feel quite literally on top of the world.
A highlight of the event is the Forrest Stage, which invites you to stomp around on the snow and accentuates the peppermint production, with crisp sound, stunning visuals, lighting design and an all-hailing dancefloor every night. Bicep deliver a trademark set, propelling listeners into a frantic dervish of euphoria. Fatboy Slim brings back the years against a poignant backdrop of the Ukrainian flag. Norman Cook\s mix of classic and modern-day productions firmly preserves his longstanding reputation as a discerning crate digger.
Bristol-based group Elder Island are left in awe after playing on the Forrest Stage, "It's just so special to be playing in settings like this," they tell me. "It's such a great way to share our music with people who might not have heart it". Another highlight of the festival sees the party take to the streets with Glitterbox hosting a takeover that gravitates ravers towards the wonderfully eccentric sound of Folamour, and showers of confetti.
After each day in the mountains, crowds head to the gondola to enjoy the poignantly programmed activities that populate the village. When you arrive from your descent you are a mere minute away from acts like Mike Skinner shelling a set in Hans The Butchers, or you can alternatively head to a flurry of bars and restaurants all bustling with sunburnt skiers. The festival isn't forced upon the local community but rather aims to embrace and amplify the incredible setting and people of Mayerhoffen.
On my last day on the slopes, and I am ascending up Mount Penken on a high-speed ski lift. At the top lies the precipitous Harikariki ski slope, infamous on the mountain as Europe's steepest slope with a gradient of up to 78 per-cent. Over the course of the week the conversation at après ski has been fiercely dominated with talk of the infamous route, being hailed as a must-do for anyone attending the festival. It's named after the Japanese term 'seppuki' – the ritual suicide by Samurai.
As I anxiously peer over the route, the views of the mountain and voices of my friends behind me quickly fade into a thick mist. It feels solitary and daunting, an eerie silence that hasn't been present all week clouds over me. I take a deep breath and just before taking the plunge down, my heads becomes awash with one thought: 'How on earth have I ended up in a situation like this?'. A strong start quickly transpires into a calamity of abrupt judders on my skis, which begin to loosen, eventually giving way for me to fall flat on my face.
As I bring myself up on my knees, I can't help but be bewildered at how in the space of four days I've gone from a shy first-timer to an enthuastic amature skier on Europe's steepest slope. It's testament to the continued work of the festival organisers, who in the face of adversity have still delivered a festival where anything is possible. In what has been the most claustrophobic period in many of our lives, the wonderfully curated festival and wonders of Mayerhofen feel truly revelatory, providing a festival experience we have all so sorely missed.
Get the Best Fit take on the week in music direct to your inbox every Friday