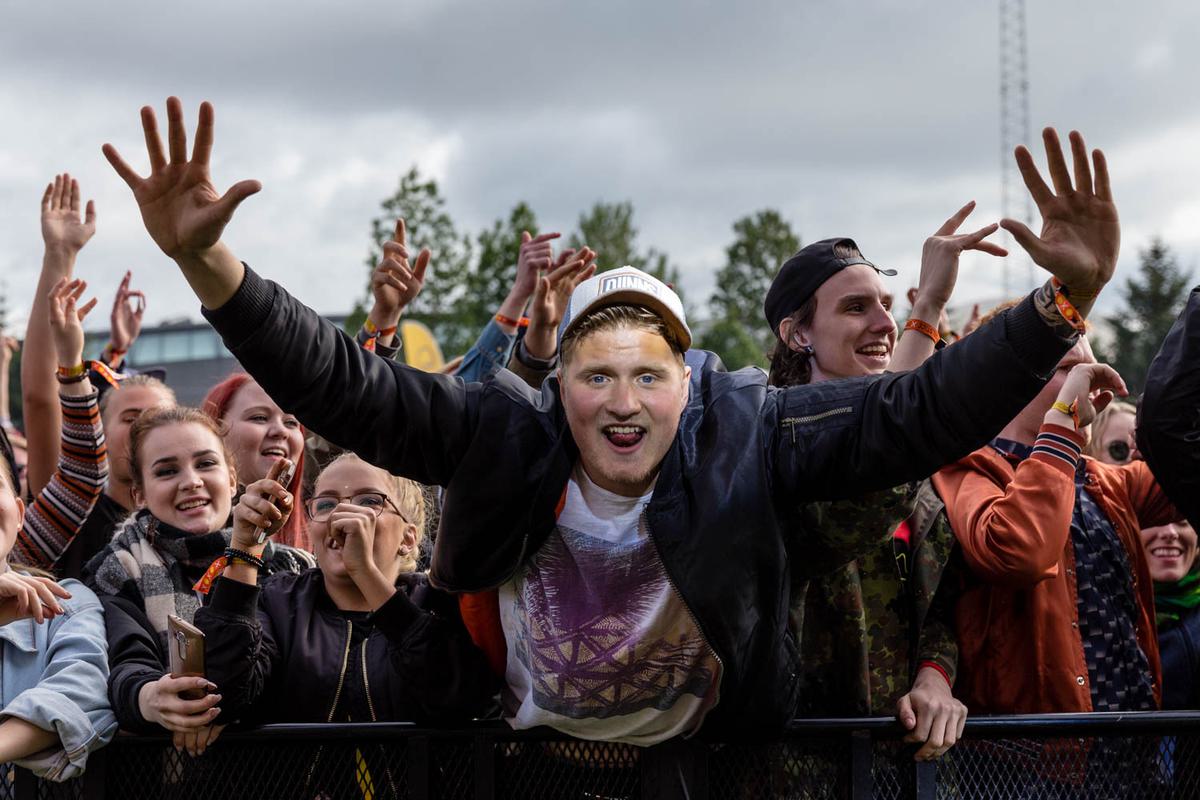 Secret Solstice 2016 through the eyes of a local
27 June 2016, 11:00
Thursday 16 June was supposed to be a happy day, but it turned sour when news hit of All Tomorrow's Parties Iceland being cancelled.
It didn't come as any kind of surprise, with artists having pulled out in the past few weeks, and the organisation's financial troubles being well known, but it was a very definite end to a wonderful adventure. Barry Hogan's dream had played out three times already in Iceland, bringing world famous artists like Nick Cave, Public Enemy, Iggy Pop, and more.
By the time ATP made its way here, Iceland had already become a tourist mecca, attracting visitors with its unspoiled nature and thriving culture scene. I don't know exactly what brought ATP Iceland to its knees, but if I were to speculate, my country's carnal sins of poor infrastructure and lack of coordination probably played a part.
From 2005 to 2015, the number of people visiting the country of 332,529 has increased from 361,187 to 1,261,938, and the signs of wear and tear are all too apparent to locals. The government's spending on infrastructure does not reflect the sheer volume of people now travelling through the country and using its highways. News of tourists defecating by the roadside because of a lack of public toilets or leaving trash behind from a lack of bins is increasingly common. Regulation on businesses operating in the tourism sector is shoddy at best, and there is a real gold rush mentality with hotels replacing downtown shops, bars, concert venues and hobby shops, all to cash in on that tourism money before someone else beats them to it.
When I first heard of Secret Solstice two years ago, I figured it was more of the same. When my friends started singing praise of the 2014 and 2015 outings, I opened up to the idea. When they announced Deftones, Die Antwoord, and Radiohead to play this year, however, I knew I had to go.
The four-day festival is held in Reykjavík's Laugardalur area, which is renowned for its green open spaces, offering ticket holders both nature and culture at the same time. Small shops, fashion stores and food carts line the festival ground's throughway.
The moment I step in, I'm no longer in my lukewarm and wet city, but a lukewarm and wet festival where everyone seems hell-bent on seeing as many of the 170 shows as they can while drinking as much as possible. As early as 17:00 I bump into a twenty-something stumbling out of a tent that is blasting EDM music from a Funktion One system, drunk as a skunk.
While the area opens up early and closes late on all four days, it is a ghost town until mid- to late evening, leaving DJs and artists playing earlier slots with sparse audiences. Once each night's headliners finish, the festival empties again, with most of the locals retreating home before midnight.
On the docket there is a good selection of local and international artists performing, with heavy representation from the burgeoning Icelandic hip-hop scene. Rising stars Shades of Reykjavík rap chaotically about the gangsta life of Reykjavík, spitting out half-truths and harsh realities, leaving listeners wondering if they are being serious or not. The baron of Icelandic rap Gísli Pálmi divulges his experience of the underworld to fierce beats, spitting rhymes with precision and bringing his a-game.
Veteran artist Emmsjé Gauti (above) shows how far he's come from his juvenile roots of rapping about "loving those hoes," delivering something more akin to an R&B power show with a thumping live band. Speaking to him backstage, Gauti reflects on how his circumstances have changed since becoming a father, but it is apparent his cockiness is still present as he proclaims to be "probably the most popular rapper in Iceland."
The fierce troupe known as Reykjavíkurdætur (above) has forcefully introduced much-needed femininity in an otherwise testosterone-dominated scene, singing about topics ranging from taking back the night and slut shaming to the banalities of Tinder politics. They debuted a new song called "F.E.M.I.N.I.S.M." which is their first foray into rapping in English, wherein they declare they are "the vagina warriors." Their energy is contagious, their stage presence is brilliant, and they are an absolute treat to see live.
Elsewhere Hjaltalín perform a dreamlike set that includes songs from their 2012 masterpiece Enter 4, genre-defying Agent Fresco (above) throw themselves into their emotionally vulnerable show, dark art-rockers Mammút premiere five new songs off of an upcoming album, and superstars Of Monsters and Men play their most upbeat and krútt show I've seen to date. The British Lady Leshurr (below) gets the audience dancing with her spitfire beats, with three fans brandishing toothbrushes on queue to "Queen's Speech 4." Róisín Murphy groovy music is in constant competition with the singer's mesmerising costume changes, and the (not so) secret headliners Sister Sledge finish the first night in style, performing all of their best hits.
Trouble was brewing on the second day, when queues started forming for Radiohead's show. The festival organisers say the band had insisted on playing indoors, which meant the show had to take place in a venue that could only host a fraction of the ticket holders. With so many people queuing for hours, there were even fewer in the audience watching the shows happening outside. When Fufanu played their tight rock show with flair and flourish, they did so to an audience that wasn't necessarily there to see them, just waiting for the main act to start.
When seminal alternative rockers Radiohead take to the stage, they do so to thunderous applause. They play through a few songs from A Moon Shaped Pool, before going through a large part of their discography during their two hour set. If the audience is anything like me, they probably never thought they'd get to see Radiohead live, and are as dumbstruck at hearing "My Iron Lung," "No Surprises," and "Identikit." I see a girl riding on someone's shoulders with a sign saying "Pretty please can you play Creep." I see a couple closing their eyes, their faces serene and enraptured. I see a fan shed tears without crying.
Everyone has their own Radiohead moment, because it isn't just a band, but a force of nature in the West. Radiohead has been there through many people's brightest summers and darkest winters for over three decades. And for a few thousand on that Friday night, those emotions and moments came flooding back. I can only imagine the relief the girl with the sign felt when they finally and unexpectedly played "Creep."
I had a similar experience with Deftones (above) who played the following night. Aside from singer Chino Moreno's voice waning, the band was on point and loud, and the crowd was perfect, moshing and jumping so ferociously in the rain that I could feel the muddy ground shaking. I personally got into the band during a dark time as a teenager, when I was struggling to find the will to live after my lungs had failed me and left me frail from five weeks of hospitalisation. Around the Fur and White Pony had been my salvation, the albums I would cough along to. Now, singing along to "Change (In The House Of Flies)" with functional lungs, I couldn't help feel a healthy amount of catharsis.
Sunday proved to be the real down point of the festival, as Die Antwoord's slot was delayed by problems at the airport. Icelanders took to social media to express their frustration when they heard DA would be moved inside into an even smaller venue than Radiohead had played at, with many threatening (and following through) to not show up. There was an awkward gap in the schedule that no one managed to fill, and the queues turned out to be as bad as many had feared. Those that did show up then had to decide if they wanted to see Of Monsters and Men outside or stay in queue for DA, instead of seeing them in sequence as they had originally anticipated.
When Die Antwoord finally went on stage, I wondered why they had had such an early slot, as their rap rave live show is far too high octane for a five o'clock slot. Blazing through hits like "Ugly Boy," "I Fink U Freeky," and "Baby's On Fire," the audience had no time to breathe, and plenty of people busted out some moves while sporting ZEF caps. Once they finished their set, the throng of exhausted festival goers trickled outside, holding their hands over their eyes to block out the midnight sun.
My fears of ATP Iceland's cancellation spoiling the weekend turned out to be unfounded, as I saw no shortage of great acts. I will definitely return next year if possible, although the pressure is on the organisers to somehow out do themselves in 2017. Good luck.