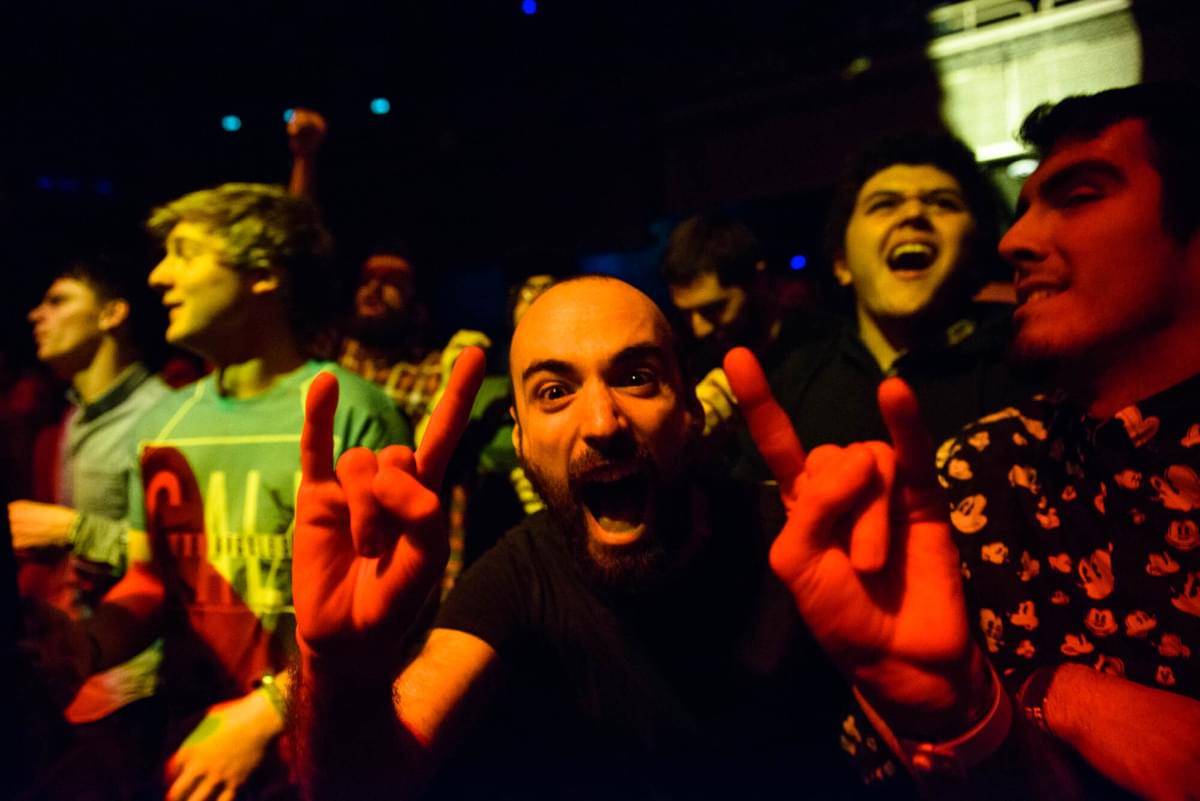 We went to Le Guess Who? and didn't see a single bad band
08 December 2015, 09:37
Le Guess Who? resembles all those other multi-venue, city-based festivals you've been to a hundred times, except this one is in the beautiful city of Utrecht and the booking policy is practically faultless. We made our way to the Netherlands for four days of musical excess.
The city of Utrecht has more culture packed in to its 100 or so square kilometers than should be allowed. Situated in the eastern corner of the Randstad conurbation, traversing its cobbled streets for just a minute or two without passing a stunning eleventh century church, renowned gallery or performance space is a difficult task on a normal day. In the throes of Le Guess Who?, artistic endeavour in the city becomes so prevalent it is, delightfully, impossible to avoid.
The festival, which launched in 2007 initially as a showcase for Canadian music, has since expanded in to a four day event with a truly international focus that takes place in a dozen or so venues across the city each evening, with a healthy programme of exhibitions, talks, film screenings and off venue shows from local artists to keep the hoards entertained during the afternoons.
But what's truly special about the event is its water tight booking policy. Co-founder Bob Van Heur has mentioned it's a result of simply only ever booking acts they truly like, which if true, means they're probably some of the finest curators of their generation. Festivals with this wide-eyed an approach to music new, old and from all over the globe do not come around often, and even less so in cities this picturesque. Seriously, man's got taste.
The highlights
The genres of music on offer ranged from African polyrhythmic orchestras to Turkish jazz via Dutch indie pop, American footwork, German krautrock and Malian blues and much more besides. The quality of that music ranged from pretty good to astonishing. Honestly, we didn't see one bad band. But here's what really stood out…
The beautiful stuff
Churches make bands look gorgeous, but their massive ceilings and harsh stone interiors have a habit of letting performers down in the sonic department. Somehow the rather stunning Janskerk church, where our festival began, avoided all those usual pitfalls, allowing Julia Holter – whose deftly elegant set gave the festival its first standing room only event of the weekend – to hit home with full force. During a rendition of "Feel You" from this year's Have You In My Wilderness, we went from being perched on the fence about Holter to sitting at her feet, staring up and agreeing with everyone that, yes, she's actually excellent and we should be telling more people about her weird, brilliant songs.
Another artists who's released one of the year's most celebrated records had the good fortune to be playing the same space later in the evening. Though Majical Cloudz' minimal stage set up left them looking a bit exposed in comparison to Holter, the voice of singer Devon Welsh was so captivating that the cavernous church felt full of empathy and emotion. Spaces such as this might not seem best suited to synth-based music on the face of it, but then again, we reckon Janskerk might be a bit magic.
The ugly stuff
Any festival that gets Sunn O))) to curate a fair chunk of their line up certainly isn't afraid of things getting a little noisy, but in none of our previous meetings have the duo ever taken things quite this far. The drone metal two piece did their best to reduce Utrecht to nothing but rubble and smoke machines with a set of primordial bombast so intense that it might well still be going, for all we know. At the other end of the rock spectrum, Lightning Bolt played so fast and furiously it was as if they were angry with the audience (perhaps for making them stay up past midnight), and seem to have a become a far more groove orientated band than the riff pedaling that made up much of their early work. In that respect, they even bore a slight similarity to Krautrock legends Faust, whose willfully bizarre and highly entertaining set saw a trio of women knitting, centre stage, for its entirety.
The stuff we'd never heard of
The best piece of advice we can give a LGW? newcomer is to check out things you've never heard of. We feel stupid for not previously being au fait with the African funk party starters T.P. Orchestre Poly-Rythmo de Cotonou, nor the Turkish fusion jazz of Don Cherry prodigy Okay Temiz, and have spent far too much of our lives somewhere other than in the company of Ankaran old timer Mustafa Ozkent and his astonishing, classic R&B inflected jazz guitar playing. Stumbling across them merely from being at a rare loose end, making discoveries like this was the real highlight of our festival.
The stuff we knew would be awesome and, lo and behold, was totally awesome
There are a few bands battling for the title of Best Live Act in the World Today at present, but we're rallying round Destroyer's flag on this one. Twenty years down the line from when he first surfaced with some scratchy solo recordings, Daniel Bejar now finds himself the leader of one of the most formidable groups of musicians in indie rock, capable of whipping up tornadoes of elongated brass and flute solos that knock us back a few steps each time they reach a moment of glorious cacophony. From the delicacy of the opening "Bangkok" and "Girl In A Sling"'s pensive beauty to a beefed-up "Chinatown" and stunning, epic closer "Rubies", this was nothing short of a masterclass.
The other standout came in the form of Kamasi Washington and the best jazz funk knees up of this year, or probably any other – we haven't been to many in all honestly, or at least, few that sounded quite this fun. 'Fun' isn't what we expected from Washington – his debut album, The Epic, is a three hour long triple CD effort that wows in scope and execution but hardly encourages the wild ass shaking that was commonplace at his Le Guess Who? set. He and his bafflingly talented band can solo and squeal like the greats, but crucially never at the expense of a groove. This was jazz for the body as much as the head, and it was a wonderful celebration of the genre's malleability.
The late night stuff
No festival worth its salt would be complete without a programme that catered for those looking for cultural sustenance in the wee hours, and here – as everywhere else – Le Guess Who? came up trumps. EEK & Islam Chipsy stole the show with their invigoratingly unhinged approach to Egyptian rhythms and melodies with a double drumkit/one keyboard assault we're told goes by the name of "mahraganat" or, fittingly, "festival" music. The fancy footwork of DJ Paypal included the most audacious remix of Tatu's "All The Things She Said" that gave the event an unbeatable "What the…?" moment, shortly before Prefuse 73's marvelously jumbled up set of classic and futuristic hip hop arrived to make the number of different genres we'd seen at the festival reach something in the low fifties. No wonder we didn't get to bed until about 4am every night.
The facts about Le Guess Who?
How much does Le Guess Who cost?
Festival passes were on sale for €90 through May and June, and increased to €100 in July. Hotel and ticket packages were also available.
When is Le Guess Who?
This year's event ran from 19th – 22nd November, while next year's festival – the tenth anniversary, for which Wilco have just been announced as headliners, runs from 10-13th November 2016.
How does it work?
Venues are spread across the city centre, all within reasonable walking distance, though don't be surprised if you find yourself holed up in TivoliVredenburg for much of your time – there are four excellent venues alone located in the space, along with bars, restaurants and comfortable places to rest your legs.
The lineup each year features a couple of hundred bands sourced from the world over, with the main programme beginning in the early evening and going on until the early hours of the morning. Record shops and cafes city wide also host local bands as part of Le Mini Who?, the festival's off venue programme, for afternoon shenanigans.
Where can I stay during Le Guess Who?
Star Lodge Hotel is a short bus ride from the city centre with prices starting at €95 euros per night for a single room and breakfast. AirBnb also has a lot to offer a little closer to the venues with the average apartment for two people also going at €95 per night. The cheaper end, such as this charming city centre pad, is not too shabby either. If urban treehouses are your thing, there's that too.
How do I get to Le Guess Who?
Easyjet fly direct to Amsterdam from a variety of London airports including Gatwick, Luton, Southend and Stanstead for a return price of less than £100. From Amsterdam, it's a 15 minute train ride to Utrecht.
Our tip
Hire a bike. Everyone here is on a bike and you'll feel foolish if you aren't. You will also be nearly knocked down at least five times a day by cyclists, who totally own this city. Also, with Rotterdam and Amsterdam such short train rides away, exploring a bit more of the Netherlands while you're over is easy.
Find out more
Check out the Le Guess Who? website and Facebook page.
Get the Best Fit take on the week in music direct to your inbox every Friday