Reeperbahn Festival comes of age as a neon Neverland for new music
25 September 2023, 12:30
Now in its 18th edition, Hamburg's Reeperbahn Festival continues to offer an idiosyncratic approach to showcasing new music and the result is a curated weekend of refreshing surprises, writes Hannah Browne.
"This is the first time I've played a venue that looks so much like a strip club," says a humbled Jeshi as they fill the hazy Moondoo Club on Thursday night at this year's Reeperbahn Festival (spoiler: an actual strip club).
The artist himself might feel slightly like an outlier on a bill full of serviceable indie-pop/rock, but he sets the scene for a four-day affair where performers and headliners are interchangeable. While other multi-venue festivals can suffer from lull early door bookings, here they are considered, and Reeperbahn's vibrant setting in the St. Pauli district it owes its namesake to means that wandering around the neon strip invites showcases to fall into the early hours.
To spend a weekend in Hamburg is to experience a tyranny of contradiction. A port town founded in the 9th century as a mission settlement to convert the Saxons, it has since been a trading centre in Europe, and considered as Germany's second city (to Berlin). Hanseatic architecture meets with Romanic churches and sleek new builds, though the best surprises lie in the corners and alleyways, as Reeperbahn's 18th edition sprawls into 50 venues – from churches to bars, to backyards.
Photo by Robin Schmiedebach
Since it began in 2006, Reeperbahn Festival has valued diversity across both its music line-up and Arts and Word programme – covering social and cultural themes, allowing audiences to experience the principle of Reeperbahn Festival away from the music stages. This year, the programme thread is aptly titled 'RETHINK IDENTITY', and aims to present voices of the future while addressing relevant issues such as social media, satire, patriarchy, gender, sexual self-discovery and mental health.
Spotlighting such issues in the opening show, this year, the German government also expanded their support into environmentalism, as Claudia Roth, Minister of State for Culture and the Media explains. "As an important source of inspiration and the largest European platform for the music industry, Reeperbahn Festival is also the ideal place to address socially relevant issues such as climate protection. This year, the German government is therefore also supporting the first sustainability conference for the music and event industry as well as the preparation of the climate balance sheet for the entire festival."
Centred on the question "What's Next?", the speeches not only focus on our rich history but impose what actions are needed to ensure a successful and sustainable music industry for the next generation.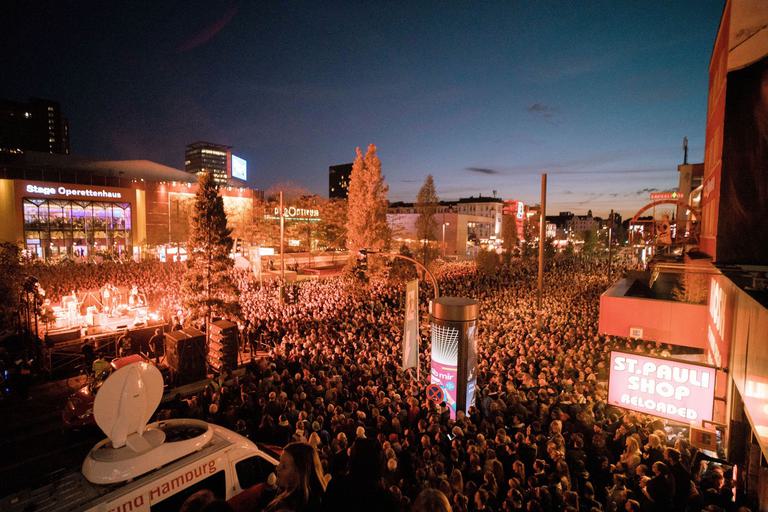 Photo by Philipp Gladsome
As the ceremony wraps up, over the road, folk-pop songwriter Annahstasia can be found playing a dreamy solo show in the Imperial Theater. The stage is currently dressed for a stage adaptation of author Edgar Wallace's The Blue Hand (Die Blaue Hand), shrouded by mahogany bookcases, wispy net curtains, and antiquarian leather books. "Thank you for coming to my home" Annashstasia playacts, before self-confessing that she has no planned set list and invites the audience to request songs from her minimal catalogue. A voice requests fan-favourite "Power", but while Annahstasia can't pluck together the chords, she offers a chilling A-Capella, that stuns the hall into silence.
With all venues in a short-walking radius, Molotow has become one of Reeperbahn Festival's most versatile spaces – with performances held over four spaces, under one roof (Backyard, Club, Karatekeller, and Skybar). Host to familiar UK talent over the weekend, including English Teacher, Egyptian Blue, Prima Queen, at lunchtime on Thursday, Cologne native Luna Morgenstern is doused in sunlight while pushing her Eurodance-inspired brand of alt-pop. She bounces into electro grooves that are both endearing and addictive, spotlighting the best of her recent EP Dance Dance (Don't Go), as well as topics of sexual harassment and grief.
Though the new music here cleaves to a tight crop of predominantly British, European, and American artists, the bill aims to satisfy both schedulers and gamblers. Attendees keep moving from venue to venue lest they miss one of those fabled festival moments, whether that's Jeshi (now finding his feet after a shaky start) converting Moondoo into his own personal Boiler Room as he and accompanying DJ/collaborator Fredwave use every bit of floor space available, or local rapper Ebow's hissing trap beats luxuriating her status in the German music scene. Given that many other festivals of this kind fall at the first hurdle of curating a line-up interesting enough to avoid filler acts, it's refreshing to feel a balance: rarely is a punter turned away from the most tipped shows by way of intolerably long queues.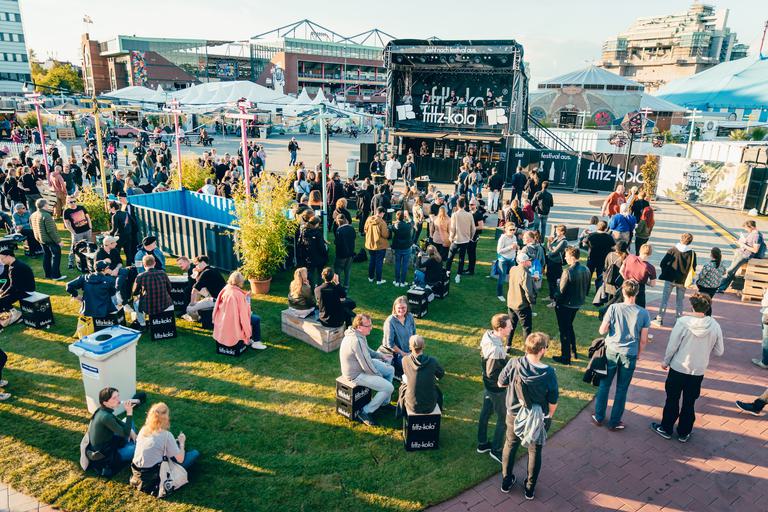 Photo by Christian Hedel
For those craving a slower pace, the Reeperbahn Festival Village sits adjacent to the St. Pauli metro station, on the Heiligengeistfeld. Away from the florescent spree, the village has a reputation for not garnering the same attention as the long-term venues. Though, in 2021, organisers introduced two additional open-air stages to attract people into the hub, and on Friday, the central fritz-kola Bühne (translation: stage) is the draw. It's here that Girl Scout play through some of their more palatable tracks, teasing that they're "holding back" the heavier anthems for their 1:20am set at Molotow SkyBar.
The asphalt court also acts as a space to listen to lectures and take part in workshops if you're not into starting the afternoon with cult-favourite Kiosk drinks. Audiences sit down to discuss future-thinking concepts, drawing on everything from the influence of AI in music in processes of production, collaboration, and performance, to next-gen concerts, and a full hour dedicated to the debunking of Elon Musk (promising to answer the important questions: genius or charlatan? engineer or clergyman? false prophet or reluctant cult leader?)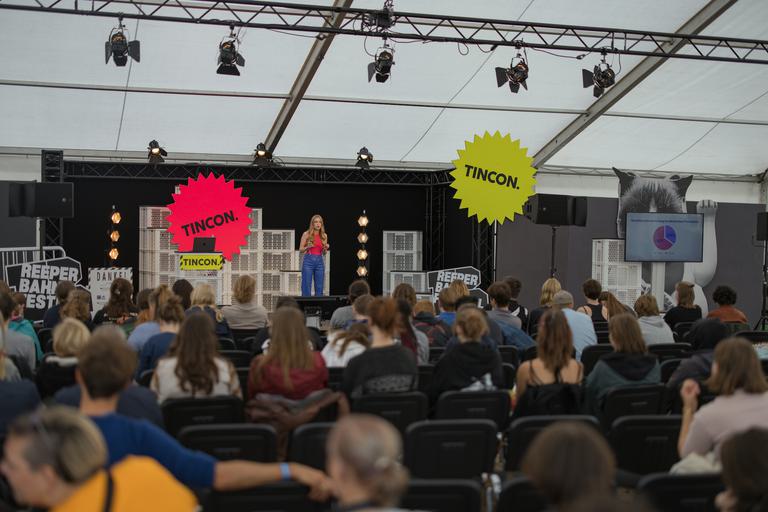 Photo by Christian Hedel 
A further walk north takes you to Neuer Kamp Street, located in Hamburg's Karolinenviertel neighbourhood, lined with clothing shops, record stores, tattoo parlours, small eateries and one of Germany's many photoautomats. Attracting a younger audience, the beer garden of Knust provides a sense of familiarity and community to those used to most traditional city breaks, à la Barcelona, Paris etc. Formerly founded in 1976 in the old town, Knust moved to their current location in 2003 and have seen the likes of Beck and Jeff Buckley pass through their hall over the years. Built for purpose, the 500-capacity club plays host to only three acts per day at Reeperbahn Festival; Friday night's highlight being Gretel Hänlyn. Borrowing her name from a distance German great aunt, Hänlyn arrives keen to fit the audience as she speaks in the local tongue to welcome herself onto the stage. There's a darkness and grit to her performance as pulls out slow burner "Little Vampire" and tracks from her debut EP Slugeye, while personal favourite "It's The Future, Baby" takes on a fresh urgency as the set closer (unexpected, due to having to pull the last song for scheduled changeover).
Sunday begins just as rampantly with the riot grrrl indebted HotWax at Molotow. Though it's already 4:30pm and the trio are adorned in glitter hot pants and fringed blazers, their energy goes slightly amiss in a mass of slightly reluctant head-boppers. It's the only downside of industry-centric events like this, and is a pattern I've discerned over the last four days. If Reeperbahn has a loose theme in its audience, it might be restraint - for even when all the ingredients are aligned, it's rare for an act to receive the physical reception they crave.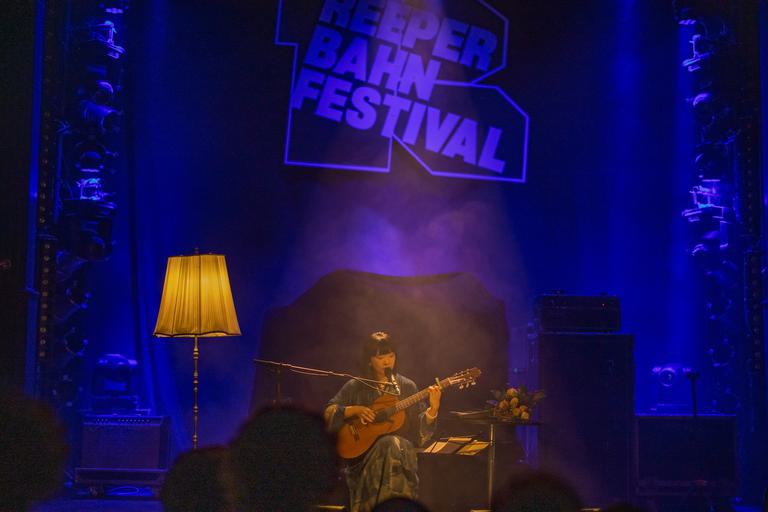 Photo by Christian Hedel
All said, Reeperbahn Festival's highlights vary not in the energy of its crowd but in its bricolage of music and culture. A microcosm of Hamburg itself, where the pace is sedate but punctuated by vibrant moments, Reeperbahn couldn't feel more human after a summer of unimaginative festivals where gender equality is an afterthought and corporate sponsorship reigns supreme. Final highlights come from left-field pop artist Sans Soucis and innovator Tirzah, as well as the announcement of the annual Anchor Award, accolading the most promising emerging musicians since its introduction in 2016, Ichiko Aoba. A seamless ending to the twisted utopia.