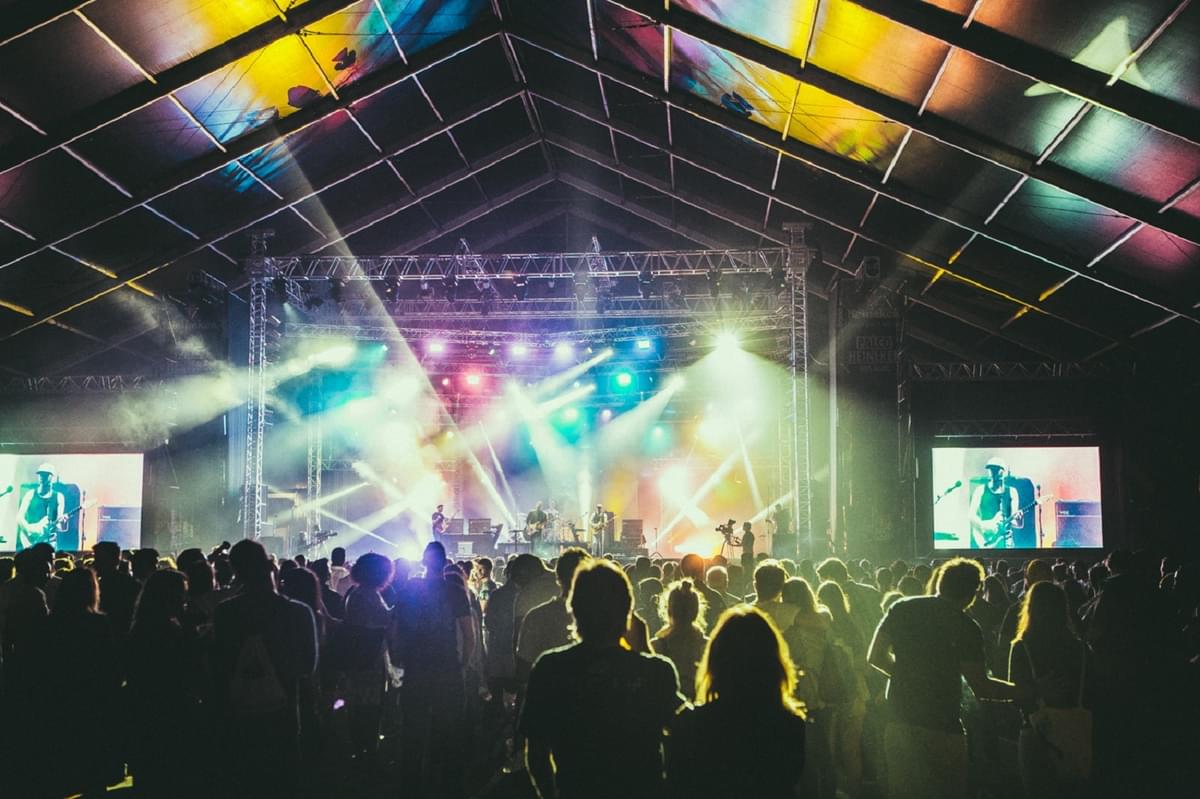 Portuguese talent flourishes alongside world-class acts at NOS Alive
13 July 2017, 09:00
Portugal's NOS Alive gives a platform for rising stars while hosting an enviable array of heavyweight acts to cater all needs
The world is now so saturated with festivals that it can become tricky to distinguish one from another. Thankfully this isn't the case for Lisbon's leading music festival NOS Alive, which prides itself on quietly harnessing homegrown talent.
A good majority of its 50,000-strong crowd might have been there for the obvious big-hitters (Depeche Mode, The Weeknd, Foo Fighters, The xx) but two of the port-side festival's six stages were dedicated to some of the country's – and Lisbon's – most vital exports: Fado and Afro-house. And those acts were the most inspiring.
The festival spans Thursday to Saturday with revellers this year treated to more than 90 music and comedy performances at Passeio Marítimo de Algés, a site that's pleasingly small enough to bump into hazy-headed friends.
How do I get to NOS Alive?
You can fly direct to Lisbon airport in roughly 2 hours 50 minutes from London Heathrow, Gatwick, Stansted or Luton. Most European cities also fly to Lisbon.
Sites like Skyscanner and Kayak provide some of the cheapest deals around with flexibility to return to a different airport should you require it.
Hop on the metro's red line from the airport and you can reach the city in 15-20 minutes. A quick transfer onto the green line will take you to the city's cultural heart: Bairro Alto. Single journeys are €1.40 or you can get a daily pass for €6 which also allows for travel on some trains, trams, and buses.
Those with heavy luggage may prefer to take the Aerobus 1,2 and 3 (the Oyster card-like service requires a loaded credit of €6.50) or you can hire an Uber for next to nothing. There's no base rate in Lisbon, meaning that some journeys cost less than a coffee.
In terms of getting to the festival, most punters take the metro to Algés Station where Passeio Marítimo de Algés is located, an outdoor event space snuggled by the Port of Lisbon. It takes around 10 minutes to get there via a car, taxi or the metro from downtown Lisbon.
A whole host of buses can transport you to the festival (Carris daytime: 723, 729, 750, 751, 776, 15E; night: 201 723 750 – to name a few). There's also a free bus between from Santa Apolónia train station to the festival for those travelling from further afar.
The tourism thing
NOS Alive's nocturnal schedule (acts start at around 5.30pm) allows for plenty of time to explore Lisbon and its surrounding areas.
The old town (Bairro Alto) is a sleepy, residential area by day but by night it's a bustling, bohemian mecca. Among the charming Belle Époque decay of former Fado houses lie some stylish drinking spots. As is the culture in Lisbon, expect to see at least half of a bar's visitors clutching a cocktail out on the street. "Pink Street" has some of the capital's best underground venues, such as Musicbox, even if the area's recent upgrade from a strip-bar street still feels somewhat incomplete.
Rossio Square in the heart of the city is home to high street shops and countless restaurants while a stroll through Baixa will reveal age-old herbalists and haberdashers.
Be sure to snap a selfie at Praça do Comércio, take a tram to Castelo de São Jorge's regal ruins (€8.50 admission), get your fine art fix at Museu Calouste Gulbenkian (€8.50 all-day admission) and travel up high to UNESCO World Heritage site Pena Palace in Sintra for an afternoon of Romance.
Eating and drinking
Portugal's famous egg tart pastry, Pastel de nata, is the culinary highlight of visiting Lisbon. No trip would be complete without a visit to the city's famous Pasteis de Belém bakery (seriously, no one makes them better).
Like its neighbour, Portugal is fond of sharing plates and you can find tapas-like treats at every turn. Solar dos presuntos, not far from Rossio Square, serves authentic Portuguese cuisine (plenty of seafood dishes, I hasten to add, for any fellow pesca-phobes out there) as well as traditional cured meats platters and croquettes.
The festival itself has a fairly wide range of food available from €4 hot dogs and falafel salads to kebabs and cones of batatas fritas. Everyone is catered for with vegan, organic, and vegetarian food stalls – all at a very reasonable price.
Heineken is the festival's main sponsor but there's also cider and spirits. If inebriated memory serves correctly, large beers set you back no more than €4: the same is for a large glass of wine.
Where can I stay?
NOS Alive is a city-based festival with most people renting private accommodation or staying in hotels.
Like many European cities, Lisbon is brimming with Airbnb options. You can rent a central Lisbon double room for a little as €15 a night. Hotels are steeper with double rooms priced at around €110 for central locations.
If you want to splash out for a bit of 5* luxury then look no further than Pestana Palace, an award-winning 19th century restored palace just 15 minutes' drive from the festival site. Rooms start from €213 at night.
There's also some limited camping available at the site... but why would you want that?
Our survival guide for NOS Alive
Bring a layer. It's easy to fall into the trap of thinking every night will be blissfully balmy but NOS Alive is next to a port, aka very windy. By 9pm the sun is down and those shorts aren't likely to keep you warm until 4am.
On the flipside, the sun is still strong when you arrive (it was about 25 degrees Celsius most days) so be sure to pack suncream.
The festival's multiple charging points are a godsend, fit with charging cables for the iPhone 3/4/5/6 and 7 as well for Samsung phones and other mobiles requiring micro-USBs. They can get pretty busy so head down early to nab a coveted spot and ensure to keep an eye on your phone. There's also free, though very temperamental wifi access across the site.
What we saw at NOS Alive 2017
iZem
Lisbon-based French DJ and producer Jérémie Moussaid Kerouanto was one of the first local acts to open the festival. Despite playing to a small crowd from the tiny bandstand Palco Coreto stage, Kerouanto filled the space with ginormous, tumbling Afro-beats that had even the most reserved festival-goer wiggling a toe or two. Kerouanto's sample-heavy creations scoured the globe – from Latin American brass and to kuduro chants – with him peering eagerly over the stage to gauge the mood. He needn't have been so attentive; the crowd was locked in for a fun 30 minutes of dancing.
Rhye
It's rare to hear a such impeccable singing in a live setting but Rhye's Chris Milosh certainly makes jaws drop with his crystalline falsetto. The Canadian artist, backed by five effortlessly tight musicians, brought his sultry, orchestral R&B to the Palco Heineken stage on Thursday that was a welcome ease into the festival. The creeping textures of "Shed Some Blood" were dealt some deliciously soulful ad-libbing from Milosh while fans were treated to slow-jam "Please", the act's first new material in four years. "Last Dance" was the biggest crowd-pleaser with its trombone blasts and full-throttle funk. Despite the stage's muddy sound levels, it was a satisfying close to a stunning set.
Dotorado Pro
Lisbon's thriving Afro-house scene was perhaps best illustrated with a visit to the Palco Coreto stage on Thursday when 18-year-old wunderkind Dotorado Pro worked his magic behind the decks. The Angola-born, Portugal-based producer riddled his set with complex polyrhythms and signature marimba melodies that spurred some carnival-like dancing in the crowd. Better still was Pro's nuanced ability to build layer upon layer without creating a cacophony: the kind of nuanced performance you'd expect from someone twice his age.
The Weeknd
Any complaints (personal, yes) about festival stages being too quiet in this day and age were promptly stamped out by the huge wall of pop emitting from the main stage on Thursday night. The reason? The Weeknd and his colossal back catalogue of hits. From the grand, galactic entrance of "Starboy" to that drop in bassy banger "The Hills", this was a set bursting with Abel Tesfaye's brand of dark R&B, dance, and pop tunes. Sprinting across the stage to hit pockets of the crowd at every opportunity, Tesfaye's sprightly falsetto was an omnipotent force backed by shattering sub-bass and effervescent electronics. "Can't Feel My Face" was a highlight among countless others – you'd have been hard-pressed to not see a single member of the crowd lost in the euphoria.
Tiago Bettencourt
Friday's main stage was opened by Portuguese troubadour Tiago Bettencourt. The Lisbon native's set was suited for the early evening as those sprawled out in the dimming sun swayed and sang to his lilting acoustica. "Se Me Deixasses Ser", with its thrust of '80s drum machine beats and warm, muted guitar chords, injected some much-needed energy into the performance. Bettencourt is a confident performer but some of his downtempo songs brought about a lull that wasn't always easy to be awoken from. A song by his former band, Toranja, however, more than made up for this. The muscular "Laços" – this time featuring Bettencourt behind a piano instead of a guitar – saw him and his band truly come into their own with an epic crescendo of power chords, crashing symbols, and Bettencourt's beautifully gruff voice on the verge of breaking.
Mr. Herbert Quain
Manuel Bogalheiro aka Mr. Herbert Quain proved us right in thinking his blissful micro-house might be best enjoyed live. This was a set brimming with carefully considered build and release that made much more sense in the moment. From the stripping down and remoulding of "The Night "(To Find Another Place Version)" to gleaming shimmers of tropical house, the Portuguese native's set was architectured for subtle rapture, and boy did we feel it.
Mai Kino
Due to some unfortunate clashes, most of London-based, Portuguese act Mai Kino's set on Saturday night was missed. But what we did see was enough. The talented soloist's dark, synth-pop was a refreshing change from the Coreto's stage relentless (though addictive) pulses the previous night. It's early days and much mystery surrounds Kino and her handful of twisted, experimental songs. Our ears remains pricked up.
Fleet Foxes
"Can you hear us above the clubbing stage?" Robin Pecknold asked the crowd 10 minutes into Fleet Foxes' performance on Saturday night. Truth be told it was another disappointing experience under the Palco Heineken stage's canopy (something that's to be looked into next year) but for many the thrill of seeing the folk-pop clan play live for one of the first times in six years was definitely something to persevere with. On opener "I'm All That I Need", Pecknold and co's gorgoeus harmonies just about pierced the mire caused by fuzzy speakers. Thankfully the levels improved slightly over time, with the quintet's energy first palpable on "Grown Ocean".
Songs from their new album Crack-Up failed to emote as powerfully live with the foot-stomp camaraderie of tracks like "Ragged Wood" and "White Winter Hymnal", which sent fans into a joyful frenzy. The band knew this, too, smiling with fondness for their popularity of yore with "Mykonos", "Blue Ridge Mountains" and "Helplessness Blues". Only time will tell if the complex density of Crack-Up will make as much sense on stage.
Peaches
Playing to one of the most rammed crowds of the festival, Peaches closed Saturday night with a parade of plastic vaginas, bondage ropes and, of course, a hairy costume that paid some kind of bizarre homage to Cousin Itt. An assault on the senses, the Canadian provocateur scaled stage scaffolding, stripped naked, and shouted obscenities through a relentless set of beat-heavy, jarring electropop that perhaps needed the visuals to distract from the musical monotony. Peaches is a performer through and through whose multiple costume changes, dance routines, and crowdsurfing rides add to the political theatre even if her music lacks true drama.
The next NOS Alive Festival takes place 12-14 July 2018. Find out
more
.
Get the Best Fit take on the week in music direct to your inbox every Friday