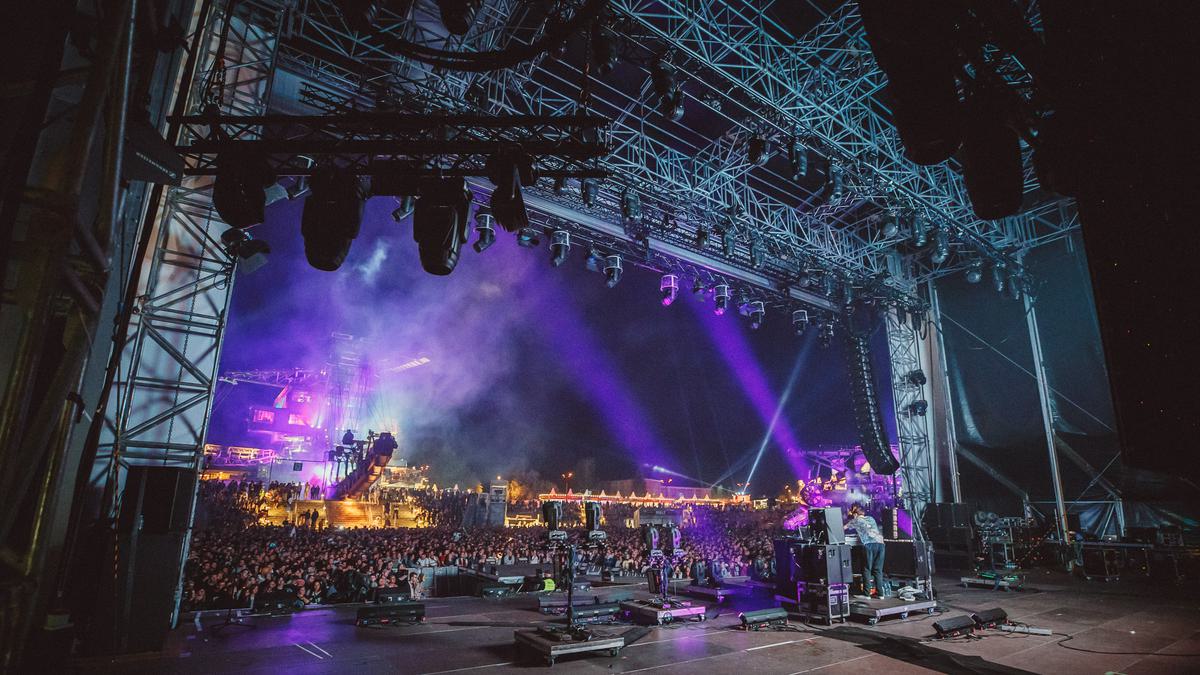 Melt Festival is an inspiring celebration of freedom, love and a 4/4 beat
19 July 2018, 08:10
We travelled to the stunning location of Ferropolis somewhere south of Berlin for Germany's Melt Festival to soak up a celebration of love, freedom and electronic music.
Here we give you five takeaways including Britain's finest band, Sweden's queer queen and the power of bass.
Mount Kimbie are one of the best British bands around
Dominic Maker and Kai Campos are further away from the dubstep scene than they've maybe ever been, and feel more like a full band than a studio/producer project. Yet somehow, in their guise as sort of elastic post-punk outfit they fit right on Melt's Friday night lineup.
It's the bass; all loose, rumbling and the anchor to Mount Kimbie's expansive approach - but also seamlessly blending with the signature sound of Melt. The festival has a 4/4 rhythm for a heartbeat. One that moves from a fuzzy, distant buzz away from the main site to a clubby throb like you'd hear heading down the stairs to some basement dancefloor, to a headspinning, unsettling superthump as you move from one stage to the next, beats blending with one another.
Yet Mount Kimbie created space, brought (almost) clear heads and a motorik focus to one of the sets of the weekend. Electronic heads, punk heart.
The headliner for a curiously subdued Saturday night, Karin Drejier's Fever Ray drew the smallest main stage headline crowd of the weekend, paling in comparison to Florence + the Machine's rammed amphitheatre and the xx's slowly building crowd, a match to their extremely slow-burning set.
Before Fever Ray's colourful, queer, tropical, sex-filled and completely enthralling set the crowd for Melt stage - dominated by two of the site's largest cranes and diggers - was treated to a show from Berlin's premiere drag act House of Present, who we happened to catch gyrating over the edge of a treehouse to the strains of Alanis Morissette's "You Oughta Know" sometime later that night. I don't wish to cast aspersions on some of the attendees but maybe - just maybe - some of the festivals techno bros were unsettled by something less straight than they were used to.
If so, they missed something special from one of the smartest and daring musicians operating today. Fever Ray deserved better, because that was a fucking great show.
Guitars aren't dead or whatever, but it's nice to take a break sometimes
If you'll allow me a little personal detour, searching for inspiration can be a little draining and demoralising, and I've sure found that to be the case when writing about guitar music (whatever that is) in the past eighteen months or so. To come to a festival where guitars were a scarcity (shout out though to Moses Sumney's lovely if a little out of place show as the sun set on Saturday evening) was refreshing and provided some kind of clarity.
It's easy to say that dance/electronic music conforms to certain rules placed on it by being a digital medium, but my god there's only so far three chords and the truth is ever gonna get you. You think you know techno? Have a listen to Nina Kraviz's drop-defying, genre-transgressing music, or the clattering highlife bangers of Awesome Tapes from Africa at the leafy Forest Stage or the world-in-microcosm wonder of Jon Hopkins. The depth and breadth of music to be discovered at Melt is dazzling and it's given some life to a tired old writer.
Kedr Livanskiy leads the way
Who actually wears Superdry? This was a question posed a few times over the weekend, as the "fashion" brand played host to a smaller stage filled with fine artists. None finer than Russia's Kedr Livanskiy.
Mixing dreamy, filtered vocals with old synths and juddering techno, what Livanskiy does shouldn't really work but she pulls it off with a brilliant ease. One of the best shows of the weekend, the bass during her set was actually ridiculous. One of those primal, boneshaking buzzes which unwillingly shifts your feet, churns the stomach and shoots through your body like an electric shock, the low end was quite something.
Livanskiy also highlights what a positive weekend it was for female and non-binary artists. Florence, Fever Ray and the xx were the headliners for the weekend, Junglepussy and the Black Madonna apparently put on terrific shows, while I was lucky enough to catch the masterful Nina Kraviz redefine what constitutes a club set, see Sevdaliza's gothic electronic bewitch a huge crowd at Melt Selektor and Princess Nokia put on a scintillating rap show….well, apart from the fifteen minutes when the set took a turn into emo, complete with genre-accurate nasal vocals. It was close to teeth-grindingly terrible, but Nokia saved it with a stunning freestyle, reminding everyone of her towering talent.
Melt prides itself on openness, freedom and love and while of course there's work to be done on the gender balance both onstage and off, the festival is way ahead of many other similar events.
Coming across like a mix of Return to Oz, District 9 and what I firmly believe the inside of Berghain to look like, the Melt Festival site at Ferropolis is spectacular. And I mean spectacular. Nominally an open air museum dedicated to mining, the main Melt stage faces on to a digger which juts out with something akin to a giant metal dinosaur spine, while other stages - Big Wheel, Melt Selektor - are overshadowed by looming cranes. At night they're all lit up with giddy, garish colours and when you take a photo it's hard to comprehend what you're actually looking at.
Yet take a wander down to the Forest stage and you can make little End of the Road-style hidden gems in the various paths through the trees, and then of course there's a very Instagrammable (well, the whole thing is) beach to chill on, and a lake to cool off in if the searing German summer heat got too much. It's a compact site, easy to get around and barely a queue for anything.
Melt has taken the urban coolness of a Berlin night out and transplanted it in the middle of the - sorta inaccessible - German countryside. It shouldn't work, but it does. And while it continues to work we should praise the work of festival bosses who oversee a trouble-free, relaxed, love-filled celebration of all that's good in electronic music.
Melt Festival will return in July 2019.