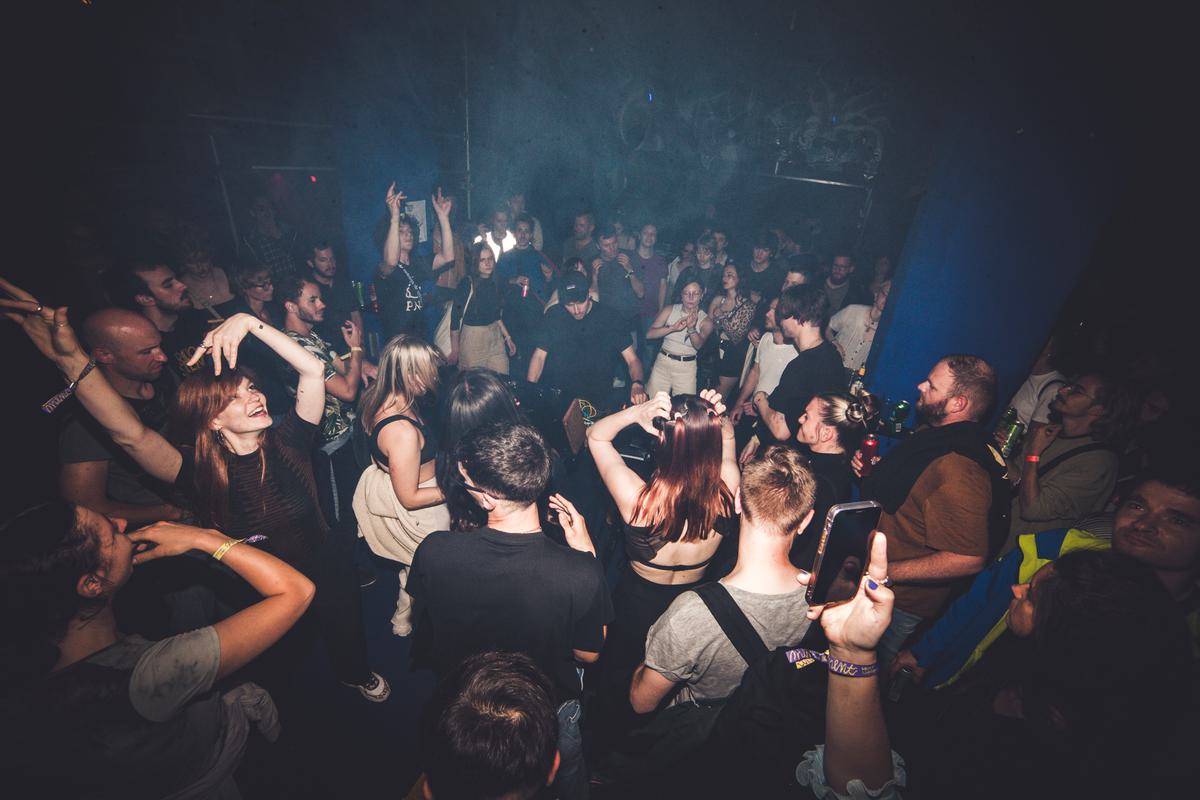 Ljubljana's MENT Festival paves the way for underground European electronic music
16 June 2022, 16:16
Below Slovenia's imposing mountainous skyline, MENT Festival pulses across the capital, showcasing promising underground talent — from electronica and hip hop artists to the experimental and eccentric.
Ljubljana's gritty culture centre, Metelkova Mesto, hides amongst the most unassuming of the city's streets. Contorted and crumbling in the shadows, vibrant graffiti and psychedelic statues are just about visible through the subtle streetlight glow.
"It's a historic site," FVLCRVM explains, as we navigate Google Maps en route to the area. "It was an old army barracks that the government wanted to tear down, but it had become an alternative venue. It's now protected and popular for the electronic scene."
Though he's not performing this year, the Slovakian electronic artist, signed to a subsidiary of Universal Music, has returned for Ljubljana's 2022 MENT festival — praising the festival and explaining the venue's unique history as we pick our way through the crowds to Channel Zero in Metelkova Mesto for Monikaze's set. Spread across various venues across the capital, MENT showcases up-and-coming artists from across the world, bringing them together in Slovenia's colourful and charming capital.
Photo: Lenar tLukšič
Walking through Ljubljana during MENT, it's not uncommon to bump into artists wandering through the city, which is how I meet FVLCRVM. As well as live music, the festival boasts a number of unique conference sessions and panels such as listening sessions, discussions on wider industry issues and networking opportunities.
The three day music discovery festival may be seemingly hidden away in Ljubljana, but its connectivity with the rest of the world is something which many larger, global events could learn from, particularly those in the UK. Though the festival concentrates on celebrating the best of local, regional and Eastern European scenes, artists from all over the continent, and now the US, are on the line up. For fans of fringe genres across the world, MENT is certainly an event worth attending; musicians are free to test the waters and experiment with new ideas and are welcomed to do so. It's an exciting prospect to imagine the avenues which these sounds may expand to and explore in the coming years.
The various venues within Metelkova Mesto form the ideal setting for the rise of Slovenia's electronic music scene; its underground, grungy atmosphere and aesthetics boast the energy and intrigue which is so lacking in many electronic venues in the UK. Metelkova Mesto has a sense of intimacy and thrill which makes it so unique, as do the artists on this year's bill.
The previous night, Wednesday 8 June, saw the week's events get underway at Kino Siska, with the French experimental group QuinzeQuinze opening affairs at the Katedrala stage. Their live performance perfectly sets the tone for the coming acts, with contagious energy, animalistic dance moves and even masks. Psych-inspired electro hip hop blasts as the Parisien ensemble writhes across the stage.
Photo: Kaja Brezocnik
Drawing on the same melodic strength as QuinzeQuinze, Belgian four-piece Tukan follow proceedings at Komuna stage. A constant groove pulsates through the entirety of the set — somewhat reminiscent of BADBADNOTGOOD, but with more direct melodies and less improvisation. Their sound emanates strong electronic influences brought to a live setting; a fusion of addictive grooves, the playfulness of jazz and the hypnotic, distorted qualities of post-rock.
Wrapping up Wednesday's events on the Katedrala stage, US-born Yves Tumor and their band offer the ultimate live experience; an amalgamation of rock-based experimentalism with infectious melodies and lyrical depth. Yves Tumor builds bridges between rock, psychedelica and electronica; it's a performance reminiscent of Prince's androgyny, with restless energy and almost glam-rock inspired guitar solos. It's clear that the band is built for a live sound, with a dominating presence that commands audiences as the ensemble bound onto the stage with the anthemic latest single "Jackie".
Photo: Ales Rosa
Events migrated to Metelkova Mesto on Thursday, to its small, intimate venues such as the grungy Gala Hara, as well as Klub Gromka and Channel Zero. Here I find Lithuanian electronic artist Monikaze, who lays out her experimental electronic compositions. Having completed a degree in composition in Lithuania, she explains she became bored with the confines of academic writing and instead carved out her own lane. Live, she entwines tender vocals and spikey percussion and samples for a well-rounded set that doesn't rest on any one idea for too long.
HTRL is positioned in the centre of Channel Zero's dancefloor; a chaotic jumble of red, blue, green and yellow wires exposed through the darkness, glaring in the flashes of strobe lights. Punters are sat on the scaffolded platform above the venue, but not for long. The Czech's steady rhythms throb, building in intensity and euphoria, until the venue erupts as the beat drops into almost an instrumental euro-dance climax.
Later, over at the open air Gala Hala stage, I head to Slovenian duo Balans with a producer from the label Nature Scene, Alastair McNeill, who operate in Ljubljana. They command a hypnotic, steady sound, accompanied by wavering vocals and eccentric outfits to match. "They sound great, but I really must remind them to change key for the next record," McNeill laughs, as their set winds to a close.
On Friday afternoon, I find myself sitting in one of MENT's listening sessions, alongside two of the weekend's artists - Monikaze and HRTL - both having performed the previous night. Alongside four other artists of the festival, both have submitted a song to be reviewed in a live setting - an understandably nerve-racking experience for everyone involved.
As their tracks are played live, heads start to nod and smiles break onto faces across the room. HTRL's techno track building in intensity with rolling drum beats and revelling in euphoria, offering an insight into the Czech electronic scene; Lithuanian Monikaze's experimental sound breaks through with abrasive shrieks and a junglish beat; Slovenian collaborative project Warhorse offering a shoegaze-inspired track with strong elements of stoner rock, laden with reverb. The unique session brings to light the strength and calibre of artists featured at Ljubljana's 2022 event.
Macedonian free jazz, post-rock 11-piece ensemble Svetlost + Odeon Ritual Orchestra bring their cinematic pieces to the stage at Cankarjev Dom Club on Friday, with sweeping soundscapes dominated by glossy brass melodies and ominous double bass lines that often find themselves skulking around the minor scales. The beautifully unpredictable vocals of the UK's Martha Skye Murphy, as well as the ambient musings of Austrian producer and keyboardist Dorian Concept, are some of the highlights from MENT's final day.
While it's under the radar for many, MENT festival is a small but bright beacon in Slovenia's cultural landscape. Now in its 8th year, it has found itself firmly seated in the realms of electronic prowess.
MENT festival ran from 8 to 10 June 2022.