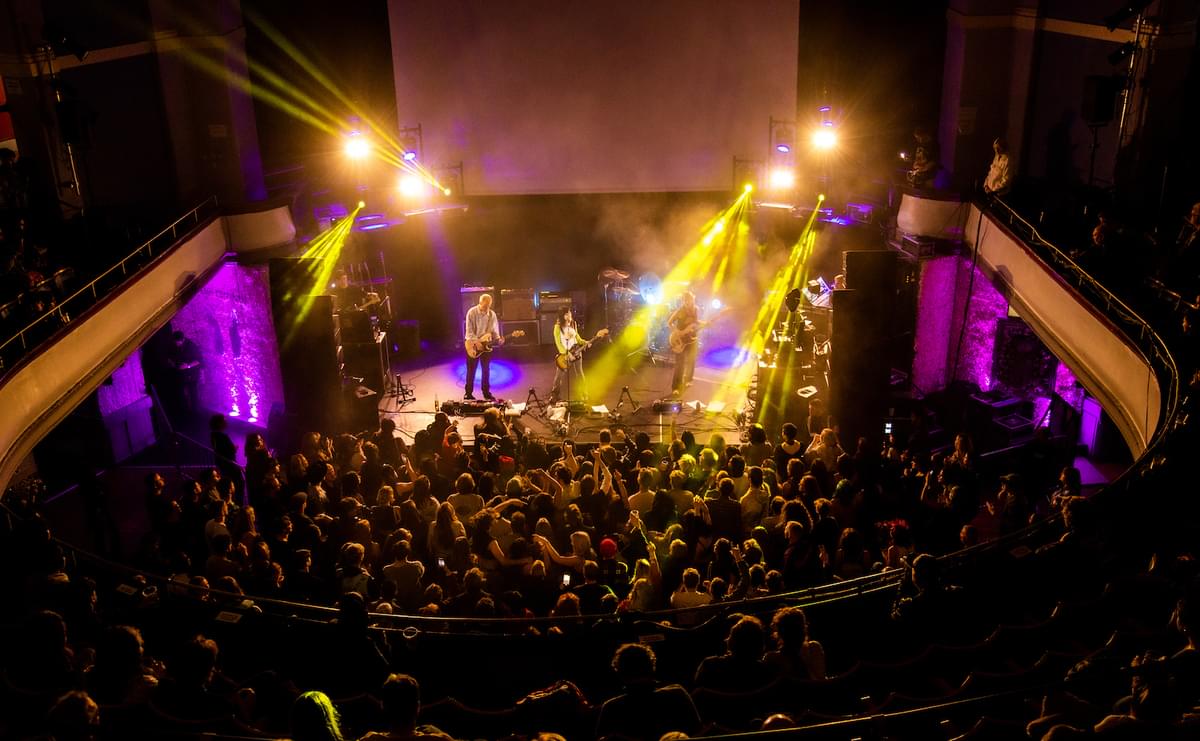 Liverpool Sound City 2021 converts Merseyside into a treasure trove of music discovery
04 October 2021, 11:00
Once located in the historic Bramley Moore Docks towards the northern outskirts, the yearly festival has since been hosted in the heart of the city. Now, while the warehouse atmosphere of the Baltic Triangle is no more, Sound City can be found thriving in the epicentre of the city – just a stone's throw from Lime Street station.
Nestled between coffee shops, gentrified bars, and restaurants aplenty, the 2021 edition of Liverpool Sound City takes a collection of the cities cherished, and mostly grassroots venues, and converts the cobbled streets into a walking tour of music discovery. With Arts Club Theatre, EBGBS, The Jacaranda Club, and The Shipping Forecast, to name a few, being within a 5-minute walking radius, these small venues inform the city's rich history of music beyond the Cavern Club. Yes, there are nods to The Beatles on every corner, but it's the latest beacon of talent that has punters excited.
In all honesty, it's affirming to see that these venues have survived the gruelling events of the past 18 months. While there were some near tragedies throughout the pandemic, including the popular Zanzibar Club, Liverpool has been leading the charge with the return to normality since Blossoms' government pilot event at Sefton Park in April. Approximately sized between 100 to 1,300 capacity, these spaces offer an intimate glimpse at emerging and established talent across the three-day event.
There's a sense of intrigue and excitement across the city on Friday evening. On the release day of her debut mini-album Slack, New Zealand born, London based artist Molly Payton is the first to take to the stage at Grand Central. Captivating audiences with her smooth, rock and roll indebted, slacker-pop sounds, she plays through an array of tunes that soon draw people through the door – including Friday headliner Beabadoobee, who watches from the barrier in support.
A hub for tastemaker talent, Grand Central could be coined as the most obvious venue for festival-goers to inhabit. Scouse indie favourites SPINN subsequently burst onto the stage with their earworm hooks and jangly guitars as frontman Johnny Quinn sways between being entertaining and poignant. Part dancing with your hairbrush as a microphone in your bedroom and part social commentary, he says "shout out to Oxfam, they're doing God's work" before giving the audience a first listen of their new track "People Should Know Better".
Though, it's the anxiety of what you could miss that makes Sound City unique. While there are some obvious must-sees, the array of talent on offer feels intangible and leaves a sense of FOMO when picking one artist to see per time slot.
As evening draws in, the festival comes alive with female talent. As the UK's leading festival for the PRS Keychange campaign that addresses the gender imbalance across line-ups, Sound City is striving towards a 50:50 gender split across its festival and conference and have formerly exceeded this in 2019.
For a festival that has had Loyle Carner, Mabel, Metronomy, and Catfish and the Bottlemen as their headliners across the previous few years, Beabadoobee seems a refreshing pick for the first headline slot of the weekend. Not entirely ground-breaking in her performance but pulling a dedicated audience nonetheless, she plays through a crowd-pleasing set where tracks "She Plays Bass" and "Coffee" receive the most animated reception. Further into the night, it's GRACEY, at Arts Club Theatre, who delivers a banger-heavy setlist. With tracks centred around post-breakup club nights and internet anxiety, it's a universally affirming look into how far she's come beyond the lockdown pop scene.
Asides from the music programme, further experiences can be found at the influential Sound City+ conference, which takes place across the weekend. On a rainy Saturday morning, the programme hosts cutting-edge discussions and insightful debates with the intention of celebrating key businesses, media, and industry leaders. Speakers include members of Spotify, YouTube, Beggars Group, AIM, PPL, Vevo, and Ninja Tune, as well as artists including Nova Twins, who offer insight into the shape of the music industry alongside its newfound challenges, opportunities, and discussion points.
Quickly delving back into the music French singer/songwriter GEISTE delivers an enchanting performance with her genre-bending beats at Kazimier Stockroom. As the name suggests, this intimate space was formerly the Kazimier team's stock cupboard and has since been converted to a micro-event space that holds just 100 people. While perhaps unintentional, this space and its accompanying courtyard garden become a hub for festivalgoers across the weekend. The selection of drinks offers punters the opportunity to try some of the best international, national, and locally brewed beer and ciders, as well as an outdoor kitchen where food can be ordered directly to your table. It's essentially what is missing from the multi-venue aspect of Liverpool Sound City – a place to relax with friends between sets in a comparable fashion to a traditional field festival site.
Ultimately, it's about the music though, and moving over to The Jacaranda Club later in the afternoon, the live space in the basement becomes riotous. NOISY by name, noisy by nature, the self-proclaimed 'rock n roll ravers' arrive (albeit twenty minutes late) to a packed-out room. Overwhelming for some due to the low ceiling, they race through an electrifying set that ends with a full floor mosh pit.
One of the most impressive performances comes from 21-year-old indie-pop artist beaux. As one of Dirty Hit's most recent hopes, his minimal three-piece live band sway through elements of synth-pop, indie-rock, and acoustic anthems with forward momentum. Closing out with his newest single "guard down", beaux leaves an impression on the crowd while seeming humbled by their welcoming reception. Scouse native Pixey is next to take to the same stage at The Shipping Forecast; though after popping out for a short breath of air, the room soon fills to capacity and leaves many unable to catch a glimpse of her largely hyped set. Disappointing to some, but an opportunity to explore the alternative offerings for many, it's Courting (and their reputation for parody covers of 2000's pop songs) who soon become the must-see act ahead of the Saturday headliner, Red Rum Club.
Come Sunday morning, the city is still bubbling with activity – partly due to Liverpool FC's home match which dominates the talk between gigs, but also due to the fresh talent that closes out the final day. Katy Alex and Luke Royalty pull equal attendance at Kazimier Stockroom, with their distinguishable brands of guitar-led pop.
The truly staggering show of the afternoon, though, belongs to Kay Young. A new talent who's signed to Jay-Z's Roc Nation after being personally discovered by Jay Electronica, the multi-talented South London artist offers a refreshing break from the guitar music that has dominated the festival thus far. Her beats move from West Coast-influenced hip-hop to the best of British rap, using her voice as the connecting centrepiece. With an undeniable swagger and charm, she closes out my Sound City experience on a high while others are left to enjoy the likes of Miso Extra, Miraa May, and Rejjie Snow into the evening.
Get the Best Fit take on the week in music direct to your inbox every Friday