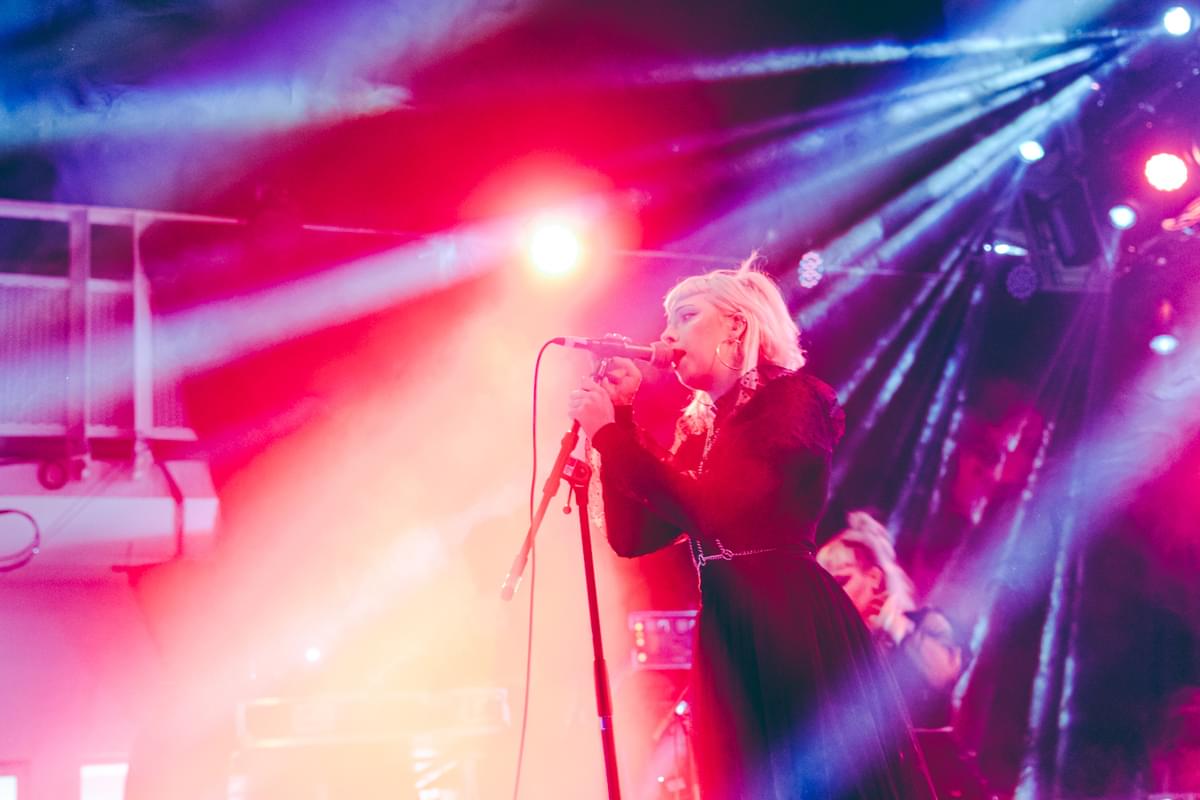 Kælan Mikla and aYia serve up magic and digital malaise on first day of Iceland Airwaves
07 November 2019, 13:13
Showcase festival Iceland Airwaves kicks into high gear with plenty of bangers on the first night and the promise of more to come. Gabríel Benjamin reports from day one of the Reykjavík-based festival.
Opening the festival proper is Kælan Mikla, a gloomy trio of darkwave witches that fill the Reykjavík Art Museum with their chilly songs about the night and the full moon. I had the honour of interviewing them five years ago at one of their first shows, when the three girls were still teenagers and had a radically different sound. The band had been formed to compete in a poetry competition (which they won), and played their own form of barebones avant-garde punk to depressed and anxious poems about teenage feelings.
It was obvious that they were channeling something intoxicating and relatable, but at the time their direction was uncertain. The interview took place at a grimy drinking hole barely suited for live shows with a sparse few in attendance. Since then their songwriting has evolved by leaps and bounds and the strumming bass is now complemented with thick synth waves. Instead of their sound feeling like a throwback to the punk music of the '70s, it now feels much more vogue and resonant with a digital generation.
I could not have anticipated that that raw and angsty trio that spoke lightning would harness it and end up filling the art museum in Airwaves' opening slot. Similarly, the people that organised the first Airwaves 20 years ago in an airport hangar could not have known they had just created a cultural phenomenon that still to this day is the event that all local bands strive to partake in.
The outfit immediately falls into their groove, playing their songs with a sense of fervour honed from intensive touring through Europe and the States in recent years. The night starts cold, and it starts banging.
Over at Gaukurinn, first-time Airwaves performers Hrím showcase their genre-defying and evocative music. Soft yet dramatic, operatic and methodical, the combination of harmonies, beats, and instrumental samples are reminiscent of early múm albums without sounding derivative. The heavy use of the glockenspiel is, however, a little on the nose.
Back at the art museum, the sublime aYia deliver an electronic show full of loops and heavy drops, accompanied by whispered and fragile vocals. The three-piece outfit crept onto the music scene in 2016 with the online release of infectious and meticulous "Water Plant", only to then stun audiences by performing it live with even more subdued and ethereal energy. Tonight the band performs a selection of their best songs; the ebb and flow of the electronic suite is accompanied by terror in a hushed voice. The band has established itself as the sound of a screen-addled digital generation with no future but a plethora of problems weighing them down. The band ends their set with their aforementioned first banger, briefly livening up the introspective crowd.
Ragnar Zolberg gained fame at the turn of the century as the frontman of alt rock band Sign, and it is a pleasure to see that his set is not only good to see for nostalgia's sake. The rock show is a masterclass in measured pace and usage of layering to avoid aural occlusion. Ragnar's voice still hits all of the really high notes, and he pays homage to his dramatic roots while showing how the music has matured with him to become something greater-than.
The young singer/songwriter Ásta braves the Airwaves stage solo with guitar in hand. In between performing vulnerable and playful songs she establishes a familiar rapport with the audience, telling them intimate stories about her process and past. She smilingly says that she first attended Airwaves last year and told herself: "OMG! I have to play here!" She then gets emotional describing the story behind a lovesong of hers which involves wading barefoot through the snow to see her lover, only for the passion to fade. She then sings the song, still with tears in her eyes.
Konfekt waste no time and immediately start jamming. They play lively and jazzy pop with a few "wahoo"s and plenty of smiles, with songs alternating between topics like self care and mindfulness, and wistfully longing for what could have been and paths not taken.
Meanwhile, over at Iðnó at a non-Airwaves event, existential pop artist sóley performed a set that demanded the audience's attention while draped in a full-body black veil. Harrowing synth waves and serene strings, sombre piano and melancholia aplenty define the show. Her final song has a literal bombtrack beat to it, which sóley explains is "how we'll all die".
Get the Best Fit take on the week in music direct to your inbox every Friday