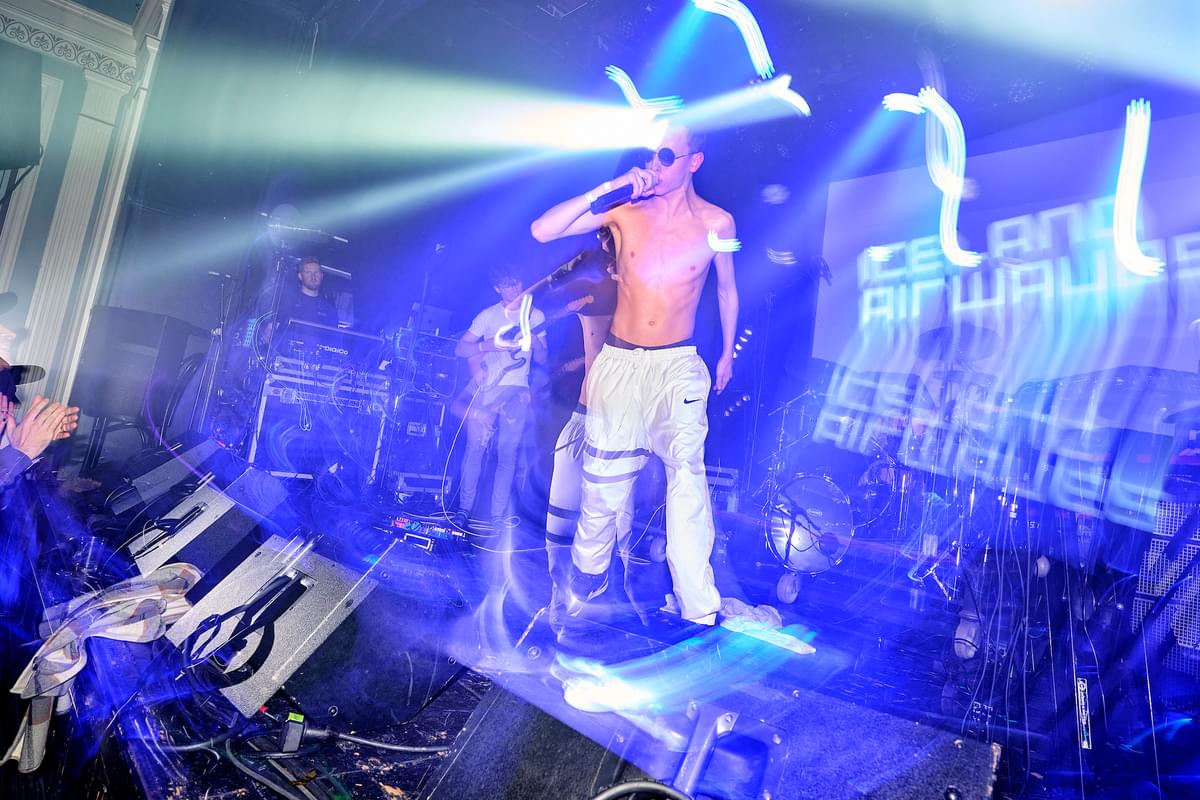 Rapturous punk and activism dominate Iceland Airwaves second night
05 November 2022, 18:00
Lead image of Marius DC by Florian Trykowski
As the second evening of the three-day festival rolls around it noticeably starts gaining steam.
In addition to the numerous off-venue offerings, other venues put on their own independent shows for the party-hungry populace of Reykjavík. Music can be heard blaring from parliament square as far out as Fríkirkjan.

Famously, the festival sold out for the first time in a decade. While the first night only saw the occasional queue and at-capacity venue, on the second night everywhere feels packed and festivalgoers risk missing entire sets by switching venues. Well before English electronic group Metronomy is set to play at the Art museum, a line has formed that snakes around half of the museum building.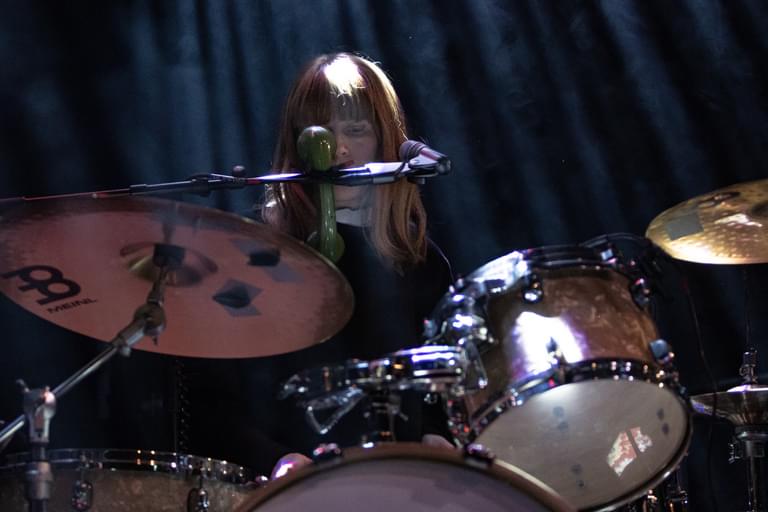 BSÍ by Mummi Lu
A crowd organically gathers to see the ever-exciting low-fi punk band BSÍ. A dynamic duo that formed with the intentions of playing instruments they didn't know how to play, BSÍ sees Sigurlaug "Silla" Thorarensen sing and play drums (a decision she admits to the crowd she may not have "entirely thought through" at the time) and Julius Polox Rothlander play bass, as well as the keys and synth with his toes.
Despite having had to pick up their instrumental skills on the go, the two have a full and cohesive sound. Most recently they released Sometimes depressed… but always antifascist, an album equally split with one half slow songs about matters of the heart and other half anti-establishment activist punk anthems. Their show at Gamla Bíó sees them play more of the latter half, with song "Vesturbæjar Beach" being one that resonates well with the audience. The band throws in a seldom-heard cover of Spice Girls' "Wannabe", to much applause and fervent singalongs from the millennials in attendance.
The band also demos an upcoming song. Silla states that they're just "practicing" the song on stage, as it doesn't have lyrics yet, but it packs a punch. Upbeat and fun, it garners applause, but not nearly as much as their next song, "Dónakallalagið".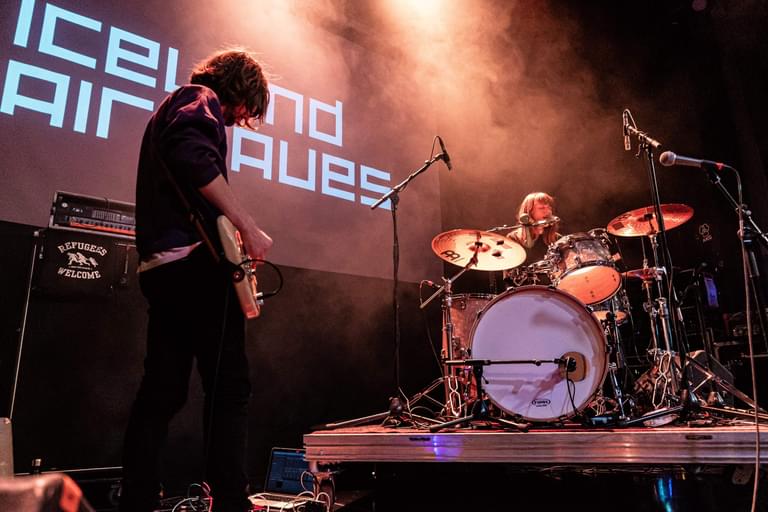 BSÍ by Mummi Lu
Silla explains that the song is "an anthem against toxic masculine dudes, and we dedicate it to the most toxic dude today: the Icelandic government and the Minister of Justice." She continues and explains about how fifteen asylum seekers were deported in the dead of night before stating: "No human is illegal." She says they wish Iceland Air, the primary sponsor of Iceland Airwaves, would stop taking part in deporting asylum seekers.
Half way through the song, the duo is joined on stage by activists holding banners that read "No border / no nation" and "No deportations", as well as venerable punk icon Magga Stína, who performs a fiery sermon denouncing the ruthless activities of the government. Magga states how out of the fifteen deported, two were children arrested by the police as they left school, and one was disabled and a wheelchair user. "They threw them to the streets of Greece, but took away his wheelchair because it was the property of the state!" She proclaimed to thunderous boos. Magga Stína pleads with attendants to take a stance. "We have to stand up to injustice." As the band continues the song, a series of fliers are thrown to the rapturous crowd which lingers well after the set ends.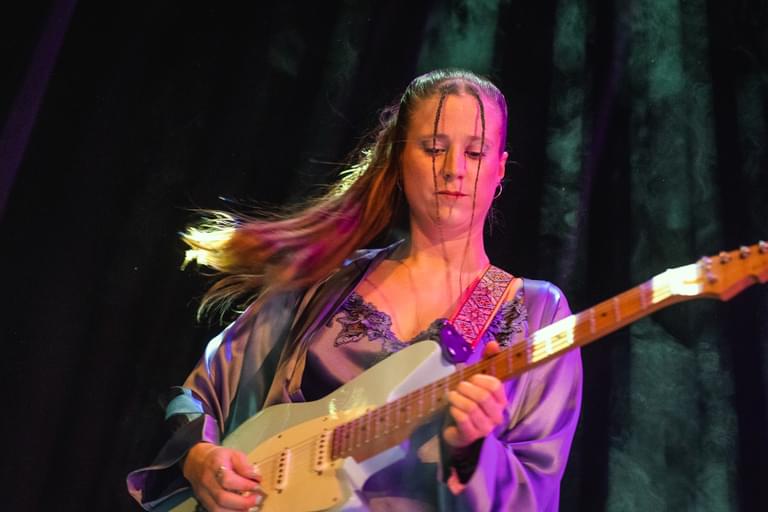 FLOTT by Asgeir Helgi
Following them is another rising star, the feel-good pop group FLOTT. Appearing at Airwaves for the first time, they get the crowd moving with their silky-smooth tunes and easily intelligible lyrics. Frontwoman Vigdís is charming in between songs, showcasing her quick wit and humour (she's also one of Iceland's premier stand-up comedians), introducing for example "Hún ógnar mér" ("she threatens me") as a song about the futility of female competition where solidarity would carry everyone further.
When crowd-favourite "Mér er drull" ("I don't give a shit") starts, the crowd eats it up as the music video plays on screen. The band is then joined by Unnsteinn Manuel Stefánsson of Retro Stefson fame for a rendition of "Gleðlilegt nýtt ár", with lyrics swapped out to sing "happy Airwaves, whoever you are" instead of "happy new year".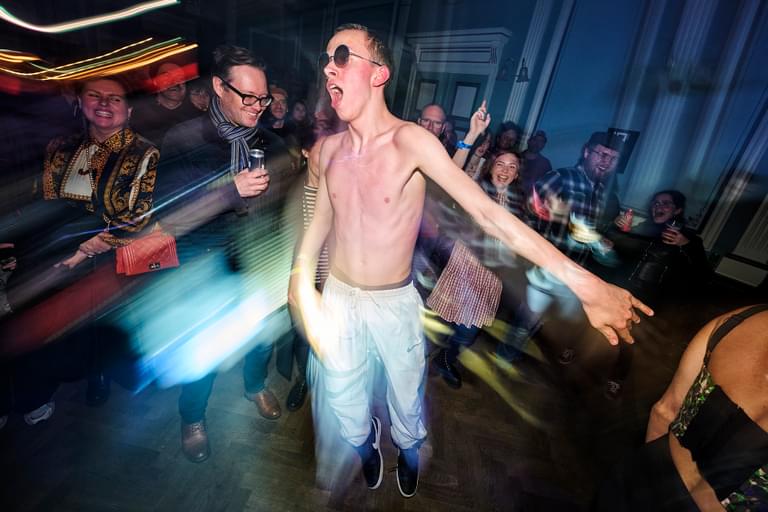 Marius DC by Florian Trykowski
At Iðnó, Marius DC declares himself to be the "hardest rapper" to come out of The Faroe Islands. While he definitely turns heads and seems fun, his verses about being loaded and having uzi on his lap feel derivative. Greyskies at Húrra provides a welcome relief with chill pop tunes. Goth-popper Brimheim gives a heartwarming show that pleases the ears and eyes at Iðnó. Catching the end of Superserious also proves to be a comforting experience as they blaze through a pleasant and cute indie set.
The showstopper of the festival, however, is the final act at Gaukurinn. GRÓA is a radiant punk band whose evolution is evident on their three albums; their eponymous album is a fun and whimsical teenage punk debut, their sophomore album Í glimmerheimi ("In a glitter world") showcases far more instrumental and songwriting prowess, with newest album What I like to do being an entirely new beast with rougher drums, growlier guitars and a thumpier bass.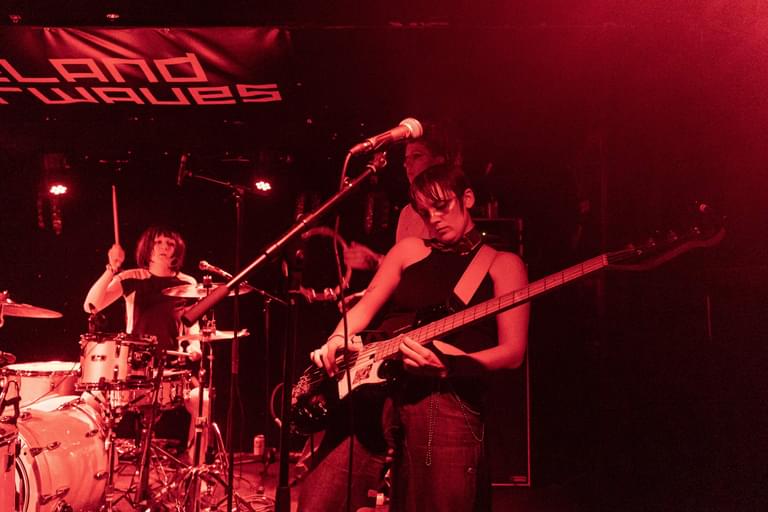 GRÓA by Mummi Lu
Bouncing on the stage with their hype dancer on stage, the three-piece band emits infectious energy which the attendees eat up. The buildup and release of each song becomes more intense as the show goes on, with discordant instrumental clashes competing with repeatable lyrics, all blending into a chaotic riotous bundle of joy. "Ég skal bíða eftir þér", "Grannypants", and "What I like to do" are clear standouts and have lived rent-free in my head since the show. The fast-paced and hypnotising "Ferðast um á hval" whips the crowd pogoing the hardest, but when the final song finishes the crowd seems confused. Valiant cries for an encore eventually die down and the throng exits into the night.
Two nights of Airwaves are over, leaving a high bar for the final to pass.
Get the Best Fit take on the week in music direct to your inbox every Friday