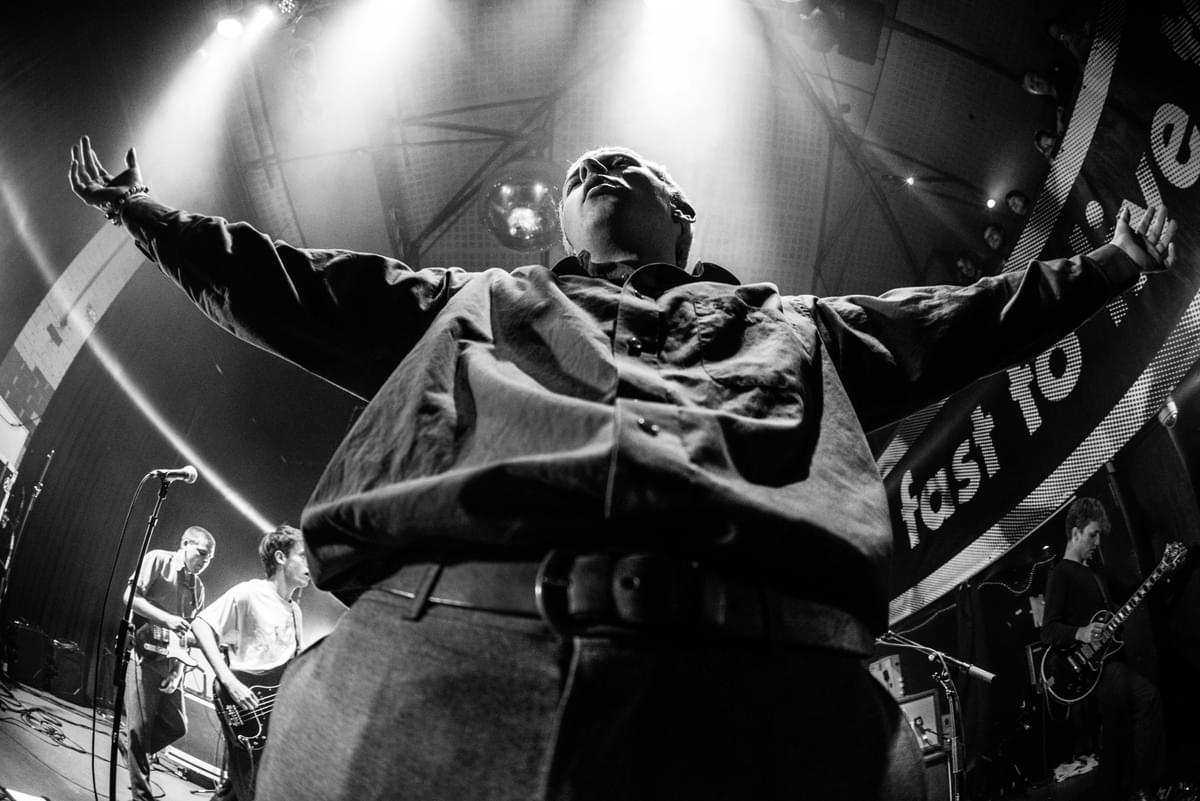 Hit the North combines hometown pride with the best of new music
16 May 2019, 22:00
The team behind Newcastle's Hit The North have cherrypicked the best features from events like SXSW and Reeperbahn and spent time creating their own ideal city showcase.
Now in its third year, Hit The North's 2019 event saw over 170 artists play across two days, in fourteen venues and with an attendance triple that of 2018. Including the opening parties of the Friday (featuring the likes of Metronomy and Futureheads), last weekend's event saw more than 6000 new music fans make their way around the event's multiple sites – no mean feat on a Bank Holiday Sunday in the city centre.
Full disclosure: the North East is very much my home; like a parent or sibling I'll defend it to the death, whilst also being well aware of its faults. What strikes me most this weekend though - while walking between venues or chatting to those who'd bought tickets - isn't the potential distraction of bank holiday boozers, but more the clear sense of pride at having a festival like this on home turf - groups of young fans with maps and schedules and a dogged commitment to making it work.
In the last decade or so Newcastle and Sunderland - Middlesbrough too - have gone from venues closing and bands forever skipping the cities on tour, to revived spaces for new music of all genres. Vital community action via the likes of Pop Recs and the continued growth of the much loved independents who many have relied on for so long (The Cluny being one example, Evolution Emerging being another) has brought nothing but good to the North East and those within.
When services are routinely slashed, councils and schools dangerously underfunded and you have an entire generation still trying to recover from the austerity of old, it's difficult to see the North East continue to suffer more than it's fair share of lows. Despite this, we still succeed – and more importantly – give back and re-invest. Not since the heady days of Jimmy Nail being Number One in the UK (this still bangs) has there been a better time to be a musician from the North East. Hit The North has seen the value of investing in that younger crowd and local bands, giving them access to multiple artists, national and international, who might otherwise be out of reach.
Around 90% of the venues were 14+ this year, with a packed daytime schedule from 1pm meaning any curfews were well catered for. The furthest showcase out was around a fifteen-minute walk, with the majority of venues only five or ten minutes apart, some far less. The scheduling did suffer slightly from technical issues and delays, but overall the festival showed an impressive line-up of both brand new and existing key artists for 2019.
Sophie & The Giants
British pop-bangers with an edge – Sophie & The Giants were really impressive on Sunday afternoon, bringing a high level of energy from the first track to the last. "The Light" is the brand new single and the best of their set, well thought out and with a massive chorus or two.
A Festival A Parade
From Hit The North on Sunday to O2 Shepherds Bush Empire, A Festival A Parade are tour support for Sam Fender again, enjoying increasing crowds along the way. Tracks from their Stay Away From Me EP went down best at Boilershop, their specific brand of alt-rock bringing an intense atmosphere to the warehouse space. They have a brand new single on the way and more tour dates here.
LION
Loud enough to pull a distinctly non-festival crowd from the bar upstairs down to the basement venue, LION plus band have done their fair share of touring over the past year or so, with LION (aka Beth Lowen) having done plenty as a solo artist prior. Point being, their set in a smaller venue was one of the best of HTN; effortlessly accomplished and centred on the undeniable draw of that vocal. Oh No from the debut Fiction-released EP went down especially well.
Dylan Cartlidge
Middlesbrough based Dylan has had a pretty incredible 18 months or so, being snapped up by Universal Publishing and with yet more announcements on the horizon, his set at Head of Steam was as energetic as ever. Featured on the line up for Radio 1's upcoming Big Weekend, his unique fusion of multiple influences seems to be reaching an increasingly wide audience.
Delilah Montagu
Playing to a slightly diminished crowd post-Dylan Cartlidge, it took a little time for Delilah Montagu plus band to get started. Sadly a fair few left due to clashes elsewhere, but those who hung around gained a clear insight into why Montagu and her songs were so sought after. Switching between piano and guitar, it took some discernable skill to power through and make the set as special as it was.
Easy Life
Clearly one of the biggest draws of the day, Easy Life managed to keep everyone on side despite a lengthy delay prior to their set at Riverside. A few tech issues whilst onstage saw only a temporary lapse in focus from those who'd stuck it out, but the Leicester band deftly used it to their advantage, chatting to the crowd and seeming to take it all in their stride – certainly one of the busiest of the day.
Another Sky
A short walk took us back to Town Wall and just in time for Another Sky. Such intense, dark melodic pop shouldn't work as well as it did in a cramped basement, but Another Sky were genuinely captivating. "Chillers" is still a massive song, performed with an intensity that you can't necessarily feel via record alone. Make sure you see them live should you get the chance; their next show in London is Sept 24 at Village Underground.
Blaenavon
Now a four-piece, Blaenavon headlined the Boilershop stage; pulling out some old school favourites for a clearly dedicated crowd. Speaking openly about the struggles of the last year or so, their set felt doubly special, the singalongs all the sweeter and the super friendly "circle-pit" one of the happiest we've seen. Previewing a new track from their next album, Everything That Makes You Happy, it felt like a cathartic performance from a band ready for the next chapter.
Shame
Having first caught Shame a couple of years ago at Visions, their slot at Riverside felt like seeing an entirely different band. Up there with my favourite sets of the weekend Shame were incredibly energetic, frantic and better yet...actually fun? Frontman Charlie Steen had some family in the crowd, his mother apparently being from Newcastle, playing to an audience full of fellow bands and artists too.
Hardcore Shame fans filled the front three quarters of the 600-cap room, the band visibly feeding off the energy they supplied. Never ones to shy away from crowd interaction, Charlie and co stalked the stage, lapping it up and playing the last track held aloft. Special mention for the bassist too, whose gymnastic abilities were a highlight of their own.
Get the Best Fit take on the week in music direct to your inbox every Friday