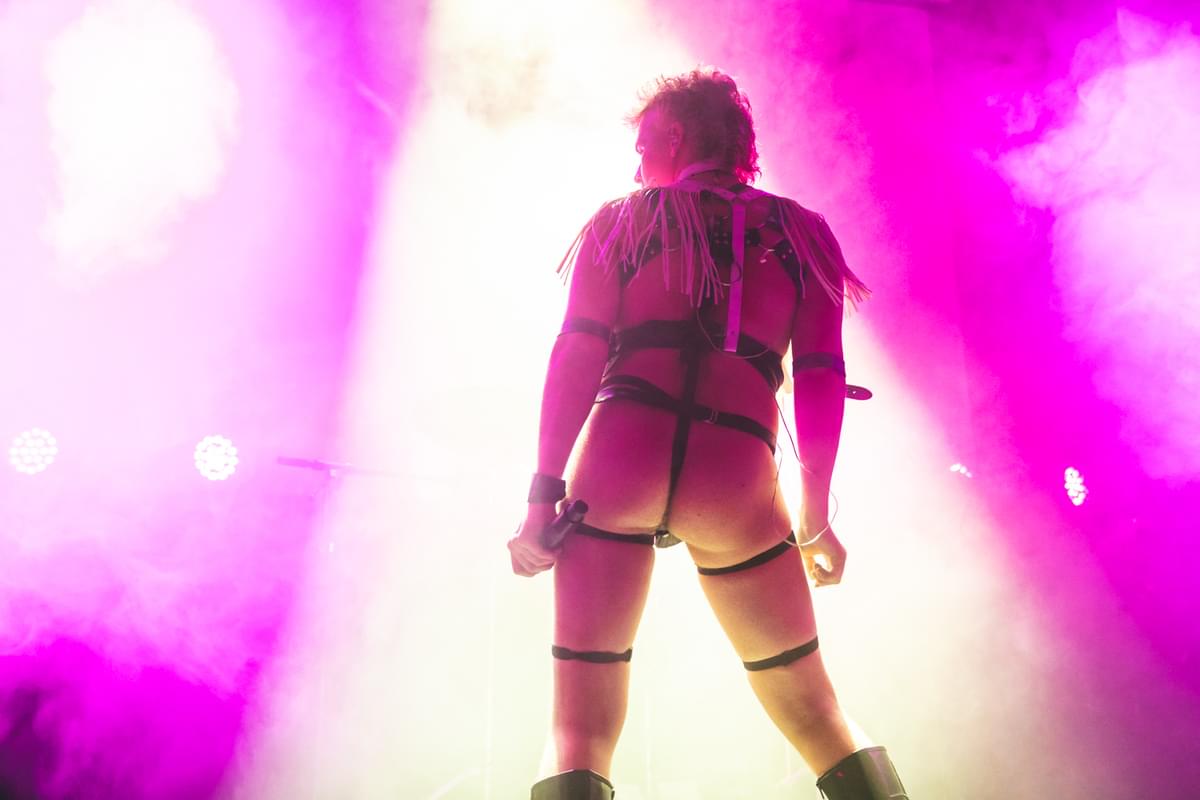 Hatari dominates penultimate night of Iceland Airwaves 2018
10 November 2018, 12:00
If Iceland Airwaves was a competition, it would be hard to justify continuing after Hatari's stellar performance
The evening starts with what should on paper be a good opener, but unfortunately falls prey to Airwaves scheduling monster. Young Karin (pictured below) is a project that's been developing the past few years and has a lot of potential with its catchy pop melodies, but was wasted on an early slot at the art museum, a massive venue that is very bare when attendance is sparse. Her day will come.
Meanwhile at Húrra, Heiðrik's set suffers from a different kind of problem; attendance is solid but the band overreaches in its ambition and suffers numerous technical and instrumental problems. The dramatic and klezmer-esque jazz is enjoyable, but doesn't captivate the crowd.
The first truly successful show of the evening belongs to aYia (singer Ásta pictured below), the enigmatic electronic dark wave trio that majestically sprung onto the Icelandic music scene in 2016. Their set is an exercise of sublime delicacy, with every note transient and every tug of the heart strugs delicate and purposeful. Nothing feels forced or out of place, but refined and in balance, which is further emphasised when one cable comes loose and a part of the soundscape is missing for a few agonising seconds.
About halfway through the show, it all starts to become overly familiar, sounding just like the last time I saw aYia, and the time before that, and then the band springs a new song onto the audience which strays far from their mold. The explores new frontiers with a more infectious tempo and upbeat vibe before finishing the show with the familiar and exhilarating "Ruins" and "Water Plant".
Logi Pedro attracts all the sharply dressed (and giddy) youngsters to his show, in which he performs his slick and diverse show that sits somewhere between hip-hop, RnB and straight up pop. He knows his crowd well and doesn't even bother speaking English, as it's a show dedicated to the locals, who in turn know the lyrics intimately and sing along candidly. Logi brings Birnir, GDNR and Króli on stage for collaborations, each evoking a palpably different vibe.
The Syrian-born Bedouine performs an altogether different show with her intimate and magical set at Fríkirkjan. Armed with nought but her voice and acoustic guitar, Bedouine sings intimate songs about the exhilarating feeling of being loved, displacement, and vulnerability. Over at Iðnó, Flamingods put on an experimental show that's a celebration of life and joy, with instruments from all over, including Thailand, Turkey, Tanzania, and more, supplemented with a pair of trusted KORGs to keep up the high-octane energy.
The show that blew all the others out of the water, however, was Hatari's. Rarely before has Iceland spawned such a perfect wedding of aesthetic, message and music as with Hatari. Mesmerising video elements visualise the graphic lyrics being spouted aggressively by Matthías Tryggvi Haraldson and sung wistfully by Klemens Hannigan whose master and slave relationship is spelled out with Mattías's boot on Klemens's prone body. Their fascist BDSM attire goes hand in hand with the apocalyptic nihilistic message about consumerist ethics which asks: "Why did I sell myself… so cheaply?"
Hatari spells out in uncomfortable clarity how the cause of society's downfall will be clear in hindsight from the nuclear bunker, how we've propped up our own false idols, and how our terminator will have a face we'll know intimately. On top of this intellectual stimulation and performance art, Hatari's hypnotising and intense synth punk also sounds fucking great. Their industrial lolita goth collaboration with Reykjavíkurdætur spinoff Cyber is also a sight to behold. Hatari needs to be seen to be believed.
Not many acts could compete with that rollercoaster of a ride, but Sykur and Grísalappalísa did not let the festival guests go gently into the night. The aforementioned electropop powerhouse performed a midnight oil-burning show that left attendees drenched in sweat from dancing their socks off while Grísalappalísa left a lot of necks sore from headbanging to their non-stop catalogue of hits bathed in masculine angst.
Airwaves 2018 is down to its final night, and the bar has been set so high it might be impossible to beat.
Get the Best Fit take on the week in music direct to your inbox every Friday