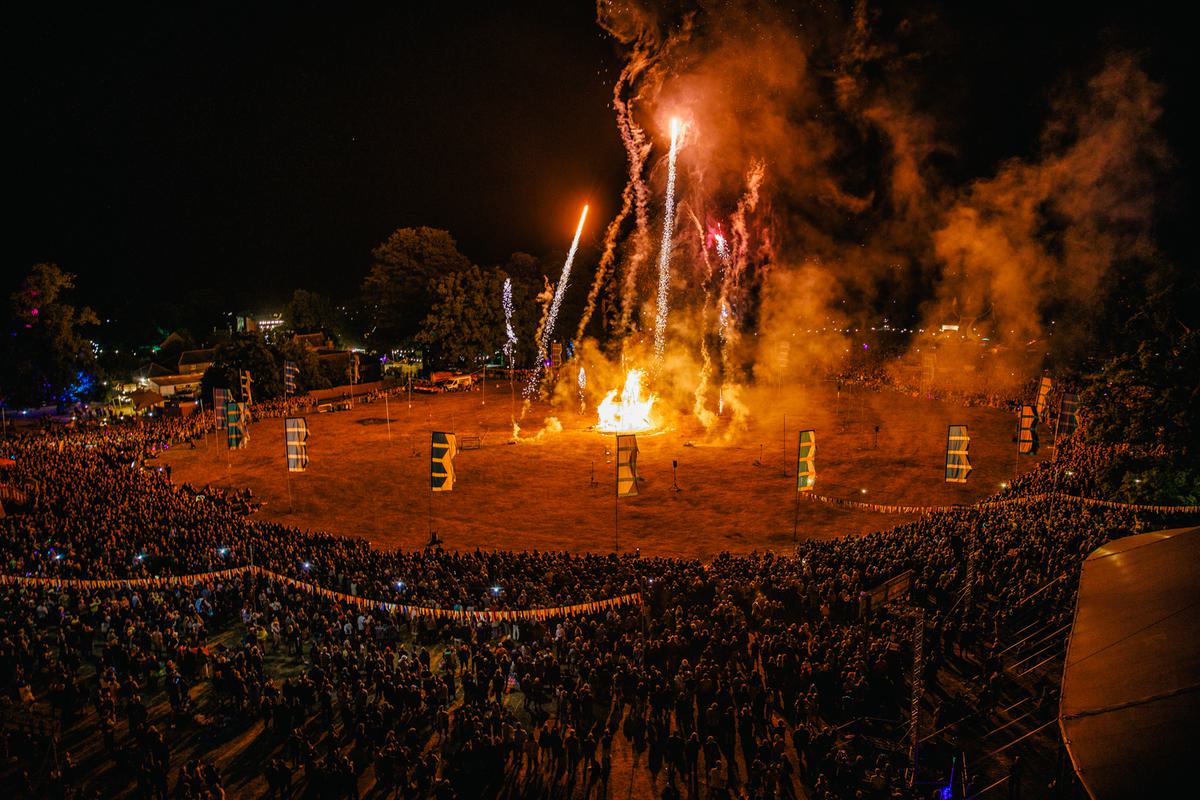 Green Man's 20th edition is a kaleidoscopic playground for the weird and wonderful
25 August 2022, 09:00
"What on Earth is that?" I mutter under my breath. As to my right, an 8ft figure with a towering, woven straw goat head, a hiking boot-clad raven and a silhouette shrouded by a tangle of multicoloured fishing nets amble, stagger and lope towards the Walled Garden.
It's Sunday afternoon on the final day of Green Man and everyone is understandably dazed. Bringing up the rear of the group is, what appears to be, a stickman recreation of Edward Scissorhands; with a twig-entwined skull, closely followed by a nightmarish sheep-human hybrid. It's certainly not your everyday get up, but somehow the group effortlessly blend into the hubbub of the festival and soon disappear into the crowd.
Well established, now in its 20th year, Green Man feels like a glorious celebration of the weird and wonderful, where a bizarre menagerie of beings and ideas are welcomed and celebrated; it's equally an homage to both the arts and sciences and an exploration into eccentric realms of the imagination. From the sultry glam-rock inspired Yves Tumor and its band, bounding onstage on Thursday night to sprinkle their own trademark brand of electricity and commanding melodies to the Mountain Stage, with it the precedent for the remainder of the festival is cemented. An unyielding offering of anthemic melodies and twittering guitar solos, their energy is relentless and quite frankly, unparalleled.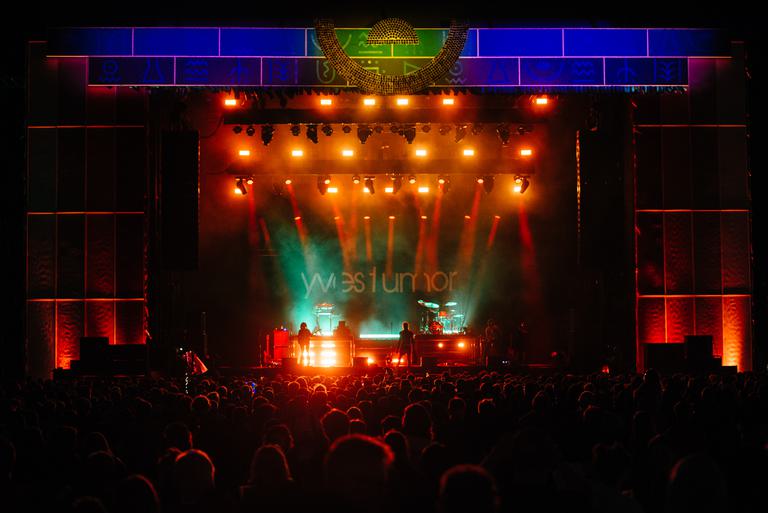 Yves Tumour by Patrick Gunning
Scattered across a valley in the Brecon Beacons, Green Man certainly lives up to its name. Not only is the festival bundled amongst luscious Welsh fields, trees and forests, but it also takes the crowning glory for one of the cleanest festivals going - a testament to both the punters and staff alike. It's an unusual feeling - to be huddled in a crowded festival tent without an assortment of ropey cans glued to your boot with every step.
A platform for hypnotic West African rock, the Mountain Stage sees Niger-based artist Mdou Moctar deliver an unwavering wall of sound with their unconventional interpretations of Tuareg guitar on Friday, as well as Senegalese champions of African/Afro-Cuban fusion Orchestra Baobab and Algerian Tuareg desert rock quintet Imarhan, who take the Special Guests slot on Saturday afternoon, introduced by Super Furry Animals' Gruff Rhys. The idyllic surroundings and stream of sunshine provide the perfect setting to absorb both bands' continuous groove; particularly Mdou Moctar who offer an odyssey of gritty riffs and rolling basslines that build to a mesmeric sound.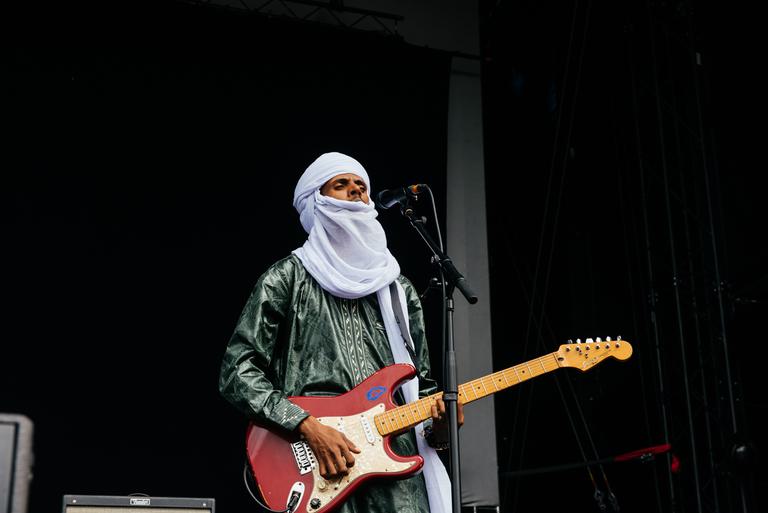 Mdou Moctar by Patrick Gunning
The side screens suddenly snap from the usual closeups of Mdou Moctar's performance, as an enormous military plane soars towards the stage, almost too low for comfort, before abruptly veering right and away from the festival, receiving a collective gasp from the audience. Lounging on the sloping bank surrounding the stage, a punter in a glittery pink cowboy hat gazes up in awe, before returning to her Rubik's cube - which she completes within just a handful of the group's tracks.
Later, over on the Far Out stage, a dark figure is swaying on their knees. Ominous and darkly, gothically beautiful, Keeley Forsyth's piano and synth-led dirges command attention. Her face initially obscured by a veil of dark hair, she rather comically blares, "In the dark I struggle to make out your face", but her lyrical prowess and seemingly effortless vocal projection are no laughing matter by any means.
Over the course of the weekend, this same stage bears witness to some real gems in amongst the rock scene. Zamrock outfit Witch deliver guitar-led blues, blending traditional African music with psych rock and funk into the early evening as the sun sets behind pastel pink clouds on Friday. Aussie psych rock quintet Psychedelic Porn Crumpets induce their grainy, dense reverb to the Welsh countryside, with "Found God in A Tomato" and "Cornflake" lathering Saturday afternoon with consistent blues riffs, grit and vitality.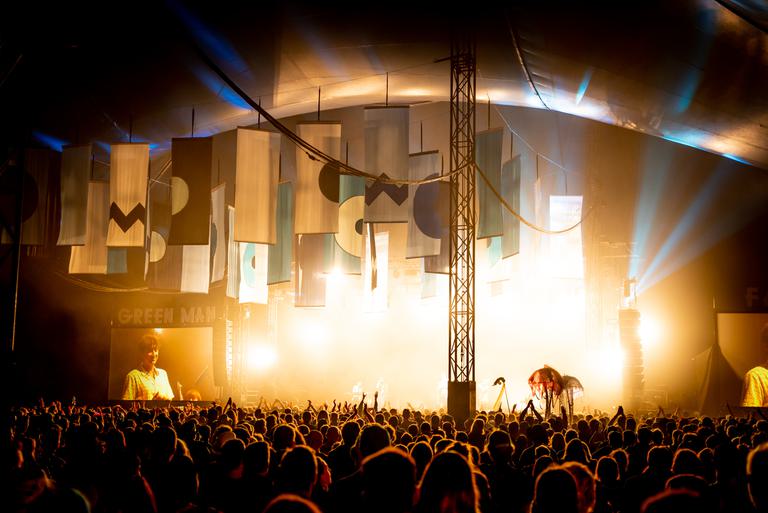 Black Country, New Road by Parri Thomas
Later that same day, Cambridge-based experimental rock outfit Black Country, New Road take to Far Out; their appearance awaited with bated breath for many since the departure of ex-lead vocalist and guitarist Isaac Wood. Despite the uncertainty, the band's transformation to a subtler, more delicate sound is a resounding success - their sheer strength of musicianship is both tested and on display. In between twinkling piano arpeggios, glossy saxophones and delicate harmonies, violinist Georgia Ellery addresses the audience: "You're the best crowd we've ever played to!" she says, as an enormous roar of applause swells and the set winds to a close.
Once again at the Mountain stage, Tune-Yards relentless groove-infested sound builds esteem and subtly educated audiences with their art/indie pop offerings. "Thank you - we've had 10 years of doing this", Merrill Garbus calls out into the darkness. Before the synths flicker to life with the uplifting "Hold Yourself" - an inspiring ode dedicated to self realisation and acceptance of imperfections.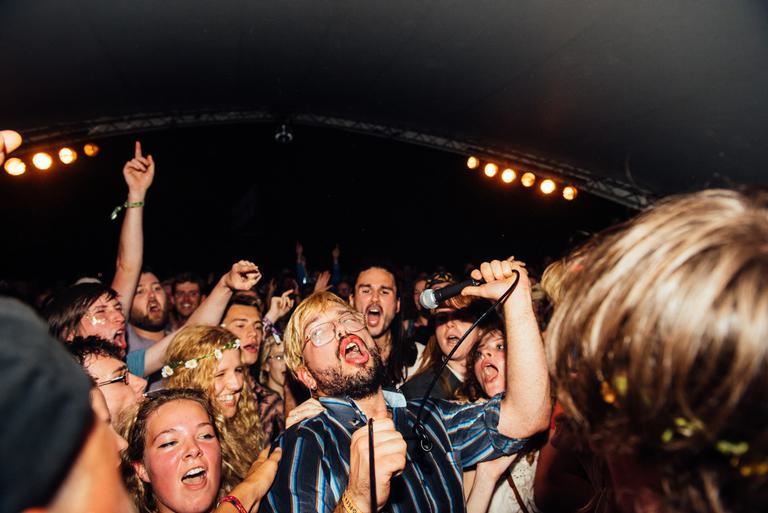 Joe and the Shitboys by Patrick Gunning
Sunday sees art-punk four-piece LICE rush onstage, lead singer Alastair Shuttleworth waltzing out dressed for a day at Hogwarts with his black cape fanned out as he strolls onstage. The band exude infectious energy as bassist Gareth Johnson jumps around the stage to the incessant grungy beat and a small mosh pit forms at the front of the tent. Later, at the Rising stage, quartet Lime Garden envelops the audience with intensely groove-laden indie rock. "It's always been our dream to play this festival, let's dance!", vocalist Chloe Howard smiles. Punk rockers Joe & The Shitboys bring the show to an end at Rising, with their visceral, confronting lyrics reflecting issues that stem from life in a conservative bubble and praising veganism.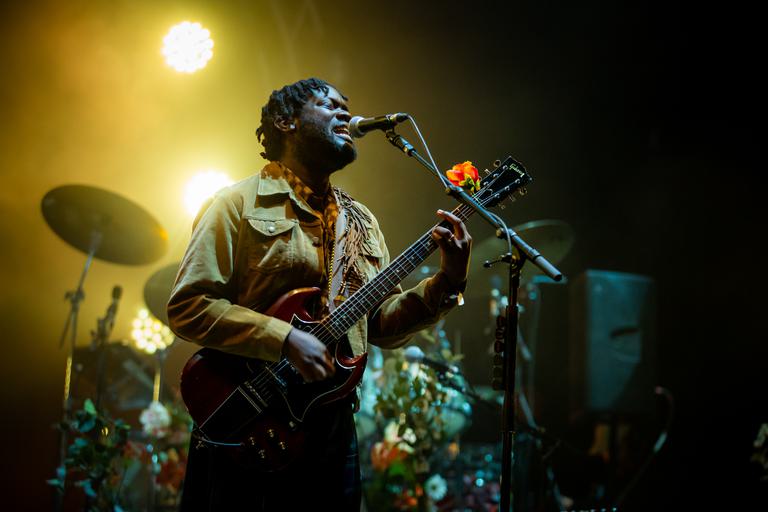 Michael Kiwanuka by Parri Thomas
Peppered with the playful and wistful love song musings of Beach House's dream-pop headline slot, Valerie June's shrill, but joyful brand of country and optimism and the heartfelt soul of Mercury Prize-winning Michael Kiwanuka, Green Man's tenacity, quality and breadth of diversity, positions it as a firm favourite with an understandably dedicated fanbase. The festival's beacon is set alight as Sunday night draws to its finale - an enormous straw man poised with a bow and flower for an arrow in hand erupts into flames. Green Man once again, captures and revitalises imaginations - a vibrant emblem of British festival culture on a palatable, accessible scale.