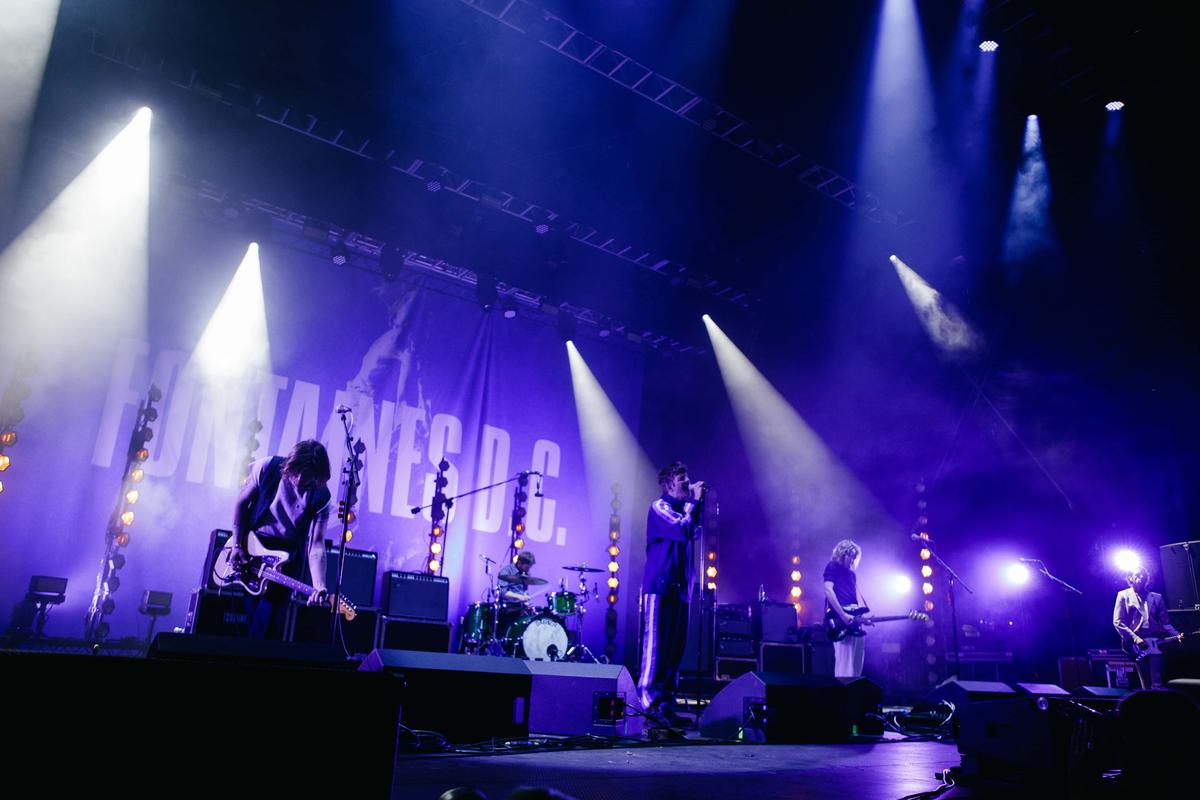 Green Man delivers escape and release for music fans looking for some form of normality
23 August 2021, 20:00
Despite festivals in England being given a glimmer of hope quite early on in the year due to the government's pilot scheme, the Welsh government have been resolute in taking things slowly and being able to ensure the utmost safety for everyone involved before allowing large scale events to take place. Whilst tickets sold out almost instantly for Green Man back in May, it wasn't until mid-July that the event was given the green light.
Despite the gloomy forecast for the weekend, there's an excitement and wonder which permeates the festival grounds for this year's event. After being cooped up for 18 months, it feels like quite the remarkable experience to actually be at a festival and nobody is taking this experience for granted.
Famed for its ethos of being family friendly and sustainable, and not just designed for its genre-bending music output, there's something for everyone at Green Man — Nature Nurture serves as respite from the weekend where you can get massages and take yoga classes. Elsewhere there are kids-only zones in the form of Somewhere, Little Folk, and also Einstein's Garden which serves as a Science engagement area for all ages and allows people to open their mind to the minute details which make up our existence via accessible and approachable workshops and talks. Add on Babbling Tongues, the spoken word and literature tent which aids the mental stimulation, whilst also whetting the whistle if you were lucky enough to sit in on Peter Brown's beer and music pairing session, and you've got an all boxes ticked situation on your hands.
Single use plastics aren't anywhere to be found and seeing people walk around with their stackable and reusable beer growlers adds to the revelry and community spirit that the festival has. By sourcing alcohol and food from local producers Green Man have dramatically reduced their carbon footprint, and due to not allowing plastic straws, the festival has saved over 250,00 since 2007.
All around are signs that ask you to respect other people's space if they need it, and with no judgement towards anybody deciding to wear masks, there are smiles from strangers and respectful revelry abounds as you walk through the grounds – and that's even before the music starts. From Tirzah's stunning Thursday evening headline set to Nuha Ruby Ra's entrancing Friday afternoon performance on the Mountain Stage and Self Esteem's emotionally-charged set which ends in tears – of the good kind – the overall atmosphere during the weekend is one of unity and it seems as though the main goal for all attendees is to celebrate their freedom.
There is no shortage of surprises at Green Man either. Throughout the weekend there are paragliders soaring over the mountains, performance artists who turn up seemingly out of nowhere to mesmerize the crowds, bonfires in the evenings, and chances to see your favourite artists multiple times in a day. Perhaps the most exciting surprises of all are secret sets by Laura Marling and Squid. Marling brings her wistful acoustic songs to the record shop for a short but sweet set but unfortunately, whilst the shop's tent is heaving, the singer's delicate voice is lost amongst the buzz of the rest of the festival. On the other hand, whilst nestled between Deep Throat Choir and Dream Wife; Squid's set goes down a storm in the Walled Garden on Sunday night and helps the crowd become suitably riled up for Fontaines D.C. whose debut festival headline slot is certainly one that won't be forgotten any time soon.
Whilst there are some hiccups over the weekend with queues for the bars being fairly long, some of the performers facing technical difficulties and, of course, the unfortunately heavy showers, accessibility and inclusivity at the event make all other issues seem minimal. It's fair to say that no spirits are dampened at all - most revellers are just happy to be there.