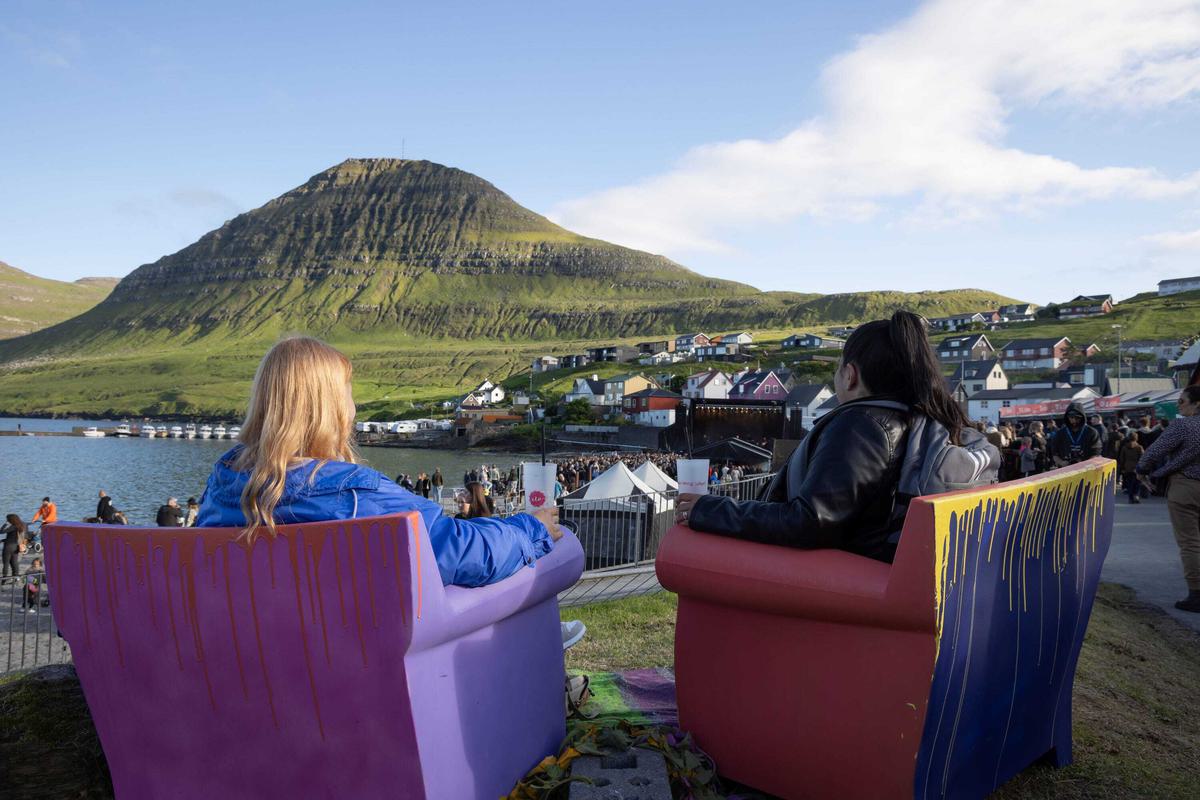 G! Fest offers a precious peek into Faroese music and culture
26 July 2023, 08:15
For over two decades, the Faroe Islands has showcased its inventive and thriving music scene to just 5,000 people at the annual G! Fest. John Bell heads to Sythrugøta to hang with the locals and find what lies at the heart of this unique celebration of a nation few will ever step foot in.
Hey tú! Hvør er tú? I've arrived in Sythrugøta, or Gøta as the locals call it, a small seaside village on the mountainous island of Eysturoy – the second biggest of the Faroes. For 20 years it's been home to G! Festival, a three-day event treating islanders and guests to music from the Faroes, neighboring Nordics and afar.
For now though, the first resident I meet is a five-year old boy with bright blue eyes and tufty blonde hair, holding a water pistol and waiting patiently for an answer. Hvør er tú? It's 9PM on the evening before the festival, but it's still bright as day as a cold gray fog drifts along the road like the dazed feeling beginning to cloud my excitement. I can't help but feel a little like Peter Riegert's Mac in Local Hero when he arrives in the film's fictional Scottish village. I'm not here for oil, but I'll also end up not wanting to leave.

The taxi driver told me this was where I was staying, but as I brush past the boy and enter the house I find even more children running around and suspect I may be in the wrong place. Feeling intrusive, I turn to leave, before a woman scoops up my little friend and welcomes me into her mother's home. "Yes, you are in the right place."

In several ways this is the last place you'd expect to find a music festival. It's one of the only few towns in the area gifted with a small, sandy beach, but an unpredictable and erratic Atlantic ocean can quickly flood its banks at will. With fewer than 500 inhabitants, there are no hotels or hostels, so young attendees camp wherever they find a spare patch of grass, while artists and other guests sleep in the local school or find a host generous enough to open their home. Elinborg is a nurse and has been welcoming people into her home since the festival began two decades ago, and though she's of a generation where English doesn't come easily, her hospitality is crystal clear. I'm free to come and go as I choose, but don't need a key. "We don't lock our doors in this town," her daughter tells me.

And yet, as I soon find out, this is absolutely one of the best places you could possibly find a music festival. Something about the Faroe Islands is hypnotic, and it's not just the 24-hour daylight. Everything you'll read about the place emphasizes its remoteness, it's smallness, and though its capital Tórshavn is one of the tiniest in the world and sheep do vastly outnumber its 50,000 population, there is still a feeling of great immensity to its sweeping, cinematic vistas. (It's unsurprising to learn that one of these islands was the setting for where James Bond met his fate in No Time To Die, and eager hikers can find a tombstone laid in his memory).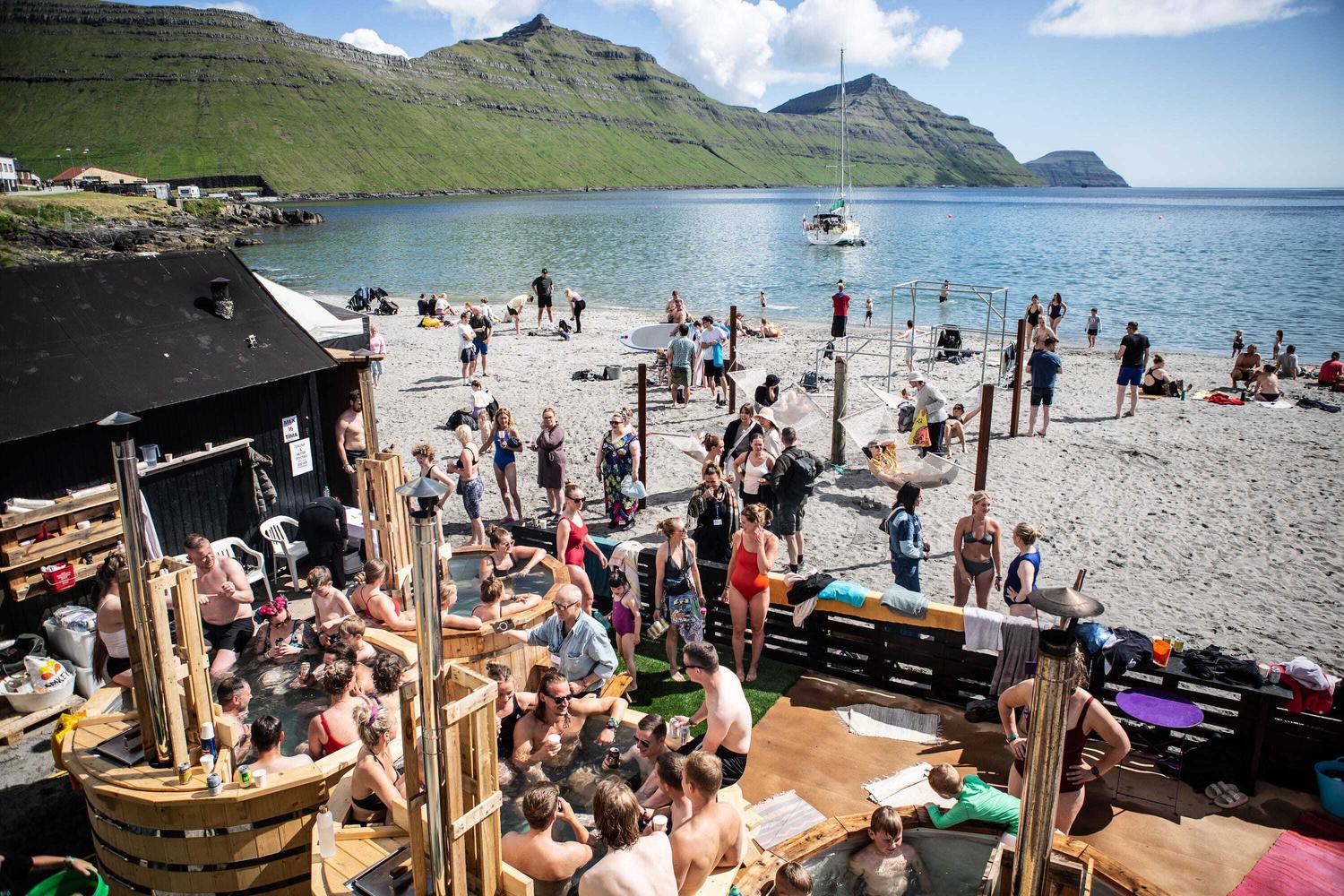 Its scale emits a humbling calm, and while the drive from Vágar airport to Gøta is about an hour, it feels endless and I'm fine with it. Mighty green hills unfold around me, carved out by gorges and fjords or torn open by veins of titanic rocks and tumbling waterfalls. Puffins dive and dart from rock face to rock face, too shy to try and pinch a piece of drying fish hanging from villagers' lawn-roofed houses. The fog hangs like an omniscient power; penning his final novel The Tower at the Edge of the World, the Faroese writer William Heinesen looked out of his window and wrote: "Wherever you turn your eyes, you can see water twinkling somewhere or other and you can hear the sound it makes, and sometimes you can even stand there and see God floating over the waters like a shining cloud."

Historically, the Faroe Islands' stark topography is tied up in myths and legends, from Viking sagas to tales of thieving witches and giants. But much of the land has been shaped directly by humans for the development of society – drilling holes in sealed waterways for hydroelectricity, lining the shores with discs of natural salmon farms, or building the world's first underground roundabout. Though the few trees you'll see on these islands are imported and planted on private land, the pristine waters with their reliable currents and temperatures make a haven for marine vegetation, and in recent years the country has received significant funding to help become a global leader in offshore seaweed production.

All of this is to say that there is a feeling of awe before any music has even begun. Maybe it's even a recalibrating sensation that elevates the experience of enjoying music altogether. Or maybe the music is just really good.

Since its foundation in 2002 by Jón Tyril and Sólarn Solmunde – now run by local Sigvör Laksá – G! has welcomed an eclectic bunch of names to the Faroes, to say the least. The freestylin' Bomfunk MC's headlined its inaugural edition, while anyone from Natasha Bedingfield, Sister Sledge and Faithless to Fatboy Slim, Songhoy Blues and Death Cab For Cutie's Ben Gibbard can be found on old posters. This year lacks an international big hitter, except perhaps the French Breton composer and multi-instrumentalist Yann Tiersen, who appears moved during his chilling, ambient set in a local church on the final evening. There is a bit of lull at one point on Friday night over on the main stage that might have done with one of these kinds of global names, but for the locals at least this year's event more than makes up for it with the return of their proudest exports.
An early performance from Gøta's own Eivør Pálsdóttir pulls the biggest crowd of the festival, including my host Elinborg, who tells me proudly how she's known her since she was knee height, pointing to her family house just in sight over the hill. "I used to play in this sand you're standing on as a child," Eivør tells those in the crowd who need reminding. The singer and actor has plenty of Nordic honours, has appeared on Later… with Jools Holland and has contributed to the BBC Viking series The Last Kingdom and the God of War video game soundtracks. Her music is soaring and dramatic; looking out at an old sail ship named Northern Lights bobbing in the cove beside us as she beats a shamanic drum along to 'The Last Kingdom', it's easy to get wrapped up in the mythology and history of this archipelago.
Fast forward a few thousand years, musically speaking, and there's the futuristic electropop group Byrta (Bish-Ta). Comprised of vocalist Guðrið Hansdóttir and producer Janus Rasmussen, who also makes one half of the acclaimed Icelandic DJ duo Kiasmos, Byrta released their only album ten years ago and their Friday night show is their first in many years and has all the electric atmosphere of a huge homecoming.
Other established Faroese acts include 200, who play riffing punk-rock on a football pitch at three in the morning, and Marius Ziska, whose twinkling, War on Drugs-esque tones seem to be spreading the furthest to the continent – arguably following a path not dissimilar to Iceland's Ásgeir. "This place is the edgy little sister of Iceland, somehow," musician Kim Nyberg puts it.

It might be a touch romantic to attribute the talent here to the influence of the country's environment, but it's a thought worth entertaining. Nyberg was born in Finland and lives in Denmark, but fell in love with these islands long before he first visited G! fifteen years ago. He now plays in a band with Faroese musicians, Klingra, whose ornate, neo-classical songs surge from goosebump-tingling silences to cathartic heights during their church performance. "We are certainly inspired by the ever-changing landscape and the vastness of it," he says. "Growing older, I feel that nature and the elements somehow play a bigger role in my life in general, and that comes through in the music. The weather goes from one extreme to the other, it's very dynamic. People are not afraid of just being quiet and slow here, people don't talk so much; it's OK to just gaze out at the water for ten minutes without saying anything."

Music has always been an essential part of Faroese life. The language didn't have a written standard until the end of the 19th century, and only overtook Danish as the official tongue in 1948, so hymns and traditional ballads known as kvæði were crucial in maintaining an oral tradition. Often a country's customs are amped up for tourism, but at G! you can feel a real tangible link to this history. There's the famous chain dance, which puts this connection in physical terms as you lock hands with a neighbor and take two steps forward, one step back on the command of a leader in national dress, reciting hundreds of verses of heroic ballads. But more importantly, there is the new generation of Faroese artists, its future, developing the sounds of their islands.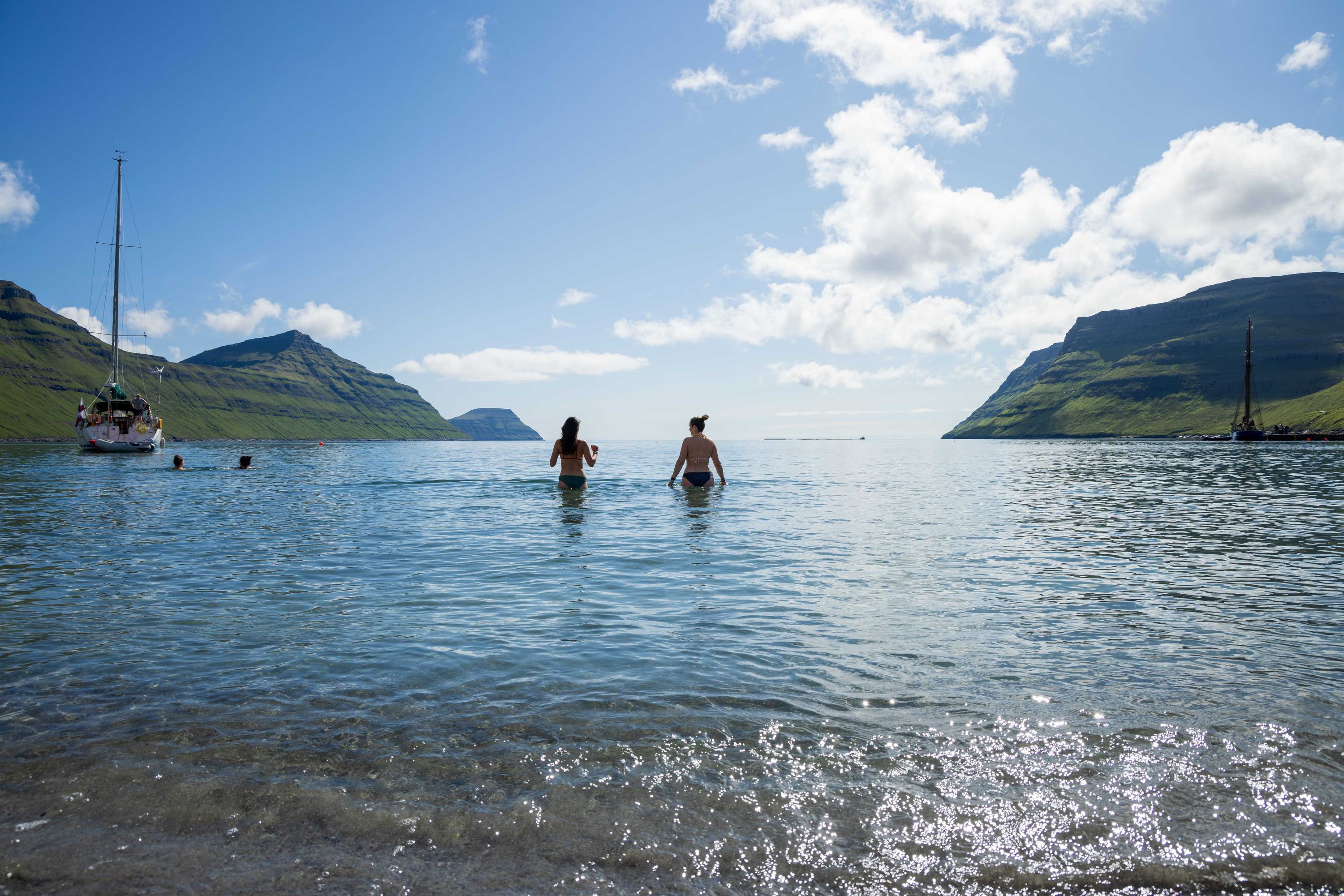 Dania O. Tausen is a 22-year-old Faroese singer who I see perform in various guises at least four times over the festival, though I suspect she may have snuck one or two more in. "I don't really like writing in English," she tells me, "I'm just really interested in Faroese poetry, so it makes sense for me. I feel like I can express myself better." I might not understand her lyrics, but I feel the poetic sway of her music pass through me and the crowd during a performance of her solo project. I'm biased as an English music fan, but can totally see tracks such as 'kann eg hava armin soleiðis her?' landing back at home, in spite of, or maybe even because of, the language barrier. I'm conscious not to make that sound like a bigger victory than success at home, but is her music's exportability something she has considered? "It's definitely part of my goal to travel with my music, but I think it's also really important to get your country's support, so that they feel like this is our musician."
A friend and collaborator of Tausen is Jasmine Mote, AKA Jazzygold. Her glistening, soulful R&B tracks chart lonely afterparties, dyeing your hair in moments of post-breakup rashness and all the highs and lows of 20s life. I know this because she sings in English, which she tells me has always been the way she's dreamt and written, perhaps a result of her mixed heritage. "My father's from Kenya, and I'm from the Faroe Islands, but I sing in English. So I like the thought of mixing all of that in some way and reaching out to a broader audience like that."

Both approaches offer ways of opening a window into this fertile Faroese music scene, and at least on home soil, G! Festival feels like the greatest example of that. But it is not alone. The rest of the year, there are othjer key players keeping the momentum alive, not least Sunneva Eysturstein, who runs the bar and venue Sirkus in Tórshavn. Like all great rock bars, the place radiates vibes having just sat down for one pint of the local Føroya Bjór, but for the Faroese, Sirkus is a much needed safe space for the "freaks and geeks" in a conservative and Evangelical Lutheran country, and provides a stage for artists to practice their live craft.
This is important, because being a talented musician in an admittedly small population doesn't just grant you the immediate right to play G! Festival. For a start, of the 18 or so local acts playing this weekend, only three or four are likely to play next year. Eysturstein helped put on an underground festival held recently called Skrapt and there was hardly any crossover. I meet several young artists around the festival who are still waiting for their turn. "A lot of pieces have to align," says Jazzygold, who performed at G! for the first time this year. "Yeah," agrees Tausen, "sometimes you don't get to play until maybe one or two years later than you want, but then you're actually grateful that you didn't play before because you were younger then and not ready."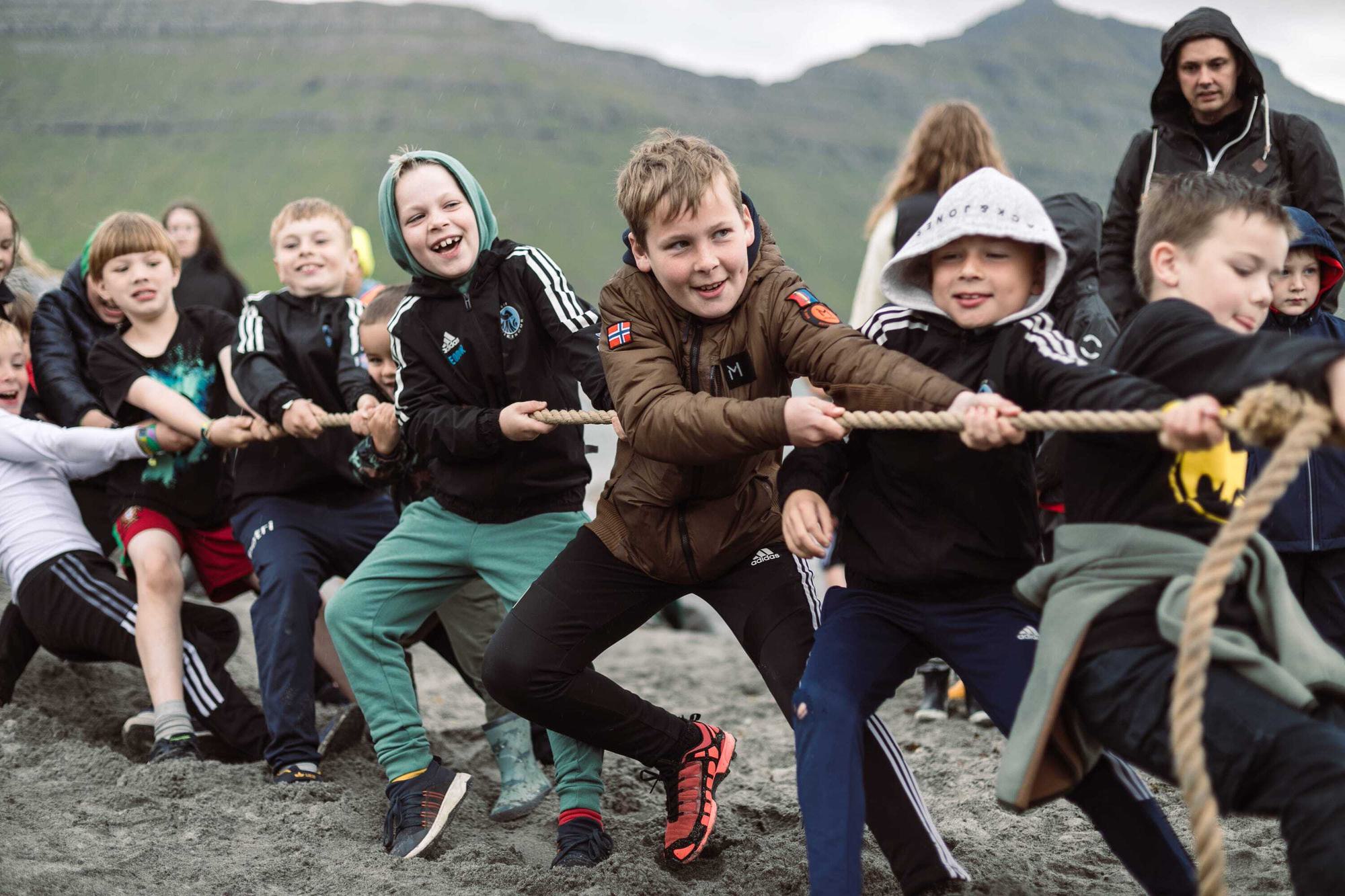 When it comes to recording and releasing music as a Faroese artist, none have been more beneficent as Kristian Blak, a 74-year-old Dane who moved to the Faroe Islands in the 70s. Blak is a composer and manages the state-funded record label and store Tutl. The name translates to whisper, so it's ironic when members of the post-punk/hip-hop group Aggrasoppar, who have joined for an in-store performance, giggle quietly at the patriarch's Danish pronunciation of the word. A trendy little shop with lots of natural light, Tutl is an endearing space that champions the country's music in 12" form, but under Blak's guidance the label also provides the means for artists to get to these shelves.
Tausen walked into Tutl four years ago when she moved to the capital and has been working there since. "I basically learned everything I know about the Faroese music scene and also the international music business through Kristian. He's taught me a lot, but we also teach him a lot now because he's old and we need to teach him about Instagram and stuff. It's a good balance." Over beer and biscuits, we watch Aggrasoppar play with this intimate space as they get up in everyone's faces and rap, play with people's shoelaces and make all sorts of mischief. It's brilliant, on par with their 'secret' Friday evening set as one of the performances of the festival. These days Blak mainly performs children's songs, but he nods along to this mayhem proudly.
You can read reviews of G! from 10 years ago and they will also sound impressed at how disproportionately good Faroese music is. Their reasoning remains valid today, be it the country's long musical tradition, the inspiring environment, or that necessary collaboration naturally opens minds as metal musicians help out their friend's folk-pop project and vice versa. But if there's a feeling that this scene is beginning to build something especially exciting and see heightened recognition lately, then the formation of the Faroe Music Export in 2019 is no coincidence. The head of FMX is Glenn Larsen, whom many of the artists I meet look to like an older brother. "You know you get that feeling when you hear a band that you want to show your friend," he says, "or buy an extra ticket to a gig just to bring your friend because you're sure they'd like it? I had that feeling with the whole country, which is quite unique." Showing his friends he has, using his contacts as an artist manager to take acts like Jazzygold and Aggrosoppar to Brighton's The Great Escape, or 19-year-old rapper Marius DC to Iceland Airwaves. With a grin on his face all festival, he's happy to let the acts speak for themselves, and is confident that the only real hindrance to his job is the geography. There are direct flights from major cities including Edinburgh, Copenhagen, Paris and soon New York, but as he points out, it's not like many major label A&R reps would drop by for a gig here by accident. "The internet makes it easier and all of that, but that goes for everyone. There's 50,000 songs released on Spotify everyday so you need to break through the noise."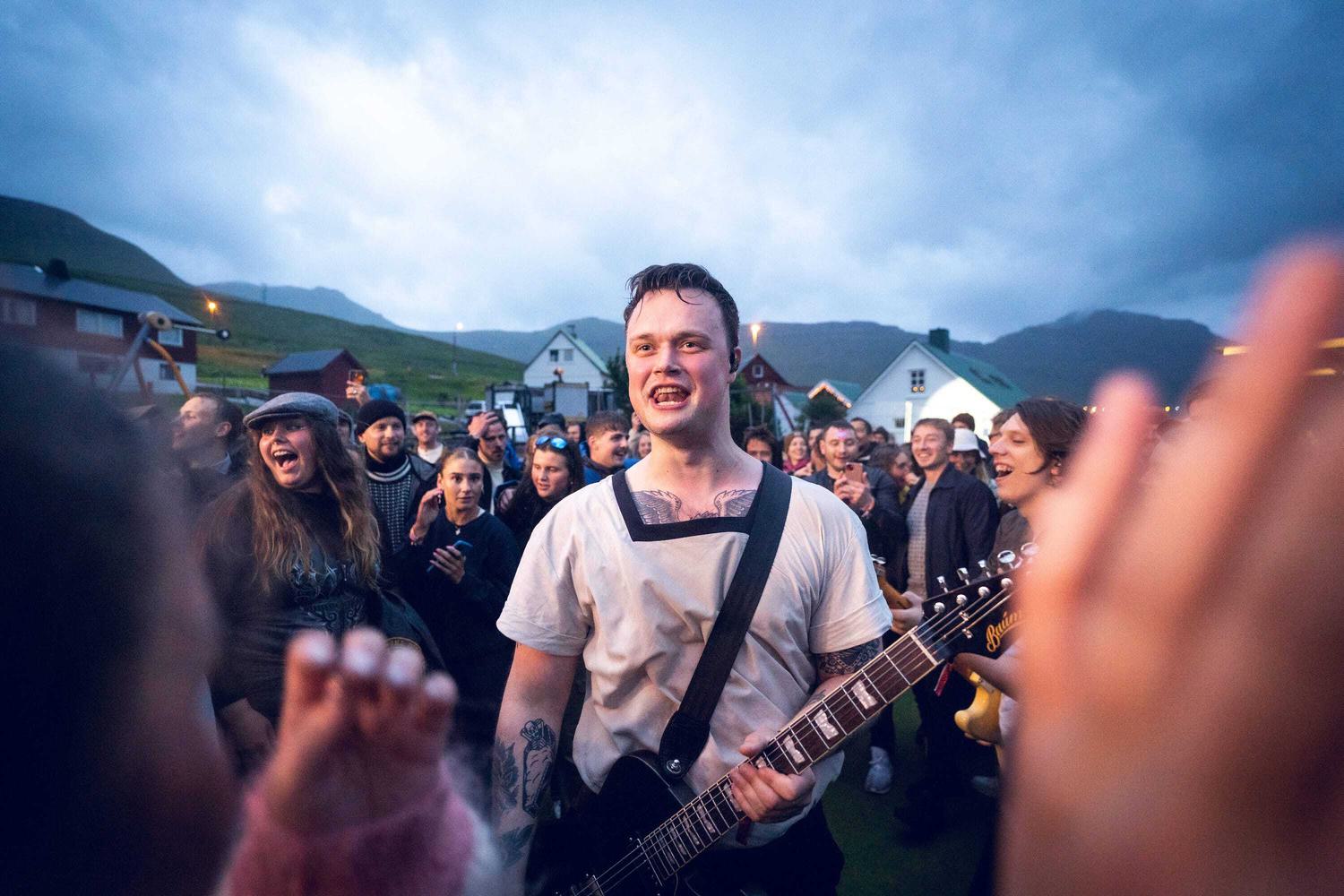 Be it breaking through this noise, respecting the tradition of Faroese music or just enjoying communal time in a hot tub looking out onto the sea, G! Festival is clearly a massive feat of cooperation. It's a sad day on Sunday when I and the last few remaining say our goodbyes and pick away at what's left of the rider in a Boxing Day-esque slump. Just six hours ago I was watching a Norwegian hardcore band tear it up on a football pitch, but now a local fire engine helps haul away the heavy gear while locals scour the ground for stray bottles as any trace of what happened over the last few days disappears.
All of a sudden G! becomes Gøta again and small village life continues. Faroese musicians are lucky to have this festival, and like that chain dance they teach me, however many steps they take away from this place, I suspect there'll always be one pulling them home.