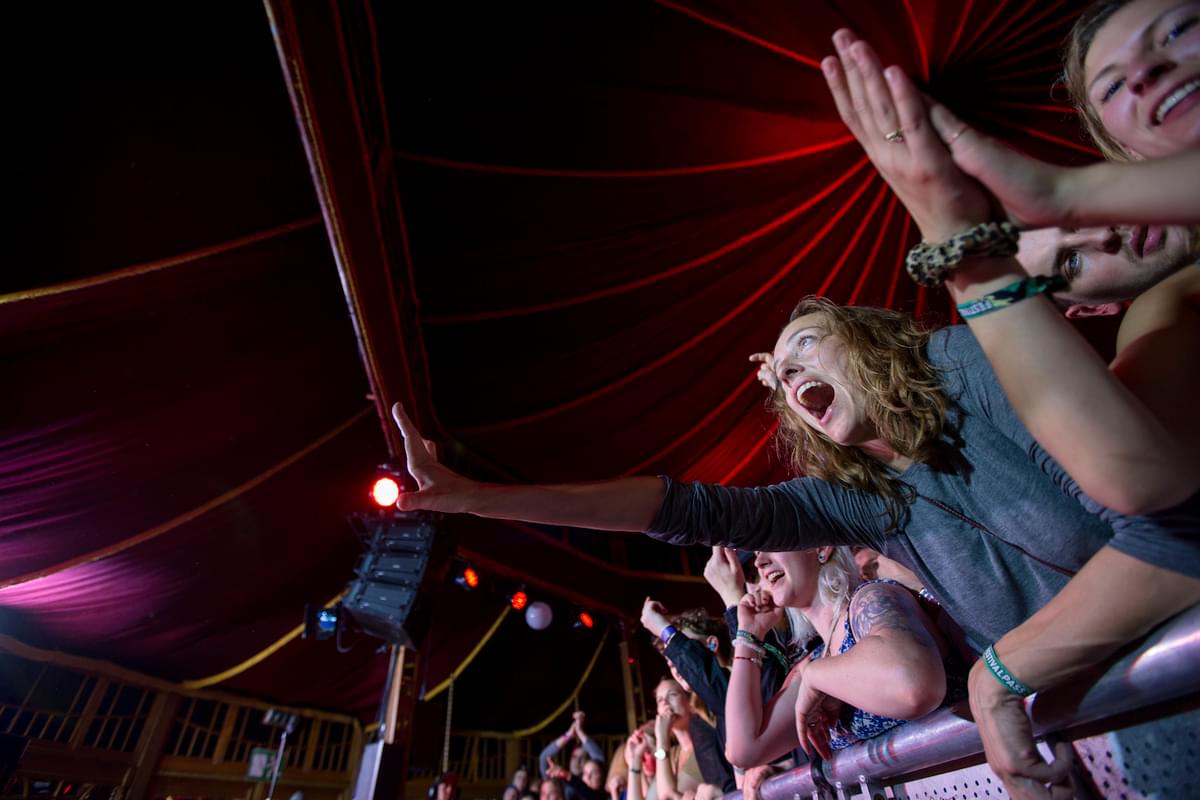 Festival Guide & Review - Bergenfest 2017
22 June 2017, 08:20
Taking place for four days within the city of Bergen, Bergenfest is one of Norway's most popular music festivals.
Each day sees around 9000 people make their way to the city's Bergenhaus - a fortress located at the entrance to the city's harbour and one of the oldest castles within Norway. The place has an intimate feel, making it possible to get close to a main-stage headliner without having to arrive hours before a performance starts.
How to get to Bergen
Given its location it should be no surprise that Bergen is a popular stop over point for Scandinavian cruises, but if the idea of sailing across doesn't float your boat there are quick and easy flights available. Norwegian Air run daily departures from Gatwick Airport. Whilst other options into the city include British Airways from Heathrow, those in north will be relieved to hear that SAS also run some flights from Manchester.
Up until recently if you wanted to avoid an expensive taxi ride into the city from the airport, the best option to take was the Flybussen, but this year there are more options. The city's light rail has been extended and it is now easy to simply jump on a train and be whisked to downtown within 45 minutes.
The tourism thing in Bergen
With the festival not starting until mid afternoon there is time to go out and explore the city. The UNESCO-protected buildings down by the harbour waterside in the Bryggen area have become synonymous with Bergen. These wooden buildings have now become a default site when the city is mentioned and they offer a reminder that the city is one of the oldest within Northern Europe. Walking through the cobbled streets within the Old Town is at times like taking a step back in time.
Bergen is a city that retains a strong relationship with its past, but is also committed to change and the culmination of the two is what helps keep this city both fresh and unlike any other.
The tourist board calls it the "Capital of the Fjords" and if time allows there are several companies offering cruises out to see them. The city was traditionally built on the back of its fishing stock and the downtown harbour market is where you'll find the locally-caught fish such as monk, halibut, salmon and crabs. Unsurprisingly there's also a rich selection of specialised restaurants, but if the idea of it ending up on your plate doesn't tempt than the aquarium offers a different opportunity to get acquainted. Apart from having live specimens of the local sea life on show it also boasts penguins, seals, tropical fish and both Malaysian crocodiles and capuchin monkeys.
Bergen Nightlife
A large student population brings sevel nightlife choices and there's a healthy selection of bars to head to or a post-festival drink or dance. Ostre - a 230-capacity venue focused towards presenting new and exciting dance music - is one of the city's hippest nightspots and has featured the likes of local girl Sigrid. Garage offers a haven for those looking for something at the rock end of the spectrum, but as with any constantly-evolving city there are new bars always appearing.
If you're looking to grab a bit of culture
Unsurprisingly for a country's second city and one that has a high student population there are also a lot of art galleries and museums that can be explored. Those looking to see some art should head to the Kode Galleries where you'll find that Scandinavia's artistic talent spans further than just Edvard Munch's The Scream.
Finding that perfect city view in Bergen
For a city that has several mountains on its edges there are no shortage of locations where you'll find that perfect bird's eye view. We recommend the funicular railway that runs to the top of Mount Foyen and is easily accessible from the main centre of town. One of Norway's most popular tourist attractions, it offers views that won't disappoint.
The Floien Folkerestaurant at the top offers a good selection of food and also a chance to try the locally-brewed Hansa ale. It also makes a good starting point for either a leisurely mountainside stroll or cross woodland hike. Alternatively pay a visit to the ten grazing goats that reside at the mountain top.
Other options include the Ulriken Cable Car that will carry you up the largest mountain within the city's limits - at 643 metres above sea level it offers activities such as climbing, abseiling, archery; and paragliding for the more active amongst us.
Finding the perfect place to head back to at the end of the night
Given that Bergen is an inner-city festival; it's important to find that perfect resting place for downtime between watching bands and exploring the city. Luckily Bergen has no shortage of good accommodations options. If proximity to the festival site is one of your primary factors than the newly refurbished Thon Hotel Orion - directly next to the festival - should be near the top of your list. With pain-free entry in and out of the festival, it makes trips back hassle-free and we can also recommend the cooked breakfast and confirm that our sleep was noise-free! They also have several other hotels spread across the city.
Options that caught our eye on Air B&B include this traditional three-bedroom house in the centre of the town and this two-bedroom house within walking distance of all you're likely to have on your 'to see' list.
Who we saw
Whitney
Sometimes it's easy to feel slightly bad for a festival's opening act, but with Whitney it truly feels that their performance is one they'll look back on fondly. Bands with singing drummers usually bring up images of Phil Collins-era Genesis but this seven-piece instead whittle their way through amazing three-minute-long jams of indie-touched Americana unlike anything Collins ever did.
Sigrid
It may only be a matter of months since Sigrid was performing in a 200-capacity venue a little walk away, but her adopted hometown gave her the kind of welcome that signified a step up. Emerging to a chorus of whoops and cheers she then leads her band through a set of rich Scandi-pop with a propulsive energy behind it. At the very heart of cuts like "Plot Twist" lies a confident artist and set closer "Don't Kill My Vibe" sees the audience react with the most rapturous applause of the weekend. She may only have been away for a European tour that lasted a few weeks, but it's evident that Norway has fully embraced Sigrid already; surely it's only a short matter of time before the rest of Europe also catches on.
Dagny
When it comes to festivals, rain can either be a new artist's best friend or worst enemy. So with the skies open above it's a big compliment that the people who have come Dagny to see her play are spilling out of the Bastionen stage area. Dagny's songs are covered in colour and running deep within them are torrents of rich melodies and keen pop hooks. "Bullet" is a chic mover, whilst single "Wearing Nothing" has the slinky vibes of a future radio hit and offers smooth grooves that are ripe for summer. Yet it's closer "Backbeat" that cements enough further evidence that Norway has a whole new batch of pop artists waiting to be discovered.
Gordi
Things take a step out of the ordinary for Gordi's performance. Moved away from the main area and housed in a dining hall inside the fort's main building, it resembles more of an intimate gig than a traditional festival performance. A seated affair too - but one that offers a temporary pause away from the natural elements.
Texturally rich and melodically majestic there's a depth to Gordi's mature pop songs. She's joined by a violinist and an old school friend, bringing a sound of greater depth to the layers of loops. At times it sounds like Sigur Ros gone pop.
Tove Lo
Tove Lo has earned a reputation for being fiercely committed to her craft. Opening her Friday afternoon main stage performance is "True Disaster" and there's an eruption of anticipation that goes off fractions before the first lyric when she boldly enters onto stage. She can work a crowd with confidence and demonstrates the hallmarks of an artist primed for major international breakthrough. A reworked version of "Cool Girl" sees a slick bass line pushed to the fore. Like Madonna, Tove has a way of using controversy and blending risqué dance routines with good, solid pop.
Princess Nokia
There are no shortage of artists that have their roots firmly placed in New York and the Ratking-associated Princess Nokia is another looking to make a impression. And that impression is of an artist that is not reliant on gimmicks. From the motorbike revs that signal her introduction at the start of "Tomboy" we are in the grips of an performer. The driven "Kitana" is an eclectic mix of beats and tight lyrical flow that makes Azealia Banks pale in comparison. This high-energy forward thinking hip=hop is naturally hard and has an ability to instantly connect.
Ho99o9
Whilst their shows of last year may have relied on a helping hand of shock factor, the incarnation of Ho99o9 on show tonight is one that is leaner, stronger and with a sharper spine and a more punkish attitude. The addition of hard-hitting live drums, a wall of amps and sampled guitar riffs help up the ante and create a show that's chaotic but always committed. Ho99o9 have never been a straightforward affair - instead they rip up the rulebook at any given opportunity and do anything they can to defy the logic of easy categorisation. Like Death Grips, they straddle the line between hip hop, noise and primal punk with a rawness and spirit that is non-conforming. No matter how many bands you see, you will never see another quite like Ho99o9.
Anne-Marie
It's a small travesty that Anne-Marie is best known for her guest vocals alongside Sean Paul on Clean Bandit's "Rockabye" instead of an artist in her own right; especially given the amount of solid pop songs she has tucked away in her catalogue. Songs such as "Breathing Fire" push the crowd into participating in mass hand-clapping. "Trigger" - with its reggae vibes - arrives with brash confidence, but on songs such as "Perfect" she shows that even people who appear to always be upbeat also have a vulnerable side hidden away. "Alarm", with its skittered rhythmic beginning, powerful vocals and dancehall influenced undercurrent, shows enough to suggest she won't be known for collaborations for much longer.
Tiggs Da Author
With a set rich in both passion and soul, Tiggs Da Author stormed though a performance that had an instant connection between audience and artist. With decks and a guitar being the building blocks that formed the base of his performance it almost had a Pharrell Williams-fronting-Odelay-era Beck feel to it. His songs are often a mixture of funk-edged breakdowns with the ability to hone in on a groove and locks it down - yet "Sugar" has an old-school spirit to it that stretches back further than the classic Archies-samples it utilises. The undoubted highlight of the set being a creative reworking of The Caesars' "Jerk It Out".
Pet Shop Boys
The Pet Shops status as bonafide legends isn't in dispute and there can't be many artists who can compete with them for being the perfect band to help finish the closing night of a music festival. Neil Tennant and Chris Lowe aren't going to be ones that will allow a little bit of rain to dampen the spirits and tonight is a celebration of their vast back catalogue.
Tennant remains a natural showman and one that comes alive in front of an audience as a sort of ringleader. A deliberately elaborate stage show with a succession of costume changes means it borders on being musical theatre at times and a treat for the eyes as much as it is for the ears.
Classics including "West End Girls", "It's A Sin" and closer "Always On My Mind" are brought out and "The Pop Kids" with its techno-orientated beat still shows that they have clung onto their ability to write a crafty pop song.
Get the Best Fit take on the week in music direct to your inbox every Friday