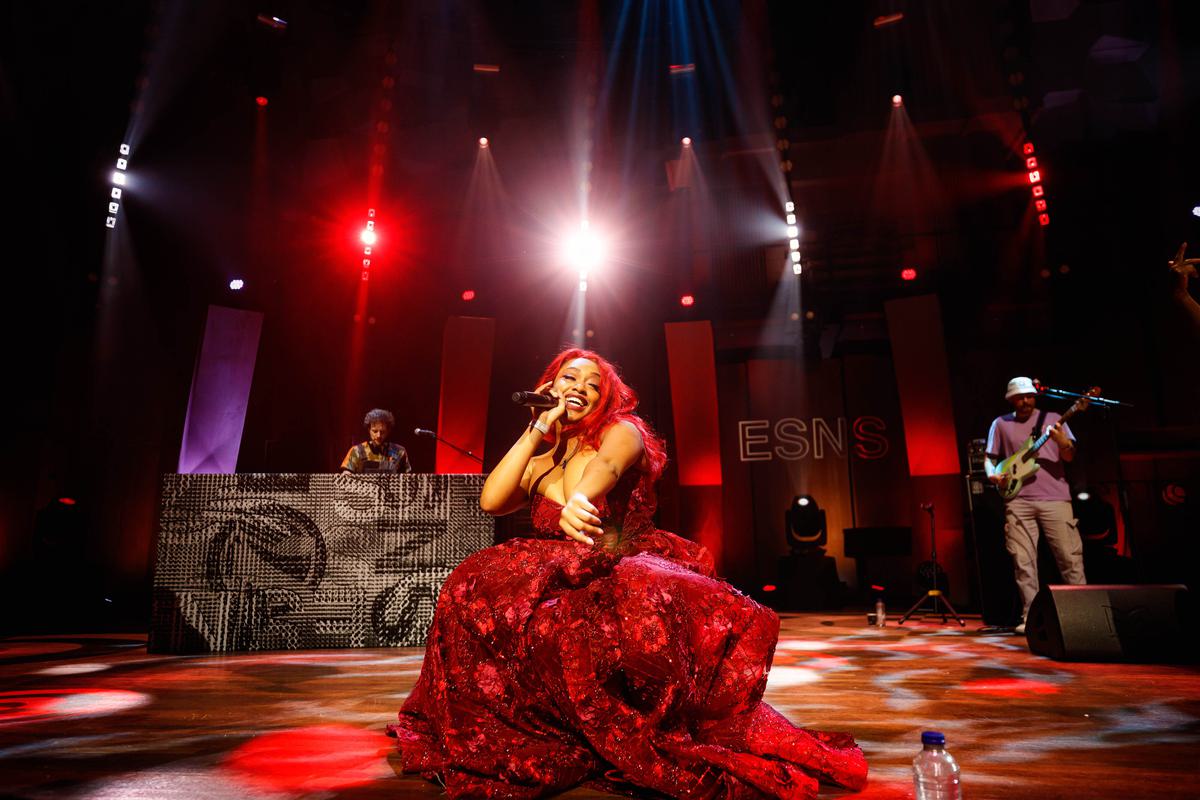 ESNS (Eurosonic Noorderslag) 2022 promises good times ahead
25 January 2022, 11:15
The last couple of years have been a shit show for live music, but the talent on display at this year's ESNS (Eurosonic Noorderslag) showcase is a tantalising promise of what's to come once gigs and festivals fully return.
In every January of the past, half of Europe's music industry would hop on a plane or train to the small city of Groningen in the North of the Netherlands. But of course, these are not normal times, and for it's 36th edition, Europe's answer to SXSW was once more forced online. However, while the festivities may have been stripped back, the quality on display was not. If anything, 2022's lineup proved to be a teasing promise for the packed out rooms and euphoric festival sets that now feel so close.
Showcasing artists from across Europe, elegantly shot sessions were recorded by Dutch broadcaster NTR in collaboration with NPO 3FM, and broadcast by NPO 3FM/NPO 3 on the digital festival platform, hosted by VPRO 3VOOR12. All performances were made public and are still available to re-watch on the festival's website.
Alongside the live music, a series of online talks and panel discussions were broadcast for those with a delegate pass, including a keynote from Merck Mercuriadis, the former manager of Beyoncé, Elton John and Mary J. Blige, and an in-depth conversation on how to share streaming revenues in a fair and sustainable manner hosted by a range of industry experts and UK MP Kevin Brennan.
Kicking off Wednesday night's music, Barcelona-based Marta Knight played surrounded by her band in a beautifully curated set. Touted as Spain's next big breakthrough artist, it's clear why. Her storytelling is captivating and her music balances summery guitar lines with desolate sentiment. British singer-songwriter Anna B Savage played tunes from her gorgeous debut album A Common Turn, shot against an ingenious set-up of stark white wall and ghostly projected image or engulfing shadow. In all honesty, she could have ditched the clever cinematography and just sung straight to camera, so strong is her presence, voice and delivery.
Hyped Isle of Wight duo Wet Leg (pictured above)ditched the bespoke session brief, instead opting to play their set to a live audience. Unfortunately, the value was lost in the execution, ditching production quality and character for locked-off shots of some rather bored-looking punters, and with a set bordering on the repetitive you couldn't really blame them. Perhaps the hype has already out-run the reality. On the flip side, Reykjavik duo BSÍ (named after their local bus depot) opened their set with a couple of adorable kids colouring in. Together the duo coasted through a collection of intimate lo-fi punk. The encouraging interactions between the pair were utterly endearing. With a kind of gleeful, charming Beat Happening naivety, their showcase was a warm winner.
Trinidad-born, London-based rapper, producer and songwriter Berwyn (pictured below) hit a precarious balance between commanding and fragile. Stripped back and straight to camera, his set was intense, arresting and uplifting. Even sitting behind his keys, accompanied by his band, his presence was still wonderfully captivating, with stories that cut through, rife in emotion.
Thursday's livestream was dominated by the Music Moves Europe Awards, an annual music prize, co-funded by the European Union, celebrating emerging artists who represent a current and progressive musicality. This year's winners were Denise Chaila (Ireland), ДEVA (Hungary), Mezerg (France), Blanks (Netherlands), and Alina Pash (Ukraine). The prestigious Grand Jury Prize was awarded to Meskerem Mees (Belgium) and the Public Choice award was won by Ladaniva (Armenia).
As the awards wrapped up and the music continued, Friedberg, the project of Austrian-born, London-based Anna Friedberg delivered a blistering set of driving alt-rock. Dynamic and astute, the band dominated the cavernous room which staged their session. London-via-Rome rapper Shunaji let loose with a set that dazzled, moving from the avant-garde to the innately pop, she crossed genres and moods with aplomb. While the production didn't hit with quite the finesse of some other sessions, Shunaji's flawless and intricate delivery, confidence and gift of performance held the showcase high.
Irish hip-hop breakthrough Denise Chaila (pictured below) let rip with her visceral storytelling and devastating delivery. Powerful and competent, it looked like she was really enjoying herself. It was the kind of set that really made you yearn to be watching from a packed crowd.
Of all the nights, Friday was absolutely rammed with set after set of unwavering talent and ones-to-watch. South-East London MC ENNY brought her astute lyricism and instant melody to the livestream. Also opting for a live show shot at Brixton Academy, it just didn't connect with quite the same level of intimacy or production as the sessions shot for purpose. The locked-off long shots and high-placed GoPro's just felt lacklustre. Even Odeal's guest spot on "Bernie Mac" couldn't command a vibe.
Current kings of indie, Yard Act proved why they deserve all the hype, lead-singer James Smith rattling and railing with the perfect balance of humour and devastating insight. Teasing, speeding up, and playing with songs from their debut record The Overload, Smith spat out his lyrics, pissing about to camera and ruining the fourth wall. Queen of TikTok Mimi Webb, who until now has had little chance to prove herself in videos longer than a minute, breezed through a set of instant and insatiable pop gems with confidence and sugary vocals. On a beautifully set stage, her performance was pure decadence. Forget a live session, this could have been a full-blown music video.
"We are Joe & The Shitboys, we are right here in your living room telling you to go fuck yourself." Putting the Faroe Islands on the map for all the right reasons, Joe & The Shitboys' set was the raucous and joyful mess you'd hope for. Loud, brash and brilliantly precise, it was impossible to not try and transcend your screen. Norway's Hanne Mjøen (pictured above) showed why she's Scandinavia's next great pop export with an instant charm, intelligently put-together pop songs and an utterly flawless vocal. With little frills, she played on what Robyn built - direct and intense, straight to camera, packed with emotion - and it worked.
Things quietened down a little on Saturday night, as the line-up focused on homegrown Dutch talent. Playing under the name Mazey Haze, 21-year-old Nadine Appeldoorn chugged through a 90's inflected set of dream pop and alt-rock that was warmly mesmerising. While under the moniker of Future Husband, Dutch-Nigerian singer-songwriter Adura Sulaiman serenaded with an intimate and cinematic performance.
With gigs now back in full swing in the UK, it's easy to forget that the same isn't true across Europe. But seeing the talent that's ready when the venue stages are open again makes for a very promising 2022. This success of ESNS this year was in proving that good things are coming soon.