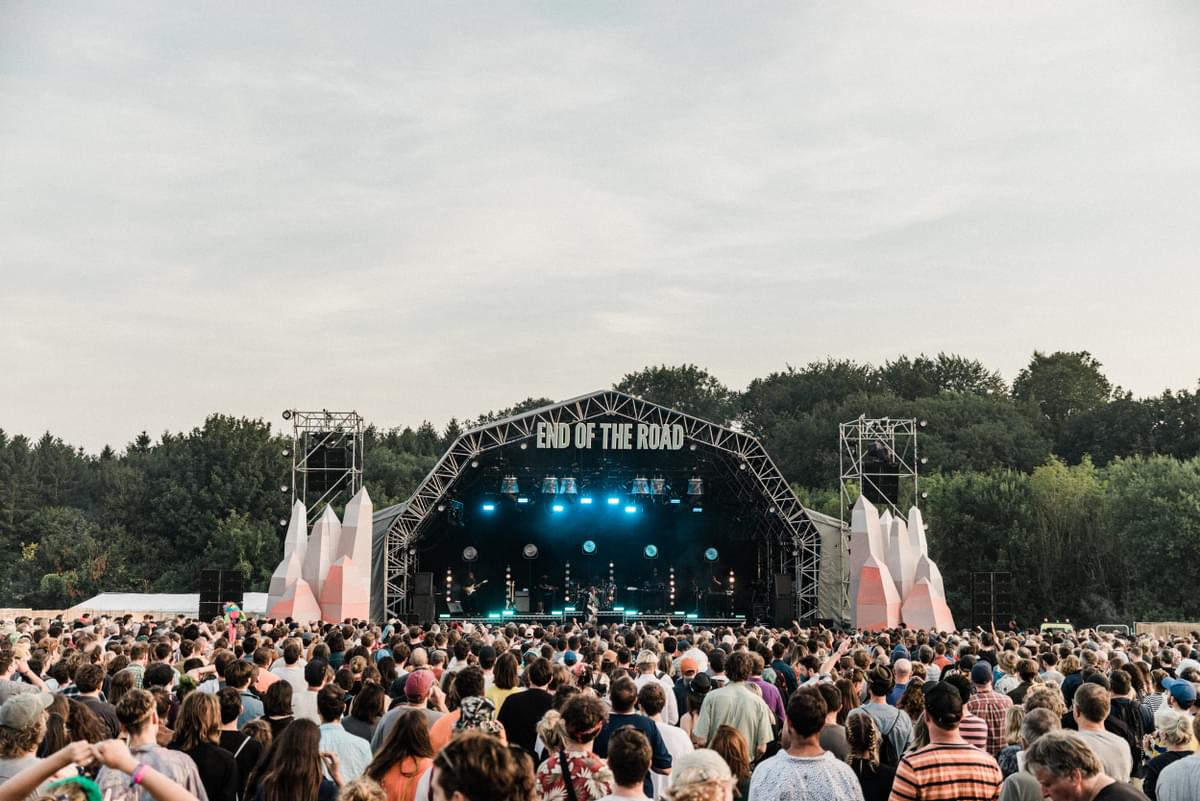 Diverse talents close the final day of End Of The Road 2021
06 September 2021, 12:30
With an array of genre-bending acts, potential 'Album Of The Year' contenders, and eclectic cover versions, End Of The Road truly saved the best until last.
As September rolls around, another festival season is due to come to an end. Though, on Sunday morning of End Of The Road, the sun shows no sign of stopping. As festival-goers unzip their tents, they're met by 22-degree heat, starting the final day on a bright note.
Making an early case for heading over to the food and drink stalls, the array of local beers and ciders at the pun-titled 'Bear Tavern' are in full flow; with most selling out by the early afternoon. While disappointing to some, the outlets mirror EOTR's ethos to avoid overproduction and reduce waste, for which it should be commended.
There is a palpable buzz for the music on offer throughout Sunday, with Anna B Savage and Eve Owen respectively opening the Garden Stage and Tipi Stage's festivities. Over at Best Fit's Piano Stage, however, Broadside Hacks pull the stage's largest crowd of the weekend. A supergroup plucked from an abundance of folk talent – including members of Goat Girl, Sorry, Girl Ray, caroline, as well as Katy J Pearson, Naima Bock and Oscar Browne – their collective influence matches the number of attendees at Patti Smith, Laura Marling and Jeff Tweedy's sets from previous years.
Taking the energy up a notch, feminist punk band Big Joanie soon became the most talked-about moment of the afternoon. Their more serious fans are likely to be aware of their subconscious affiliation to Solange as they play a larger-than-life cover of "Cranes In The Sky" – with singer and guitarist Stephanie Phillips being the author of the popular book Why Solange Matters. Bouncing from banger to banger, drummer Chardine Taylor-Stone shouts "Wakey wakey End Of The Road! We don't do quiet; we have no quiet songs."
It makes for a seamless transition to the Piano Stage's final set of the weekend, Yard Act. The Leeds-based band have all the ingredients for long-term charm: a meme-like take on current affairs, a DIY post-punk ethos, and a definable swagger. As they play through their tracks, including crowd-favourite "Fixer Upper", it feels like you're a part of an inside joke – which is perhaps the ultimate charm of this area of the site altogether. Strangers laugh along at their commentary of having prequels and sequels to their tracks before Katy J Pearson joins for a final performance of "Miracle"; a track of hers in which Yard Act remixed in June last year. "When we were asked to do a cover, we thought we'd scrimp on it," says frontman James Smith.
Moving into the evening, dynamic collective Crack Cloud take to the Garden Stage. Based out of Vancouver, Canada, the unconventional, revolving, multimedia group bash out an aural assault on the senses. Seven members are present on stage, but with countless other filmmakers, artists, and designers in their ranks, they open the eyes of many punters and make a case for further exploration.
Come sunset, The Wood Stage becomes the epicentre of the night's biggest draws. Pink-hued skies surround the tree-lined arena as Little Simz plays her second live debut of her newly released album Sometimes I Might Be Introvert. Boasting incredible styling, setlisting, and performance, she could well have topped the bill – what with pulling in one of the biggest audiences of the weekend. Her hit "Selfish", pulled from Mercury Prize-nominated album GREY Area, had the crowd in rapture, while new tracks "Woman" and "I Love You, I Hate You" sees the crowd in awe of her flow. Simz onstage confidence is nothing short of phenomenal and leaves fans positively muttering their thoughts to each other as the performance closes and the audience disperses.
Under a starlit sky, there's a larger sense of choice and conflict than days past as Dry Cleaning, Richard Dawson, Big Joanie (this time at the Tipi), and headliner King Krule take control of the night. With friend groups splitting up to catch their preferred artists, and as such, new friends being made in the process, End Of The Road wraps up on an exemplary high. Those willing to continue into the early hours of the morning are treated to a secret set from Black Country, New Road, who open with a cover of MGMT's "Time To Pretend", while for everyone else, it's a trip back to the camping area in the mild late-summer air; reflecting on the vast and accomplished four-day event.
Dates for End of the Road 2022 will be revealed soon, along with early-bird tickets. Find out more at
endoftheroadfestival.com
Get the Best Fit take on the week in music direct to your inbox every Friday