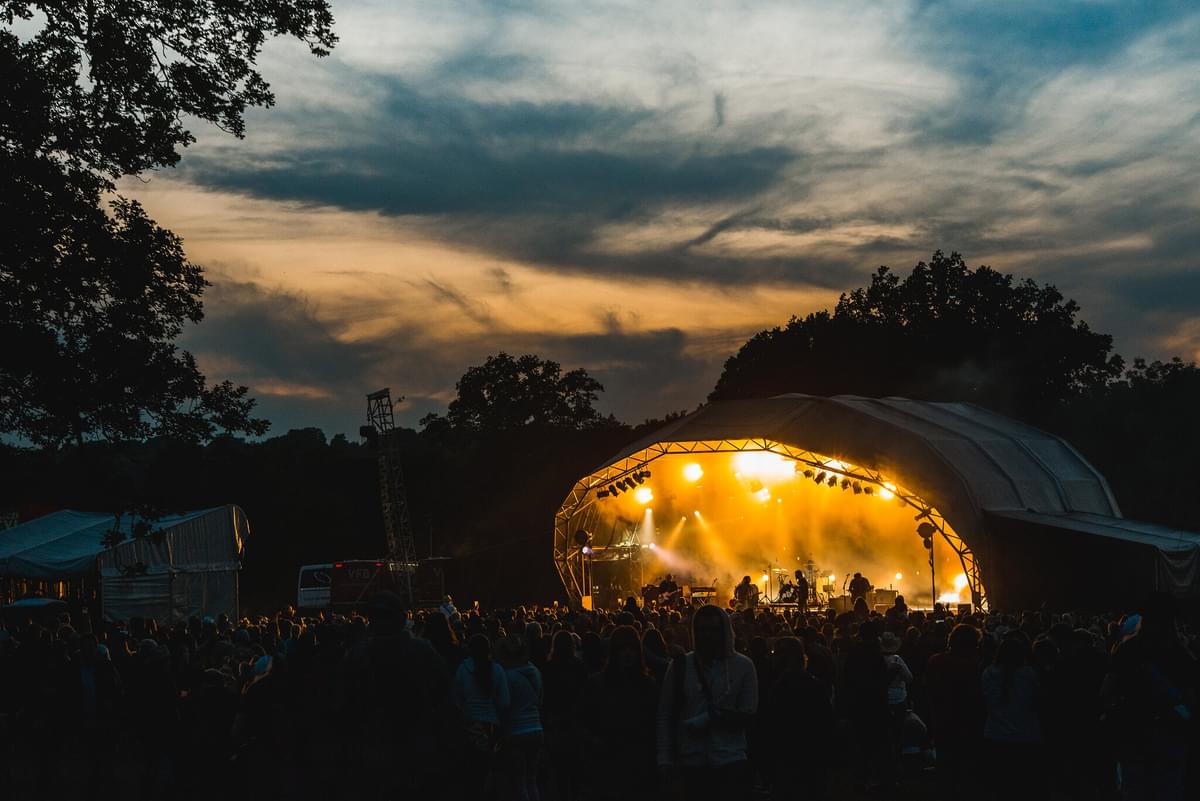 Discovering the future stars of Americana at Black Deer Festival
23 May 2022, 09:30
While this year's Black Deer Festival is headlined by some of music's greats - among them Wilco and Van Morrison - it's also an event that showcases incredible under-the-radar talent from across the thriving Americana scene.
With an ear on the future greats in roots, soul, country and blues, the festival's founders Deb Shilling and Gill Tee – along with booker Bev Burton – talk us through their picks of the rising stars in this year's line-up. Check out the playlist and read on to learn more.
With two albums under her belt and over a decade in music, Brighton-based singer-songwriter Bess Atwell has taken the slow road to success, developing her own contemporary take on a classic folk sound that trades in a crystalline vocal over hazy, affecting songs.
"Bess is such a beautiful singer and songwriter. I'm so excited to hear her perform live in the deer park and in particular during our intimate Songwriter Sessions... don't miss her alongside William Prince, John Smith and Native Harrow on the Sunday session." - Deb Shilling, Black Deer co-founder
Husband and wife duo Michael Trotter Jr. and Tanya Blount fuse Southern soul, gospel, country, and rock-and-roll but their origin story is one of music legend: a war veteran, Trotter learned to play on piano once owned by Saddam Hussein and used music to help navigate PTSD after serving in Iraq, encouraged by Blount.
"These guys are one of my real favourites. Authentic storytelling, great music and as cool as you like. And I'm so glad they've just been nominated for an award from the Americana Music Association in the US. Their hard work and commitment to their art is second to none and they deserve all the plaudits that come their way." - Deb Shilling, Black Deer co-founder
Singer/songwriter Simeon Hammond Dallas cut her teeth busking around Europe and on London's Southbank. Her gutsy vocals recall the soaring moments of Sheryl Crow or Dolores O'Riordan, and are bolstered by hypnotic peddle-steel and organ swells.
"An emerging artist from Camden, Simeon Hammond Dallas packs a punch with her inspirational brand of Americana. You know the sound: a little bit of folk, a dash of the blues, some alt-country and a whole lot of soul. A newcomer whose songs will stay with you." - Deb Shilling, Black Deer co-founder
A bona fide country superstar, the nine times Grammy-nominated Cam has written for Miley Cyrus and Sam Smith. Black Deer is the only UK stop on her tour this year, playing songs from 2020 record The Otherside, which includes collaborations with Harry Styles, Avicii and Jack Antonoff.
"I'm a country girl at heart and Cam is the best of the bunch right now, I just love her songs and singing. She's the real deal and an artist of true distinction. She's part of a tradition but also progressing country music, too. Cam's a true star." - Gill Tee, Black Deer co-founder
His music is flush with the gravitas of a world-worn 50s troubadour but the guitar-and-harmonica-playing Josh Okeefe was actually born in Derby and is a graduate of BIMM. Signing to Nashville-based independent record label Black River Entertainment, he's a rising star of roots music, chanelling a voice that's equal parts Woody Guthrie and Alex Turner.
"We love to place the spotlight on our emerging artists and Josh is like the second (or third!) coming of Bob Dylan. He's a distinctive song stylist and has such a gift for crafting simple songs that sound like they've been around forever. Catch him while you can and make sure you can say you saw him first at Black Deer!" - Gill Tee, Black Deer co-founder
Born in Woodstock, music actually runs in Amy Helm's veins as the daughter of singer Libby Titus and Band drummer Levon Helm. She cut her teeth playing with her father and as a member of folk collective Ollabelle but her songs are driven by a voice that's unmistakably her own
"One of those songwriters who sings tunes that you immediately recognise. Her late dad, Levon, was of course the legendary drummer and singer in The Band and Amy is cut from the same cloth. She'll bring a slice of that old, old Woodstock magic to the deer park and I can't wait to hear her voice reverberating around the festival." - Gill Tee, Black Deer co-founder
Nottingham-based singer songwriter Jinda Biant started his journey in music performing tabla at venues around Britain before finding his voice through gutsy slide-guitar stomps and a stunning full-throated vocal.
"Jinda came through our Music Submission process. I had his live video playing in the background whilst working away, and it stopped me in my tracks, when I eventually found his screen, I was so surprised that that voice and slide blues guitar was coming out of this young lad! He is a gifted young artist that has a very bright future ahead of him, go see him play a blues masterclass!" - Bev Burton, Festival Booker (Killer B Music)
Amazingly, fingerstyle guitarist Yasmin Williams mastery of guitar began after beating the expert level of Guitar Hero 2. She taught herself to play by ear, developing her own unique methods, which include using the neck like a keyboard, drumming the guitar's frame, and even wearing tap shoes to add percussion.
"What an extraordinary musician, she really bowled me over with her immaculate guitar playing, you must go and see her set. You can really feel and hear the inspirational artists that have influenced her, Sister Rosetta Tharpe and Elizabeth Cotten, and she should be very proud of the female guitarist legacy that she is continuing and presenting to a whole new generation of music lovers." - Bev Burton, Festival Booker (Killer B Music)
The songs of Juno-award winning folk-gospel songwriter William Prince are the musical equivalent of a tender bear hug. Growing up in the Peguis First Nation as a child, he learned music travelling with his songwriter and preacher father and has released three highly-regarded albums across an eight-year career.
"I first fell for William after seeing him showcase at a conference in Canada. His storytelling is a thing of beauty and that voice, oh it's just sublime. He is amassing a firm fanbase over in the UK, and I can see him being one of our audience's new favourite discoveries at the festival. An emotional, raw, hauntingly beautiful set awaits all those that go and see him….don't miss William!" - Bev Burton, Festival Booker (Killer B Music)
Black Deer Festival runs from 17-19 June 2022. Find out more at blackdeerfestival.com.
Get the Best Fit take on the week in music direct to your inbox every Friday