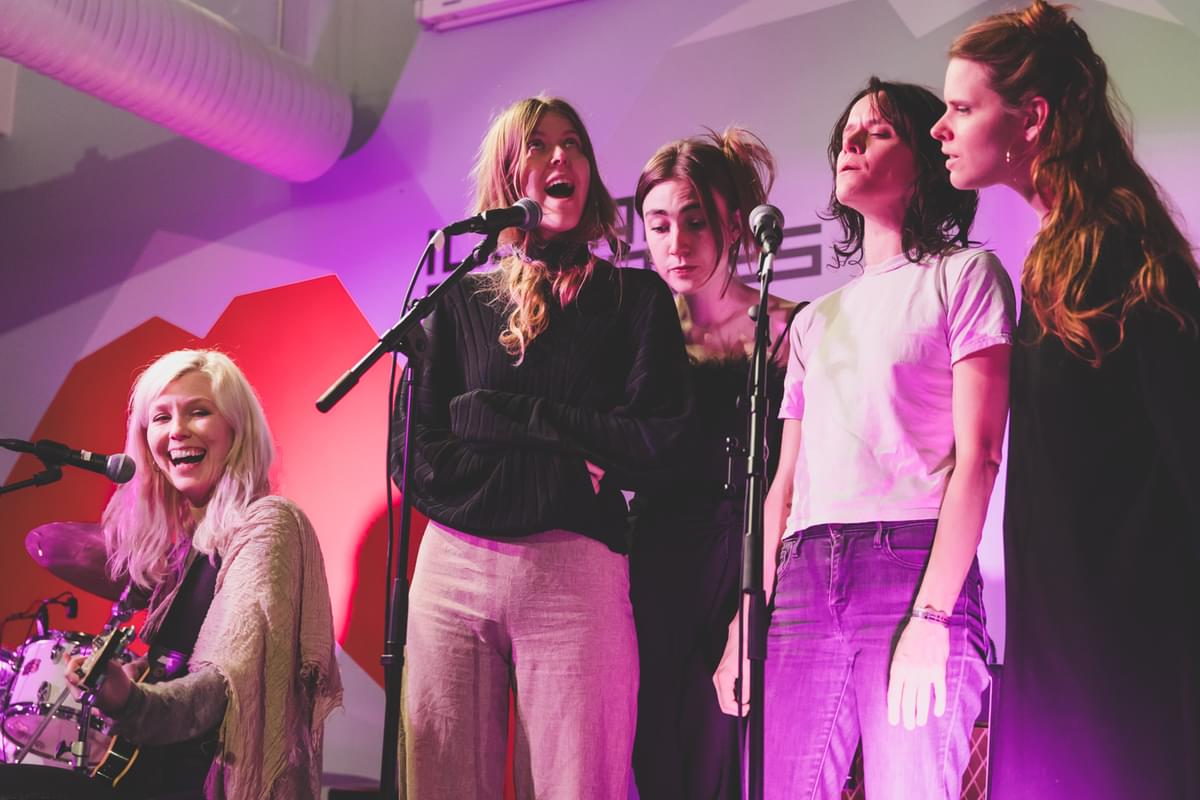 Dancing in the moonlight on the opening night of Iceland Airwaves
02 November 2017, 20:23
As if on queue, the gentle autumn gives way to nippy winter the day that Airwaves begins. More tourists can be seen scrambling around town, snapping as many pictures as they can during the precious few daylight hours. Stores stay open longer, musicians flock from venue to venue, and technicians all take their place. And then it begins. The annual showcase festival is held for the eighteenth time in various venues in the downtown Reykjavík area.
The night started early with JFDR's curated show at Loft (lead picture), where she invited various collaborators of hers to take to the stage. My eardrums were treated with soothing and ethereal tunes in anticipation for the five upcoming days. Facebook reminds me that four years ago, on the penultimate day of that year's Airwaves, I said: "What's that eardrums? You've started healing up? Well fuck you, it's still Airwaves". Future me will thank myself for starting off easy.
Over at the art museum Cyber (pictured above) draws an unusually large crowd—not unusually large for them, mind, but unusually large for the first show of the festival. Armed with a strong visual element and unfiltered content, they take to the stage. The band consists of two members of the notorious Reykjavíkurdætur rap collective, with Cyber less afraid of courting controversy and speaking freely with little discretion about sensitive topics. Take one of the earlier songs of their set, which seemed to speak about the power of women, who can for example easily emasculate men during fellatio. "Suck / chew / bite / swallow" goes the chorus.
The songs may not be as openly rebellious as Reykjavíkurdætur's, but make no mistake about the important space that Cyber occupies. Two years ago Cyber were not terribly noteworthy, but they've grown and forged a strong musical and visual aesthetic and are now one of Iceland's top ten hip-hop acts, a scene that was up until very recently almost completely male dominated.
Later in the evening, Halldór Eldjárn put his compositions on display. Halldór has been involved with electro dance band Sykur, Apparat Organ Quartet, Kanada and more, and he played his most recent works at Húrra with his brother. The instrumental electronica featured minimalistic compositions that had plenty of satisfying electric hooks, catchy hooks, and gentle crescendos. It's the kind of music you should listen to with a glass of high-proof alcohol in hand, reminiscing about all the happy times in your life.
A few blocks away and mere moments later, Kælan Mikla's set evoked the opposite emotions. The three-piece dark wave poetic punk band is named after the Lady of the Cold from the Moomin's whose piercing gaze could turn anyone to ice. So too can their siren song. Haunting synths, a deep rumbling bass, shrill hypnotic vocals, and heavy distortion are the calling cards of the band, and they bring them out in spades at this performance.
A friend commented that seeing Kælan Mikla live is like being on the set of Buffy the Vampire Slayer, and I'm inclined to agree. For most of the year, the band's been touring through Europe, and in the few months since seeing their last performance they've visibly grown in confidence. Singer Laufey Soffía's presence in particular has matured, seemingly taking inspiration from the Dancer of the Boreal Valley and from Kata from Mammút's live hand gestures. A new song debuted tonight was very reminiscent of Perturbator's 'Uncanny Valley', with vocals that croon about the moon, light, and darkness.
The festival has just started, but it's already made a strong impression.
Get the Best Fit take on the week in music direct to your inbox every Friday