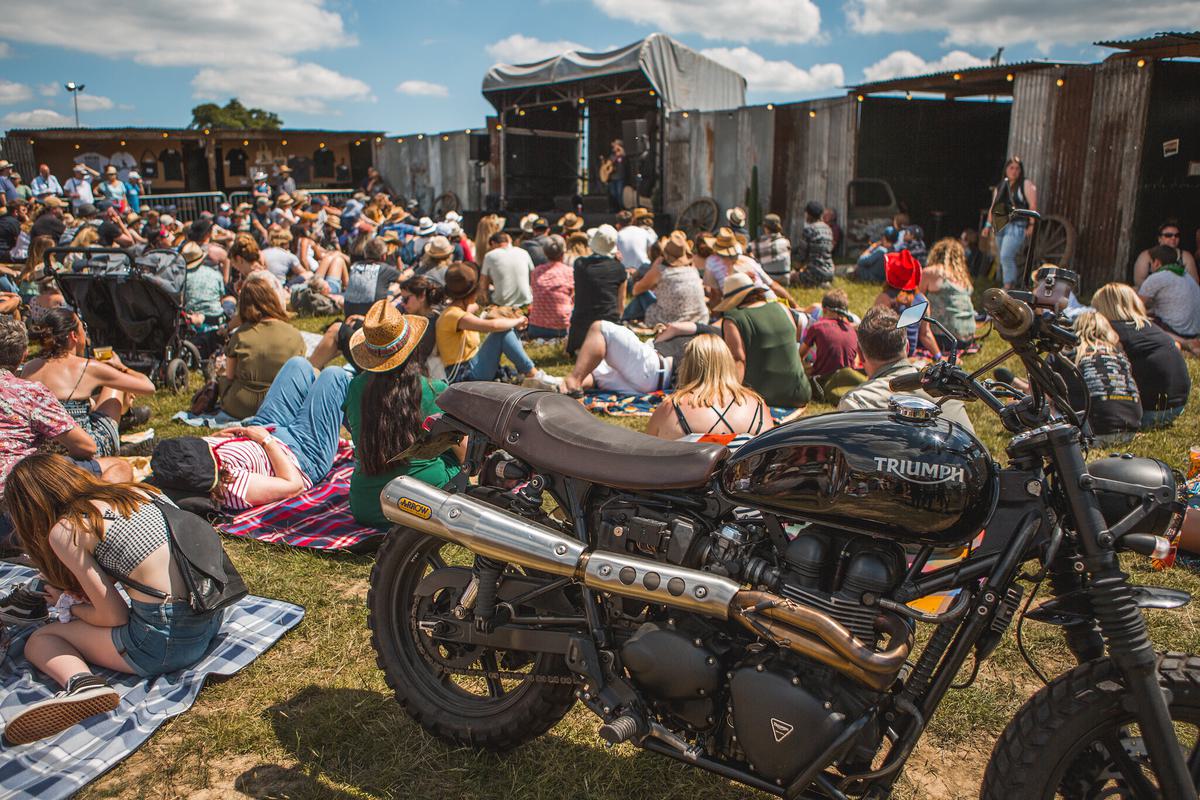 Built with love and delivered with precision, Black Deer Festival is a joyous celebration of America
26 June 2019, 13:16
Bringing a slice of Nashville to England's back-garden, Black Deer Festival aims to draw together all aspects of country music and rural Americana culture from roadside dive bars to line dancing.
But what it achieves in essence, it excels in execution, creating a weekend experience that has something for every cowgirl.
Black Deer is situated in Eridge Park in Kent, a gorgeous expanse of rolling green hills and tree-kissed countryside. Nestled into a sloping field that forms a shallow, natural amphitheatre for the main stage, the site itself is split into several areas, each devoted to a different aspect of rural American life.
The Roadhouse is dedicated to hard-liquor and motors, boasting a bar displaying a wide range of whiskeys and bourbons with a run of vintage cars and motorbikes parked out front. The line-up was curated by promoters Desertscene London and showcased the heavier side of US desert rock, blues and psych. Around the corner, Outpost teaches you everything you need to be a legit cow-person with axe-throwing, lasoo lessons and more.
Live Fire is all about the BBQ. The arena is curated by Grillstock and features talks, demos and QnAs from diverse figures from the fire-cooking community including US pitmaster Dr BBQ. While some demonstrations will show you things like how to debone a deer, there are also talks for the veggies among us; the festival's programme even contains a delicious looking recipe for grilled beetroot. In the evenings the Live Arena screened uncovered cult US cinema, curated by director Nicolas Winding Refn (Bronson, Drive) as byNWR Expressway, including Wild Guitar and Cottonpickin' Chickenpickers.
There's plenty for kids as well with the Young Folk area of the festival entirely geared towards younger attendees. You can climb a tree (under supervision), zipwire, and participate in different craft workshops. The Supajam stage is indebted to the idea of musical community, with songwriting sessions and collaborations all run by local students from disadvantaged and vulnerable backgrounds. Staff from Black Deer mentor the students across the months leading up to the festival with the weekend counting towards their final qualifications.
With the great outdoors playing such a big role in rural American life, Black Deer Festival also makes a concerted effort to keep their impact on the park low and tip the scales towards sustainability. Single use plastics are kept to a minimum on site with all traders using wooden cutlery and cardboard packaging. Reusable cups are sold and drinking water taps are located all around with resealable cans and branded bottles available for purchase. With plenty of recycling bins and litter crews working across the weekend, even by the Sunday evening the site looked fresh and picturesque.
The festival opened on Friday afternoon. Producer/multi-instrumentalist Ethan Johns (Laura Marling, Paul McCartney) played an acoustic set outdoors at The Roadhouse that included laid back chat and an eclectic set-list. Later on that evening he headlined the Supajam stage with his band Black Eyed Dogs, providing one of the festival's highlights. Playing covers and tracks from his 2015 record-Silver Liner, the band challenged each other with swift musicianship, electric energy and a euphoric air of joy which was nothing short of intoxicating.
With the main festival stage not opening until Saturday morning, The Ridge stage was the largest on Friday night and held one of the most anticipated performances of the festival from country legend Kris Kristofferson. Playing to an audience that rammed and surrounded the tent at near ten rows deep, Kristofferson played with the elegance and accomplishment you'd expect from the veteran performer. Playing one day before turning 83, the former A Star is Born actor took a trip through his extensive back-catalogue with tunes like Me and Bobby McGee receiving jubilant uproars.
It gets pretty cold once the sun sets so you'll need to bring either a decent sleeping bag or a large bottle of whiskey for the campsite. There are spaces to pitch your own tents, and also some fancy camping too. I stayed in a VinTent - a pre-pitched tent that had been reclaimed from the 70s and repaired to Instagrammable perfection. A lovely surprise about Black Deer was how accessible and well-maintained the facilities were. The toilets were pristine and loaded with loo roll across the weekend, while there were enough hot showers in the camping area that queues remained small if at all.
A little nod should also be given to the implementation of RFID across the site, a payment system that uses your wristband as a contactless wallet. It was easy to use, ran smoothly, and meant bar and food lines were near non-existent.
The sun came out in force on the Saturday afternoon, as the main stage opened and the audience expanded. Wild Rose-star Jessie Buckley played a buoyant performance early on with songs from the movie's soundtrack and an enthralled crowd. Buckley is an actress by trade, albeit with an incredible voice, and the decision to take the film's music on tour has thrown her in at the festival deepend. She came across as endearingly nervous with some truly amazing banter and a bottle of Stella in hand. Halfway through the set a lady next to me leaned over to ask if I thought the singer was pissed, but her delivery and excitement took the crowd along for the ride and Buckley left stage victorious.
Playing over on The Ridge later that afternoon Ryan Bingham delivered one of the most striking performances of the festival with loaded lyrics that critique the US' administration and cultural direction. Bingham is magnetic and accomplished on-stage, playing with the dynamics of his music and flanked by a band and backing vocalists that elevate his candour. Over on the main stage The Staves slowed the pace. Playing without a backing band and dressed all in white, the set had a certain reverence, occasionally broken by a run of witty chat. Alongside tracks like Make It Holy and their Springsteen cover of I'm On Fire, they threw in a new song telling the audience, "We're not sure if it's shit or not." It wasn't.
Afterdark, Brant Bjork took to The Roadhouse stage for a blistering set. Quite possibly one of the most important figures of the desert rock scene, Bjork was a founding member of Kyuss, later joining Fu Manchu having produced their debut album. Bjork's set at Black Deer felt like a real moment in curators Desertscene's lineage. Packed with heavy guitars and growling basslines, it carried the tent away into a whiskey-soaked, braying euphoria.
Waking up on Sunday morning was somewhat eased by Live Fire's Gospel Brunch session. There was free chicken & waffles for the crowd and a seven-strong gospel choir with guest vocalists primed to push your hangover up to the heavens. The sun came out as the BBQs fired up and the stages flew back into life.
Bristol's Yola delivered an impacting and uplifting set on the main stage with tracks from this year's debut record Walk Through Fire which was produced by The Black Keys' Dan Auerbach. With a voice that cut through the balmy afternoon, her story-telling was arresting while her performance held a genuine joy and warmth.
Later on The Ridge, Neko Case faced technical issues which she overcame with practiced confidence. With gutterall passion and a take no prisoners attitude, her performance was a stark and unique take on country that brought a welcome shift in the lineup. Playing tracks from last year's Hell-On and engaging the audience with a display that felt deeply personal, her voice alone could shake the field.
For country fans, Black Deer is the real deal, a festival that celebrates Americana culture to the finest detail. And that really is the lasting impression you take from the festival - the attention to detail. Walking around the site and talking to people, you can tell that it's been put together with love and care, and that makes for a truly authentic, joyous experience. Whether you're a country veteran, a family with kids, or an Americana virgin who's used to listening to The Strokes, Black Deer Festival will transport you to a transatlantic wonderland.