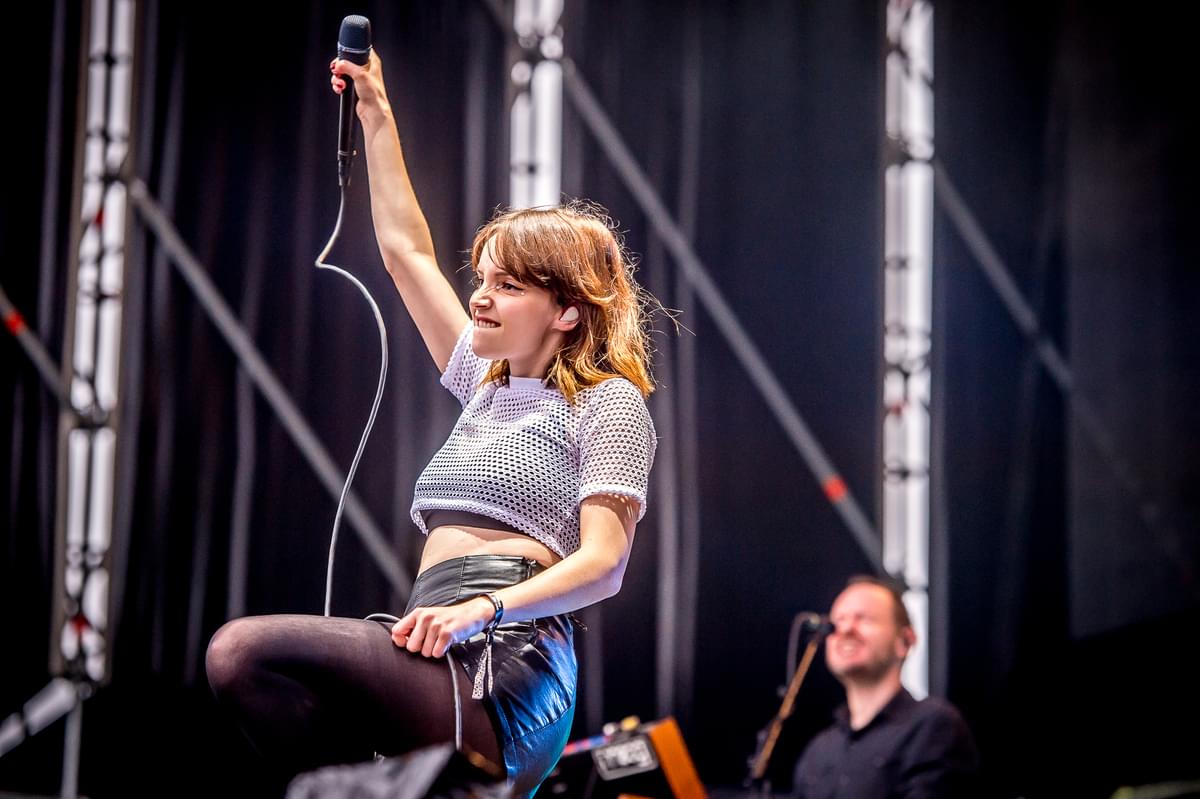 Bilbao BBK Live 2016: Going Wild in the Basque Country
13 July 2016, 13:00
The first thing you notice about Bilbao is the industrial city juxtaposed with a backdrop of lush greenery and mountainous terrain. It's breathtaking upon first sighting to be honest, offering just about everything you'd want on a holiday – plus, the beach is only 30 mins away.
Whilst BBK Live will offer plenty to do in the evening, with music starting around 5.30pm every evening, the timings give you a chance to explore the city and all it has to offer - and there's a lot. Bilbao is famous for the Guggenheim museum and at €16 entry, you may think about missing it – don't make that mistake. It's an incredible building where you can easily spend an entire afternoon browsing art from some of most iconic creators around; I saw works by Andy Warhol, Louise Bourgeois and Jenny Holzer. Plus there's a giant dog made out of flowers welcoming you at the entrance; if that doesn't entice you, I don't know what will.
You won't have to walk more than a few metres to come across a cafe or bar – there are, what seems like, hundreds strewn across the city. You won't find a lot of tapas though; instead, you'll find trays upon trays of pinxtos. These are basically tiny, tiny bites of deliciousness – small pieces of bread or crackers with stuff like ham, goats cheese, olives, cod and squid placed upon them. It's definitely a thing here to have a glass of wine along with three or four of 'em come lunch time, so make sure you do that at least once. Your mouth will thank you.
If you're too hungover to make it to the beach – with the festival finishing around 6am, I don't blame you – you can head to the local swimming pool that will set you back €7. You have to wear a swimming hat here but the rooftop terrace more than makes up for your encouraged cone head. Overlooking the city, the terrace offers a bunch of deck chairs and towel space to while away your 4am tequila nausea.
Getting to the festival itself is easy enough – you basically just head to the main bus station and catch one of the buses (I recommend buying a few road beers as you can end up queuing for 20 mins or so). Once you arrive, you can usually grab a €1 beer from a local shifting some from their personal coolbox and join everyone else just outside the entrance – the atmosphere in this particular spot is great for getting you into the festival spirit, despite only having grabbed a few hours of sleep.
This year, the line-up was full of a mix of genres and both national and international acts. Years & Years (below) is absolutely rammed for their seemingly early set, with vocalist Olly Alexander gifted with Dora the Explorer plushes and roses from the tearful fandom that had gathered at the front. The band themselves have more than proven their track record for putting on a great live show, with Alexander encompassing enough charisma to make people forget about Brexit for a few sweet minutes.
The pop takeover continued on the second stage, as Chrvrches performed to a packed-out crowd. Lauren Mayberry is brilliantly charming, even apologising on behalf of our country in-between a set that includes "Clearest Blue" and the recent "Bury It". The second stage at the festival is quite a narrow space for the audience, so if you want to get near the front, you should probably get there early.
Meanwhile, the third stage, located at the festival entrance, is welcoming Hinds (pictured above). It's a treat to witness the band in their native country, with vocalist and guitarist Carlotta Cosials clearly in her element. Despite struggling to understand her on-stage banter, the crowd's reaction is infectious and allows them to perform one of the sets of the weekend. The Spanish talent continues, as Hola a todo el mundo perform straight after the Hinds invasion. They're simply joyous, with an instrumentation that is as tight as you like and harmonies that'll have you wanting to learn the language just so you can sing along properly.
Arcade Fire (pictured below) are the evening's headliners and of course, they nail it. Win Butler and Régine Chassagne are clearly happy to be back on the festival circuit after a few years away and give the performance their all – including plenty of glitter, giant heads and of course, mirrors. As the set comes to an end, Butler promises the crowd new music "next time" – after that set, I can't wait, to be honest.
The next day, Hana (pictured below) is proving her worth as a mega pop star in the waiting over on the Carpa Stage. Shaped like a giant, triangular greenhouse, it can get a little warm in there during the day but this crowd are too into Hana's complete and utter bangers, they're more than happy to stay put. Later, Catalonian band Love of Lesbian head up the main stage, with a mix of laid-back indie pop and full-blown stadium efforts. Although the audience is overwhelmingly excitable for the group – and the band themselves are giving it all they've got – this is a group that's a little lost in translation.
Over on the second stage, Grimes is following on from a performance from Ocean Colour Scene (who strangely played their biggest hits during the first few songs of the set), with a massive audience already gathering. Joined by her guitarist and earlier performer Hana, as well as two incredibly inventive dancers, the set is a triumph, despite 10 minutes of power-outage. Grimes is a fully-fledged pop star, playing with the genre to make it her own and providing a performance I couldn't tear my eyes away from for more than a few seconds.
Finishing off the evening is The Pixies (pictured below) – a band that have so clearly become accustomed to doing these big shows that it's often a little underwhelming watching them. Whilst their set is tight, their vocals and instrumentation completely on point, it's obvious they're a little tired of getting the biggest yelp once they play "Here Comes Your Man".
The final day brings the brightest weather, which on this site is a bit of a struggle as it's difficult to find shaded areas. I drag my pasty British self to witness Soledad Vélez (pictured below) – an exciting native artist that is both dynamic and emotive. Whilst it's early-on in the day, people here clearly adore her and with songs as good as "Asteroid" it's obvious they would. Next, I head to the hill at the side of the main stage (tip – a great spot for short people like myself) to witness Courtney Barnett, who is more than proving herself as one of the wittiest lyricists and best modern guitar players around. She straight-up owns the main stage. Meanwhile, Bad Breeding unfortunately only play to about 30 people on the smallest stage, which lucky for me, allows me to witness one of the best sets of the weekend. Vocalist Chris Dodd is enigmatic, screaming at the small crowd as if they were made of thousands before diving into the audience to allow his band mates to play out the set.
Closing the main stage for the weekend are Tame Impala followed by Foals. The Australian band have clearly refined their set for the masses, producing a song-perfect set that elates at just the right points. Kevin Parker has morphed into more of a frontman than ever before, chatting happily to the crowd and never faltering on his energy or his vocals. Once they've come to an end, it's easy to see why this little group from Australia have gone on to become global superstars.
Foals (pictured above) were perhaps the best choice for closing a weekend that champions smaller bands making it for themselves. We've witnessed the Oxford outfit develop from a Skins, nu-rave favourite into a stadium worthy band, with songs that can make you dance your ass off as well as make you sob your heart out. Dipping into songs from all four LPs, it's nice to see this Spanish crowd recognise almost all of them and with Yannis walking into the crowd mid-set, it's clear they adore the frontman that has given them an energetic, in-your- face performance.
Bilbao BBK Live is a chance to discover new acts, dive into native favourites and witness some of the best-known headliners around, whilst still having time to meander around the city and grab a few kalimotxos (yep, that's red wine mixed with cola and it's delicious). With a small site and friendly staff – after asking where I was from, one barman even said "I'm sorry. I hear your old take away your future?" – it's a festival that makes it easy to forget that the world is pretty fucked right now.
Get the Best Fit take on the week in music direct to your inbox every Friday