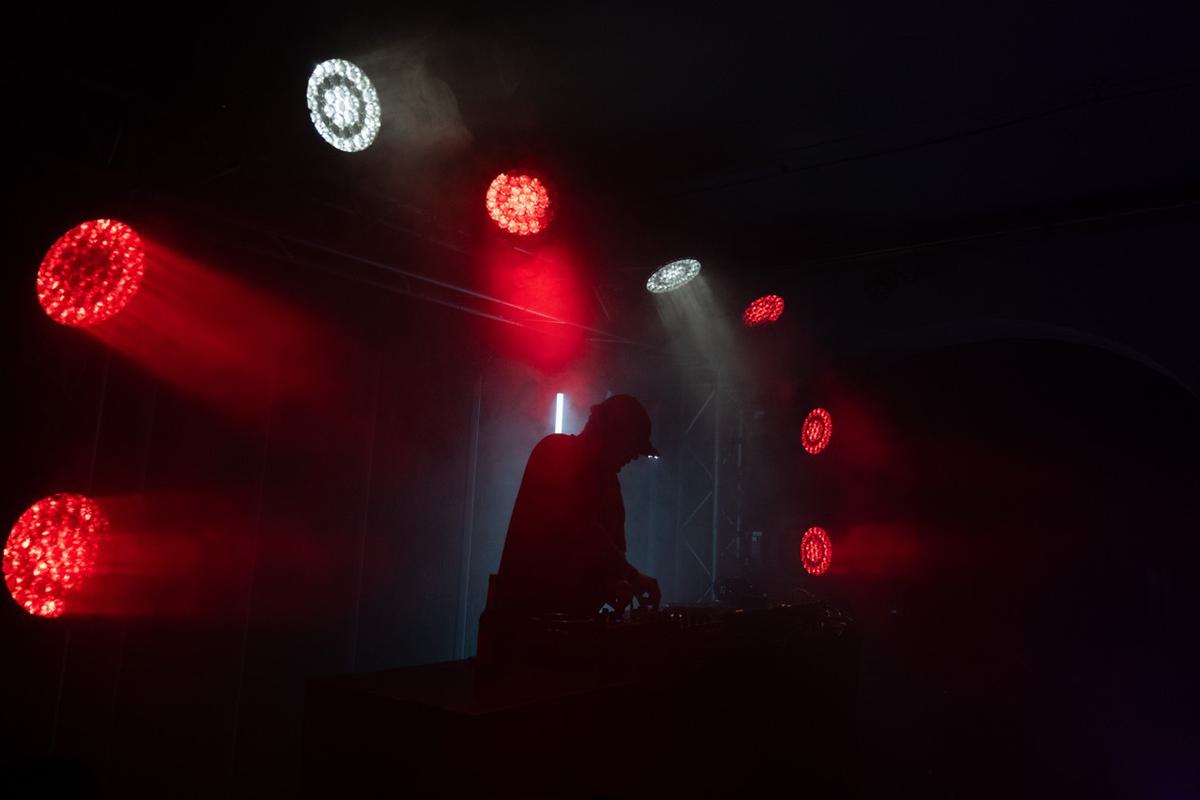 At Berlin's Pop-Kultur, pop finds its past, present and future
05 September 2023, 17:00
Lead image by Camille Blake
Not just a festival, Pop-Kultur in Berlin is documenting and celebrating the progress of pop culture while trying to increase intersectionality, writes Matthew Kent.
Hosted in the historic Kulturbrauerei, across three days, Berlin's Pop-Kultur festival brings together artists and industry leaders from across Germany, Europe and the rest of the world. A landmark in the Kollwitz neighbourhood of the city's Prenzlauer Berg district, it stands as a relic of the city's industrial past having been afforded protected status since the mid '70s.
Its name is certainly accurate, literally translating to 'culture brewery'. Even when it's not Pop-Kultur's hub, there's a fermentation of creative ideas happening here on a daily basis with a cinema, theatre and multiple bars, nightclubs and miscellaneous event spaces so closely linked by its cobbled paths.

The promotion of diversity, accessibility and creative expression is at the heart of this three-day event with a particular focus on supporting young, new talent through the Pop-Kultur Nachwuchs Programme. Those aforementioned cobbled paths are also covered with plastic matting to allow for wheelchair-friendly movement and slip-free walking routes in the inclement weather.

At the event's opening ceremony in the FRANNZ Club's garden space, the team behind the festival offer a further insight into their work and the focus of this year's programming. Conversations around pop-culture discourse are high on the agenda with specially commissioned work leading the charge alongside insightful panel discussions.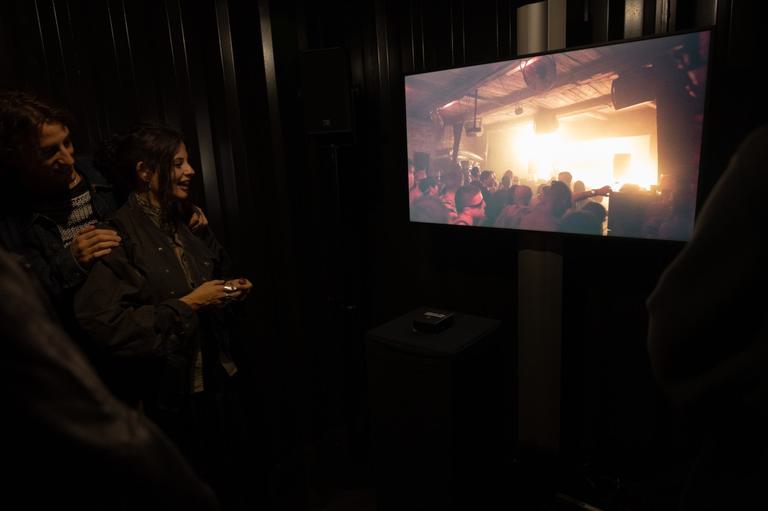 Kyiv Black Box by Camille Blake
Nikita Neyrebko and Serhiy Yatsenko transformed a shipping container into the striking Kyiv Black Box which eerily simulates a festival happening amidst rocket strikes and power outages. An immersive experience in the heart of the Kulturbrauerei complex, it attempts to help those of us not who are unfamiliar with living in an active warzone understand what that constant threat could feel like.

Expanding the conversation around "Afro-pop" and dismantling notions that the continent is a monolithic producer of a single genre sees panels leading this discussion, and artists like South Africa's Sho Madjozi who brings her indomitable presence to Kesselhaus on Thursday night. Madjozi delivers a high-octane set with her team of dancers, hyped up by the crowd who are already loving every second even before she jokes "we came a really long way so you guys better make some noise."
Queer artists also make a splash with Canadian singer-songwriter, piano virtuoso and experimental producer Casey MQ taking to Maschinenhaus for a set which showcases his versatility. From his see-sawing rework of Carly Rae Jepsen's "Run Away With Me" to a stripped-back cover of The Righteous Brothers' "Unchained Melody" his set was predictably unpredictable. Debuting new material from his forthcoming album, unreleased track "Words For Love" is a highlight.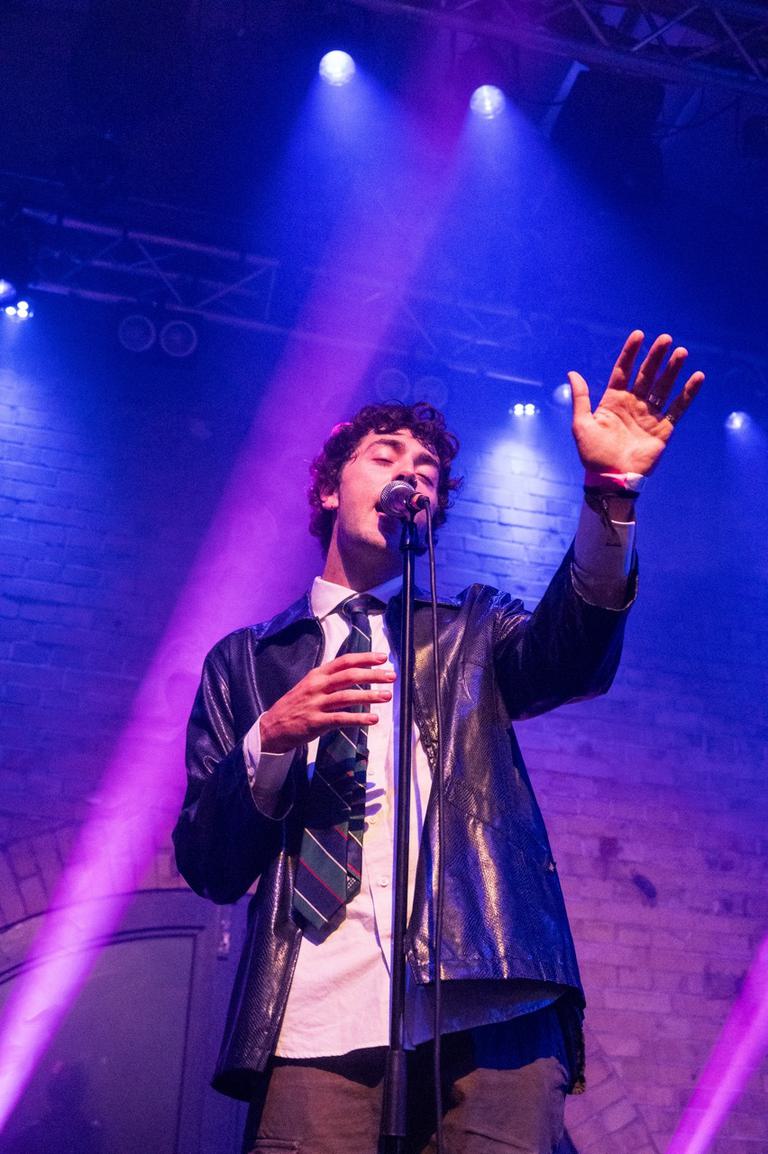 Casey MQ by Käthe deKoe
In quick succession Wednesday night continues to heat up with LA-based phenomenon Empress Of taking to the stage downstairs. Stacked with hit after hit, she never misses. The title track from last year's Save Me EP sounds incredible as it fills the warehouse-like space. Her final show as part of a European run before heading home, we get two bonus tracks, a teaser of her forthcoming fourth album. "Kiss Me" – a single dropping later this month – which immediately catapults itself into the upper echelons of her already impressive catalogue.
Berlin's very own Mulay takes to the stage looking every inch the pop star at Machinenhaus, delivering stunning vocals in her thigh-high latex boots, trench coat and bejewelled bralette. Living and breathing drama, when asking the crowd to move closer, she quips "I don't bite without consent, I'm respectful like that" – so Berlin. Performing with her whole band, she's already feeling nostalgic because this is going to be the last time they play this set; "a new era is in the works, it's loading," she teases.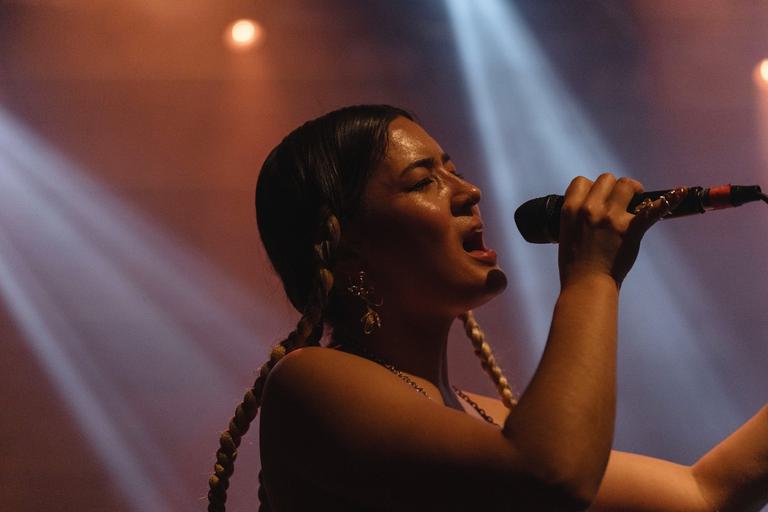 Mulay by Dominique Brewing
Another standout set comes from Luxembourg-born, Amsterdam-based experimental artist C'est Karma who blasts through a mixture of old and new songs at Alte Kamtine. Dropping back-to-back bangers "Handlebar" and a track so new it doesn't have a name, the latter is "fresh out of the song kitchen" having been made in Montreal while Karma had been there performing at another festival. The still-unfinished "Handlebar", which was made in Lisbon, immediately demands your attention with the lyric "I wanna be a superstar." A last-minute addition to the set, Karma performs like a superstar, fan in hand, commanding the stage like a pro.
Later in the night Alte Kantine has NYC-based producer and DJ wizard umru take to the decks donning his signature light-up glasses. Despite what recent social media posts about DJs would make you believe, when umru turns a knob, presses a button or moves a fader it's actually making a difference to his set. From a chaotic edit of daine's "boythots" through to a masterfully unhinged rework of Justin Timberlake's "Sexyback" featuring underscores' iconic "arms, body, legs, flesh, skin, bone, sinew" vocal from "Locals (Girls like us)", for me hearing "Schmetterling" by Baby B3ns is the highlight, a track that's starting to climb the charts here. When in Germany…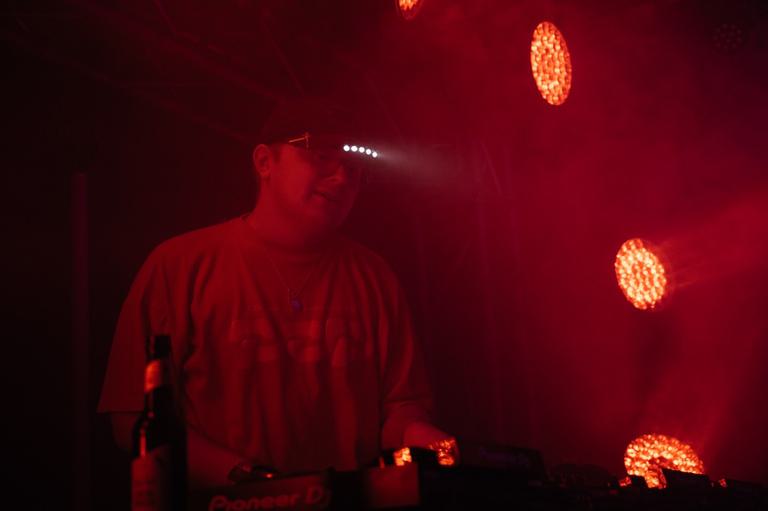 Umru by Camille Blake
Headlining the Çaystube – a performative art installation and stage in the courtyard – Australian artist and producer Banoffee battles through the limitations of performing outside. "Tennis Fan", her track with fellow Pop-Kultur performer Empress Of, is taken up a level as Banoffee is joined on stage by her somewhat hesitant collaborator, who had previously just been giving it her all in the front row. Complete with a lap dance while the pair share the mic for fleeting yet magical harmonies, this is such a cute moment to witness.
Following the 37 hour trip to get to the festival, and despite the restrictive volume caps, she fires through a set composed of predominantly new material – teasing a yet-to-be-announced project. Set closer "Muscles" is up there as one of the highlights of the entire festival, the tongue-in-cheek, house-inspired dance track has been playing back in my head on repeat since Thursday night.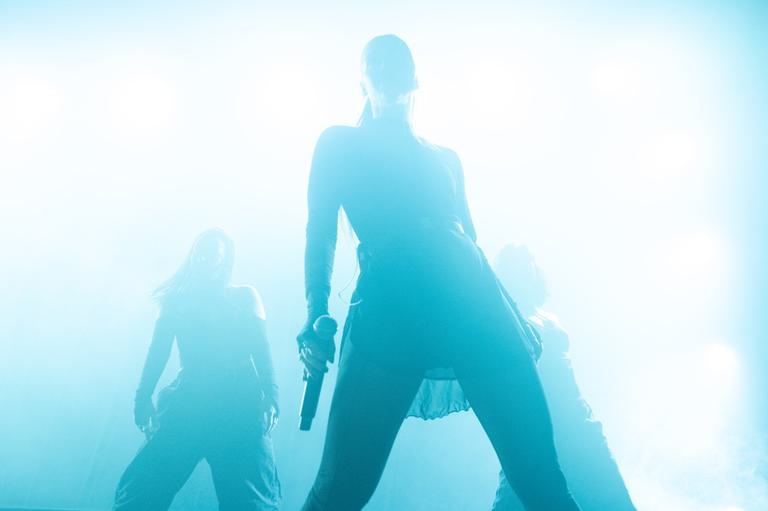 ARY by Camille Blake
Palais – a club at the heart of Kulturbrauerei – also sees sensational talents grace its stage over the festival. The pulsing techno-inspired pop of Norwegian artist and producer ARY is arresting, especially as she arrives in clouds of smoke with a meticulously choreographed troupe of dancers. She also debuts new material in her set, explaining the lonely journey she's been on making these demos, expressing gratitude that she can now share them with an audience.
Canadian collective Crack Cloud take on Palais later in the week showcasing their expansive art-rock with their six-piece band fronted by drummer and vocalist Zach Choy, who's always a commanding presence. Drag Syndrome, an internationally acclaimed drag troupe, are another unmissable act at Palais. Featuring kings and queens with Downs Syndrome, the groundbreaking group knows how to get the party started. A highlight in their set is Kate Bush's iconic "Wuthering Heights". Enjoying the rest of the festival, I spotted a couple of queens getting down to Banoffee's bangers later that night.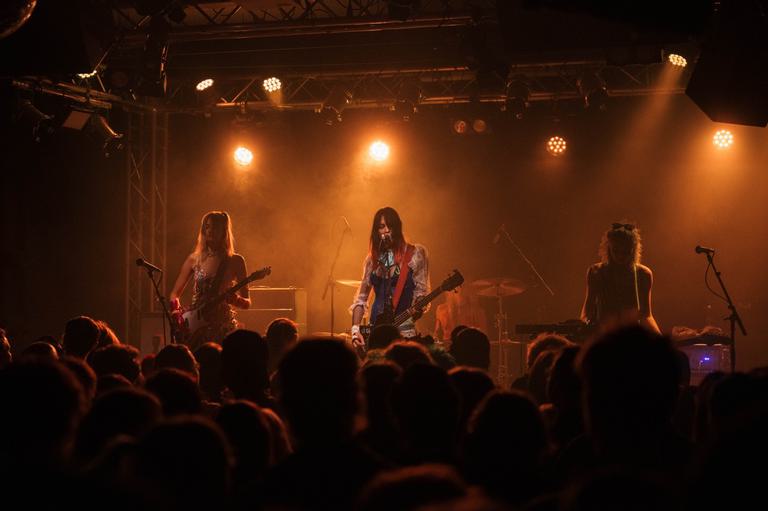 cumgirl8 by Camille Blake
Having built up a reputation for the raucous live sets, another collective, the hotly tipped New York quartet cumgirl8 tear-up the stage at the FRANNZ Club. Bringing their boundaryless grit-filled sound to the forefront of the festival, EP highlight "picture party" stands out – especially when Veronika Vilim recites one of the track's opening lyrics; "I just took a huge shit."
Bringing together both local and international communities, Pop-Kultur has created own collective and community of artists, collaborators, professionals and hopeful newcomers. Having witnessed real-time creative networking, fans' reactions to the programme's dynamic exhibitions and performances, Pop Kultur itself is in a process of evolution.