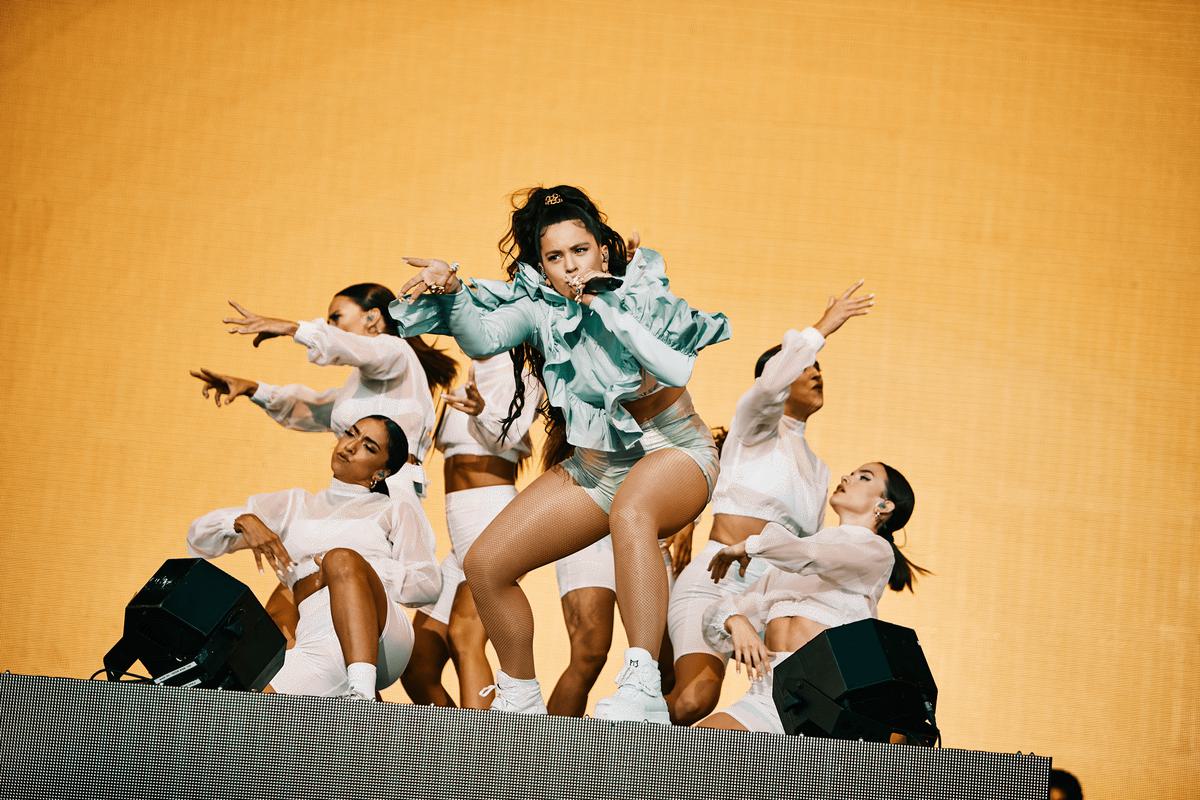 After a testing third edition, Mad Cool Festival returns to triumphant form on its fourth
16 July 2019, 21:01
With 5000 less attendees per day but an equally eye-watering lineup as last year's event, Spain's biggest festival, Mad Cool, returned to its Valdebebas site for a spectacular edition of music and more.
After 2018 was marred with sound issues and transport nightmares, from the beginning of the newly introduced welcome party it appeared the organisers had made a conscious effort to enhance the festival-goers experience. A breezy stroll from a designated Uber drop-off, through friendly security and a pitstop at a well-staffed Mahou bars and we reach the grand main stage for Spain's breakout star Rosalía.
The young singer impresses with a tight performance complete with a highly coordinated all-female dance troupe, sophisticated visuals and hits that transcend language. Another strong woman from the continent, Lykke Li, delivers a super-star set complete with a stunning new track and reworked versions of songs from criminally overlooked 2018 LP 'so sad so sexy'. Appearing shrouded in smoke and low light dressed in scintillating red PVC, complete with knee high boots, Lykke exudes ultima femme-fatale as she bares all on the ground-shaking 'No Rest For The Wicked' and 'bad woman'.
Day two bakes in 37C heat yet punters are kept mad cool (lol) by numerous drinking points and extended bars. A bare chested Iggy Pop barely notices the sweltering conditions as he flails across stage flying through hits whilst a far more flustered-looking Lets Eat Grandma soldier through soaring temperatures with the wonderful, bright pop of I'm All Ears. Bon Iver cripples a mammoth crowd with his unique brand of alternative, delivering gems such as 'Heavenly Father' and a rare appearance of first album track favourite 'For Emma'. We tuck into dinner at a suitably Spanish time of midnight on a newly designed seating area, soundtracked by the uninspired tones of Noel Gallagher trundling through a set of Oasis songs with seemingly less charisma than an Oasis covers band. In stark contrast, Vampire Weekend bound out to showcase the expert indie of Father of the Bride along with bouncing early cuts including 'Cousins' and 'White Sky', receiving raucous reaction from the crowd despite the clock fast approaching 3am.
Friday brings the festivals' most disparate day in terms of musical offering. "Are you struggling with the heat too?" Marina gleefully asks a roasting crowd, her performance of balmy new tracks such as 'Orange Trees' and crowd pleasers including 'Froot' work well as the scorching sun sets. Under a cover of darkness, The National bring their twilight alternative to the largest stage as they run through new record I Am Easy To Find accompanied by a heavenly trio of female vocalists who helped form this acclaimed album. The dedicated crowd hang on Berringer's every word and, during a stirring rendition of 'Graceless', his clothing, as he ungainly mounts the barrier and performs inches from gleeful faces. Elsewhere guitars ring triumphant as Sharon Van Etten and Palace thrash through spirited shows whilst both George Fitzgerald and Haai bring intense electronica to the fast-cooling Loop stage.
The festival's final day arrives and the site looks as blissfully immaculate as when we arrived. Today's lineup is heavenly as Jorja Smith's dreamy vocals accompany us as we walk over to catch Beth Ditto's Gossip hammering home uplifting messages of acceptance along with a smattering of hits. Jon Hopkins and YONAKA perform in almost complete juxtaposition, the former shielded behind his desk and letting all-encompassing beats transport the audience to the fractured world of Immunity. Meanwhile Theresa Jarvis practically leaps from the stage barriers and tears through the band's solid debut record Don't Wait 'Til Tomorrow.
"Whoever put my band on at the same time as The Cure needs a good speaking to", a disdained remark from Matt Healy part-way through a blistering set from The 1975 on the festival's second stage. Otherwise the mood is sky high as the Mancunian four piece tear through a set that makes stops at all three of their LPs, stand outs including 'Love It If We Made It' and the heart soaring synth of 'It's Not Living (If It's Not With You). The aforementioned legends of goth-rock have been simultaneously working through a career-defining set on the vast main stage, accompanied by little else than stylish backdrops and their own impeccable musicianship. Unassuming Robert Smith cracks an elated smile as they launch into a dizzying rendition of 'The Walk' as part of their encore before a swift two-punch finisher of 'Boys Don't Cry' and 'Why Can't I Be You?'. A class act who continue to challenge genre limitations, an incredible four decades after their formation.
After a year defined by men with guitars, one lone female figure stands strong as sheets billow around and smoke slowly fills the stage. Deafening cheers welcome Swedish pop auteur Robyn and the crowd erupts as 'Honey' bleeds into Body Talk favourite 'Indestructible'. Chatter is kept to a minimum yet the connection between this iconic performer and her avid fanbase is felt as she guides us, willingly, through a perfect discography of dance-floor heartbreak. She looks positively ecstatic as the crowd bellow the lyrics proudly to 'Dancing On My Own', each exorcising their own personal turmoil in the process.
As we exit the site riding high on an evening of pure pop, a reflection is made on the sheer quantity of world class artists Mad Cool manages to bring together in a concise, expertly scheduled, compact site. This can sometimes be to the act's detriment as with so much choice, tents are sometimes left half empty as revellers move around site awaiting the next mega-star. Overall, this is a succinct four day event that has learnt and improved greatly on its organisational disasters of the preceding year. Proven to have a great impact on Madrid's local economy and a clear sense of its social responsibility, Mad Cool 2019 can be deemed a resounding success and 2020 looks set to be as red hot as this year's glorious weather.