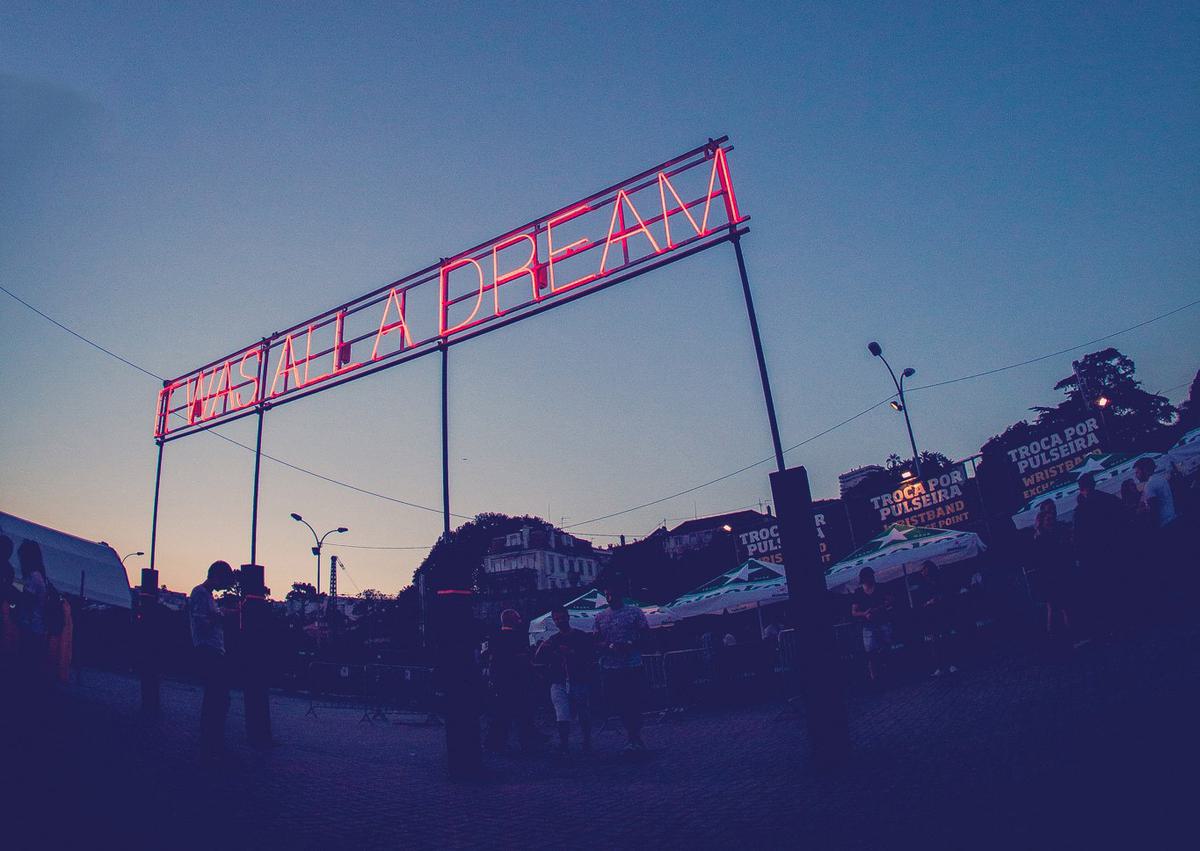 10 Portuguese Acts To See At NOS Alive festival
02 July 2017, 15:35
But while the draw for many of the festival's 50,000 revellers may lie in the heavyweights, this year we're turning our attention to the local acts – from established Fado singers to those pioneering a particular Afro-Portuguese sound.
Lisbon is home to a lively Afro-beat movement that stems from its African-immigrant community, marrying the likes of batida and kuduro with electronic dance music. We're excited to hear some traditional guitar performances but also the sounds filling the city's courtyard bars and bustling curb-side drinking spots: music that's fit for a place that never really sleeps.
Rastronaut
Lisbon native Rastronaut is a DJ and producer with a penchant for bass-heavy global club music. He runs local label Enchufada, (fellow NOS Alive acts Riot, Kking Kong and Dotorado Pro are on its roster) which houses some of the most exciting Afro-beat acts around. Expect a blend of tropical and techno in his electronic creations as well as influences from the UK underground.
Thursday 6 July, Palco Coreto
Dotorado Pro
Angola-born, Portugal-based producer Dotorado Pro is at the forefront of Lisbon's Afro-house scene, still riding high off the back of his 2014 hit "African Scream". The song, driven by marimbas and the kinetics of kuduro, is a polyrhythmic assault on the ears that's racked up more than a million streams. It's also spurred something of a dance craze online. No doubt we'll be doing the same after his set.
Thursday 6 July, Palco Coreto
Tiago Bettencourt
One of the biggest Portuguese names on the bill is Tiago Bettencourt, whose music is admired for its ability to extract overwhelming emotion from simple lyricism. His 2011 album Tiago na Toca e os Poetas hears Bettencourt sing poems by Portuguese writers like Florbela Espanca and José Carlos Ary dos Santos (as well his own), featuring guests like Camané, Fernando Tordo and Carminho, the latter of which also plays this year's NOS Alive. Rich, evocative melodies are at the heart of Bettencourt's work We're willing to have the heart strings a little tugged.
Friday 7 July, NOS Stage
Carminho
Renowned Fado artist Carminho is set to be one of EDP Fado Cafe's highlights. The incredible singer, who has stormed the Portuguese charts with gold and platinum-selling records, welds together jazz and Brazilian pop influences over Spanish guitar accompaniments. She's also been lauded for her ability to weld soul to traditional Fado music and is considered as one of the most innovative artists of the genre around.
Friday 7 July, EDP Fado Cafe
Trikk
A big name on the Portuguese electronic scene, Trixx will bring the festival's clubbing stage to an end on Saturday with his shapeshifting dance songs. "Mundo Ritual Pt 1" is one such example, moving from a frantic clutter of flutes and syncopated beats to strange, blissed-out batida later in the mix.
Saturday 8 July, NOS Clubbing
Filho Da Màe
There are some incredible Portugese guitarists playing NOS Alive this year with Mário Pacheco being one of the most important names on the bill, but Filho Da Màe is another one to look out for. We're particularly taken by his performance in the video above. The depth of emotion conveyed from the pedal notes chiming over impossibly fast, expressive finger work is pretty breathtaking stuff.
Saturday 8 July, Palco Coreto
Switchdance
Marco Antão aka Switchdance is another exciting electronic dance act at NOS. The resident DJ at Lisbon's Lux Fragile produces something of a hybrid between tropical, tech, and house. "O Amolador" draws on the off-kilter micro-house exercised in much of John Talabot's music, but with a spicier kick.
NOS Clubbing, Saturday 8 July
Mai Kino
London-based, Portuguese act Mai Kino impressed last year with the release of her foreboding, dark synth-pop ditty "The Waves". She's might have just a handful of songs online but what we've heard so far is ambitious, especially the experimental "Burn" which sounds like four compositions in one.
Friday 7 July, Palco Coreto
Mr. Herbert Quain
Peraboa's Manuel Bogalheiro aka Mr. Herbert Quain brings his sample-heavy electronic music to NOS Clubbing stage on Saturday. There's a charming subtlety in his work - arguably best conveyed through the micro-builds in "Constant Circles" - that feels like it will best reward the listener in a live setting. His biography also mentions his chronological displacement "between the vintage and the era of technology" – we can't wait to hear that play out.
NOS Clubbing, Saturday 8 July
iZem
iZem (the acronym of "in ze early morning") is French DJ and producer Jérémie Moussaid Kerouanto who is based in Lisbon. A purveyor of global percussion, tropical disco and Portuguese Afro-beat, iZem is to treat crowds to his globetrotting creations. BBC Radio 6 Music's Gilles Peterson is a fan and we look set to join his legion of fans.
Thursday 6 July, Palco Coreto