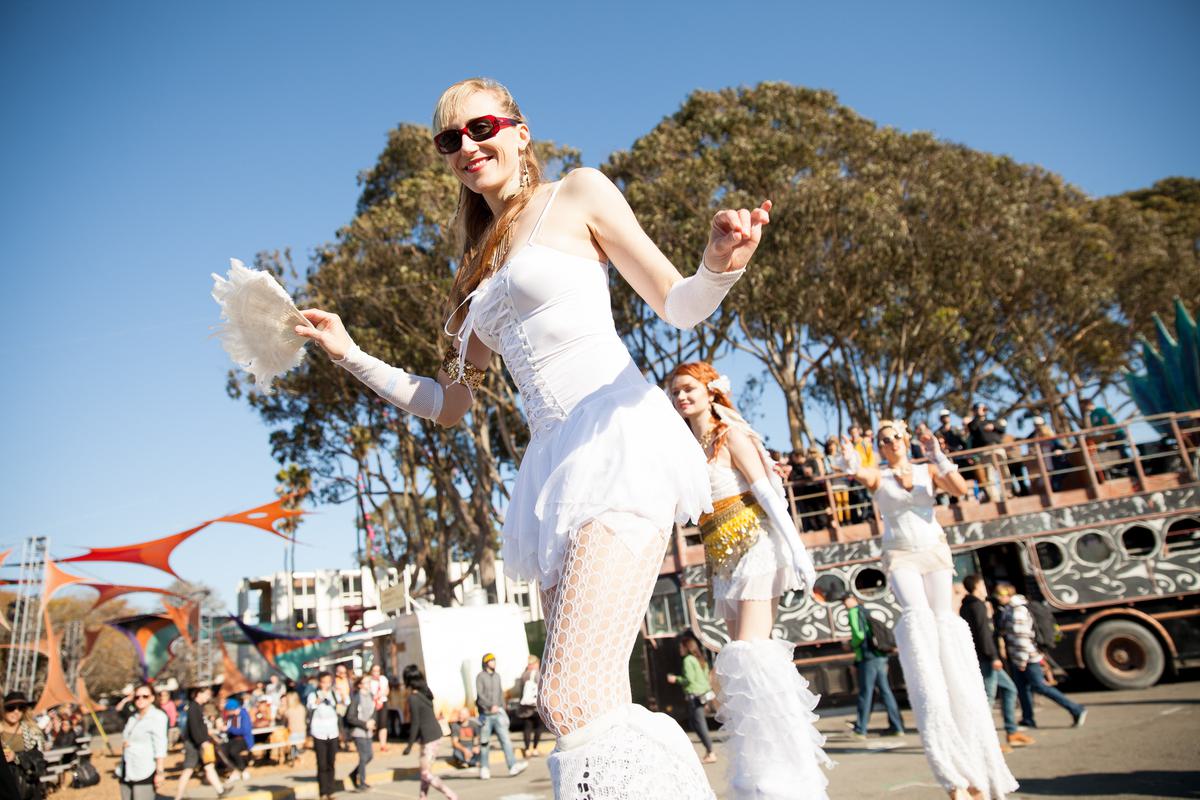 Treasure Island Music Festival, San Francisco
20 November 2013, 23:16
A love letter to a music festival is not something done often, nor is it easy. It's a bit difficult to thank the artists, the spilt beer by stumbling youth, that weird guy dressed as a cat, and the smell of weed. The cold fog rolling in from the San Francisco city skyline is another detail saved only for the Treasure Island Music Festival. Five years of my gratitude surmised into but a couple sentences.
I've always attended this tiny festival in hopes of finding that bit of happiness I only reserve for live music. It's an easily tapped portion of my heart that lights up my belly and is cooled by drinking from the expensive water bottle I inherently always buy. As much as I love music festivals (and this one particularly), I will happily admit that the water is overpriced.
I was smitten at seventeen while wearing a stolen dress from my high school's drama department and beat up Converse I thought screamed, "Take me seriously! I am authentic!" My best friend and I went blindly and naively, only knowing that Vampire Weekend was playing and we were in love with Ezra Koenig. That was 2008, and five years later we're still showing up (though I now try less hard).
Treasure Island isn't known for its larger than life setting. Much like the tiny island it inhabits, what this festival lacks in grandeur it makes up for in personality. With a reputation for showcasing lesser-known acts, and a love for an intimate setting, fans of the event have been coming back for seven years, eager to see what this eccentric part of the world has cooked up. Nestled between San Francisco and the East Bay, 2013′s Treasure Island Music Festival was nothing short of a success. Founded by Noise Pop and Another Planet Entertainment in 2007, the festival has become a northern California fall highlight.
The San Francisco Bay surrounds the island in a panorama. And, just like the festivals schedule, it's almost impossible to miss anything from this perspective. Of course the fog from the bay makes a presence throughout the weekend, but in a way it adds an interesting effect. Being cold is not new to California Bay Area natives, and it isn't uncommon to hear people question if a band had a fog machine on stage or if that was in fact fog rolling in from the Golden Gate Bridge. Just one of the many pluses when watching bands in the early evening. Nature adds its own mysterious touch to this mystical island's two-day show.
It is unabashedly small in area when compared to other California festival powerhouses like Coachella. This cramped space has forced the scheduled line up to be quite back-to-back with only two stages available. This seemingly simple way of showcasing different genres allows for people to pick and choose what day they attend depending on genre preferences. For the past seven years the first day of the festival is comprised mostly of electronic and hip/hop, while the second day consists of rock and indie rock. Treasure Island's aim isn't to overwhelm by making an overlapping musical lineup. It's clear that Noise Pop and Another Planet want goers to enjoy every act that they can, as well as the other treats the festival has to offer. Artists on this year's roster include: Atoms For Peace, Phantogram, Holy Ghost!, Animal Collective, Beck, Haim, IO Echo, Lord Huron, Danny Brown, and Real Estate, to name but a few.
Visual artists from all over the Bay Area work and create interactive pieces for viewers to participate, too. For example, this year a large canvas was set up where people could paint whatever they wanted. Cans of colors and brushes lined a table and I watched as the little doodle of a dear friend became one of many- a good symbol for everything this event tries to emulate. A somewhat chaotic togetherness – an impossible feat made possible through music and art.
Treasure Island promotes a silliness to be expected from a festival whose theme is piracy- a nod to the novel of the same name by Robert Louis Stevenson. People dressed as if they've walked straight from the circus gallivant and dance around festivalgoer's whom giggle awkwardly, not quite sure how to handle the clown on stilts.
One particularly funny moment this year includes a pirate who "kidnapped" festival-goers. In asking one in a group to hold the end of a long white rope, he would wrap the group round, dragging them to a "ship" where they were to write down their last dream and post it on a massive map amongst many others. Witnessing, and being victim at one point, to this performance art was an experience I had never dealt with before but laughed about even after it was over.
The festival is well aware of the environmental impact it adds to its habitat. Placing an emphasis not only on great music, but also on reducing carbon emissions, organizers provide zero emission bus services to and from the festival while also promoting composting and recycling on the site. Not too much of a surprise for a festival born in the San Francisco Bay.
A mini oasis for the fun at heart, Treasure Island Music festival is where I grew up. It's a homecoming every October with friends, great shows, and face paint. It's not for those who want to take music seriously- letting go is a part of admission not told when buying a ticket. As if mirroring the liveliness of San Francisco's spirit, this tiny festival that could, has and will hopefully continue to do so for many years to come.