Les Eurockéennes Festival Diary – Part 1
Les Eurockéennes – Day 2:
As day two of Les Eurockéennes gets underway, the sweltering 36 degree heat does nothing but encourage our fellow festival goers ('festivaliers', in French) to buy and drink more and more refreshing, cold beer. Are we complaining? No. Are we all getting a bit giddy? Yes. Are we burning under the mighty summer sun? Absolutely. Is it time to hear a bit of music? Yes it is! And so it's off to see Anna Calvi, who shall be kicking off proceedings today. As we arrive, she's half way through an incredibly powerful rendition of her latest single, 'Desire' which seems to have stunned the 15,000 strong crowd into near-silence. Or perhaps that should be credited to the hangover that everyone seems to be nursing today. Either way, Anna Calvi produces a sublime set, full of all of the vigour and passion that we've come to expect from the songstress, and one which very much sets the bar for the rest of the day's performances.
Next, it's a quick-step over to the main stage to check out Gaëtan Roussel. To the French music fan, Roussel is best known as the cheekily charming singer of Louise Attaque and in 2010, returned to prominence as he released his first solo album, Ginger. A household name in France, Roussel attracts an enormous crowd as he plays his best known solo hits, 'Help Myself' and 'Dis-moi encore que tu m'aimes' before finishing up with a particularly lively rendition of Talking Heads' 'Psycho Killer'.
Following the dizzying reception received by Roussel, the rest of the afternoon seems to suffer a bit of a lull as Raphael Saadiq pleases but doesn't overwhelm, Funeral Party suffer from 'voice too high in the mix' syndrome which almost eradicates our ability to hear high frequencies, and a gander at Motorhead sees us mistaking the intro to nearly all of their songs as the intro to 'Ace of Spades'. We swing by House of Pain, in the hope that their set will bring back memories of other songs of theirs that we like. It doesn't, and it turns out 'Jump Around' was in fact the best thing that they did. That said, it's a pretty special moment being amongst the 20,000 people quite literally jumping around when the opening bars of their 'hit' set in.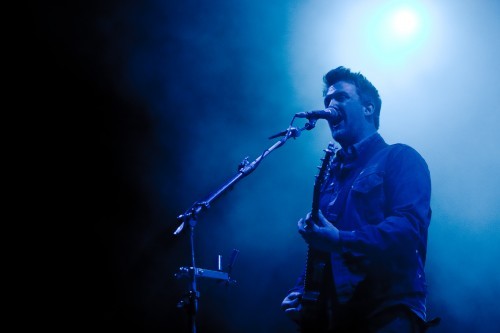 As the night draws on, and we marvel at the ingenuity of starting festivals mid afternoon, and having them end in the early hours of the morning, Queens of the Stone Age erupt on the main stage. Josh Homme's presence had already been very much felt today, as he very visibly watched Kyuss Lives! from the side of the stage during their performance earlier in the day. There were no tearful reunions to be seen there, and there wouldn't be throughout the QOTSA set either. What the band do prove though, is what an engrossing live act they can be. Playing everything you'd expect, from 'Feel Good Hit of the Summer' through to 'No One Knows', the band put on a truly impressive show, at what is proving to be one of the most unbelievably loud festivals that TLOBF has attended so far this summer.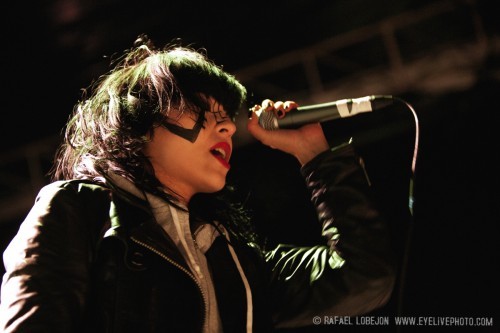 The rest of the evening is about to take a turn for the Deutsch, as we set off for a good hour's raving to a soundtrack provided by Boys Noize. Afterwards, we're well and truly warmed up and ready for what's about to come – the wall of sound provided by industrial hardcore Berlin noise-mongers, Atari Teenage Riot. It's quite an inspiring sight to see the German threesome, faces painted, all in black and unleashing works such as 'Revolution Action', 'Too Dead For Me' and 'Rage'. It's a highly intense performance, exhibiting all of the venom and vibrancy that we were hoping would reappear when the band announced their reformation in 2010. It's a true pleasure to see Alec Empire back in his fold – an intimidating one, but a pleasure nonetheless. And so, with shattered ear drums and shattered muscles, we hear the high pitched ring of bed beckoning, as the site gets cleaned up ready to host the final day of festivities.
Day 3 :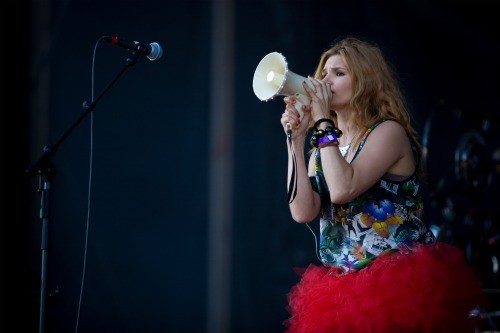 It must be said, as festival sites go, Les Eurockéennes is a particularly pleasant one to have frequented this weekend. It's surrounded by water, full of stalls selling local fodder (as well as microwavable burgers) and maybe it's the weather, maybe it's the international crowd, maybe it's the fact that it's the organisers' 23rd time putting it together, but there's a really nice vibe about the place. People are chatting, everyone's getting on and everyone's a bit sad that it's already the final day of the festival. But there's no time to dwell on that now as, The Dø are about to take to the main stage. Arguably one of the most underrated French (and Finnish) groups, The Dø have made a reasonable impact in the UK, but nowhere near the colossal crater that they have the potential to make. Playing songs from the recently released Both Ways Open Jaws, singer and thoroughly gorgeous front woman Olivia Bouyssou Merilahti and band mate Dan Levy are engaging, tender and stirring all at the same time, with a reworked version of 'On Your Shoulders' being a particular highlight.
Before heading over to what can only be described as a rather tepid Odd Future performance – whether that's due to the broken foot that Tyler's currently sporting, or the fact that it's quite hard to be angry about life when you're playing on a stage on a beach, in gorgeous surroundings with the sun blazing down, we'll never know – we arrive at the Esplanade Green Room, the festival's second largest stage, to witness something very special indeed. Philippe Katerine, who arrives on stage wearing a grass skirt around his neck and flanked by four fruity coloured dancers is about to perform, and if there's anyone that knows how to thoroughly entertain a crowd, it's Katerine. He plays hits 'Louxor, J'adore', 'J'aime Tes Fesses' (translation: I Love Your Bum Cheeks) and 'La Banane' whilst the crowd shriek in delight at his overly camp, completely satirical and genuinely comical performance. A living legend in France, it's a shame that Katerine's not yet made it to British shores, because there's really no one else like him around.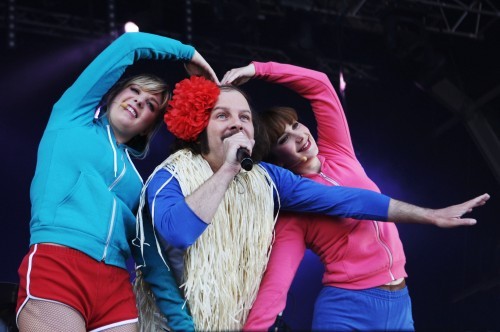 After Katerine's dazzling set, and a lovely dusk inducing show from Aaron, it's time for some big names. The rest of the evening belongs to Arcade Fire and Arctic Monkeys, both of whom provide really solid performances (even the traditionally nonchalant Alex Turner seems to be having a great time!). Whilst Arcade Fire remind us of how many classic tunes they have and provide what's becoming a customary festival moment (everybody singing the woah-oh part of 'Wake Up', "obligé" as our hosts would describe it) Arctic Monkeys crack out their own classics, wrapping up with a very well received rendition of 'Fluorescent Adolescent'.
As the final notes wind down and the fireworks kick off, there's time for one last glance around the site of Les Eurockéennes, where the food vendors and bars are already packing up. It's been a gorgeous festival, full of great music, new discoveries, a lovely atmosphere and plenty of bière. It's always a sad moment to head home from a festival (unless it's been rubbish) but it's particularly sad to leave Les Eurockéennes. Rest assured though, we'll be back next year. With sun cream. And all of the plastic cups we forgot to return this year.