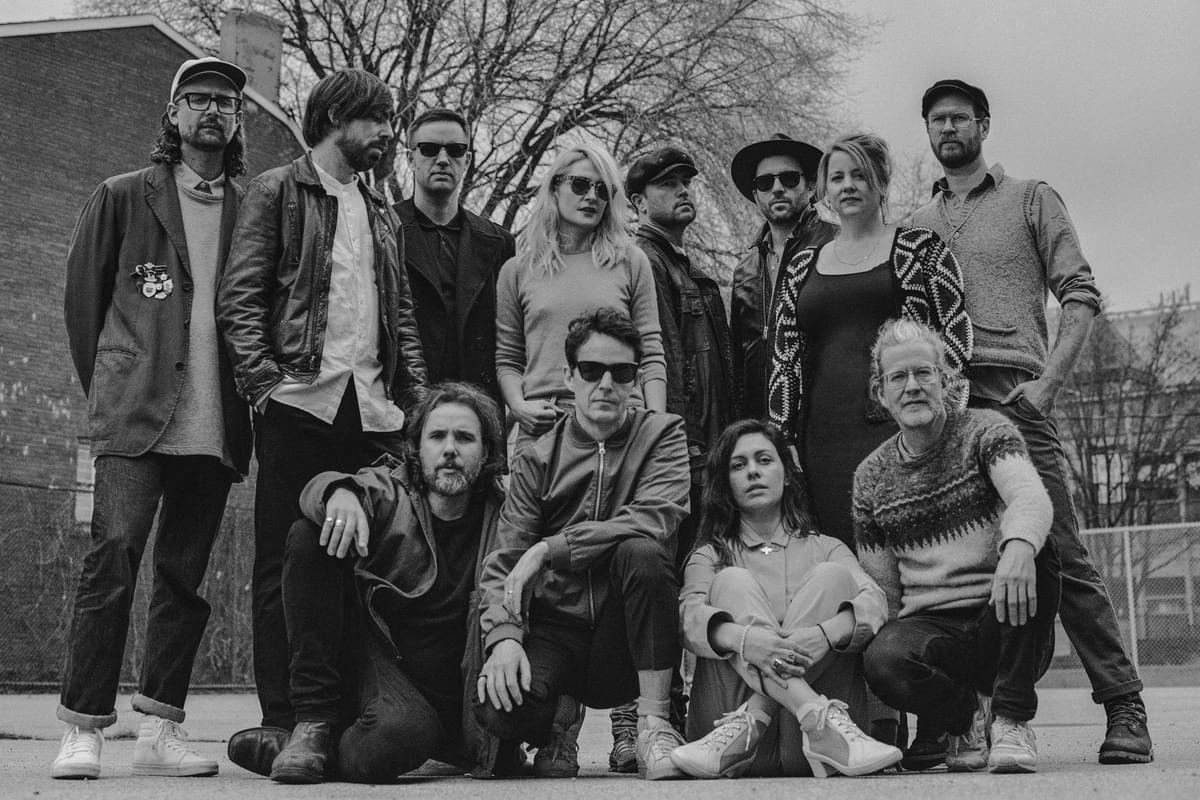 The Broken Social Scene Guide To Toronto
07 July 2017, 11:30
Broken Social Scene's Brendan Canning talks us through his favourite parts of the biggest city in Canada, Toronto.
How would you describe Toronto to someone who's never been?
Toronto is a great big city with a lot of different voices and personalities. It's a place you must experience and immerse yourself in before you really understand how it operates. Toronto has deep roots with so many coming from a variety of cultural backgrounds so if you came here and said, "yeah, the CN Tower sure is tall and isn't Toronto Island quaint?", you'd be missing the point entirely. I couldn't imagine living anywhere else because of my day-to-day experience, I can get around on a bicycle without any problem. Do I want Indian food or Jamaican? Do I want to hear Brazilian jazz or experimental Japanese noise rock? Do I want to spend the day in a glorious park with llamas or do I want to look at exotic fish?
We're a classic mosaic and a community-driven city with a lot of heart and soul. The type of place where you can have a sauna and end up chatting with a classical violinist who has just published a book and she happens to be dating a Toronto Blue Jays pitcher. Then you realize you have 14 friends in common.
Who are the best local musicians/bands/artists?
Best is so subjective. Here's a personal short list: Do Make Say Think, Alvvays, Charlotte Cornfield, Kira May, Adrian Underhill, The Beauties, Soupcans, Harrison, Kaytranada, Louis Simão, Andy Shauf.
What's the best venue to watch live music?
Massey Hall, Phoenix, Danforth Music Hall.
What's the best club?
Lee's Palace, Cameron House, Dakota Tavern, Horseshoe, Rex Hotel, Garrison.
Where's the best place to buy records?
Rotate This, Kops, Cosmos, Grasshopper, Tiny Record Shop, Sonic Boom, She Said Boom.
Where's the best place/s to eat?
Bar Raval, Terroni, Buca, Le Sélect Bistro, Albert's, an El Salvadorian place in Kensington Market that makes pupusas, Host.
Best place/s to drink?
Pharmacy, Communist Daughter, Piston, Northwood, Henderson Brew House.
Who are the local heroes?
Joe Cressy, Dan Burke, Margaret Atwood, Olivia Chow, Gord Downie, Kardinal Offishall.
Favourite urban legend/myth?
Years ago Silver Dollar booker Dan Burke got in a fistfight with Jay Reatard on stage. Now the Silver Dollar is closed and Jay Reatard is dead so no real way to confirm whether it happened or not. Apparently that fuck head from Thee Oh Sees smashed his guitar over Dan's head on stage when he was in a previous band called The Hospitals. Not sure about that one either.
Dan wasn't available for comment at press time but these two events are pretty much truth and legendary.
What are the best sights to see and places to visit?
The waterfront is a really nice cruise. Toronto Island, Ward's Island in particular for the less travelled and quieter version of the islands, High Park, Bellwoods Park, Little India, Kensington Market. Also great galleries and local shops on Queen Street and Dundas Street, Art Gallery of Ontario, and the Royal Ontario Museum.

How do you get around Toronto? Why?
Most days it's on a bicycle because getting stuck in traffic is a real drag, let's face it. Despite neverending potholes and large trucks it's still my preference. If I do drive I try my best to time routes carefully and only break the rules of the road when absolutely necessary. At the end of the day I'm just doing my part to ease the snarls and keep traffic flowing.
Favourite local slang word? What does it mean?
Is fuq boi local?
Where is the best place to relax? To take a walk?
Great movie theatres that run indie films, docs, classics, future classics: TIFF Lightbox, Royal, Revue, Hot Docs cinema, Cinematheque, etc.
Walking spots mentioned above - also Ossington Ave, Roncesvalles. Rouge Valley, the beaches... the list goes on. We're a massive city with cool shit for days to occupy yourself with.
What's the worst thing about Toronto?
Traffic. Shitty nightclubs. Important buildings - 401 Richmond for example - in danger of becoming extinct due to escalating property taxes and the lack of understanding from government on many levels as to why keeping certain aspects of the city intact are crucial to Toronto's survival as a world-class city. City council often has a hard time coming to any sensible conclusions because over-development seems to be the wave of the future, and Toronto often has a very 'downtown vs. the rest of ya' attitude unfortunately. I guess that's the push and pull with most big cities. I live in a neighbourhood that is currently being ripped to shreds and completely reimagined. Will it improve everyone's quality of life? Tough to say.
Oh ya, the endless poverty and homelessness for those living below the margin ain't so great either. Not to be glib on this topic, but it's easy to sweep the bothersome away when bottom lines are at play.
What's the best thing about Toronto?
The fact when I play soccer in the park at least 12 countries are represented. And when I finish everything I could possibly wish for is within walking distance. Fresh juice, delicious coffee, great music everywhere, suitable clothing, quality acupuncture, public swimming pools, beautiful people, food from all cultural backgrounds, plenty of cute dogs, and some kick-ass graffiti in the legendary alleyways.
Broken Social Scene's new album Hug Of Thunder, their first since 2010, is out now via City Slang.
Subscribe for news and competitions