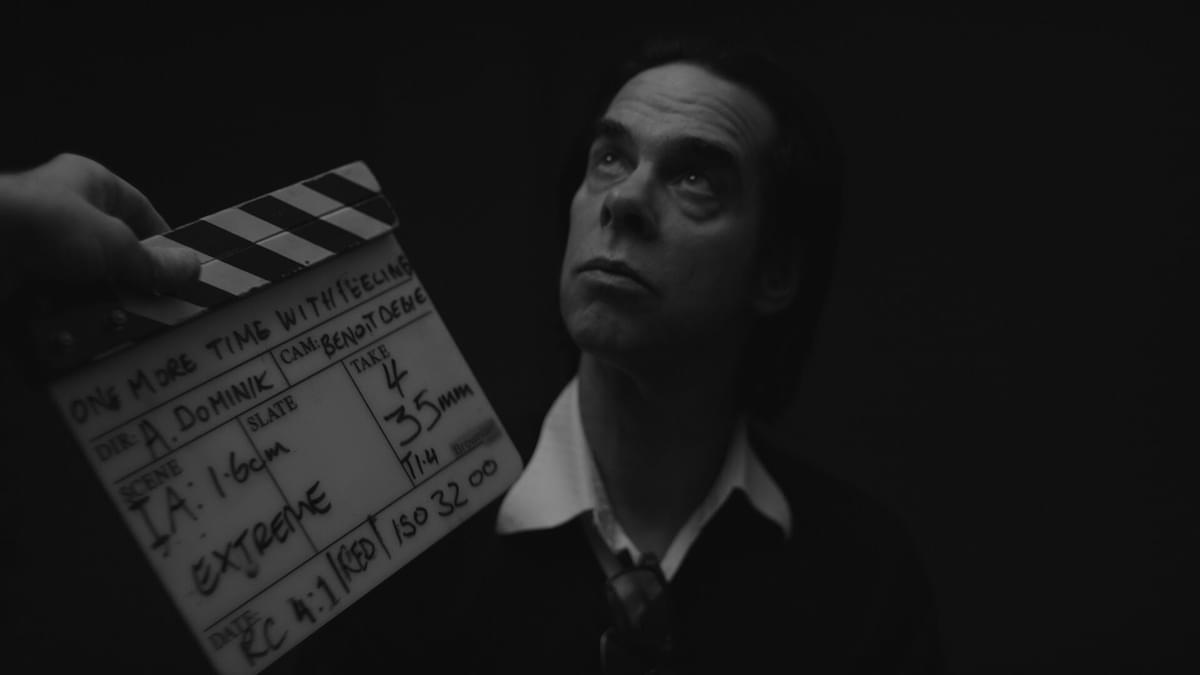 This is fucking difficult: Nick Cave's One More Time With Feeling
09 September 2016, 10:30
The story of battered monument Nick Cave's sixteenth studio album with The Bad Seeds, Skeleton Tree has been documented in the accompanying film One More Time With Feeling. Recorded after the death of his 15-year-old son Arthur, it's a naked and emotional point in the artist's life that's been ruthlessly captured by director Andrew Dominik.
In contrast to 2014's 20,000 Days On Earth, which felt like a celebration of life - as a piece of music is born and matures from conception to crescendo - this is about death. There's no question about that. It's specifically about life and music profoundly not happening. There's no positive takeaway to the film whatsoever as wounds remain open and heartbreak is left to gnaw. This is about the kind of deep sorrow you can't imagine until you're shotgun with it, and at no point does it obscure that or dress it up. The detail in the mundanity of it all is one of the film's more uncomfortable qualities.
It's so intimate you have to ask whether it should have been made at all. Would any other musician put this much of himself or herself on film? Having spent so many years singing about characters and their misadventures, this project is inescapably about Nick Cave with little ambiguity, and maybe that's a part of the grieving process that Cave felt he had to endure.
The subject matter is what it is, but Cave certainly doesn't want or indeed need your pity. As he points out on camera, the idea is highly troubling for him. In essence the mood of the film is that bad things happen, which you just have to dust off and accept. It's about the holes you need to climb out of alone.
Cave talks about a favourite photo of himself and wife Susie where they're sat next to each other but detachedly looking ahead. That feels how they interact throughout the film. For the most part they share very little screen time together, and when they do it's inconsequential or distant. You very much get the feeling that they're still in the middle of all this, and there's so much rebuilding yet to put between them and the death of their son. They're fighting this alone, as much as together. Loneliness is one thread Dominik is fixed on highlighting.
Life isn't one of Nick Cave's old songs, with a handy narrative that sends a character on their way. Similarly there's little structure to the film, rather it's unconstructed emotion and music that kind of hangs there in the ether. It's a documentary about a documentary; cameras filming cameras without any content really existing within it. It's as close to real life as a film can be, without the polish and retakes. Occasionally Cave stutters, mumbles or seems confused, but that's the heart of it. The honesty and ruthless purity of its rough imperfection is what makes it so compelling.
Perhaps its most provoking moment in fact comes from a simple moment; a parent showing another parent a painting by their child, with an empty chair beside them, barely in frame. It's the sort of starkness never seen in a musical documentary. Compare this to 30 Seconds To Mars' Artifact where a millionaire spends half his screen time chirruping about his record label, and the difference in scale is humbling. It's humbling moreover to be allowed in at all.
With minimal narrative, the overall production isn't allowed to embellish itself too much, showing an equal stillness. That's not to say it lacks style though, as stylistically it's one of the most cohesive documentaries put together. Shot nearly all in monochrome, the viewer takes the position of a voyeur slipping in and out of consciousness – overhearing private conversations between somebody and themselves, at other times woozily floating in circles at a distance around them. You almost take on the role of Arthur, in a ghostly first person manner.
The only use of colour is when the film makes one of its more blatant references to death, cinematically anyway. Overall it's a very quiet film, so stylistic points are done with great care and beautiful subtlety. As "Distant Sky" bleeds in the camera pulls back to reveal an empty London, and backwards further through the sky until the whole of Earth is in shot and the outer-body experience reaches a celestial, silent end.
However beautiful though you shouldn't give the film praise, Cave and Dominik shouldn't be praised for it any more than a recipient of a Purple Heart should be congratulated. Nobody wants to go through what you must to be awarded a Purple Heart. Cave, his family and band mates didn't want to make this film, not like this anyway, and Dominik didn't want to film it. But it's made. It's there. It's so fucking inescapably there.
It's not a popcorn film. It's definitely not an easy watch. It's damn right distressing. It does nothing to add to the persona of Nick Cave the performer, or your experience as a fan. One More Time With Feeling is a film about somebody struggling, who happens to be Nick Cave making a record.
Nick Cave and the Bad Seeds'
Skeleton Tree
is released worldwide today (9 September). Stream it
here
.
Get the Best Fit take on the week in music direct to your inbox every Friday