TLOBF favourites Fanfarlo are currently in a Connecticut studio recording their first album, and we can't wait to hear it. Whilst we dream of their sunny, multilayered melodies from a grey Britain, the band are keeping us up to date with exclusive weekly dispatches from the studio.
WEEK 1
Two cab drivers with charisma bypasses and a passion for ear-poppingly loud Prince drop us off outside producer Peter Katis's enormous grey-green house at the edge of Bridgeport, Connecticut. This will be Fanfarlo HQ for the next six weeks. The house is so big we sometimes have to stay in touch via email. And the doors have to be kept closed lest Bob Dylan, Peter's cat, sneaks in to leave a faecal present.
Our studio time is largely spent poring over the minutiae of the song at hand before tackling our respective parts. As consummate professionals we almost always manage this in two to three dozen takes, admittedly occasionally with the aid of Peter's technical jiggery-pokery at the helm. By the end of day one most of the first song is down. Peter has persuaded a 30-strong boys' choir from the Church of the Holy Mother to lay down a blistering vocal track (so low in the mix that it is audible only subliminally to the layman). We also all agree that the more instruments on a song the better; quantity not quality, they say. And so this has been a race to record as many instruments as we possibly can in the time available. So far we are up to 97, more than we ever thought possible.
Time between takes is spent watching the media's obsessive coverage of the race for the White House. Needless to say, all of us are gunning for the Republicans because the last thing anybody wants is Communists with notions running the second most powerful country in the world (after the Empire). Election day is only three weeks away and we're all staring at the massive TV screen with great excitement.
So at the end of the first week Fanfarlo have four songs largely finished, with ten more to go, and the record is sounding somewhat better than a wasp in a tin being dragged on a piece of string along a gravel path by two politely debating heathens. It is the weekend and we're in New Haven, trying to soften the edges with Class C drugs after being ordered away by Peter and engineer Greg for the sake of everyone's sanity. After a few days away, we're full of anticipation about returning to the studio on Monday for Week 2 with clean ears and fresh underwear.
We have a fever, and the only prescription is more cow bell.
Fanfarlo play a CMJ showcase on Saturday 25 October at Fat Baby, New York.
www.myspace.com/fanfarlo
www.fanfarlo.com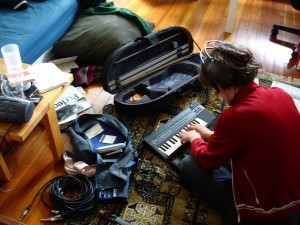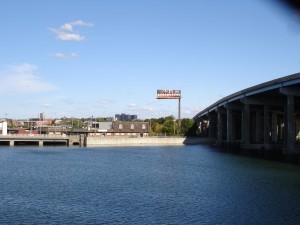 Photography by Amos Memon