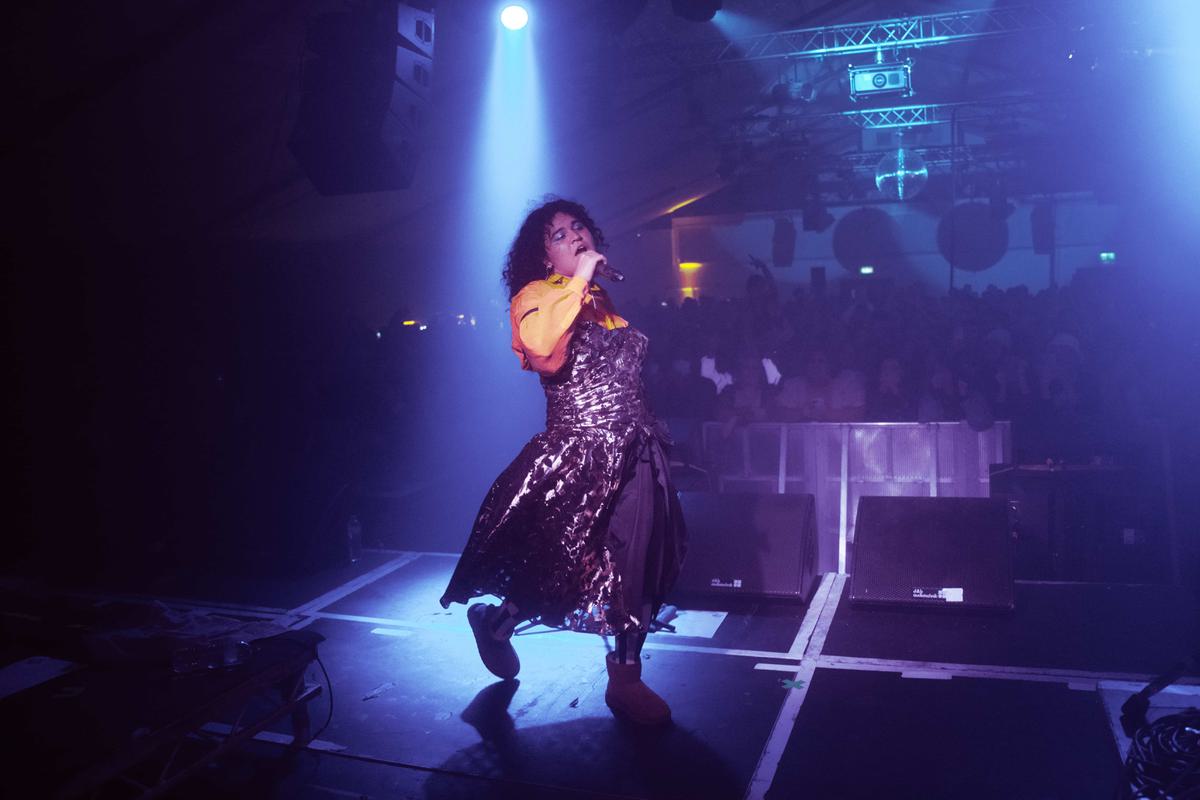 Remi Wolf brings the fun to Friday night for Pitchfork Music Festival London
13 November 2021, 12:00
"This feels like my prom" headliner Remi Wolf remarks as she stepped on East London's Oval Space stage for this year's Pitchfork Music Festival.
In an outfit torn from decade-spanning teen magazines, under a canary yellow shirt, Wolf wears a swishing black and gold dress, with geometric tights and UGG boots to top it all off – a homecoming queen unlike any other. Her cartoonish aesthetic, as she whirls around the stage with the abandon of hairbrush-singing in her bedroom, invites the audience to indulge in her sun-kissed, Cali girl daydream.
Having just performed her debut headline show in London on Wednesday, Wolf is all too keen to prove her chops with her British accent, parroting back what the audience has head for breakfast with a plummy inflection. "Porridge with lentils and snails", she proudly declares, like a verse from Dr Seuss. "There! I just made a new dish for your country." It's all a part of the child-like games she relishes playing on stage with her fans, telling them to take a deep breath, count to three and exhale ("Doesn't that feel better?" she whispers) before plunging them back into her frenetic, psychedelic world.
In an interlude, Wolf even swaps roles with her drummer, playing riotous joy which belies her skill and precision. The drummer, meanwhile, lists off a list of British trivia they'd learned ("Fries are chips, chips are crisps, and elevator means nothing"), before breaking into a chant of "I love the queen and the queen loves me" as Wolf and her guitarist reach a crescendo – one not quite as popular as the crowd-started response: "Fuck the queen!"
As well as playing tracks from her latest album, Juno, including the never-before-played "Street You Live On", written about the way a breakup can taint a city, Wolf has more than a few surprises up her sleeve. Cracking out not one, not two, but three covers throughout her set, from Gnarles Barkley's "Crazy" and MGMT's "Electric Feel", all the way through to the crowd-pleasing "It Wasn't Me" which she interpolates through one of her own songs.
Wolf is joined in the Pitchfork-curated line-up by North London multidisciplinary artist Joviale, who is accompanied by her band all wearing her pink tie-dyed t-shirts. Her hypnotic, carefree sound, blended with the soft pastel light, is a different kind of dream that lets your mind wander along with her. With the Oval Space letting off a kind of apple-cinnamon kind of incense (which, to everyone's surprise, is not a vape pen), the focus is on taking the audience out of their own heads.
But along with Wolf, from the other side of the Atlantic, is the mesmeric LA trio Gabriels. Melding classic R&B with gospel and black-tie soul, their set is entirely arresting. Decked out with a full instrumental band, playing everything from a violin to a double bass and coordinated backing singers dressed in red, their presence commands your attention. But it's when gospel singer Jacob Lusk, donning a floor length white coat, begins to sing with his unforgettably rich, tender voice, that the audience's jaws collectively drop. Belting out power notes as if they were nothing more than a reflex, he is met with rapturous applause.
While the genres, approaches and mood couldn't be further scattered, Friday night's line-up offer sets that are entirely memorable: thoughtful, reflective, staggering – but most of all, ridiculously fun.