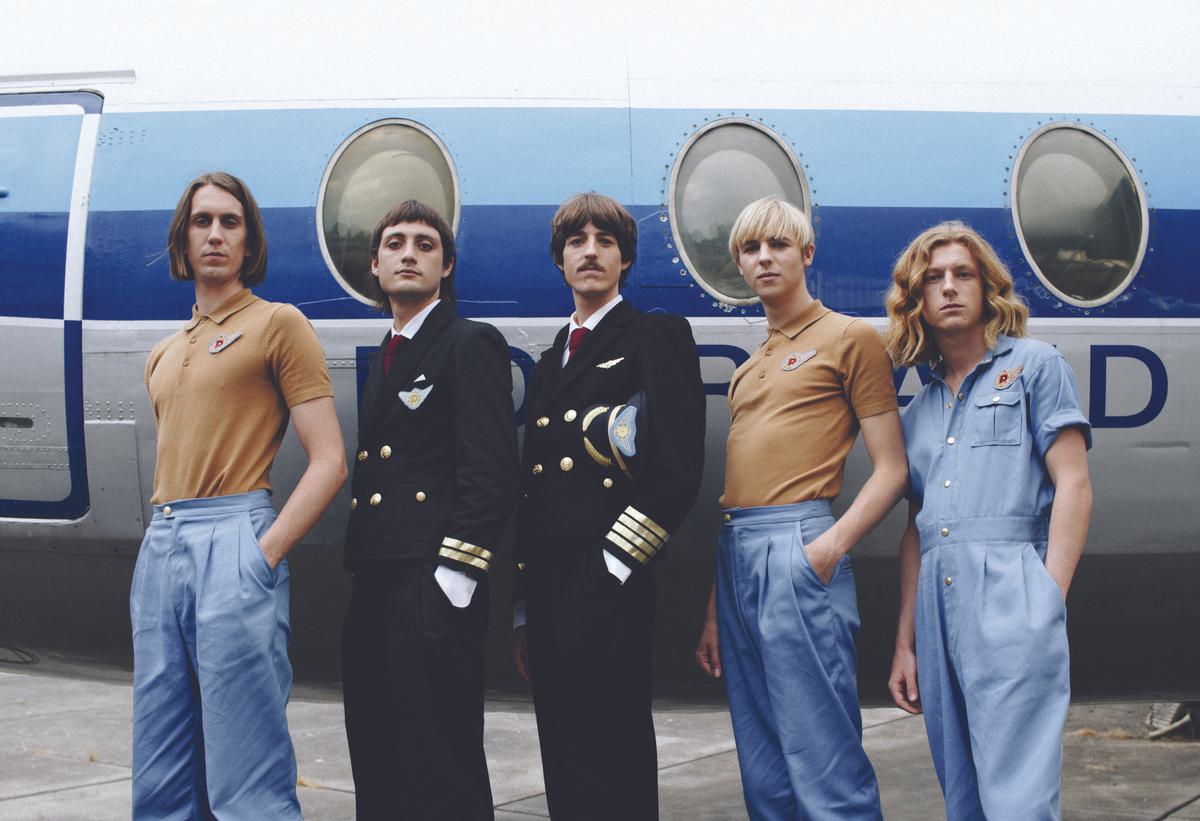 On the Rise

Parcels
17 July 2018, 10:22
Ambition and ingenuity drove the Kitsuné-signed Byron Bay five-piece Parcels from their native Australia to Europe where they found a new home and collaborations with Daft Punk. Jen Long finds out about their journey.
"We found that out a while ago and were just so crushed." Noah Hill, bassist in the Australian disco pop outfit sighs down the phone. Speaking from a festival in Switzerland, the line crackles in and out as he relives his World Cup heartbreak - that weekend Parcels will play Melt Festival during the World Cup Final. "We're finding it hard to keep up with the games if you're not gonna be there at the end. Why get emotionally invested if you know you're not gonna be able to watch it?"
But coming from Australia, signed to a French label and living in Germany, where does his allegiance lie? "I didn't want Germany to win or get to the final because then no-one would be at that German festival that we're playing at, so I'm happy they went out. And Australia suck so bad that I'm not feeling very tied to them."
It'd be easy to use the final match between France and Croatia as a metaphor for the career of Parcels to date, a European clash that takes in moments of shock, spontaneous bravery and unexpected glory. But that wouldn't be giving them full credit for the sheer hard work and ingenuity these team players have shown in earning their rise through music's elite.
Parcels are Louie Swain and Patrick Hetherington on keys, Noah Hill on bass, Toto Serret on drums and Jules Crommelin on guitar. From Byron Bay on the East coast of Australia, an idyllic hideaway for surfers, hippies and tourists, the boys played in bands all through high school. By the time they'd graduated, they'd already cut their teeth at the likes of Bluesfest and Splendour In The Grass. Some had never left Australia, none had moved away from their parents' hospitality.
Call it youthful naivety, a very clever career move, or even fate, but the quintet had their sights set on Europe, choosing Berlin as their new home turf. "We picked it just because of the things we loved, like random stuff" shrugs Noah, still laughing at his luck. "We really had no idea, we almost chose Prague at one point. Thank God we didn't choose Prague. I don't know why we did it. I think it's easy, it's cheap, it's central in Europe, it's fun, there's so much to do there - it's a great place."
So was it a culture shock when Parcels arrived there for the first time with no local knowledge and no parents to do their laundry? "A little bit but less of a culture shock because we had five of us, so cruising around Berlin, we had each other. And Berlin's actually kinda similar to Byron in a lot of ways, similar to Australia. That's why there's so many Australians. It's like a better Australia.
"When we first got there we didn't have anything going on so we just practiced every day, just rented out rehearsal studios and it got to the point where we didn't even have to say to each other, are we practicing tomorrow?
"We did that for a few months and became so close as a band and so tight, and we also had a connection through The Living End, an Australian band. We knew their booking agent as we're friends with those guys, and they said just go see this guy. And we met him and that changed everything for us."
Taking every gig they could, lugging their gear on public buses and sleeping in transit, the band worked hard to bring their super tight and super infectious Chic inspired, 70s tinged, dance pop to European cities, eventually catching the ear of Kitsuné who signed the band, setting up a Parisian showcase around the release of their first EP, Clockscared. It was there that two members of the crowd, Guy-Manuel de Homem-Christo and Thomas Bangalter, took a shine to Parcels.
So what was it like to be introduced to Daft Punk? "The first time was in a Paris club after one of our shows and they were hanging out and we just did a quick hello, and Jules talked to Thomas for an hour or something. And then last summer we met them in studio and just sat down and talked about music and of course we were starstruck and totally in awe and hanging off every word. They made it a really nice experience for us."
Collaborating with the iconic French duo elevates a new artist like Parcels into a short list of global superstars including Kanye West, The Weeknd and Pharrell Williams. The pros are obvious, but were the band worried about being pigeonholed for that one song? Or becoming 'the band that worked with Daft Punk'?
"We were just conscious of it at the time" replies Noah. "We talked about it so much, even if we should do it, if we should say to anybody that it happened, should we just put out this song without them knowing. That was conversations that we had about it, wondering if we should even mention that they were involved at all. In the end we just couldn't help ourselves. But we were very aware of it."
The band have since been working on their debut album following last year's Hideout EP. Where are they up to? "Totally finished" replies Noah. You can hear him grinning down the phone line. "We're so emphatic about it. We were in the studio every day for fourteen hours. We've put in so much effort and time, we produced it all ourselves and we're looking forward to people to hearing it. We wrote Overnight two years before we put it out and [previous single] Tieduprightnow was actually a long time in the making, but this new album is really raw material."
When you hear about artists self-producing it's usually in a negative Guns N' Roses sense. How did Parcels manage to keep on schedule and know when a song was finished? "We had a big struggle stopping, but we have five producers, we have five very strong opinionated people who all wanna have their voice heard and it's a collaboration and an understanding between all five of us about when it's good, when it isn't, when it's finished and all these things. Most of the time there doesn't need to be another voice, it doesn't need to have a producer's voice. There's enough there. And we believe in ourselves and we're very proud we've done it ourselves, that's actually the proudest thing about it."
Looking back on the last three years, presumably working with Daft Punk is up there, but what have been the standout moments, the highlights that have caught Parcels by surprise? "Working with Daft Punk is like a lifetime achievement, you can't beat that, but for me the tour last November was one of the biggest highlights. Like, every tour that we have, our own tour, there's bigger shows and everyone singing the songs.
"Or even right now, we've got ourselves a Nightliner for the first time and we're all so excited, sleeping on a bus. This is a big marker for us. We're loving it so much. You get on the bus, have a few drinks, you then go to bed and wake up at the next festival. It kinda just like rocks you to sleep. It's kind of a beautiful thing. Every new thing is like, the most exciting."
Parcels are undeniable. There's a groove to their music that just forces you to move, a camaraderie between them that feels unbreakable, and a work ethic that'll see them go further than the other side of the world. Currently playing festivals around Europe, miss them and the joke's on you.
"Bemyself" is out now via Kitsuné / Because Music. Parcels play festivals throughout the summer with a show at
Lisbon's Super Bock Super Rock
later this week.