Leaving Montreal behind us, our journey continues through the Quebec countryside, along the edge of Lake Ontario to Toronto. Although for the most part a journey filled with conversation rather than music, it was a trip which served to reveal a lot about much of the music coming out of Canada. With Fall in full affect the countryside is rich with yellows, reds and golds there is a sense of romance and possibility about the place. Viewing houses and barns whizz buy the car window there is a sense of remoteness yet at the same time a connection to the outside world- after all these are places that can be seen from a major road, yet are miles away from any social contact. This sense of remoteness yet connection is something that seems to lie under the surface of the Canadian music scene- While there is enough space to plow your own furrow, there is also a tight support network and enough connection to the outside world to allow those influences to creep in to the music being produced. Although a geographically huge area there are a limited number of routes to traverse Canada- and the chances are, at 3am on some road in the middle of Manitoba, those weary-looking souls in the van passing you by are another band on their way to the next venue.
With various 'scenes' emerging in the past few years there is a real sense of support for fellow artists. Bands have grown up on the road together, and the strength of independent record labels has allowed for them to musically develop, rather than forcing artists to produce a hit first time off as often happens in other markets. There is a real feeling that music is a way of life rather than a living- you sense that, label or no label, a lot of these acts will be playing music with each other, to each other or for each other until their dying day. Oh, and that whole 'Canadian niceness' thing? Being stuck in a van with the same 5 people for 8 hours a day every day for a month when it's minus 10 outside with nothing but each others conversation and the occasional cardboard cup of Tim Horton's coffee to get you through makes 'being nice' a vital survival tool, not just a character trait.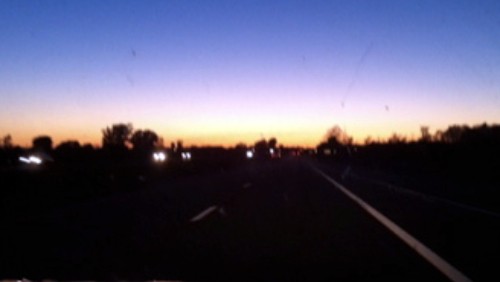 On the subject of coffee, from the moment Oh! Canada arrives in Toronto it becmoes abundantly clear that the city is a caffeinated kingdom- teeming with independent coffee houses both staffed and frequented by artists and musicians. As Alan Davey pointed out on these very pages just a few weeks ago, simply stroll in any park or up any street between Queen West and Bloor and the chances are you will bump in to a musician, most likely sipping on a coffee. In fact it may well be this highly caffeinated way of life that leads to record stores opening tll 11 or 12 at night, providing the perfect venue for impromptu hanging out before late night shows which finish in the small hours almost every night of the week. Indeed often these coffee houses or record stores will double as venues themselves: Sonic Boom, Criminal Records and Soundscapes all playing host to a wide variety of in stores for both local and touring artists. The Holy Oak on Bloor also hosts intimate shows around it's old upright piano and played host to a 'pass the jar around" show from The Weather Station, Lisa Bozikovic and Daniel Romano and Mischa Bower, who, as in Montreal a few days before, produced an enchanting set, Romano's skilled picking and storytelling complemented perfectly by Bowers vocals.
It isn't just coffee shops that get in on the whole live music act either- during the visit Diamond Rings performed a free show in a library as part of a scheme to take music to a wider audience, while Woodpigeon, just returned from a European tour played a free set of his pretty pastoral pop in Younge-Dundas Square to a small but appreciative crowd of damp on-lookers on a wet Wednesday afternoon. The scene was somewhat different a week later however, when the square was transformed to mark the start of the NHL Hockey Season-an event celebrated with a concert from Hey Rosetta! as well as skinny-jeaned stadium pop-rock hearthrobs Hedley, a pierced and tattooed boy-band for the Twilight Generation that had the teenage hordes screaming in delight.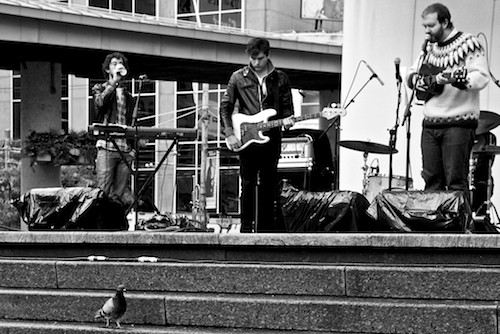 Woodpigeon among the pigeons
Then of course there are the venues themselves, most of whom seem to run live music seven days a week into the wee small hours. The volunteer run Tranzac club, a member-owned not for profit venue that was a home to Blocks Blocks Blocks recording club, who put out early records and hosted shows by Final Fantasy, Fucked Up and more, and now plays host to Toronto's Zine Library, hosts shows in both it's Main Hall and smaller room. A chance visit finds the main hall shrouded in darkness and thick with incense smoke for the single launch/ birthday party of Tasseomancy. With a captive audience, their often macabre folk-tales captivate the room from start to finish. Reinforcing the impression that musicians are everywhere in this city, D'Urberville/ Diamond Ring John O does the merch duties, doing a roaring trade on singles (which, in fairness, are released on his Hypelighter label), while simultaneously dishing out pieces of birthday cake.
Tasseomancy perform Soft Feet live at The Tranzac (via Hypelighter. Filmed by Colin Medley)
Across town lies The Dakota Tavern, an underground lair done up like a scene from the midwest replete with cattleheads and, er fairy lights. Here we witness Steamboat, kicking up a storm with their good time blend of Canadian heroes the Band and 100 lost organ-driven soul sides. While it may not be the most original sound around it certainly brings the party. Later in the trip the Dakota also plays host to a residency from Peter Elkas, showcasing and working up some material for his forthcoming record of slick, Springsteen infused soul pop in a low key setting. Elkas is quite the performer, and it is clear that he has the respect of everyone in the room. The Dakota is a musicians venue, and there are always members of other bands watching on, and often accepting the invitation to join bands on stage. Steamboat manage to haul Jordan Howard of Skeletones 4/The Acorn up to guest with them, while Elkas recruits a member of Zeus to come up and play extra guitars for a couple of songs (a member of Zeus who just two hours before had been opening for Belle and Sebastian at a packed out Massey Hall, one of the city's grandest venues), all as Ron Sexsmith watched on. Seriously. Another unexpected guest appearance came in the shape of Alanna Stuart of local dancehall duo Bonjay, who stepped up between Elkas and openers Colleen and Paul to try out some solo material. Far removed from her 'day-job', the accapela, multi-looped vocal performance captivated a restless audience, whose reaction ranged from standing open mouthed to hooting and hollering by the end of the set, more than making up for what, by her own admission, had been a frustrating first live performance the week before.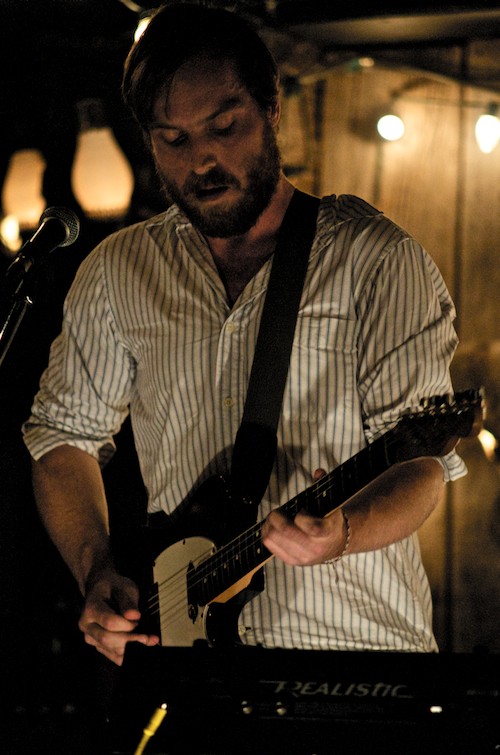 Jordan Howard at the Dakota Tavern
With Oh! Canada's first Tranna (as the locals would have it) trip coming to a close, it seemed only fitting to end a visit that had been full of music (including the chance to co-host a show on CBC Radio 3, the Canadian equivalent of 6music, but with a remit to play and support independent Canadian artists), with one final show. With this in mind we headed to visit to The Garrison for the launch of Olenka and The Autumn Lovers latest record 'And Now We Sing". Having witnessed a solo performance by The Weather Station earlier in the trip, it was good to see Tamara Linderman augmented by her other band members, the extra instrumentation adding another dimension to her already minimal songs. The extra vocal harmonies and bowed banjo lifting the source material and serving as a reminder of the quality of last years record The Line. Next up were Kite Hill, led by Ryan Carley (also of Ohbijou). It would be hard to call a band who numbered so many a 'side-project', Kite Hill is more a creative outlet for Carley's own songwriting and arranging skills. With Carley leading on piano, the band ran through their pretty, melancholy chamber-pop songs with aplomb, despite being short a couple of members (Steve Lappano on tour with The Acorn and Mika Posen on tour with Timber Timbre). Carley's dynamic and playful arrangements propell the songs along in a restrained manner that always compliments rather than overwhelms the melodies on offer. Closing the evening, Olenka and The Autumn Lovers, from nearby London, ON showcase their Balkan infused sounds, waltzing away into the chill October evening.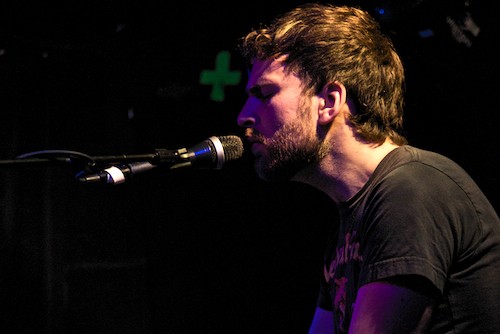 Ryan Carley of Kite Hill
An early morning train ride to Ottawa for a listening party of the excellent Jim Bryson and the Weakerthans album at Raw Sugar Cafe and a visit to Kelp Records hq bought the Ontario segment of the Oh! Canada road trip to an end in a blur of vinyl and strong coffee. Clutching said beverage, the next road would lead me to Ottawa airport…and then back to the East Coast and Halifax for the fourth and final stage of the journey.
NB. Due to a combination of financial factors, including a huge property tax rise, The Tranzac Club is being asked to provide $40,000 dollars by 2011 in order to remain open. The Tranzac is one of the few not-for profit venues left in Toronto and has played a key part in the careers of many Toronto acts that have gone on to wider acclaim. A series of concerts is being held to save money, including Oh! Canada favourites Rock Plaza Central, Ohbijou, $100 and Doug Paisley. You can find out more about the plight of The Tranzac, and how you can help over at their website www.tranzac.org