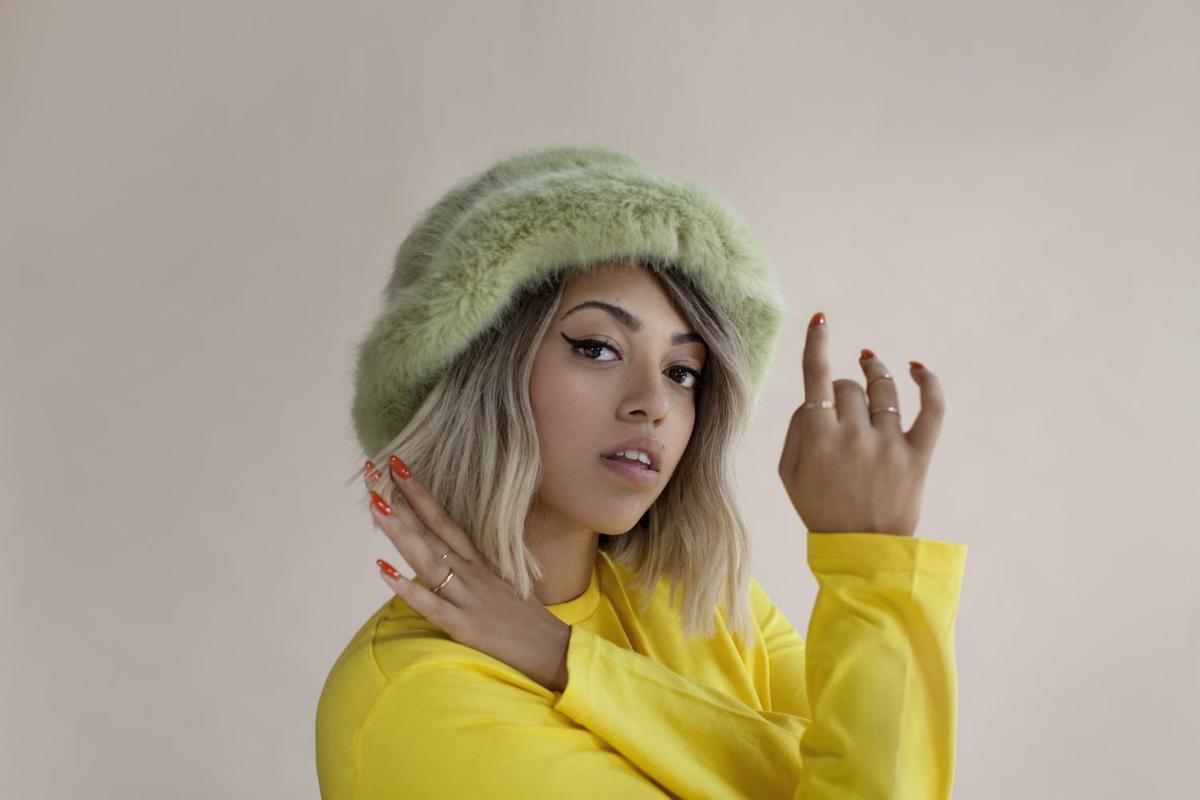 On the Rise

Mahalia
30 July 2018, 08:00
Mahalia's shift from acoustic-wielding teenager to empowered young woman is a success story that deserves to be told.
Remember the story about the young child star, signed in their early teenage years, who seamlessly transitioned in to adulthood, using their past experiences to guide them in to a future that looked supremely bright? No, us neither. Because it's so often not the way. It is, all too frequently, the very extreme opposite of that situation. And yet, here comes Mahalia; the Leicester-born artist who already has a wealth of years navigating "the industry" at the tender age of twenty.
Having caused quite the stir as a burgeoning voice when she was just thirteen years old, Mahalia spent the years between then-and-now steadily finding her voice (and what a voice, by the way), fine-tuning her craft via a couple of EP's and, eventually, a debut album in the form of 2016's subtle, evocative 'Diary Of Me', a collection of songs that, with hindsight, drew a line under all that had come before, all the growth and stumbles and steadfast desire for development.
In the two years since that debut album, there have been a handful of new tracks that have elegantly detailed a shift in her sound, the predominantly acoustic-led sway of 'Diary…' replaced by a new-found sense of soul, rhythmic and blue, and equally sweet and powerful. Earlier this year, and now working with the Atlantic Records family, Mahalia returned once more with her biggest track to-date, 'I Wish I Missed My Ex', an alluring examination of a relationship within the weird environment of this 21st century. Most importantly, it sounds remarkably fresh, the slick and inspired production providing a sublime backdrop for a voice that sounds more compelling in its new form than ever before.
I meet Mahalia a few hours ahead of her show at this year's Super Bock Super Rock Festival, a gleaming event in the heart of urban Lisbon. She's just flown in from Jamaica, where she'd been visiting her Grandma. Earlier that day she'd been swimming in the sea on the other side of the world, then she traveled here, via London, to prepare for a show which sees her take the stage at 1.30am. Safe to say she's probably had less demanding days; not that you'd know it. We meet and make small-talk, before I wait in the corner, watching her deal with a conveyor-belt of local TV and Radio spots, all of whom are wildly enthusiastic, all of whom ask her the exact the same questions. Throughout it all she's the epitome of professionalism; engaging, interesting, full of life, curating each answer slightly differently, never once giving the impression that she's simply reading from a script, which is so very, very often the case.
"I'm a fucking weirdo...I'm a Taurus and I wear every piece of my heart on my sleeve"
"You're going to ask me those same questions again, aren't you?" she says with a smirk, once the parade is over and her dressing room is quiet once more. "I feel like if you're being yourself it's quite easy," she replies, when I ask her if those kind of interviews are as easy as she makes it look. "When I'm answering similar questions I'm still being myself, it's just a different interview, and I have to make that person feel like it's not disingenuous. When you repute yourself that many times it can feel like you're not being genuine, but I think you can make it easy on yourself if you're just totally honest."
That honesty she talks about is a key part of her personality, not just in the lyrics of her song but on stage too. "I'm a fucking weirdo," she says, laughing at herself. "I'll just state everything, and I find that so easy to do. I've always been quite an open person. I'm a Taurus and I wear every piece of my heart on my sleeve. But at the same time," she continues, "you have to be careful with that and learn how to not give everything away. I think you should give 70% of yourself away on stage each night. You should put 100% in to it, but only give away part of you."
Being that emotionally open has it draw-backs though, and Mahalia is conscious of the exhaustion that can come from such a thing, especially as her public stock continues to grow and grow, and with the ever-present social media world always knocking at the door. "I used to be super open, and I would tell people stories that I didn't need to tell them. I think I'm just a little bit more at arms distance now though," she attests. "I think you have to be wary as an artist and choose wisely where your energy is going. Because that's all it is: energy. And it's that transference of energy that can be dangerous, because if I'm doing loads of interviews before I get to the stage then I'm probably going to be very tired, so it's working out where to place yourself."
It's an interesting turn of phrase. Mahalia has spent the past few years trying work out where to place herself, and, currently, she seems both settled and flourishing within the world of mid-nineties-influenced soul; a new path in her ever-interesting musical journey that is testament to the breathing space she's always allowed her craft. "I think, secretly, a part of me didn't want to just play the guitar," she admits. "I didn't want to just be a girl with a guitar singing pretty songs because I know that I'm more than that and that there's this soulful beast inside of me that wants to come out. I knew I wanted to do the kind of thing I'm doing now."
This shift in her sound ("I just really wanted to work with different sonics") was inspired by a couple of things: chiefly her love of love, as a wholly encompassing force, and a return to the soul music she was so enamoured with in her earlier years. "As I've got older," she says, "I've gone back to the stuff I listened to as a kid, all those soulful voices like Angie Stone, and Jill Scott, Erykah Badu, and Lauryn Hill. When I first heard a Jill Scott record I remember telling my mum I wanted to make a record that makes others feel the way it makes me feel."
"I'm trying to just stay busy existing. I just want to exist and live as the only twenty year-old Mahalia I can be"
Then there's the more far-rating inspirations, the day-to-day things most of us tend to take for granted; as an escape from the world, rather than as a catalyst for creativity. "I watch a lot more stuff these days, which is something I never used to do," Mahalia explains. "I watch a lot of serious documentaries, that mess with my head, but also I really love rom-coms - I love how they make me feel - and I'm really into shit dating programmes like First Dates. I love that kind of awkwardness. I get so much inspiration from that stuff. In school, I was always in a relationship, always had a boyfriend," she continues. "And now I'm on my own again and I'm so much more aware of love. I'll go out in the street and I'll watch people. I'll see couples on the bus, or I'll be in the airport and see two people crying because they're about to leave each other, and I love that stuff now. I'm so aware of it and its constantly inspiring."
If love is the world she's exploring, then her latest tracks are dangerous seas navigated in the dark. Last year's "Sober" was an empowering retort to an ex, while this summer's ballad/banger "I Wish I Missed My Ex" adjusts the vision once more, turning the mirror on herself, searching for sentiments that aren't there. Most striking, perhaps, is how new it sounds; the longest-running artist to be tipped as one of 2018's new stars. With such a wealth of experience upon her still-very-young shoulders, I wonder if she ever gets a chance to simply feel her age; whether growing up inside the machine of the industry makes her feel so much older than she is. "I think it's a balance," she explains with trepidation, like she's just realised, once again, where she is and what she's doing. "Some days I feel like I'm really old, and I really feel like people my age don't get me. I'll speak to old school friends and realise that we're just on completely different wave-lengths. But, also, everyone I hang out with is twenty-three, and above, and sometimes I think the same with them. I've definitely noticed that I can't have all the same conversations I had when I was eighteen, whereas my twenty-year old mates can," she reflects. "I can't talk about that guy cheating on that girl, or how amazing someone looks on instagram. I find it hard, and a bit shallow. In the world I live in, I guess, you're seeing things you don't see every day, and eating food you don't eat every day; becoming well-traveled definitely matures your brain. But I have this thing at the moment where I'm trying to just stay busy existing. I just want to exist and live as the only twenty year-old Mahalia I can be."
It's testament to both her own strength and vision, as well as the team around her, that Mahalia is in the place she is right now. The industry often has a way of shredding dreams and ambitions as much as it does making them, and the fact that Mahalia continues to shine is a success story that deserves recognition; a beacon for carving out your own journey, and being true to yourself whenever possible. "It was so tough," she says of her early years. "I loved the team I worked with at the label but there's no bones about it - it's a lot. And it's not always about talent. Talent, of course, is the thread that's going to push through but if you can't take the industry it's really hard to do. There are a lot of politics and you need to be ready for it. You just need to get past that bump. You have to sit in the low for a little bit - and some people come out of it and some don't. I couldn't handle it for a while but I had my parents and they were so supportive - and I'm super happy now."
"The industry is getting better, but it wasn't built for women to be powerful"
Indicative of her openness and spirit, Mahalia is now beginning to turn her gaze - and voice - in other directions, happy to lead the way not just on the subject of love in this new age but also as a resolute and powerful woman within an industry and wider society that still makes being such a thing so relentlessly difficult. She's been open about her worries regarding social media, and the unfair expectations such a thing presents, and she's becoming more and more settled in that role as a cheerleader for the disenfranchised. "We're in the age of feminism," she tells us, "and I think everybody has a different view and a different idea of what feminism is. So it's difficult. I don't really know what feminism is- and I would never say so because I can't talk about something that I don't really get - but I can talk about it from the perspective of a young woman in my shoes."
"The industry is getting better, but it wasn't built for women to be powerful. It's changing though. I just signed to Kobalt Publishing and the head there is an amazing woman, and my manager is a woman. I'm meeting a lot of powerful woman at the moment. I just want girls to be empowered," she continues, "and I think it's hard to feel empowered by the social media influencers of the world. I just want young girls to know that posting pictures of yourself online is not the only way to feel empowered."
Capitalising on the success of the past year, Mahalia will release a brand new EP in September and also admits that a new full-length album is being fine-tuned for a release in early 2019. She might have been around for a number of years already but Mahalia feels as wide-eyed and revolutionary as ever before. Seeing her perform at SBSR later that night, you're lost in the music, in the strength of her performance and personality, and you'd have no idea of the journey that got her there - both in the preceding few hours, on numerous flights across the wold, through the circus of press, or the years of experience that she already has tucked under her belt; through all the hardships of being a child, and a women, in the most unforgiving of industries.
It might not be a story you hear very often, but it's the story of Mahalia - and it really feel like it's only just getting started.