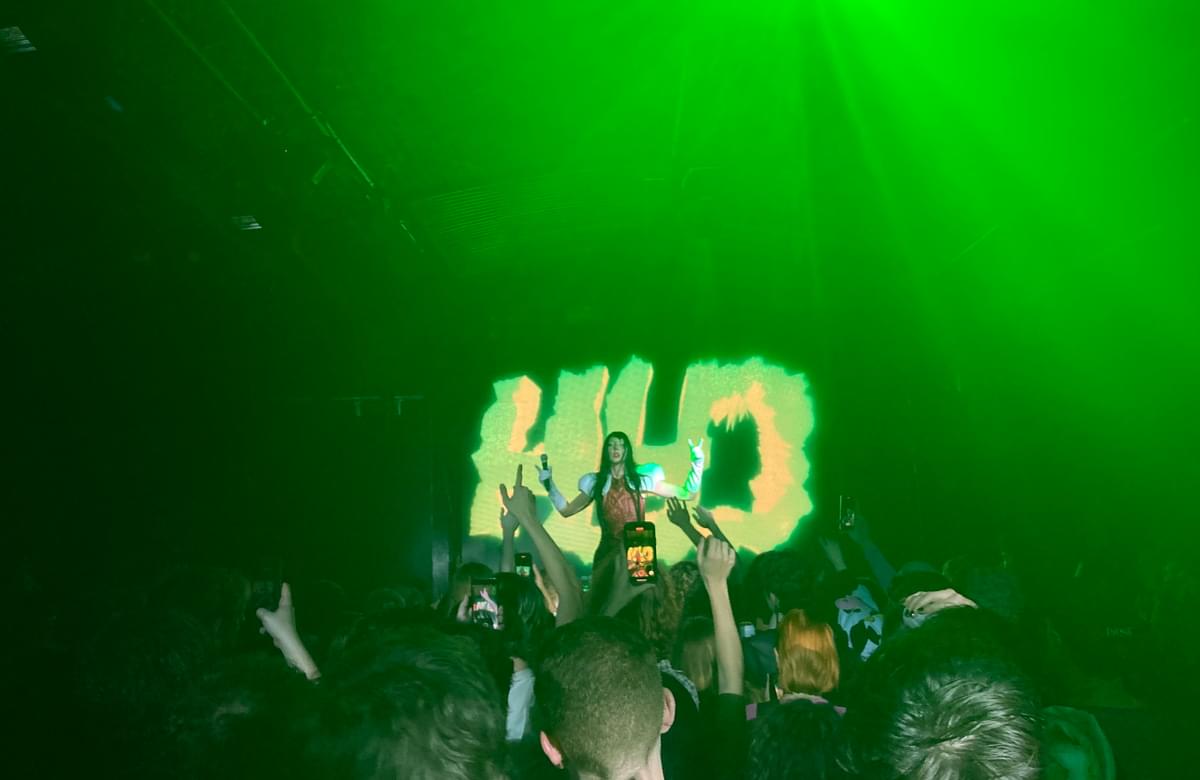 Hyd steals the show at PC Music's Pitchfork Festival London takeover
12 November 2021, 10:00
PC Music's Love Goes On brings a sense of euphoria and community to South London as fans of the cult label embrace high energy sets from Kero Kero Bonito, Hannah Diamond and Namasenda with newcomer Hyd delivering the stand-out performance of the night.
It's all love as the PC Music crew descend on Fire in Vauxhall with a stacked line-up spanning four rooms and kicking off bright and early with label boss A.G. Cook. Taking to the Lightbox, an impressive black box studded with lights which create an exciting visual it's a surreal vibe to see Cook run through his set when the night is so young, but he sets the mood dropping deep cuts alongside his "Spinning" remix and "Xcxoplex" from his Apple vs. 7G compilation album.
His opening DJ set was announced just hours before doors opened, but this wasn't his only appearance of the night he backed Swedish R&B export Namasenda as she tore through the eclectic tracks which make up her brilliant debut mixtape Unlimited Ammo. Joined by Mowalola, the pair turn the Lightbox into a sweatbox – their collaboration "Banana Clip" was a real moment.
Roma Radz killed it on the main stage mixing in live performances of her own Y2K-inspired tracks with remixes of pop classics like Anastacia's "Left Outside Alone". Her set and baby xd in the Fire Lounge offered throwback nostalgia with the latter dropping a floor-filling eurodance rework of Taylor Swift "Love Story".
Felicita in the Mirrored Arch offered a look into the more left-field side of the label performing in front of multi-colour visual which was just as mesmerising as their set. Things got frantic when Sarah and Gus of Kero Kero Bonito hopped on stage. Caro <3's ethereal vocals soared and mixtape deep cut "wild at heart" was an emotionally devastating juncture in her set.
KKB Soundsystem's set on the main stage was filled with wild moments. Their rework of Ashnikko's "Slumber Party", with Gus confidently speaking the verses, like he was at a poetry slam, was amusing but also a stroke of creative genius. Their Soccer Mommy collaboration was a highlight too as was new track "Sneak Attacks" – written about an unlikely set of friends (a dog, a crocodile and a squirrel) it came paired with Squid Game-inspired visuals – before they launched into "Trampoline" to close.
LA-based visual artist, musician, and PC Music newcomer Hyd took to the Mirrored Arch to give what would be the night's standout set. The long-awaited solo project from Hayden Dunham, the face and voice of Hey QT (PC Music's energy drink and collaborative one-track project between Thomas, Cook and SOPHIE), Thomas is a veteran when it comes to making art, but Hyd marks a shift in direction and change in momentum.
Dunham's delivery is visceral as they make their way through the carefully constructed alternative universe of their self-titled debut EP which features production credits from Cook, Caroline Polachek and umru (pictured below by Alex Waespi). Visibly emotional during "The Look On Your Face," Hyd is such a gifted performer. They can flip between more the sombre singer/songwriter schtick and then moments later is a tour-de-force commanding the room as grunge-inflected riffs blast out behind them.
"Skin 2 Skin" is an experience by its very nature. Its clash of ASMR-like vocal crackle, soaring pop chorus and brash stuttering outro translate into a truly fascinating manifesto. The elements of this song alone make Hyd such an exciting prospect for the future and live they take it to another level.
PC Music heavyweight Hannah Diamond (pictured above by Alex Waespi) acts as the pseudo-headliner with the final live set of the night. Her early tracks "Pink and Blue" and "Attachment" were, for many, their first introduction into the collective's forward-thinking sound. Her long-awaited debut album Reflections dropped in 2019 and fans ate it up. The main stage is so packed for Diamond that entry is on a one-in-one-out basis and I'm stranded outside.
With umru closing the night he drops everything from his remix of "Ocean Of Tears" to an unreleased Charli XCX collaboration and Silver Sphere's "football game" while donning his signature light-up goggles. Going in with his "more than just a remix" of ericdoa's "movinglikeazombie", umru offers the perfect end to a night celebrating the rise and omnipresence of PC Music who, along with their collaborators and affiliates, are set to continue shaping what music sounds like in the underground, mainstream and beyond.
Get the Best Fit take on the week in music direct to your inbox every Friday