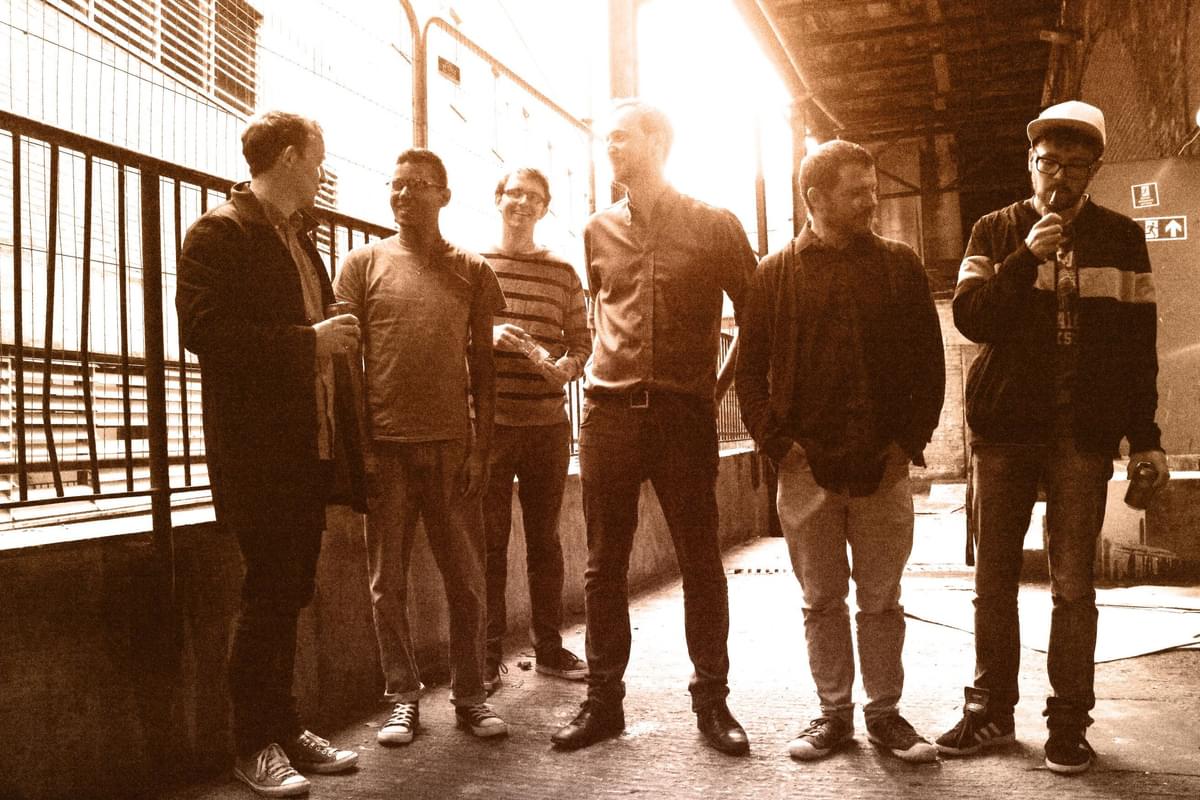 Hey Colossus rack up the albums – and tension
14 October 2015, 15:36
Watch out. Lightning has just struck twice for British psych-rock veterans Hey Colossus, a band who've knocked out two outstanding albums in less than eight months.
To celebrate, the six-strong noise unit rolls up to the Electrowerkz bar and makes it a double. Because Friday night (October 9) is all about raising a glass to their second long-player of the year, Radio Static High, on Bristol's Rocket Recordings.
The band's current rich vein of form can certainly be described as intoxicating. Radio Static High is a stunner of an album, trapped in a claustrophobic array of wild sonic adventures, mind-melting riffs and an overriding tautness that makes it creepy as fuck.
Sure, the 12-year-old band is no stranger when it comes to making arresting and hard-to-categorise music. But given that it was only February when its predecessor – In Black and Gold – was revealed, the pattern betrays a band clearly revelling in its new creative power. And any band that can crash out this level of quality, gloriously deranged stoned rock in such an efficient manner is onto something good. So what's up? I've got a clue.
It's all about the little people. The band's current run of form appears to be down to a matter of gestation for the guys as they embraced fatherhood, partners and proper jobs.
Drinking pre-gig beers with drummer Rhys Llewellyn and guitarist Jonathan Richards offers an insight into the group's current scorching trajectory. "We went through a period where the babies came and some new relationships started," Rhys says. "We had a couple of years when it was a bit slow for the band. But now it's another story, the kids are a bit older… and we really want to give it a go while we can."
For example, the newest songs took shape from demos, exchanged riffs and drunken text messages alike. One such exchange from guitarist Bob Davis to Richards demanding a homage to Neil Young tune "Cortez The Killer" resulted in a demo to that effect a mere 20 minutes later. That song eventually became "Memories of Wonder", the extended centrepiece of Radio Static High.
So maybe the guys feel like they're making up for lost time? If so, it's suiting them well. The north London club suddenly gets befittingly packed ahead of their 10.30pm set. But exactly which version of Hey Colossus is going about to show up? The bong-song crew from the clearly addled Cuckoo Live Life Like Cuckoo era of 2013? Or the sprawling mindbenders with the Joy Division-esque precision and technique?
The answer is quickly apparent as the band embarks on a set relying heavily on tracks from the recent albums, moving seamlessly between the rambling excesses of In Black and Gold to the volte face trimmed cohesive allure of Radio Static High.
You've changed, I say. All I get in return is a shrug from both Rhys and Jonathan, who suggest their development is an 'organic' and logical progression.
"We wanted to start where we left off with In Black and Gold," Rhys says. "I don't think it's been a conscious thing and I don't think it's been hard. We found a style that suits and we've all been contributing more ideas and sounds. Now, we're thinking and considering where we want to take our sound again."
While Jon adds: "We are refining our roles in the band in an individual sense. It's changing. We're more focused."
Call it what you like, but onstage the band are sounding as fierce as ever, teetering on the delirious edge of getting unhinged but without breaking lockstep. And it's Rhys' drumwork that booms as he is powering the band through sweat-soaked versions of "Numbed Out" and "Hey, Dead Eyes, Up!".
Meanwhile frontman Paul Sykes is cutting a more purposeful, if reserved, figure. Matching the band's newfound ability to dial down the blunt force trauma and dial up the meandering psychedelia in the songs, Sykes' singing is sounding great as he offers a primordial growl of "Black and Gold". And as the flipped-out echoes on Numbed Out rebound around the shrinking room he proclaims: "Angel / fade out / then cry / they've stole her eyes".
There be monsters behind him, as the band's army of guitar players enjoy shredding and smiling the night away. That sense of happiness is what Jonathan describes as 'feeling good not to be pissing in the wind'.
"We're older now so we need to occasionally be reminded why we are putting ourselves through this," he says with a wide grin. "We don't make money from it. It's a hobby. So when we feel like our music is being received and not just disappearing into the ether it's a great thing."
Far from disappearing, Hey Colossus is back again. Relying on pure muscle never truly did it for them. But harnessing their hard-fought maturity and welcome modesty has finally made transformed them into a rare band, as joyously intriguing as they are viscerally thrilling. Watch out.
Get the Best Fit take on the week in music direct to your inbox every Friday