The Texas-born pair is legends in their own right. Having relocated to opposite ends of the globe, the pair have continued to make music together for the last three decades, sharing ideas over email, and meeting up occasionally when they happen to fall into the same city together to talk, make face, and sift through life's dirt. 
Earlier this month marked their first tour in over ten years, and for many who huddle in ambient circles their reappearance is a big deal. The pair embodies the very spirit of ambient music – releasing material only the pair of them has fallen asleep to, performing shows that are less about performance and more about the cathartic experience ambient music can offer. Which makes writing about them a tricky process. 
Ambient music can often be a personal experience, something that works on you internally rather than being something immediately enjoyable. It's what people talk about when they talk about the 'sonic' feeling of music – the esoteric in between feeling something physical and being mentally awakened. The great satisfaction of it lying in the places it can take you, or the ideas it can draw out.
I used to these moments with an old housemate who used to listen to their music of a late evening. He was always writing, spitting out ideas through the great transient wall of sounds beaming from his speakers, while I slumped back on his bed and dreamed myself into fantastic worlds unlocked by the music. He introduced me to the band and their music. Quick steps led me to find William Basinski, Bing and Ruth, Brian Eno, and the Heat Death Records back catalogue. 
When I met my current girlfriend Hannah, we found we both enjoyed the band, sharing the transitory energy that music like there's offers. This has always made their music a unique and personal journey. 
The band themselves are products of two lonely heroes dancing in the dark – they met at a party in Texas over a shared fondness of composer Eric Satie. Like bored loners they shared the distinct and humble expression music could offer - a hand reaching into their own independent worlds. Thirty years later they are still touring something born out of the strange feeling the humbleness of calm music could offer. They shared space, and ideas, like Hannah and me have.
In the past the pair has not been unassuming of the power of what they do. They've expressed how their music becomes, "your own perfect cinema between your eye and your eyelid," drawing you in and out of worlds as the music fades, lulls, and builds to deep crescendos.
Recently we watched them at Barbican, crammed into a room full of 2000 others, to see whether those personal journeys we make at home with their music could happen in a public environment. What was lost in personal journeys was gained in collective energy, as part of the lull is watching others drift into their transient and lonely worlds.
Seeing Stars Of The Lid is more an experience in breathing and thinking – opening your mind up to an illusory experience, much in the same way you might get in an art gallery or at a meditation session. But these that can be drawn out fit so much better into the vivid expressions offered by drawing than they might do with words.
It's why Hannah and I thought it would be too simple to just write something. I could tell you of a personal journey I've made, dreams I ventured off into while holding hands between the cinema-style seats of the Barbican – or we could show a number of reflections, drawn up through imagery that reflect our collective thinking.
The following images are illuminations into that space between your eyes and your eyelid – the continental drift between the feelings of being-in-the-room, and in-mind. With them are our descriptions. They can be relative or read alone, it is up to you.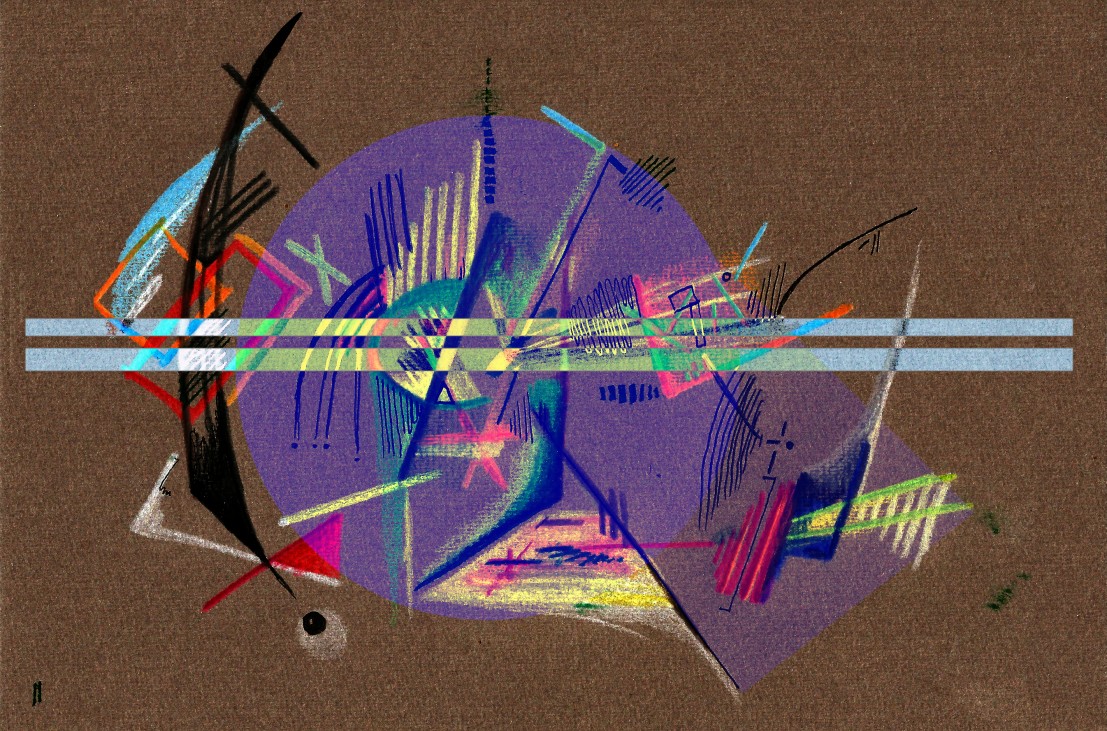 Each instrument has its place yet moves backwards and forwards from the tune to the under arching notes. The deeper notes underneath everything build and waver, allowing other textures to come through as they drift. Together these smaller strokes come together to form a larger more complex picture. Each component is dependent on the other. You can either look at it as one whole image, the overview and the atmosphere or you can read the different strokes and pick apart the layers.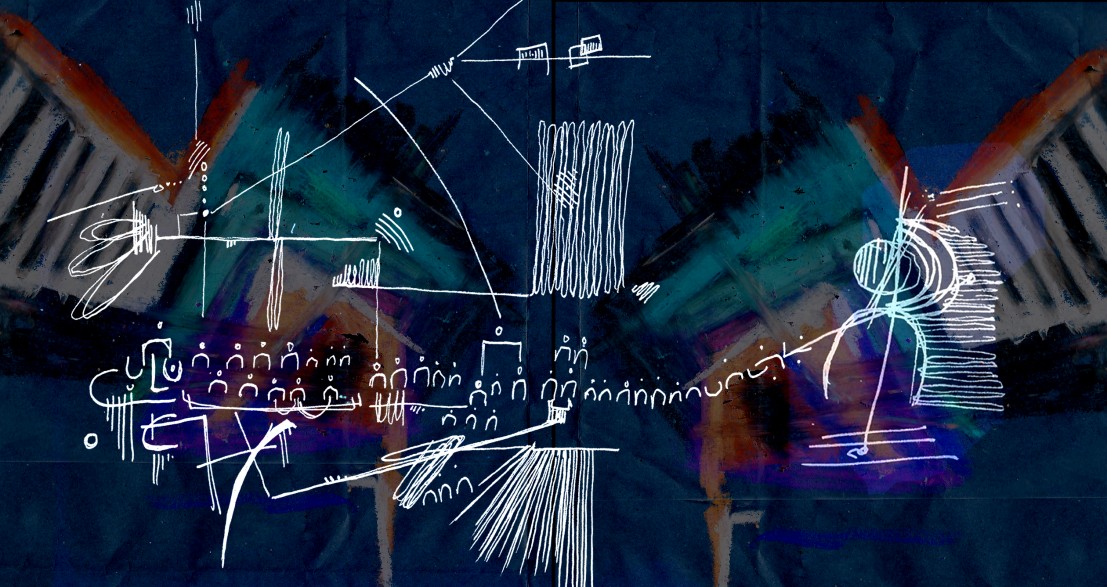 Many of our friends listen to ambient music to help with anxiety, using it as a form of meditation. It's music for being on your own too – reflecting with, finding the small personal space it creates and finding safety in it. For us, seeing the spaces between the audience and the music, the collective and the individual proved to be as fascinating as finding our own experiences alone. Physically we felt a room of people in tune with both their individual and collective selves.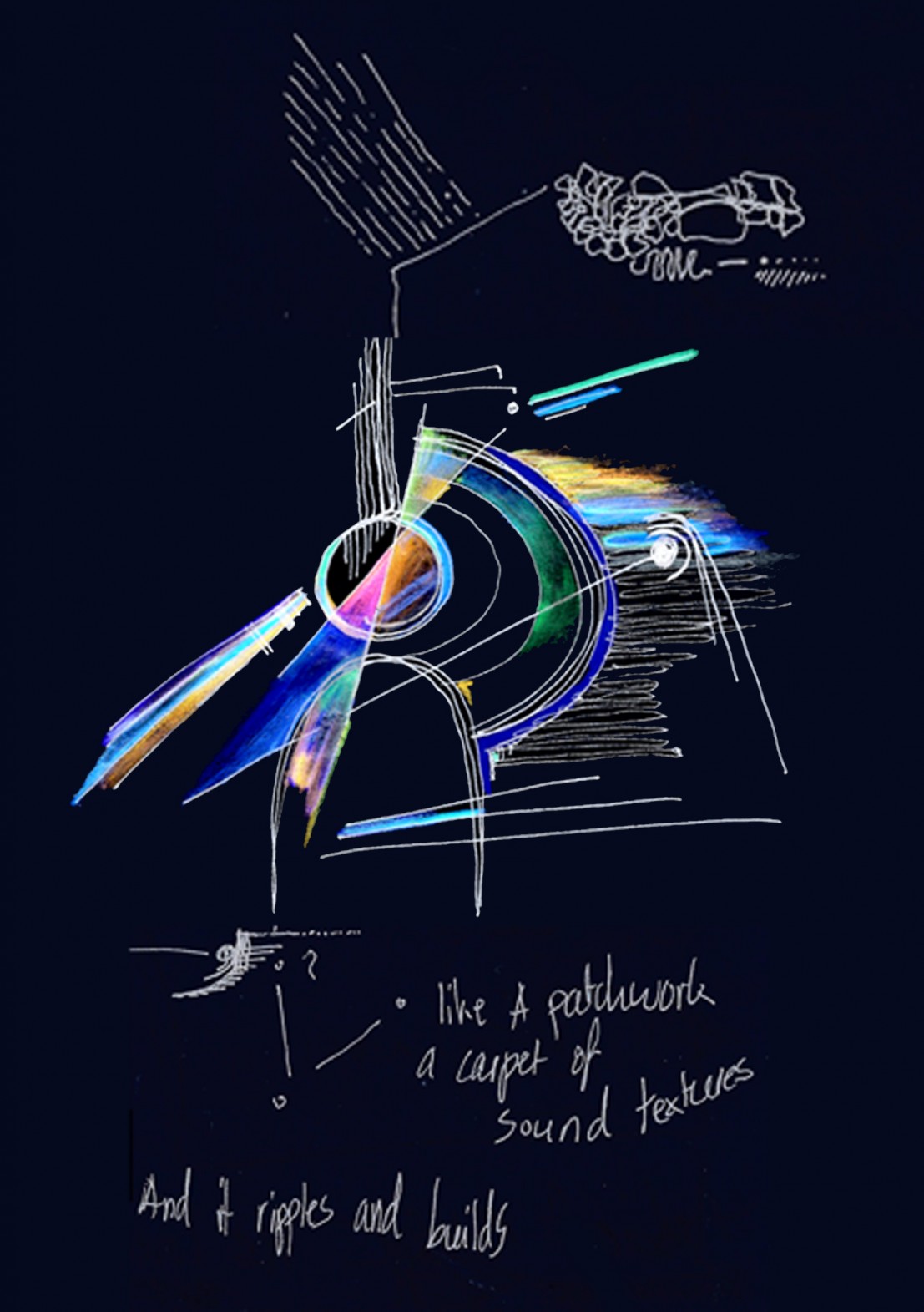 Ambient music is often associated with quietness. And yet, at so many moments did Stars of The Lid bridge on the overwhelming filling the Barbican completely. What was captivating was seeing the trance like experience music this large could draw you into – feeling both the physical and esoteric presence of the music itself.