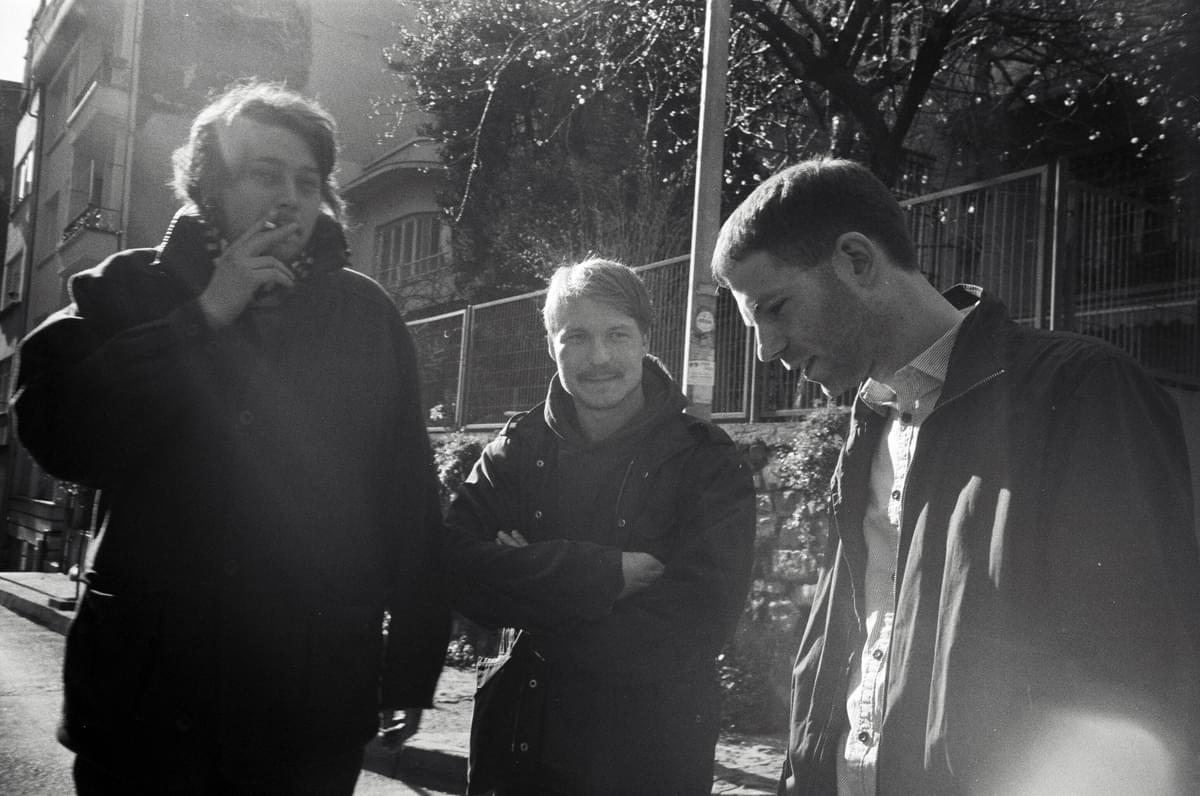 Can't Stop The Signal
09 September 2011, 11:00
Luke Grundy looks back at the three albums that have shaped and carved an undeniable arc in modern alternate pop culture for Sweden's The Radio Dept.
Scandinavia has undergone something of a renaissance in the last decade or so.
Perceptions of its freezing climes have been altered by a surge in cultural significance: its exports in film, music and literature have changed it from 'that place where it's dark all the time and people kill themselves' to a globally recognised hub of ingenuity, intelligence and invention. From the endless reams of commuters reading Steig Larsson's books to a steady stream of Scandinavian directors migrating to Hollywood's eternally sunny shores, the ascendance of these northern European nations as artistic powerhouses is as impressive as it is indisputable.
However, the most meteoric rise has surely been that of Scandinavian alternative music. Recognised as a foremost exporter of metal bands – Norway's early 1990s black metal scene, Swedish acts like Yngwie Malmsteen or Opeth – and pop music, there were precious few Scandinavian bands, outside these two disparate genres, who had found global success. Over the last ten or twelve years, however, the quantity and quality of indie music from Scandinavia, especially Sweden, has steadily risen; alongside it, interest in this sub-genre has exploded. Whereas once your choices were Björk or, well, Björk, now those who carry a torch for Nordic music have a wealth of options.
Indeed, such is the choice now available that every genre is catered for, each imbued with the peculiarly beguiling melancholia of the isolated peninsula: there's the conversational pop of Jens Lekman; the folk strains of The Tallest Man on Earth; the soaring scope of Sigúr Rós; the minimalist electronica of Röyksopp; the list goes on and on. The unfair musical typecasting of Scandinavia, as a bipolar place where it's either A-Ha or In Flames, is in the rearview now. Who do we have to thank? Well, certainly we should all raise a glass or two of akvavit to The Radio Dept..
The Radio Dept. began in 1995. Well, sort of. Johan Duncanson, the group's founder and lead singer, was in a band at the time called The Radio Dept., named after a local gas-station-turned-radio-repair-shop in his hometown of Lund, Sweden. He later began playing with guitarist Martin Larsson, and their new partnership took the same name, although as Duscanson said in an interview with TLOBF founder/editor Rich Thane last year, "it's not really the same band. We've been making songs together since 1998 or something, but we didn't take it seriously until 2001."
Were you to draw up a timeline for The Radio Dept., that "take it seriously" moment at the start of the 21st century would be the true starting point. Larsson and Duscanson's group, at the time with Lisa Carlberg on bass and Per Blomgren on drums, released their debut album Lesser Matters in 2003 on Labrador Records, who'd signed them up after hearing their self-distributed first EP, Against The Tide, just two years before.
Lesser Matters
Lesser Matters was met with considerable critical success, its mixture of haunting, mournful synths and lo-fi vocals combining to create one of the year's most distinctive records; it subsequently made several 'album of the year' lists. The appeal of a band intentionally stripping songs back to their essence, choosing to blur and muddy their sound rather than purify it with studio effects and post-production, was strong and refreshing. "If it feels like too much of a song, we definitely try to pull it down," says Larsson. "We've always said that it should be difficult to listen to good music – it shouldn't just go right through you."
Duscanson elaborates: "It's not just about putting some fuzz on top of everything to make it more indie. I like sounds that distort and they almost break… something more happens in that moment. You get pictures in your head from that kind of sound. It's more poetic to me to listen to music that's almost out of reach."
The Radio Dept.'s preference for partially destroying their own music may strike some as a deliberately obtuse decision, one designed to make them more inaccessible and thus narrow their listenership to just a group of knowing aficionados, but listening to Lesser Matters, what becomes most apparent is that, whatever their initial intention, the Swedes turned out a hugely enjoyable and communicative debut LP.
Tracks like the infectious 'Ewan' and the contemplative '1995′ – of which Duncanson remarks, "maybe I had some kind of premature mid-life crisis" – are exemplary on an eminently listenable and re-listenable album which still sounds fresh, even eight years after its release. The rough-by-design edges of songs like 'Keen On Boys', which is accompanied by a constant background drone and fuzzy static, give the album a homespun vibe; in a manner befitting the group's name, it feels like we've discovered a poorly-boosted radio signal from another country by chance, as if we're the only one lucky enough to have found this oasis of hazy musical bliss. As 'Keen On Boys' closes, we're even treated to a few super-clean guitar notes, the signal clearing for a moment until the thudding bass of 'Why Won't You Talk About It' takes us back into this imagined world of songs being eked out through indistinct feedback. Much like the early strains of groups like Pixies or Weezer, The Radio Dept.'s first record – in fact, each of their three studio albums to varying degrees – feels personal, like a friend giving you his band's badly recorded EP, only for you to find that it's actually brilliant. The Radio Dept. may be far, far more talented than your average garage band, but they foster that same connection between themselves and their listeners.
Musically, the first album is barely classifiable, combining maybe a half-dozen genres. Dream-pop? Shoegaze? Perhaps both, perhaps neither. Such is the difficulty of placing Lesser Matters in one easy category. Trace it back from 2011, however, and its influence is telling; groups like Beach House and Phoenix, whether they realise it or not, owe a huge debt to The Radio Dept., as do poppier acts like Lykke Li, The xx, even The Killers. Lesser Matters is a benchmark for showing how to combine pop style with post-punk substance without blindly supergluing them to each other, and its unique appeal endures, sounding like a lovechild of Wilco, Beck, Pavement and Sonic Youth. The '90s revival wouldn't start in earnest for years, but The Radio Dept. should be credited with helping pioneer a style which would dominate the indie scene six years later.
Elements of electronica, lo-fi rock, post-rock, ambience, even grunge can be found within Matters' unrefined exterior, like finding rare vinyls buried at the bottom of a box of old blankets in your attic and putting them all on the stereo at once. The Radio Dept. don't want you finding their brilliance too easily, after all, that would take the point out of it.
Pet Grief
Three years later, and follow-up album Pet Grief is on record store shelves. Unfortunately for the band, it's largely staying there. "The band were reluctant to promote or do any tours for the album, as a consequence it made little waves around the world," as The Radio Dept.'s website explains.
Though it never quite matches the highs of Lesser Matters, it would be churlish to describe the group's second album as a sophomore slump. It retains the same ethereal ebb and flow which lilts through their debut, but sounds a little clearer, a little less obscured by static and hiss.
The result is a paradoxically more expansive, more introspective and more instrumental record. Carlberg and Blomgren have now gone, and been replaced not by a new rhythm section, but by Daniel Tjäder's keyboards. We get tracks like the sparse, solo piano 'Gibraltar' which bear little resemblance to previous efforts, counterbalanced with the electronic whimsy of familiarly catchy head-nodders like 'Sleeping In' or the title track. Duncanson's breathy vocals and Larsson's reverberant guitar lines are far cleaner, and thus more audible, for the muting of some of the sonic roadblocks which populate Lesser Matters. Of course, that same self-destructive element is still present – noticeably on 'Every Time', certainly the record's fuzziest track – but it's impossible to ignore the increased clarity of the recordings. It's a lot crisper, and musically a departure from the first album, receiving far more mixed reviews than its universally lauded predecessor.
It must be said that Pet Grief is less fun to listen to. Tjäder's keyboards are deftly deployed, but the band are still re-moulding their sound without a traditional band setup, and don't find their mark as firmly or as definitively as they did with their debut. To an extent a poppier effort, but simultaneously a more melancholic one, Pet Grief offers a few more questions than answers: parts of it sound like Joy Division, parts of it like '80s pop.
Duncanson's thoughts on the record bear this contrast out: "When we released Pet Grief, we thought we'd made a really pop record. We were almost ashamed to release it because it was too pop. But after releasing it we realised other people found it rather depressing and very mellow and calm and then we realised they were right!"
Uncharacteristically awkward in a few places, Pet Grief is cleaner-sounding but less sure of its direction that both Lesser Matters and the group's third album Clinging To A Scheme. It's still a good record, helped by injections of uplifting melody ('A Window') and sardonic humour ('The Worst Taste In Music'), but the high standards set by Lesser Matters dictate that it's a little disappointing by comparison. It's certainly a transitional record, tracking the movement of the group from their band-oriented beginnings to their current, more electronic guise, and a considerable achievement, but it's fair to say it's the weakest of the three albums to date.
Clinging to A Scheme
The third of these albums, 2010′s Clinging to a Scheme, might be the best. A product of a mammoth writing and studio process – resulting in "120 or 130 recordings," estimates Duncanson, and "probably 40 almost-finished songs," reckons Larsson – the group's third full album is a triumphant mixture of the styles which preceded it, and features a handful of superb tracks worthy of inclusion on any 'Best of The Radio Dept.' mixtape (or perhaps more realistically these days, iTunes playlist) you could fashion.
Kicking off with the wonderfully balanced 'Domestic Scene', a track combining the spectral guitar lines of Lesser Matters with Pet Grief's clean recording style, Clinging to a Scheme follows up a brilliant opening with one of the band's most accessible, and also perhaps best, songs, the irrepressible 'Heaven's On Fire'.
It starts inauspiciously enough, with a sample of Sonic Youth guitarist Thurston Moore urging us to destroy the "bogus capitalist process" he believes is destroying youth culture (a sentiment The Radio Dept. agree with: "We should destroy the bogus capitalist process," Duscanson says, "but we're lazy, so we make music instead and leave the destruction to others"). As the first off-beat notes of the synth line drop in, however, the complexion of the song changes entirely.
Fuzzed-up drums and echoey vocals are matched by a duelling synth and bass melody which pretty much demands that you tap your feet, not to mention a brilliant and wholly unexpected sax solo from Mattias Oldén which comes squarely from nowhere and lifts the song to its resounding close. A three-and-a-half minute gem, it's one of those compulsive songs you'd happily stick on repeat for a couple of hours without thinking anything of it, letting its joyous refrain wash over you time and again.
From the alternative anthem 'Never Follow Suit' to the lo-fi sass of 'David', Clinging to a Scheme is full of such memorable tracks and moments, incorporating some of the longing wistfulness of Pet Grief, with the pining 'A Token Of Gratitude', but not letting it overwhelm the whole album. The amount of effort that's gone into shaping the sound on Scheme is telling: tonally, it's the most cohesive record the Swedes have put out thus far, and feels like the crossing of a musical threshold, to a time where you can truly define 'The Radio Dept. sound'. The lo-fi distortion of Lesser Matters returns but is used more sparingly, to augment the frenzy of 'Four Months In The Shade' and the early-90s rhythm parts of 'This Time Around'. This more considered deployment of The Radio Dept.'s favourite self-destructive weapon increases its effectiveness: we've returned to that far-off radio signal we found years before, this time with better reception and a clearer understanding of what we've tuned into.
Three albums into what will eventually be five released on Labrador – the group's record contract is a complex tale not without controversy, best left for the band themselves to explain – and we've reached a tipping point, where The Radio Dept. are turning out tunes which tap the upper regions of their talent. Yet, for many, the band themselves remain a mystery.
One reason is their scant press appearances. The media "know what they want from you and want you to fit in," says Larsson, and The Radio Dept., unsurprisingly, are keen not to be pigeon-holed, as Duncanson explains: "We got a bit tired of every journalist writing Jesus and Mary Chain and My Bloody Valentine in every review, even when we'd just released a single that didn't sound like any of those bands, or anything from that scene."
Passive Aggressive
Their frustration is understandable. Listening to Passive Aggressive, the group's massive, double-disc singles and rarities compilation released in January 2011, it's clear that while there are common threads weaving through all the group's output – extensive use of synths, Duncanson's resonant vocals, that indistinguishable fuzz – there are a wealth of different sounds on show, from the wailing synth-pop of 'We Would Fall Against The Tide' to the mellow strains of 'The New Improved Hypocrisy'. To offer the group's catalogue a cursory glance, and make bland holistic judgments about it, is to do the music and the men (and woman) behind it a grave disrespect.
By the same token, placing The Radio Dept. is extremely difficult. They've not enjoyed the fiscal success that other Scandinavian exports have – Duncanson and Larsson once worked in a mental hospital "full of people who should have gone to prison but were mentally ill" to make ends meet, and have "been broke for such a long time, even having a little money is like being rich to us". Yet they have a very solid fanbase, and as much talent as many groups who've made the leap from critical to commercial success.
Will it happen? It's impossible to say, in all honesty. It might even be a year or two before we hear any new material, the band's extremely high self-set standards sometimes obstructing progress. "We're quite hard on ourselves, very self-critical," reflects Duncanson. "I remember fighting over one note on 'Keen on Boys'. " this big massive argument for two hours," continues Larsson. "I just went home afterwards. The day after I had a listen and I couldn't find the note we were arguing about… Sometimes you just want to fight. Like a sibling relationship."
Despite the occasionally fractious relationship between the pair, their passion for their craft remains as unquenchable as ever, manifesting itself in side-projects as well as The Radio Dept.'s music: Tjäder is also in Korallreven, and Duncanson maintains other bands in his native land, "some of which aren't very serious," he admits. "We could get proper jobs and I would still make pop music," the singer opines.
For all those who enjoy listening to The Radio Dept., not to mention all those groups who owe a huge debt to the band, it's comforting to know that someday in the future we'll be able to find that mystic radio channel once more. And to those who are yet to tune in: re-adjust your antenna. You won't regret it.
Get the Best Fit take on the week in music direct to your inbox every Friday