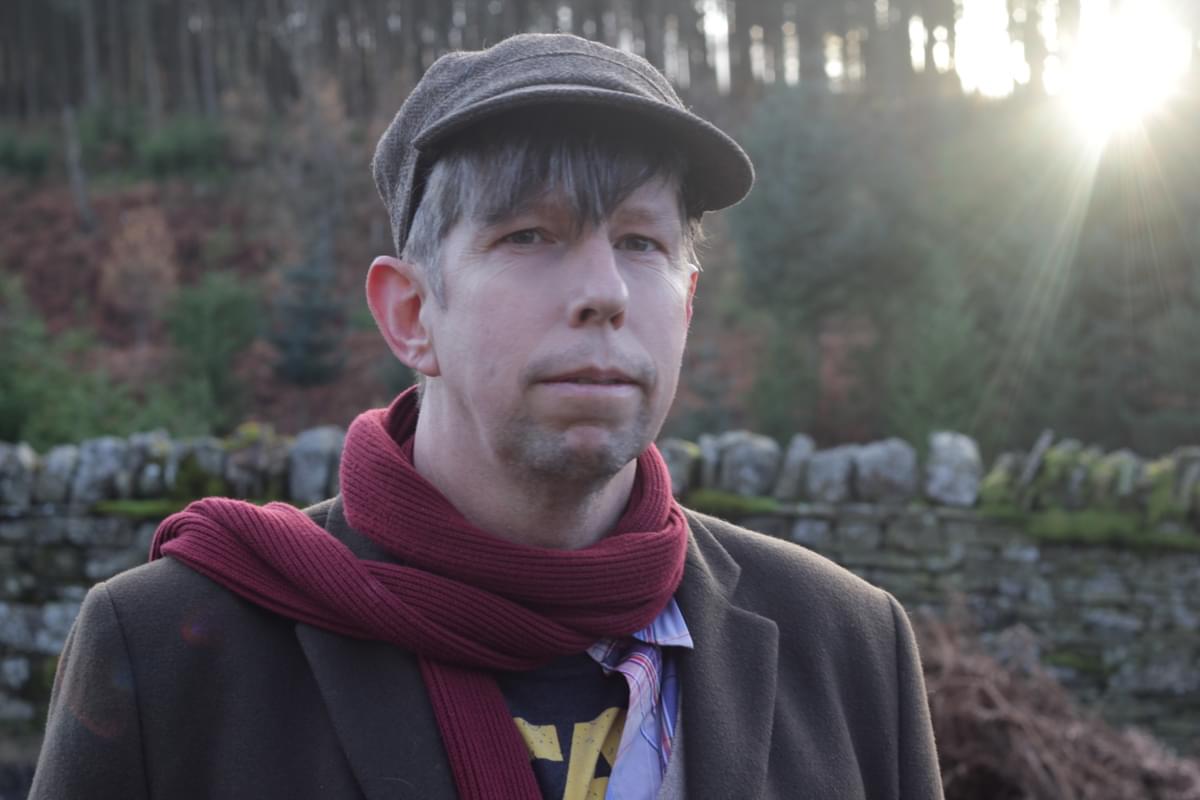 Breaking God's Heart Again: Darren Hayman rekindles a cult classic
14 February 2018, 14:03
The UK music press end-of-year lists from 1998 make for some interesting reading, two decades down the line. As the curtain began to fall both on Britpop and the end of the century, you'd find a gaggle of well-received comeback albums from established artists like Pulp, Beck and the Beastie Boys as well as plenty of acclaim for the bruised cosmic Americana of Mercury Rev's Deserter's Songs, Air's languid debut Moon Safari and Gomez's Mercury Prize-winning Bring It On.
Tucked away a little further down on some of these lists, you might also spot some commendation for Breaking God's Heart: a poignant, profane, occasionally tormented and often quite wonderful debut album released on Too Pure records by a band called Hefner, an Essex border town-reared, art-school-honed folk-pop trio led by songwriter and vocalist Darren Hayman alongside bassist John Morrison and drummer Antony Harding.
The album was recorded at Glasgow's Ca-Va studio with producer Tony Doogan, best known for his work with Scottish alternative rock royalty like Mogwai, Belle & Sebastian, Teenage Fanclub and The Delgados, and his unadorned, single-take recordings definitely square with the record's raw emotional clout and Hayman's poignant, bittersweet bedsit vignettes. Breaking God's Heart received much acclaim in the music press that summer, being compared favourably to the work of such luminaries as The Velvet Underground, The Modern Lovers, Talking Heads, Orange Juice, The Smiths, The Violent Femmes, Smog, Pulp and The Wedding Present. Hayman's lyrics ranged from the quietly self-lacerating on debut single "Another Better Friend" to mournful, if knowing, hopelessness on "The Librarian", a sympathetic sigh directed towards a tongue-tied would-be lothario ("The books he was to borrow he would surely never read/ they had an intellectual calibre he hoped that she would see…") "Love Will Destroy Is In The End", meanwhile, set quarter-life ennui – "we feel so empty, and our late twenties, should be better times"- to buoyant Big Star-esque power pop.
The album was applauded in the New Musical Express for being "truly independent, unassuming and painfully honest: the sound of thin, white indie dukes in spectacles." Elsewhere in the paper that year, it was described as a "sublime" collection of "strum-a-bye tunes of heartbreak and shame with a lump in its throat and its sports kit on top of the bus shelter", a record of "trebly guitars, tremulous singing and thrilling little three-minute epiphanies" that "bubbles with dreams and twisted love schemes…a genuine bolt from the blue." The Melody Maker, meanwhile, were just as enthusiastic, saluting Hefner's "heart-skeweringly astute" combination of "grimly sweet lyrics and delicate, tentative tunes." The band even guested on Radio 4's Loose Ends that summer, with host Ned Sherrin quoting Time Out magazine's verdict ("awe-inspiring in their naked honesty") as part of his introduction.
The influential late Radio 1 DJ John Peel was a huge Hefner fan, with the group being perhaps one of the last bands to directly benefit from his enthusiastic and sustained patronage. They were regular visitors to both the BBC Maida Vale studios and Peel Acres between 1998 and 2001, occasionally being granted enviable special privileges in the course of recording at these locations - for their second Peel session, the band apparently managed to get their hands on some vintage synthesisers from the old BBC Radiophonic workshop. Hefner would feature heavily in Peel's end-of-year listeners' polls known as the Festive Fifty in this short period as well, claiming five entries in the 1999 run-down including positions two and three (they were only pipped to the coveted top spot by Cuban Boys' "Cognoscenti Vs Intelligentsia.")
Hefner are also sometimes placed in the lineage of the short-lived, influential, but not always easy-to-categorize C86 movement, named for the covermount mixtape promoted by the NME in 1986 and characterized by a particular strand of intelligent, intimate mid-eighties indie that combined a punk-inspired DIY ethos, an anti-corporate/major label stance, a melodic take on 60s psychedelia, fey vocals and arch, knowing lyrics: a blend summarised as a "Byrds jangle with '76 manifestos" by journalist and founder member of St. Etienne Bob Stanley in Yeah Yeah Yeah: The Story of Modern Pop. Hayman's own sign-off to the production notes on the inlay sleeve of Breaking God's Heart ("If you like this record send us one of yours. Be kind to small businesses. Buy more Beach Boys records") may suggest they covered at least some of these bases, but over the course of their brief but prolific career they proved there was significantly more to than them this. Paul Richards, DJ and organiser of celebrated long-running London indie-pop club night Scared To Dance, agrees that there is some overlap with the C86 movement in as much as Breaking God's Heart is "the rawest of the four Hefner albums. Listening back to the LP the other day it does sound more lo-fi that I remembered. Songs like "The Sad Witch", "A Hymn For the Postal Service" and "Tactile" have held up well over the years and they have that tenderness to them."
As well as Peel's staunch backing, several key indie-pop figures played a role in the making or promoting of this album. Belle & Sebastian's Stuart Murdoch provided moral support and visited the studio during its conception, with Hefner touring Britain with David Gedge's post-Wedding Present act Cinerama to support its release. Was there a sense of cult popularity being quickly established with this record, which was helped to develop by these sort of associations? "Hefner were called 'Britain's Largest Small Band', and there's still a degree of cult popularity around them" says Paul. "When Darren Hayman played at The Lexington in January he wasn't afraid to throw in a few Hefner songs and they went down very well. The exposure from John Peel helped a lot, and you could argue there are similarities between Stuart Murdoch and Belle and Sebastian and Darren Hayman and Hefner, in that they're both vehicles for their songwriting and visions. They played ten sessions for Peel's Radio One programme which is quite staggering looking back at it - I didn't realise it was quite that many!"
Hefner would release three more studio albums: The Fidelity Wars (1999), We Love The City (2000) and Dead Media (2001) before Hefner were put on indefinite hiatus as Hayman and Morrison formed a new band, lo-fi electro ensemble The French. "Colourful, touching stuff, and great news for anyone who ever wanted to hear John Hegley backed by Her Space Holiday" opined the NME in a positive review of their 2003 debut Local Information. Today, BBC Radio 6 music feels very much like a natural home for Darren Hayman, who in the years since has released countless albums under a number of guises both solo and collaborative and grown into something of a scene elder statesman. Bands like The Pains of Being Pure At Heart have explicitly cited Hefner as a key influence, but are there any many newer acts who are following in Hefner's footsteps that we might hear being played at a Scared To Dance event? "Hefner really flourished later on with The Fidelity Wars and We Love the City, but Breaking God's Heart has the germinations of those records" explains Paul. "Listening to "The Sweetness Lies Within" you can hear the lineage to "The Hymn For the Cigarettes" and "Painting and Kissing". Marc Riley and Gideon Coe on 6 Music are both fans of Darren Hayman's music (as was former Radio 1 stalwart and fellow latter-day 6 Music present Steve Lamacq) and continue to play this records so I can see why that's their natural home. I think they're the closest we have to Peel on mainstream radio in championing new alternative music. Darren has collaborated and worked with so many other bands over the years I guess it's because there's that mutual respect and they've been influenced by his work and his time with Hefner. The Wave Pictures and Allo Darlin' are the two that spring to mind. I think you can hear some influences in Tigercats, Ralegh Long, Enderby's Room and Standard Fare when they were still active. You can still jump around the dancefloor at Scared To Dance to Hefner!"
Darren Hayman presents Breaking God's Heart on 4th, 5th, 11th and 12th July at St. Pancras Old Church. More information on these live dates can be here.
Get the Best Fit take on the week in music direct to your inbox every Friday