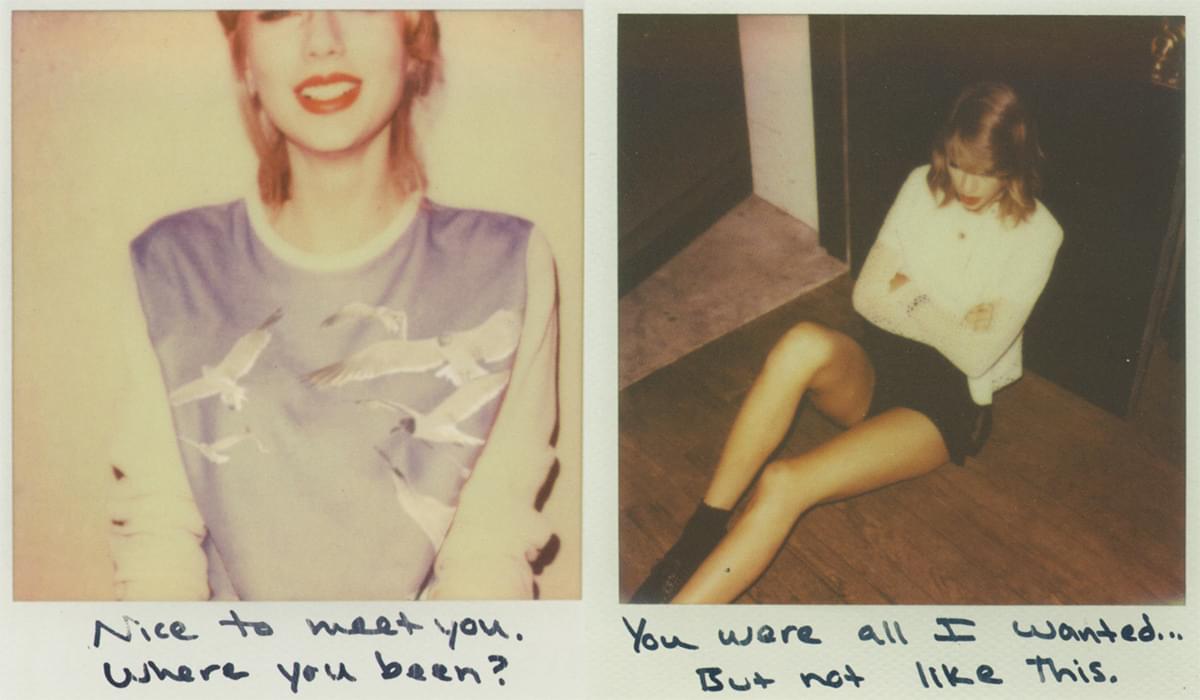 Beyond 1989: Taylor Swift and Polaroids
15 December 2014, 11:00
You might be forgiven for wondering why one of the biggest releases of the year - a record that sold more than 1.3 million copies in its first week - has an out of focus, sepia-tinged, off-framed shot adorning its cover.
The Polaroid homage that adorns Taylor Swift's 1989 isn't an homage to Instagram but a Polaroid, digitally edited to fit on an CD-size album cover (Polaroid's printable area is around 3.5 x 4.2' for the record).
And it's not just the cover artwork; each copy of Swift's smash record comes with thirteen more Polaroids taken from five available sets, totalling a neat 65 different pictures. Each portrait of Taylor - a multitude of poses in different settings - is emblazoned with handwritten sharpie-penned lines from 1989's tracks; mostly in colour, but with 11 in monochrome. To top it off, there's even an official website where you can '1989 Polaroid' your own digital images.
Going off the near 650,000 physical copies sold in the first week, that's a lot of Polaroids sitting on desks, bookshelves and probably hanging on walls: nearly eight and a half million to be exact.
It's not completely surprising though. Swift toyed with analogue concepts through the faded treatment on 2012's Red and similar iterations in videos like "22" (in 4:3 format), as well as the literal "Picture to Burn" on her 2006 debut, and in 2010's "Mine" off her third LP, Speak Now - where she toys with the tangibility of physical photos, with the video featuring dozens of photos, representing memories of a what-if relationship, hanging from strings in a forest. And of course not forgetting her recent shout out "I remember / You took a Polaroid of us" on 1989's "Out of the Woods".
That's not saying it's unique to Swift. Vampire Weekend's second album Contra, had a prominent Polaroid cover shot and countless musicians have been fans of the format - everyone from Madonna to Lana Del Rey and even Manic Street Preachers' Nicky Wire, who gave away actual Polaroids (not copies) with his photo-diary Death of a Polaroid - A Manics Family Album book back in 2011.
Swift discussed the concept in her worldwide live stream which clogged up the internet back in August this year: "It's a Polaroid. I just loved the idea. It was kind of an accident and I decided why not make that the album cover". In the same piece she went on to explain her interest in the format, saying that "[I've been] taking so many…for the last couple of years…I like the tangible quality of a photograph."
Polaroids and really instant film in general has found many fans through Instagram – which launched in 2010 with its instant film (Polaroid 669, Fuji FP100C)-aping filters, topped off with a square format and associated FOMO. The concept of immediate-yet-tangible photos also plays against the much-discussed over-reach that digital images have made through social media and the art of documenting everything. At most you get 8 or 10 slides to play with (expense, etc), forcing a bit more thought into what you want to capture, and how you go about it.
You might be familiar with the 1960s plastic-white Swinger cameras, the folding SX-70s of the 70s, or the remarkably tacky Spice Girls-endorsed Spice Cam in the late 90s, but the story of Polaroid began back in 1937, when inventor Edwin Land formed a company specialising in plastic polarisers to reduce headlight glare. The company's first camera was the Polaroid Land Camera Model 95, released in 1948 using monochrome roll film - where the roll had to be unreeled and inserted into the back of the camera, after which the finished shot's positive had to be peeled off the negative. Land then aimed to develop colour film, which involved collaborating with another familiar name: Kodak. This original colour version, first released in 1963, still required peeling off the positive and negative, and so Land aimed to create a camera and film which would produce truly instant shots, without any peeling or similar required from the user.
The culmination of this project was the 1972-launched SX-70, the first SLR with a like-for-like viewfinder, foldable into a just-about pocketable brick and instant out of the camera film. The camera got Land on the cover of LIFE Magazine with the byline 'A Genius and his Magic Camera', and is famed for its use by Warhol (who also used the surreal Big Shot model and shot the likes of Jagger, Lennon, Debbie Harry and Dolly Parton), David Hockney, Ansel Adams and Andrei Tarkovsky. Even early-'80s Madonna was frequently captured using the same model by photographer Maripol, and Swift's recent addition to the camera's work was done on a SX-70 Model 2, the follow-up version that came out in the latter half of the '70s.
At that time, Polavision was the company's next big endeavour (and possibly biggest failure): a Super 8-style instant movie camera complete with a small lens allowing for projection via the Polavision viewer. Skipping forward a few decades to 2008, several other product failures (Polavision included) and the increasingly overwhelming digital competition caused Polaroid to cease making instant analogue film products. But the camera refused to die quietly, and soon after, a Dutch-based company called The Impossible Project bought up an old Polaroid film factory and now produces lines of some of the original film variants – which Swift makes use of to decorate her apartment walls and album covers.
Polaroid later released several more instant film cameras, though these were rebranded cameras from Fujis, such as Polaroid 300 which was in fact the Fuji Instax Mini 7.
Though it's easy to take the Polaroid concept for Swift's latest release on face value, there's something more than a simple aesthetic at play here. Her songs are highly visual affairs describing vivid moments and events. Not only do her handwritten lyrics take you further into her personal scrapbook-storytelling style, but the physicality of photographs - and particularly instant film - is akin to her weaving of imagined and real snapshots of relationships. Much how her songs can be seen to catalogue one-off observations and emotions into a visual and coherent narrative, the photographs offer a similar function – they are effectively the moment she describes in her songwriter process, "[taking] one moment – one simple, simple feeling – and expand[ing] it into three-and-a-half minutes".
At the most dramatic, her stories sit alongside the nostalgia described in that famous Mad Men Kodak carousel pitch: "It's a twinge in your heart, far more powerful than memory alone [which] takes us to a place where we ache to go again" which effortlessly ties this emotional connection to the past through photographs. If I'd quoted the last line of that pitch quote as Swift lyrics from a rare b-side– would anyone have called my bluff?
So don't dismiss the cover and associated shots as a simple publicity stunt, marketing sales tactic or hipster fad, it is a distinctly fitting way of expressing her snapshot songwriting ethos, and it's a surprise it hasn't been used earlier, as some of her early LP covers could have used it to similarly impressive effect.
Finally, a few words of advice: don't, under any circumstances, visit the Polaroid site, it's a digitised walking corpse of a once great photography institution. Go look at Andrei Tarkovsky's Polaroids or the The Impossible Project site instead.
Get the Best Fit take on the week in music direct to your inbox every Friday