Yves Tumour's genre hopping takes a misstep on their cumbersomely titled new LP
"Praise A Lord Who Chews But Which Does Not Consume; (Or Simply, Hot Between Worlds)"
Release date: 17 March 2023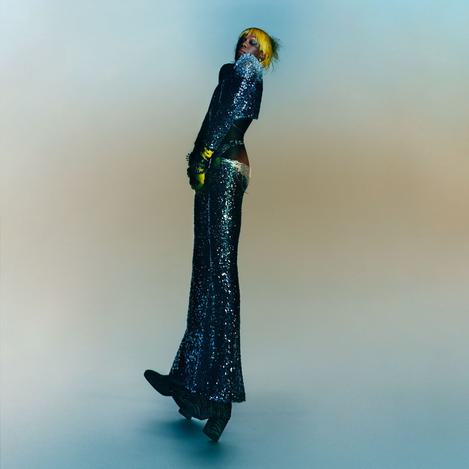 Yves Tumour spent nearly half a decade playing with the boundaries where pop and experimental music meet.
Poking at them, asking what they mean, and pondering aloud why these divisions need to exist. Serpent Music and Safe In The Hands of Love both used the tools of the experimental; abrasive sampling, dissonance, and spatial exploration, and structured them in a way that not only sounded like pop but more importantly carried the feelings of it too. Then with Heaven To A Tortured Mind they dived full in, emerging back with a swaggering record of feral Prince-esque funk and one of the most sublime crossovers in recent times. On their new album, they maintain this dive into pop, but with songs that are nothing like as captivating as their back catalogue.
As with the front half of the recent The Asymptotical World EP, Praise A Lord's is a more sonically straightforward affair. If there is any clear sonic blueprint it'd be Garbage's combination of lightly industrial textures and distorted guitars. It's done in a perfectly consummate manner, but in a bloodless, affected sort of way. In fact, the album's finest moments are all when they break away from this sound. "Purified By Fire" uses a colossal horn sample and chops it into a bombastic victory lap before mutating into a piece of juddering mutant house. It's terrific and shows all the sonic imagination that goes walkabout for periods on the record.

The songwriting manages to shrug off some of the problems of sonic uniformity, though not entirely. The slight vocal performance and delicate melody on "Fear Evil Like Fire" brings something interestingly off balance to an otherwise straightforward soundscape, and the way "Ebony Eye" drops away at the album's close gives an interesting dynamism to proceedings.
However, there are great swathes of the record that lack these moments, instead wandering about in search of a hook. "In Spite of War" seems to be intent on a chaotic, thrashing energy, but the song underpinning it feels slight, ultimately sounding like pop-punk in which neither of those elements are well executed.
It is hard to avoid a touch of disappointment on Praise A Lord Who Chews But Which Does Not Consume; (Or Simply, Hot Between Worlds), but it feels like something of a necessary misstep for an artist whose most exciting work thrives on these kinds of leaps of risk.