Fragments: Time Out of Mind Sessions is a valuable addition to the Bob Dylan canon
"Fragments: Time Out of Mind Sessions (1996 – 1997). The Bootleg Series Vol. 17."
Release date: 27 January 2023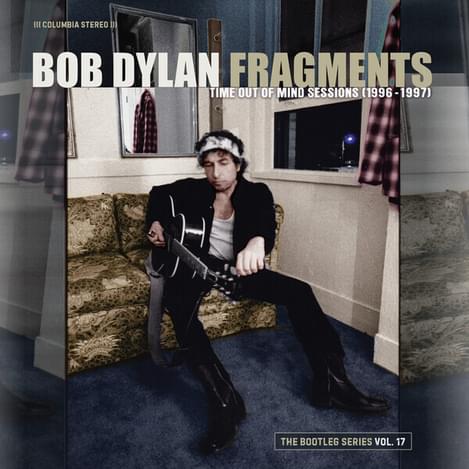 We're accustomed to veteran musicians releasing albums that are tinged with a sense of encroaching mortality.
That all started with Bob Dylan's gloomily overcast yet also discreetly mischievous 1997 masterpiece Time Out of Mind, which launched the legendary songwriter's creative revival that has endured all the way to 2020's sublime Rough and Rowdy Ways.
The sprawling sessions for Time Out of Mind are the focus of the 17th installment of the outtakes and rarities-excavating Bootleg Series releases (available as a 5CD/10LP deluxe box, or 2CD/4LP highlights.
Disillusioned by modern recording techniques following 1990's flat all-stars workout Under The Red Sky, the Minnesota-born legend's creative energies were gradually regenerated by the extensive trawl through traditional Blues and folk songs (a crucial formative inspiration for Dylan's songwriting) executed on the starkly solo acoustic Good As I Been to You (1992) and 1993's World Gone Wrong.
As evidenced by the new 25th anniversary remix of the original album included on all editions of Fragments, the new songs that emerged were far removed from the symbolic poetry that built Dylan's innovative reputation on timeless classics such as Highway 61 Revisited (1965) and Blonde on Blonde (1966).
Influenced by the raw, haunted spirit of vintage Delta blues by the likes of Charley Patton, and occasionally slipping into half-remembered phrases from dusty recordings from the first decades of the 20th century, the language of Time Out of Mind is plain, pared back, shorn of any artifice or excess bulk – wise and worn-out lines like ''when you think that you've lost everything, you find out you can always lose a little more'' communicate more with using fewer words.
These songs are essentially about a love that's irretrievably lost. Whereas the mood of Dylan's classic 1975 break-up opus Blood on the Tracks verges on the bitter(sweet), Time Out of Mind is infused with a dejected fatalism: in multiple songs, the protagonist is on the move but getting nowhere, the album's sense of things grinding to a permanent halt accentuated by the near-fatal illness Dylan suffered in the run-up to the album's original 1997's release. There's sly humour here too: the mesmerizing 17-minute closer "Highlands" switches between surreal comic set-pieces and melancholy ruminations on narrowing horizons.
Fragments sheds light on the gradual development of these songs during the extensive recording sessions, with the songs morphing into sometimes unrecognizable shapes (a robustly funky "Not Dark Yet") as the album's concept moved from loop-based minimalism to swampy extemporizations by a large cast of musicians trying their best to hang on as Dylan steered rapidly through ideas and arrangements.
At their best, the results offer glimpses of equally thrilling alternative directions the album could have headed in – one early variant of "Can't Wait" carries a distinctive whiff of dank, juicy New Orleans variant of funk, while another piano-led variant is pure passionate gospel steaminess. Yet another version, a hoped-up live one, gallops with an exuberant energy that is deliciously at odds with the heartbroken frustration of the lyrics.
There are unsuccessful experiments here too in the name of super-fan pleasing completion – a few unconvincing stabs at "Mississippi" (which Dylan would subsequently nail on 2001's Love & Theft) seem unnecessary. Much more compellingly, there is stunning warm-up rendition of traditional ballad "Water Is Wide", whilst a selection of thoroughly fired-up, often radically rearranged live takes of Time Out of Mind songs recorded between 1998 and 2001 makes a compelling case for a release focusing on Dylan's potent live shows from this era.
Ultimately, Fragments highlights the solidly sound judgement that Dylan and producer Daniel Lanois applied when assembling Time Out of Mind: despite the merits of many of these alternative versions, you're unlikely to want to argue with selections for the majestically atmospheric original album. For once, a remix of a classic album seems valuable: the 2022 edition of Time Out of Mind lifts some of the dense mist that permeates the original album to bring instruments you didn't know were there in from the shadows. The spotlight is even more firmly on Dylan's powerfully charged vocals, which provide irrefutable evidence that a conventionally pretty voice isn't a prerequisite for great singing – it's impossible to imagine anyone approaching the weary authority of Dylan's road-worn vocals throughout Fragments.

Get the Best Fit take on the week in music direct to your inbox every Friday