ALISTA is the solo project of the Parisian songwriter and musician and Jourdan's debut EP, Home Alone, is a hefty and relentless run of passion-fuelled delivery, rhythmic interplay and intrinsic melody. But the story of its creation is one that does not flow so naturally. It's a story of overcoming trauma and loss, and of believing in the power of your own creativity.
Born and raised in the French capital to a family of musicians, their love for the art enraptured him as a child. "Almost all of my family members, on both my mother's and my father's side, play at least one instrument," he tells me. "My father played the guitar and the bass, my mother played the piano, the guitar and she sang. As did my brother and sister. No one makes a living playing music in my family, we are just all passionate. This is why I quite naturally moved towards this family tradition as a child. My father and my uncle recorded albums and played shows. And even though they were only amateurs, it impressed me a lot!"
He started with guitar, before quickly turning to drums. Unable to have a kit at home, he taught himself by tapping on cushions with pens, eventually graduating to the air drums as his stamina and prowess progressed. And his choice of inspiration? "My parents listened to The Beatles, Simon & Garfunkel, Joan Baez, Cat Stevens but also fusion groups like Weather Report and Yellow Jacket," he explains. "Then I discovered the 90s rock scene when I went on vacation to my cousins'. They were listening to Nirvana non-stop and played covers on their guitars. It was a massive slap in the face! They introduced me to groups such as Soundgarden, the Pixies and the Foo Fighters. Many artists of that era influenced me, but I must admit that the one who inspired me the most was obviously Dave Grohl. I would mimic his drumming style!"
At the age of fifteen he quit school and started working odd jobs to make money, but his focus was always on music. "I had no experience besides learning how to play alone in my room," he says. "I wasn't writing songs at the time, I was just playing over the records I liked. I wasn't in a band either because none of my classmates were into that kind of thing. None of my friends were musicians. The only times I played in front of people was during family reunions."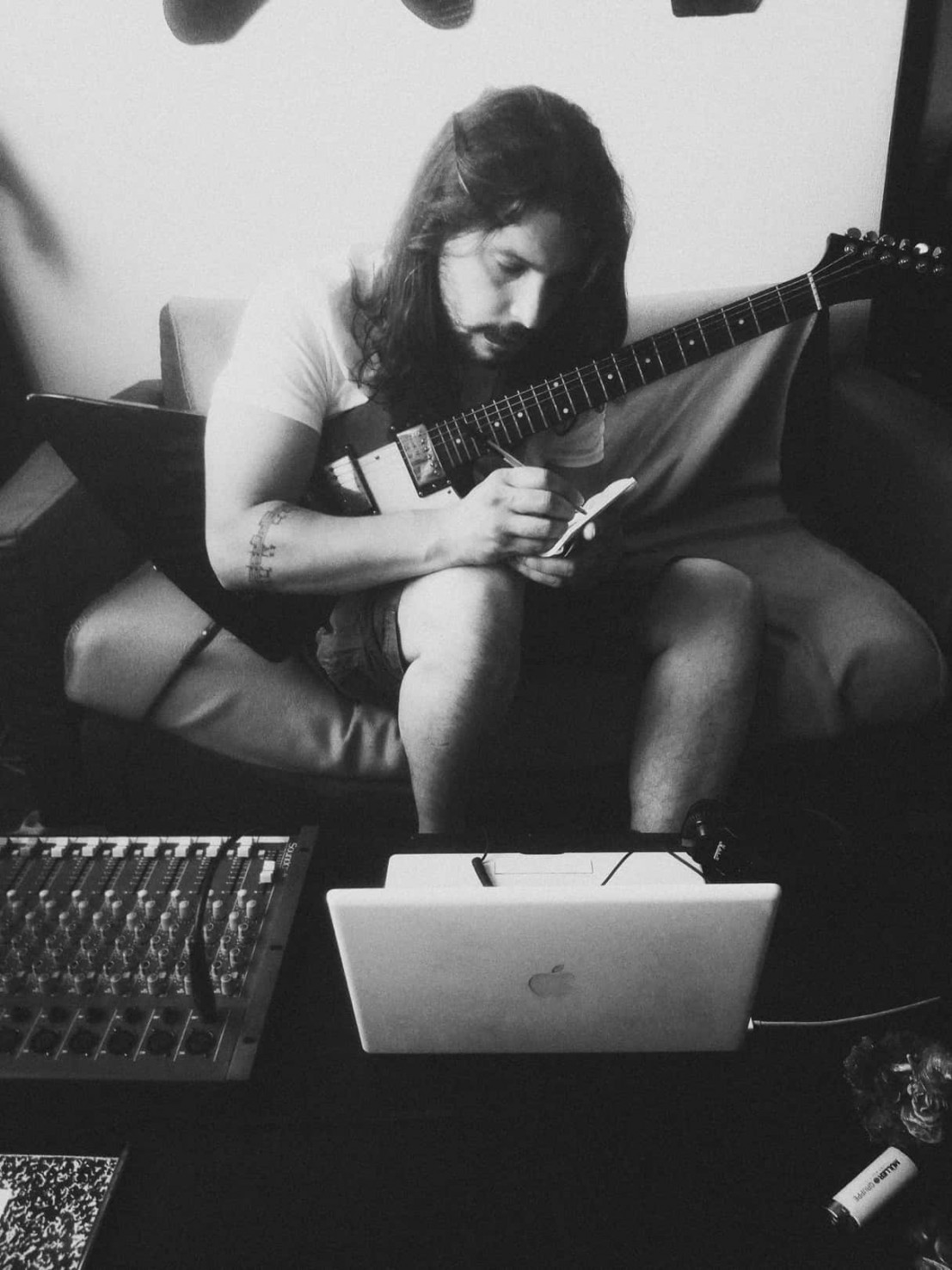 A year later he answered an ad at a local music store and met Octave Zangs, a fellow Parisian creative with whom he formed the duo Cherry Bloom. "He was initially looking for a guitarist, but the group was kinda done," Jourdan explains. "I really wanted to play with them. He told me that they were looking for a drummer thinking that I would give up on the idea of joining the group… So I offered my services as a drummer. The only thing was that I had never played drums in my life, except on cushions! No longer able to say no, Octave agreed to meet me after school. I was so stressed that he would discover that I was not a drummer! And it started like that."
They recorded two albums together and toured in France, Switzerland and England. "Cherry Bloom had no reputation in France," he continues. "The people who followed the project on the internet came from the UK and US mostly. We chose Cherry Bloom because we thought it was cool to have a sweet and pretty name to play energetic music. I was very happy to play in this group. It gave me the experience of shows and recording sessions."
Eventually the band called it a day and Zangs moved to Portland in the US to further pursue his film and music career. However, they kept in touch and Zangs' name can be found in the credits of Jourdan's new release.
In 2012, Jourdan met Luis Felipe Zschoche, lead singer and guitarist of the band Captain Americano. Jourdan auditioned and joined as the drummer. "I didn't know the band before meeting them," he says. "I met Luis through an ad on Audiofanzine which said they were looking for a new drummer. I fell for the style of the group which reminded me a lot of Queens Of The Stone Age, another band that I love! Luis was a very good musician who knew what he wanted and we got along perfectly during the composing phases. All I had to do was follow him to create the drums part. It was very easy to work in these conditions. We had the same influences, which helped a lot to quickly come to an understanding."
The band recorded an EP and toured around France and Belgium playing shows. They began recording their debut album and were getting ready to mix when on 13 November 2015 they attended the Bataclan in Paris to see Eagles of Death Metal. Zschoche and his wife Cécile Misse died during the terrorist attack.
"With the rest of the group, we came to meet Luis and Cécile who were already at the venue," Jourdan explains. "We were on the terrace of a bar about fifteen meters from the entrance of the Bataclan when it all happened. I do not think that it is useful to tell what followed that night."
After a few months had passed the band were invited by Eagles of Death Metal frontman Jesse Hughes to fly to LA and finish their album. "It was a big experience for the three of us," Jourdan says. "Jesse welcomed us into his home with open arms and was extremely kind to us. We went to the Mates studio in Los Angeles to mix with him, Travis Ference and Corey Britz. Octave was there too, he is the one who put us in contact with Jesse. He is the one who shot the music video that we made with Jesse too. At one point, Josh Homme came by to listen to what we were doing. I was very intimidated, but apparently he found it pretty good! Jesse gave us some ideas on arrangements, he was very involved. He even sang backing vocals with us on 'A Dozen Oysters'! Symbolically for Luis, we couldn't have done better than what we did with Jesse. It was an original way to close the loop."
They mixed the record and shot a music video for potential single "A Dozen Oysters" with Zangs, which also featured Hughes. Jourdan played his own part as the drummer, but also that of Zschoche, taking up guitar and vocals. However, it didn't feel right. They released the record and swiftly realised that the band had lost its soul. A split shortly followed.
Looking back now and with all the strange controversies that he seems to be embroiled in, how does Jourdan see Hughes? "I had the opportunity to meet a man who did something for me and the other members of Captain Americano that he did not have to do, at a time in our life that was not easy, and he did it with a big heart," he replies. "I prefer to keep these things in my head rather than reading what Jesse says trying to understand why he says all these things. We come from different cultures, and Jesse's political opinions are of no more concern to me than any other person's."
Having spent his career playing in other people's projects, collaborating, compromising and allowing his own vision to be morphed and diluted in the back and forth of band camaraderie, Jourdan felt it was finally time to go out on his own. With the 90s rock and grunge sound his main influence, he set about writing and recording an EP for his own project. Undoubtedly taking influence from Grohl, he decided to front the project, stepping in front of his kit for the first time. On Home Alone Jourdan not only wrote and played all the parts, he also recorded everything himself. The EP's themes tackle experiences from his life, from the romantic, to his day job working as an undertaker at a funeral home.
Even with previous events in Jourdan's life taken into consideration, he doesn't feel that working a job so close to death bears a negative impact on his being. "Let's be clear, I don't do this job out of passion," he says. "At first, working in a funeral home was a miscalculation on my part. After a long stream of low-paid and ungrateful jobs, I thought I would make better money doing something that only a few people wanted to do. I thought this job would pay well, but I was wrong! Nevertheless, it is a very interesting and enriching work on a human level. I've been doing this job for six years. It is not easy every day and you have to take it in. But like anywhere else, you have to adapt. It has absolutely no impact on my mental health. On the contrary, I feel useful helping people who are going through something difficult in their life. It happens to all of us one day or another, and we need people to do this job. Obviously, there are things that stand out, and it allows you to write songs afterwards!"
ALISTA's debut EP Home Alone is released this Friday. It was written, composed and recorded by Jourdan at the Batcave Studio in Paris and mixed and mastered by Zangs in Portland, Oregon. The EP is in parts raw aggression, in others melodic reflection. It balances cathartic and emotional undertones with joyous delivery, so explosive you can almost hear the sweat hit the drum skins with every pelt of percussion.
Jourdan states, "The ALISTA project is born out of a desire to prove to yourself that you must continue to follow your passions despite the curveballs life throws at you." There's certainly a fierce determination that runs through the EP, bearing up in its pace, its ferocity and its refusal to relent.
Opening track "Chilean Ballad" acts like a calculated whisper, a romantic lure of Spanish guitar and soft storytelling that tricks the tone and sets you up to fall head first into the ruthless rush of what's to come.
One of the standout tracks, "Mr. Harvey" is a nihilistic drive of snare that marks a rigid backbone while Jourdan's laconic drift of vocal softly questions, "Oh, is it bad?" before he lets rip, "Why should you listen to them? Fuck, they can all go to hell."
"Crazy Sad Plank" also offers moments of visceral rage that break into rich vocal harmonies while "Funny Job" is a building growl of lush delivery over a sludging chug of heavy guitar. It's ALISTA at his most 90s grunge, a call and response of rage and melody. However, across the whole EP there's a balance, and the darkness never holds out the light for too long.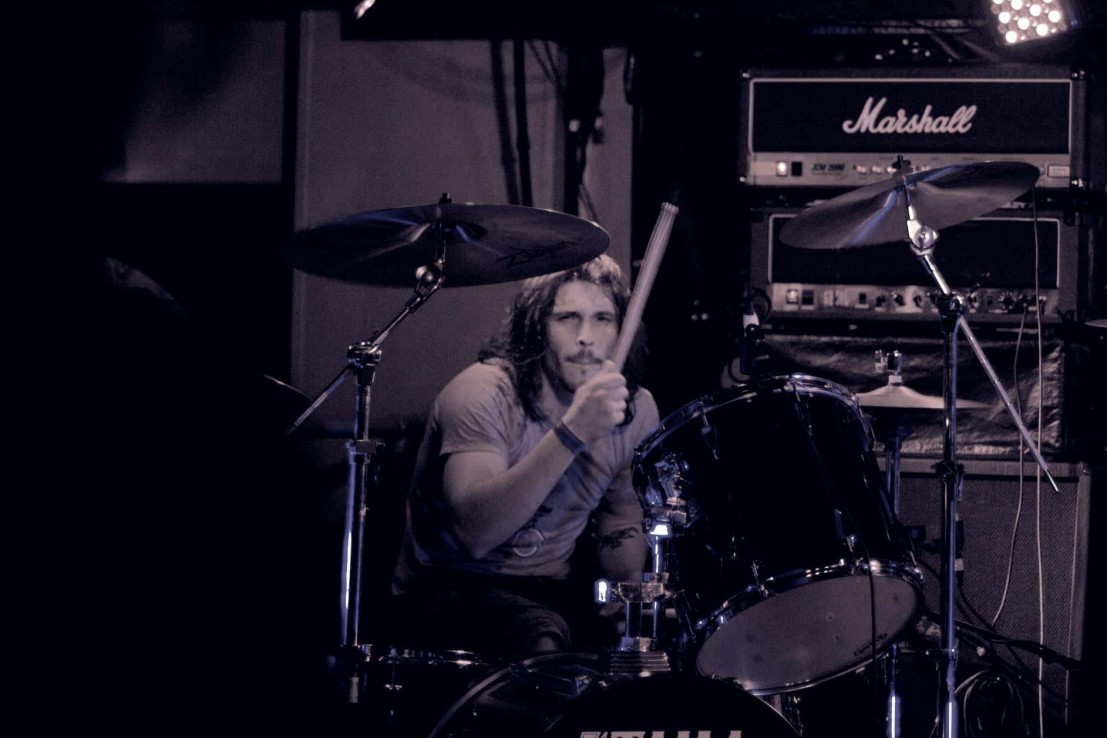 The most remarkable thing about Home Alone is how energising and uplifting it is. Given the preceding context you'd be forgiven for assuming the record may feel emotionally layden or tender, that it's catharsis and creativity might reside in a downbeat or indulgent space. Instead it glows with life, with passion and with a vibrancy that makes you wish for the return of a sweaty mosh pit more than you ever thought possible.
For Jourdan, working on nearly every element of the EP was less about ownership and more about pushing himself, furthering his own musical experience. "After Captain Americano, I tried to play drums again, watching ads on the internet. But nothing was exciting to me," he explains. "I am quite demanding when it comes to joining a group. I need to really love it, get a slap in the face! So I told myself that I was going to do something on my own, and that way I could do absolutely anything I want. And then I thought it would be a super exciting challenge, which would keep me busy for a while. All of this got me started, and that's a good thing."
Jourdan is not fluent in English, and we conducted this interview via a translator. Yet when it came to writing the EP's lyrics, he opted to use the foreign language as another challenge. Aware of rock music's Anglo-American heritage he wanted to create something that sat well with his own ear. "I think that French is not a language suited to this style of music, and I did not want to take the risk of trying," he says. "The advantage of English is that it works everywhere, it is fluid. I write first in French of course, then with my little level of English, I try to make it sound good. Then I use Google Translate when I have a doubt, and I'm not proud of it haha! But in both cases, I use very simplistic language on purpose to remain credible with my level."
"Foo Fighters were one of the main references for the mix, especially their second album The Colour and the Shape." - Julien Jourdan
Another aspect of rock music is the continuous debate over its ensuing prevalence. It feels like a guitar band can't achieve success without spinning off a number of think-pieces questioning the death of the genre. It's fair to say the 90s were the last time that rock had an unadulterated moment in the sun, and it's something Jourdan is acutely aware of. "Honestly, I think the best of rock is behind us, although there are still great bands today fortunately," he says. "At the same time, it is no longer the current trend in popular music. But one day rock will become again the music most listened to in the playgrounds, I do not lose hope!"
The genre itself was dominated by US acts in the 90s, but growing up listening in France and having a different perspective on the past isn't something Jourdan feels impacts on the music he's making. "I have always felt that my music tastes didn't match with what my friends listened to at school. I always felt like an alien because of this," he explains. "And still today, I do not meet many people in the same vibe. The culture of music is not a priority in France, I got used to the idea. So certainly, I'm French, but not musically! And no, unfortunately I did not bring anything new, I am only repeating what rocked my childhood. I did not invent anything, it is also the greatest tragedy of my life haha!"
Rock music comes to life on stage, yet ALISTA is coming to life at a time when there are no live shows, no gigs, no festivals. But that's not something that's proving a particular concern to Jourdan, "In reality, the idea is to share what I like to do at first," he explains. "There is no group at the moment, so I have no pressure regarding everything that is going on. I'm waiting for the release of the EP to find out if I should set up a band. If everyone says, 'Ok, it's nice but nothing more', I will leave it there!"
It's certainly a refreshing way to think about performing. Yet the recordings already have a live energy to them, and part of that can be uncovered in the mix, the interplay between the rhythm section, guitar and vocals and immediacy of the drums. It feels as though they have been placed front and centre. "You got it right haha!" He laughs. "Foo Fighters were one of the main references for the mix, especially their second album The Colour and the Shape. It came quite naturally compared to the compositions. Octave has done a remarkable job!"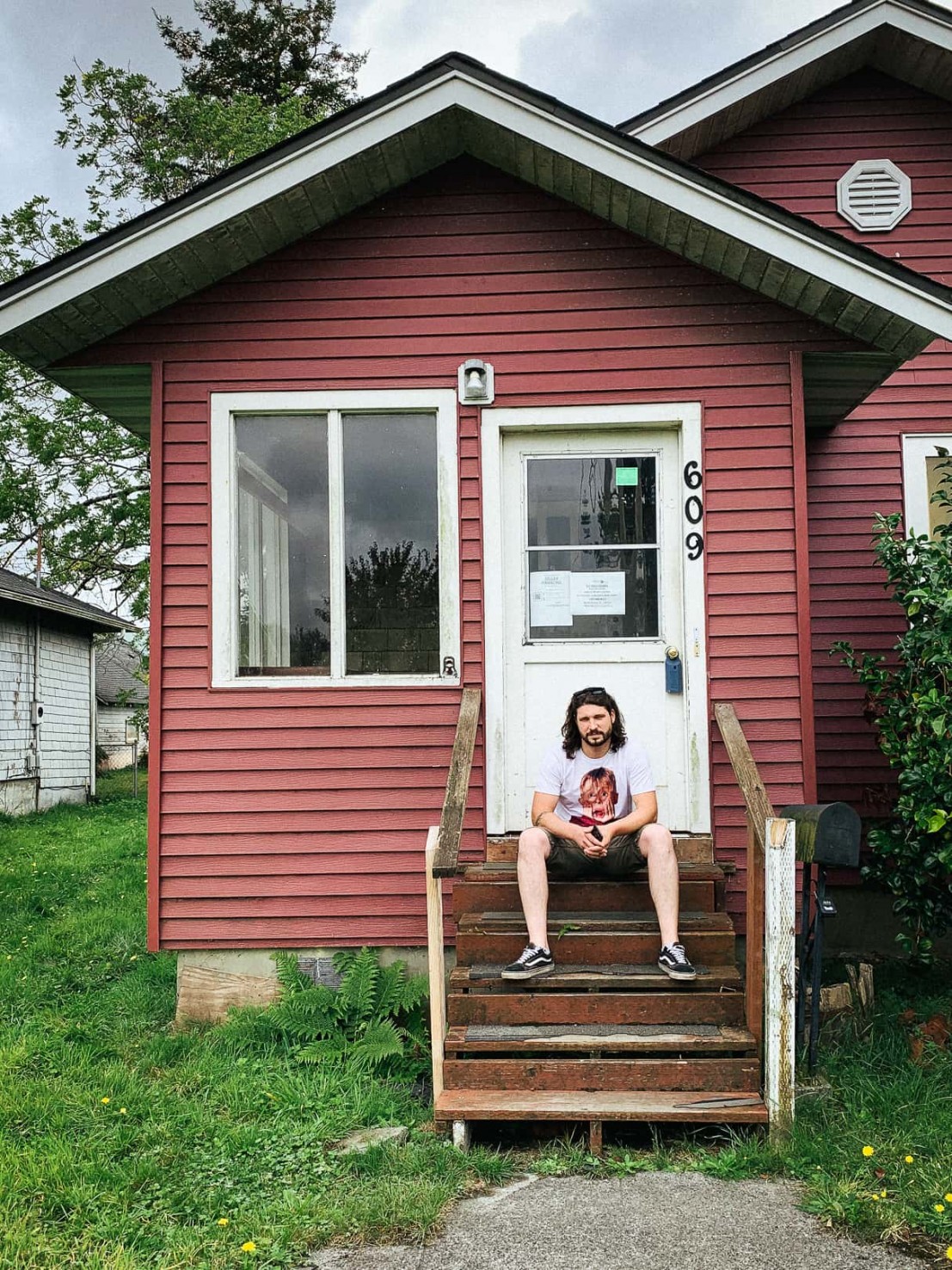 Live music in Paris is suffering from a series of noise restrictions. Strict sound limits are placed on venues and many have been shut down in response to local resident complaints. I was at a show a couple of years ago where a British band refused to play as the PA was so quiet and the drummer was asked to put dampeners on his kit. "Nine times out of ten, when you do the soundcheck, the sound engineer will tell you: 'Guys, you are going to have to play quieter tonight!' It's depressing," admits Jourdan. "It's almost always like that in Paris, unless you play in very big venues of course. But it never happened to me! Most of the venues are not really equipped for this type of music in Paris. However, when you go to see a rock concert, you want your ears to be blasted! But as I said, music is not a priority here. I can understand that people prefer to hear each other talking during a concert, but it pisses me off. I like it when it's loud, I can't help it!"
However much he protests, Jourdan is hoping to get back on stage, even if it's just to add a new dimension to the music he's been living with during the process of creation. When asked if there's any one song he's particularly proud of or that holds a certain meaning he struggles to answer, "None, they all have something personal. In fact, I'm almost already tired of these songs! I would have to play them live to answer your question!" He laughs.
When Jourdan wrote Home Alone he had live shows in mind, it's blatantly apparent in the album's relentless energy. "For a first try, I wanted something short, but effective! Melody and energy, no more. I am an extremely lazy musician haha! Indeed, most of the songs were thought live. If the feedback is positive, then at that point, I could start thinking about this step a little more seriously!"
Take this as positive feedback. And when the opening snare hits of "Mr. Harvey" ring out at ALISTA's first live show, there'll be even more flying Jourdan's way.
The Home Alone EP is released on 10 July. Follow ALISTA on bandcamp at alista.bandcamp.com.