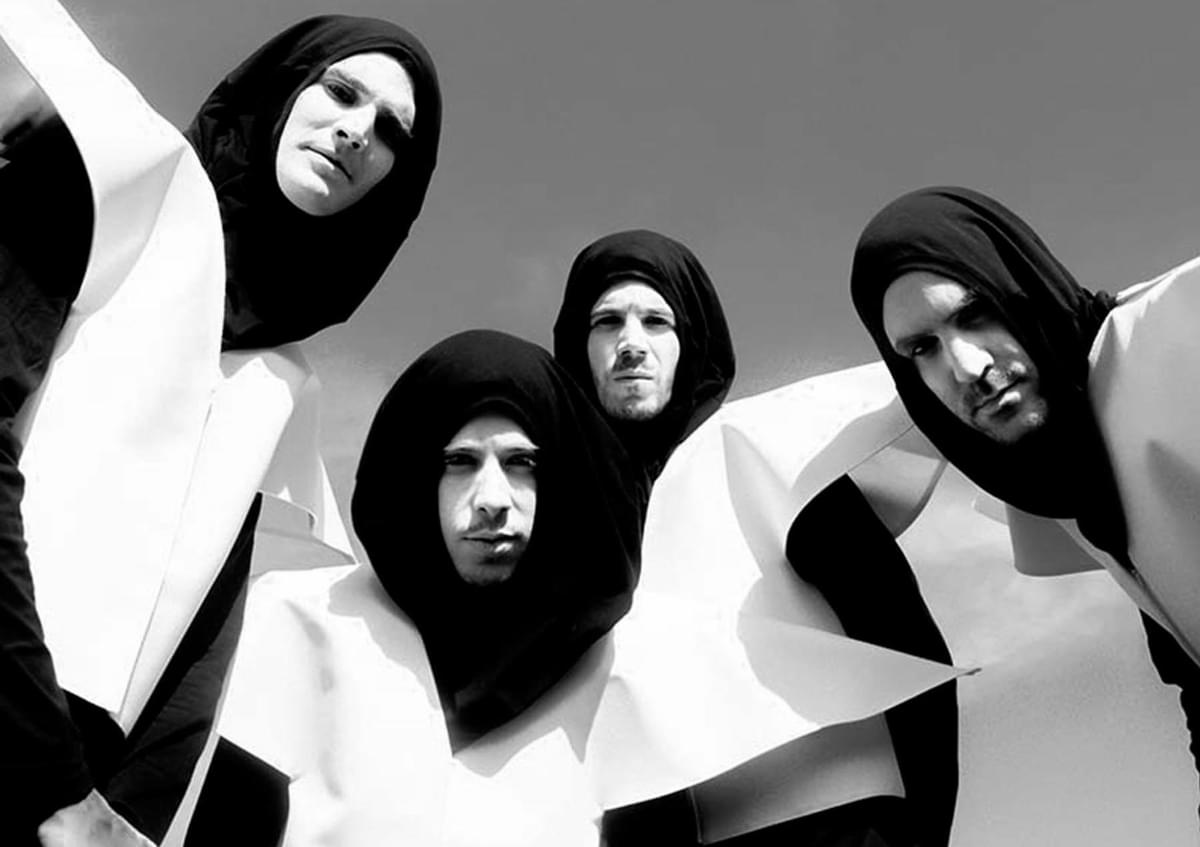 Mainline Magic Orchestra are ready to bring their party to the world
11 January 2023, 12:00
Turning their friendship into a creative collective, Barcelona-based group Mainline Magic Orchestra play with genre and push the boundaries of performance. Showcasing at this year's Eurosonic, they're ready to bring their party out of Catalonia.
"We know each other from a long time ago, before we started making music," says Daniel 2000. "Me and Nile, we met in primary school when we were three years old. Then we met Jordi and John when we were teenagers, when we were all going together to the same skate park. We had some projects together before this one, so we grew up making music together and playing together."
Emerging from the Barcelona-based Mainline collective, the band members Jordi, better known as JP Sunshine, John Heaven, Daniel 2000 and Nile Fee built up their reputations individually as DJs. "Before Mainline Magic Orchestra we had and still have a collective called Mainline that we are more people. We threw parties together and Mainline Magic Orchestra was born from that,"continues 2000. Together, they also present a radio show on dublab BCN, a Barcelona-based arm of the LA non-profit broadcaster.
Originally from small villages in Catalonia, each member grew up listening to a different genre of music from hip-hop to electronic to rock and indie. Heaven plays the double bass, while Fee has his own small studio where they often record. The band formed after they were booked for a live show, a promoter asking for something more than just DJ sets.

"John took his double bass, I had some drum machines, Jordi took the keyboards and we made an improvised concert," explains 2000. "The night before the concert we thought about how we would dress to make it a bit special. So we created the dresses that now we have in our concerts, the night before and in the morning. It started like this. That day, we had a lot of fun and people liked it so we said OK, maybe we can make a project out of this."

Their live costumes, angular and monochromatic, have now become synonymous with the band's concerts, upgraded from early iterations. However, the group had to wait to get back onto stages after their debut performance, with covid shutting down clubs just the weekend after. "During covid time we were working on music and when everything opened again we started making our first concerts and tour, so it's quite recent," 2000 continues.

As the pandemic set in, the band left Barcelona and moved back to the countryside so they could continue collaborating. "We used to have breakfast together and then start thinking about things," says Sunshine. "There is no cinema, there are no shops, there is nothing in the village, so the only thing you can do is to write or produce music. There is no covid there, in the village. Only cows and farmers."

The quartet began to release music in 2021 with their debut single "Xumba Xumba", also the name of their radio show. A homage to 80s balearic pop and the mediterranean, it's a pulsing trip of wobbly summertime house. They released the single in collaboration with their management at Primavera Sound through the German label Public Possession, a connection made via the New Zealand artist Eden Burns. "This was because Daniel was friends with their bands through the internet," explains Sunshine. "We haven't seen each other in real life but hopefully we'll do it very soon because they are kind of family now."

Accompanying the single, they released a surreal and very tongue-in-cheek clip that features, among other things, the band as takeaway kebab meat. "People had a good reaction to the video but it was a bit strange to not be able to play it in clubs or places where people can dance to it, as it is dance music," says 2000.

The group continued to release music as the world and live opportunities opened back up again, culminating in their 2021 Tettsui EP. A disorientating ride of disco, house, throwback pop, 80s sleaze and late night liberation, it mixes their leftfield humour, idiosyncratic style and love of electronic music with a joyous hedonism.

In support of the release they gigged around Spain, France and Portugal, but now have the rest of Europe in their sights. Showcasing this month at ESNS23 in Groningen, the band hopes their infectious energy will captivate the conference and festival guests alike. "They say it's a good opportunity to show our show to the people from the industry and maybe have more concerts around Europe," says 2000. "I would love to play the Super Bowl. That would be great."

The band were chosen to play as part of the EU's ESNS Exchange project, their selection stemming from a collaboration between Catalan Arts and Eurosonic. Catalonia's export body believes the exchange programme plays a crucial role in helping young, emerging artists break out from beyond the region's borders. "We are super happy to be out of Spain and for us it's a pleasure coming to Eurosonic," says Sunshine.

"For me, it will be super nice to play north of here because it will be great to play in a super cold place," continues Heaven.

As well as their forthcoming showcase, the group has been working on new music and are planning a release for later in the year. Balancing the expectations of their live show with their experience as DJs, they're approaching the new material with an open mind. "When we made the first EP, we just made music because of making music and maybe in this new record we are thinking a bit more of making some tracks that can be listened to at home, that are not just to be played in clubs," says 2000. "We want to make a mix on this record of songs that you can play in the club and songs that you can listen to at home."

Sunshine interrupts him with a grin. "Another answer could be that as we are a little silly, we haven't thought about it," he laughs.
Mainline Magic Orchestra perform at ESNS on 20 January. Find out more at esns.nl.
Get the Best Fit take on the week in music direct to your inbox every Friday