The legendary composer of The Lord of the Rings and The Silence of the Lambs talks Josh Slater-Williams through the compositions that inspired him, his formative experiences with jazz and how a love of improvisation informed his art.
He's a three-time Oscar-winner who's composed music for over 80 films, yet – excluding when he's returned for sequels or spin-offs of movies he previously worked on – no Howard Shore score sounds quite like another.
There's a chameleonic quality to the oeuvre, perhaps reflective of how he tells me that every score he works on is deeply personal in its own way. Somewhat to my surprise, when speaking about his Nine Songs selections, each a pivotal composition in his life, Shore nominates just one piece purposefully written for a film: Nino Rota's title theme for Federico Fellini's 1973 film Amarcord.
"It's pieces that influenced me," Shore says of his final choices. "Mostly when I was younger when I was developing my ideas. It took quite a process, actually, because I was trying to show a range of influences."
Talking with the great Canadian composer proves fascinating for how even the smallest attribute of a track can get the mind's gears going for an artist finding their own voice. Bar one piece by someone he's collaborated with in the past, it's not immediately obvious, until he elaborates, how many of his jazz-heavy selections could have been a direct influence on his output for film, television and stage. But then, it's perhaps daft to try assuming what Shore's influences might be when his work is so eclectic in its own right.
In the mainstream consciousness, Shore is likely best known for the music of Peter Jackson's The Lord of the Rings trilogy, for which he received his three Academy Awards – one for the song "Into the West", co-written with Annie Lennox and Fran Walsh. But while he's worked on many grand epics (Martin Scorsese's Gangs of New York and The Aviator, plus Jackson's later Hobbit films), he's just at home with small-scale comedies (High Fidelity, Big, Mrs. Doubtfire) or low-key dramas (Spotlight, Philadelphia). Or in the weirder fringes of studio films, such as Tim Burton's Ed Wood, David Fincher's Seven and The Game, and his iconic work on Jonathan Demme's The Silence of the Lambs.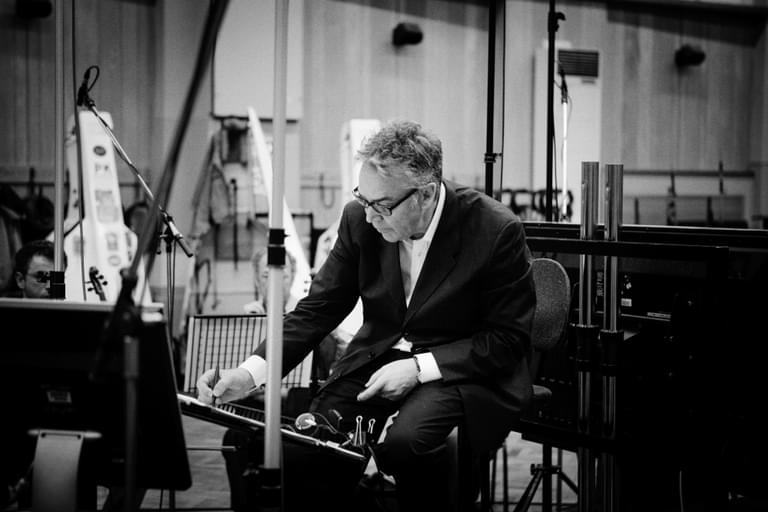 His latest full score, for the sci-fi Crimes of the Future, is his 16th feature with director David Cronenberg. His earliest frequent collaborator, Shore has composed the scores for all of Cronenberg's features since 1979's The Brood, excluding 1983's The Dead Zone. For as much as films like Videodrome, The Fly, Dead Ringers, Crash and A History of Violence may linger for their transgressive material and shocking images of human bodies in distortion, they'd not be nearly as impactful without Shore's soundscapes in accompaniment.
"I like to study his screenplay," Shore says of Cronenberg. "I like to understand his ideas right from the page before I even get into the imagery. We didn't discuss the score [for Crimes of the Future] too much. Right at the beginning of shooting, we talked about electronics and small group recording; some basic ideas. But over the years I've developed a good working relationship with David and we work very intuitively."
"Once I start to get into scoring the film," Shore says of composing more generally, "I'm looking into folders that have all these original compositional ideas written away from the film, and trying to apply those ideas to the film. This is because I know that the compositional ideas are coming from a more internal process than they are in a visual process of looking at the film and working with the onscreen action. So, to me, it's a two-step process. One is the internalisation of the story and absorbing that and writing compositionally. And then the second part is applying those ideas to the scoring of the film."
Does he have a favourite from over 40 years of working with the maestro of mind and body horror?
"I don't know if there's a favourite, but the early films – The Brood, Scanners and Videodrome – were mostly very experimental, a quite electronic process; for Scanners and Videodrome, less so for The Brood. The Brood was the first film. It was 21 strings and kind of guerilla filmmaking at that point. The Fly was the first symphonic score I did with Cronenberg and that was with the London Philharmonic. That was quite exciting", he explains. "And then we progressed through symphonic recordings back into a small group. It's been an amazing process through the years, because it's allowed me a lot of creative freedom to try different things. One of the reasons I was interested in film was the recording studio, the technology, and the Cronenberg films allowed me a lot of access into the recording studio."
Exploring a performance artist couple (Viggo Mortensen and Léa Seydoux) experimenting with organ mutations in a dystopian future, Crimes of the Future is Cronenberg's first feature since Hollywood satire Maps to the Stars in 2014. Just before that in 2012 was the Robert Pattinson-led Don DeLillo adaptation Cosmopolis, which allowed for one of Shore's few co-scoring collaborations with artists from the pop and rock realm: in this case, fellow Canadians Metric.
"I enjoyed that very much and it suited the film quite well," Shore says of the Cosmopolis score. "Working with Emily Haines and Metric was really a great collaboration. The other collaboration I've done for Cronenberg, of course, was Ornette Coleman. That was a really good collaboration on Naked Lunch."
"Dancing in Your Head" by Ornette Coleman
Ornette Coleman was a dear friend. We miss him dearly. And he was a really large influence on my writing.
The Dancing in Your Head album also contained a track called "Midnight Sunrise", which was recorded in Morocco with The Master Musicians of Jajouka, and that piece became the influence for David Cronenberg and myself for the music of Naked Lunch. So, Ornette has always been a guiding light to me about improvisation, about music composition. It was great to be able to work with him.
I encountered his music in the late '60s. And when I was music director of Saturday Night Live, I booked Ornette and his group Prime Time on network television in the '70s, and so that way I actually got to meet him. Recording Naked Lunch was about 15 years later, and that friendship just continued.
I like the freedom that he allowed his music to live in. I liked the improvisational work that he would do with his bandmates. It's great writing, with beautiful productions on his recordings.
"Air for Solo Flute" by Tōru Takemitsu
I discovered Takemitsu's music in the '60s when I was living in Toronto. There was a music library where I lived and I discovered a lot of his electronic music, which was really influential to me at the time. But the solo work was breathtaking. I thought that was quite powerful, being able to write so beautifully for a solo flute.
Takemitsu wrote over 90 film scores in Japan and I got to hear a few of them. I thought the way he approached drama was really interesting. The music library was allowing me to hear music from all over the world. They had tapes and recordings from everywhere. I was exposed to a lot of different approaches, from the Far East to Europe, about how to work with drama and how to work with film.
At the time there were many film festivals fairly regularly in Toronto. Where I discovered the early Cronenberg shorts was in these underground festivals. Toronto in the late '60s, early '70s had a very vibrant art film world that you could indulge in.
"Better Git It in Your Soul" by Charles Mingus
I was studying music in Boston, and I'd actually see Mingus live in clubs quite often. The emotionally overwhelming force of the music and the power of his music was so visceral that I remembered it my whole life. He was a very influential composer, instrumentalist band leader, small group creator, and an incredible recording artist. I would get into the audience of any club where I could see him; in the smallest clubs. I would follow him around and go back to see him in the same week; try to visit as often as I could.
That art of improvisation was something I was really interested in; about how to tap into your inner ideas musically. I was interested in how to use improvisation to be able to allow me to create music compositionally using the pencil and pen, because I was interested in writing scores and being able to write for orchestras, string quartet and small groups. But I thought the art of improvisation was allowing you to express your inner ideas and to be able to connect those to the page.
I would always use the improvisation as a way to bring out the musical ideas. It would always be a way to get into the subtext and to improvise as a way to express yourself musically to the ideas of the drama of the film you might be working on. So, I always use those early techniques to start to write.
"In a Silent Way" by Miles Davis
I first heard this recording in the '70s. I was playing with a Canadian rock group called Lighthouse that had a lot of good jazz musicians. It had a horn section, a string quartet and a rock rhythm section. And even though we were recording songs in the pop and rock world, we also did these long jams, all based on jazz improvisation and blues but using rock rhythms.
It was really the beginning of what we then called fusion, and "In a Silent Way" was part of that revolution of sound; of jazz and rock combining. And so, "In a Silent Way" was very influential at the time and it's a great recording. Teo Macero produced it and he also worked with Lighthouse a bit. I found that period of Miles' work on that recording, and Teo Macero's work on the production, really inspiring.
It's not my favourite Davis album, but I think it was an influential one for me. The way the album was created made me realise that you could do these long improvisations and edit them. What Teo Macero did was so brilliant, how he edited the album into this really great work. It showed me the art of editing, really, and how to use the recording studio. I think it's useful every time I sit down to write, because I start with an improvisatory position to begin with.
All of these great artists like Charles Mingus and Miles Davis and Ornette Coleman, who used improvisation, were always inspiring to me compositionally.

"Mathis der Maler" by Paul Hindemith
I go back to this piece because it shows you incredible composition and beautiful use of counterpoint. It shows you how to use the orchestra in a beautiful architectural way. That was always really inspiring to me. It's great writing, great use of the orchestra. The recordings of the piece can be spectacular.
I first heard this in the late '60s, early '70s. A lot of the tracks that I've mentioned were from that period and that was a very strong period in my life where I was developing a lot of my ideas and personally studying. I was on a journey to discover my musical abilities and identity. I don't know if I'm as influenced now that I'm older, but a lot of these choices were music that was important to me and guiding me a bit as to what was possible.
I think I was discovering everything on my own. I didn't have a lot of mentors. And I didn't have the internet. I had that library, though, which was important to me. It was a way to go in and to discover music on a really wide canvas. It set me on a good course.
"Forest Flower" by Charles Lloyd
Charles Lloyd just spoke to me with his lyricism. That was the important thing to me, because I was a horn player when I was younger. I found his recordings, especially "Forest Flower" – not just the one track but that whole album – really inspiring and very lyrical.
It was just so full of life. It made me realise how improvisation could be used to speak to you so personally. Charles Lloyd spoke so personally to me, as did the solo instruments of the Goldberg Variation from Glenn Gould or the Air for Solo Flutes from Toru Takemitsu. And Lloyd with his own expression, it was like a conversation he was having with you as the listener. That was a great thing to be able to realise as a young writer.
All my works are personal, from the pencil to the page, to musicians to the recording studio. The Cronenberg works are quite special to me. And Crimes of the Future is especially personal. The electronics really are created so specifically for these recordings and it becomes such a personal work of art really. It's like you're crafting it, just step by step, note by note, in such a personal way.
"The Goldberg Variations" by Glenn Gould
The Goldberg was used by Jonathan Demme in The Silence of the Lambs. I had heard the Goldberg in the late '60s, early '70s, but it wasn't until the '90s when Jonathan was using it in the film that I really got to truly appreciate it. So, I mention that as a direct influence; from a performance on a solo instrument directly to you and how it's speaking to you so personally.
The film has withstood the test of time and won five Oscars, all deservingly beautiful works. And in some ways, it was all our best work at that time; for everybody who worked on that film. Something magical sometimes happens on films and you create something that's a summation of all the individual efforts.
And so, you're no longer seeing the set design, or the camera work, or the editing, or the music, direction, or the acting separately. It all just becomes its own work of art.
"Solitude" by Duke Ellington
This piece I tried to arrange myself. It was an early attempt at doing an arrangement when I was quite young, and it was influential to me because I studied composition at the Berklee School of Music in Boston.
A lot of what I was trying to understand at the time was the Duke Ellington recordings: how the voicings were used, how he created that sound. I was so into the inner workings of his arrangements, and "Solitude" was one in particular that I was enjoying listening to so much and trying to understand how he actually created those recordings.
The idea of the inner voicing was something I was learning how to write. I was learning how to arrange and how to write, and I write all my compositions with pencil and paper. I work in an older style currently than what composers are using with a lot of technology. I do use the technology, but it comes later.
I like to work in an older style for a while because I feel that I see the music on the page as a work in itself, so I'm hearing things but I'm visually creating them on paper. That visualisation is what I'm really interested in, and how I've developed my techniques over the years has to do with that visualisation of the music on paper. Ellington in the '60s was the beginning of my understanding how to put things on paper visually, that creates what you're hearing in your head.
In the context of the film, it was so striking and it spoke to you so beautifully. The writing and the melodic idea are so strong and they stay with you for a long time, and this love of his work is really strong. It was one of the factors, I think, in allowing me to go into writing in film, knowing that there was this great cinema that could be created, and you could be part of it with your musical ideas.

I think [the composition] "Amarcord" defines that film. You hear that music and you know exactly where you are. And it's the same thing with his other works that he did. He could so capture the world of the film in his compositions.
When you have those connections like Nino Rota did with Fellini, I think that you really see what can be created by that longstanding creative relationship. I did feel that with David [Cronenberg], but I also felt that with Peter Jackson and Jonathan Demme and David Fincher. Tim Burton as well, with Ed Wood. I've had really good connections with directors.
The recurring collaborations are great because you've built up this language that you're both comfortable with. You've also built up trust and the process. As you've continued working with the same director, you can't go backwards, you can always go forward. When you get that, it's a priceless thing.
Get the Best Fit take on the week in music direct to your inbox every Friday