This month she returns at last with Una Rosa, a record which completely flips her style and wraps hispanic rhythms around autotune, synths and 808s. Recently named as one of Pitchfork's 25 Artists Of The Future, it seems that more eyes are finally be headed her way.
As I spoke to from her Brooklyn home, it seems she's come a long way from two years ago, when she questioned whether she'd ever even make an album again. "I just had a really rough moment and was dealing with a lot of personal stuff" she tells me via Zoom, while snacking on a banana. "Because of that I needed to move away from music as a career. I was questioning everything in my life, to be honest. I was asking what would I do if I wasn't a musician… I was great!" She laughs. "It was actually great, because it had never been a question before and the final answer was: no, I am an artist, I am going to keep making art. But for a while my self worth was tied to music and I realised that to my friends and family… they love me whether I'm making music or not, they love me just for me. It was a very necessary breakdown".
Rubinos is frank about the logistics of making a living as a musician. It's taboo to say, but the majority of which aren't, as the gossip-press would have it, choosing between the Hamptons and Monaco, but rather living in small flats, living on tour buses or working other jobs to fund their art. When I ask her what got her out of her 2019 rut she tells me simply: "I started making an album because I had a contract. At first I was just showing up to the studio and it was like pulling teeth. I had an archive of music I had been working on for several years and my producer [Marco Buccelli] painstakingly went through them with me. I would just show up, just clocking in and clocking out. But that really led to the development of my writing because I had a certain distance from it. I was more detached so I was more open. That led to so many great discoveries musically, and eventually the album started to come together".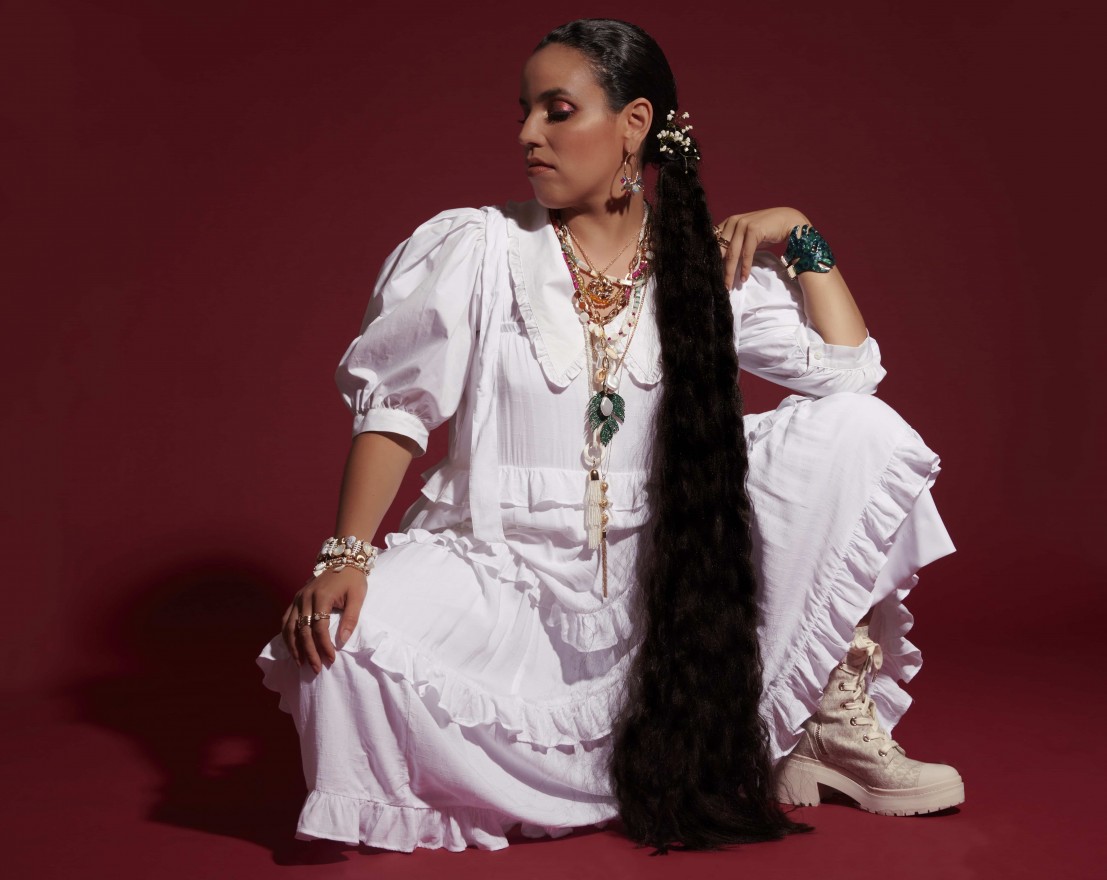 The mental toll of work has always been at the heart of Rubinos' music, whether accompanied by acoustic drums or space-age synths. On 2016's 'Mexican Chef' she paid tribute to the Cuban, Puerto Rican and Mexican workers behind every service industry in America, and on new song 'Working All The Time' she revisits the theme over a tight, electro rhythm. "It's about labour and capitalism" she tells me, "it's about being in debt until the day that you're dead".
Born in Connecticut to a Cuban father and Puerto Rican mother, Rubinos hasn't ever hidden where she came from, but she has also developed a natural wariness about foregrounding hispanic sounds in her music because she knows the box that could put her in. Despite her sound borrowing more from Kanye and James Brown than reggaeton, for example, she's noticed an assumed aesthetic being forced upon her often. It's a theme she explores explicitly on the haunting Una Rosa ballad 'Don't Put Me In Red'. The title is a reference to the habit of lighting engineers at performance venues seeing her name and automatically lighting the stage in the scarlet hue they associate with Latin American art. She says that the journey to the lighting booth to tell them to change it became a regular ritual before each show.
Perhaps because of a new found self-assuredness however, Una Rosa does delve into the sounds of her childhood for the first time in her released work. The motif played by a wind-up music lamp which hung in her abuelita's room forms the heart of the title track; 'Sacude' flips the Cuban rumba sound and on the stomping 'Ay Hombre' she channels the vocals of Cortate Las Venas. Rubinos doesn't just imitate these styles of music though, but translates them through the world of hip-hop and electronica. It's a direction few saw coming after the band-based funk of Black Terry Cat but for Rubinos it makes complete sense; in fact Una Rosa brings her sound closer to where her tastes have always resided.
"That's the majority of the music I listen to", she explains. "It was strange that the music I was making wasn't like it, but it happens sometimes. I was listening to Arca, Mount Kimbie and people like them when I realised that the majority of my listening is actually to music without vocals at all, so this was a long time coming. I love hip-hop and R&B, I love Missy Elliot and Timberland. Then theres Kanye. Kanye is a problematic and controversial figure but I admire his work so much. He's a huge inspiration and continues to be. Moments like the intro of 'Ay Hombre', with these heavy, auto-tuned vocals and the choir, that was a Kanye reference. A space that's aggressive and maximalist".
There is also a theatrical component to the album which came from an adolescent affection for melodramatic divas like Mexico's Lucha Villa, and that flamboyance plays a part in the music videos and vocal stylings Rubinos deployed for the new songs. "I was very inspired by the old tragic singers which my grandma listened to. There's a woman called Lucia Villa who'd sing these frankly terrible lyrics like "you don't want me to love you/break up my Christmas Day"… It was a very tragic, over-the-top vibe which we would all laugh at, very much a woman scorned kind of thing, but seeing the women who performed these characters was a big inspiration for this album".
The detachment Rubinos felt from the songs in their early days meant she began singing from a less personal point of view for the first time. Figures like the lounge-bar diva became characters she embodied in the studio and in her lyrics. "For certain songs I'd dress up in the studio. For 'Who Shot Ya' I wore and sang through a grill". It wasn't about a specific person but rather it was us trying to bring in these elements of play and taking that more seriously. It helped me sing better, I think. One of the big takeaways of the characters has been that dressing up, movement, those kind of elements are very important and legitimate. It's not just mucking around!" she laughs.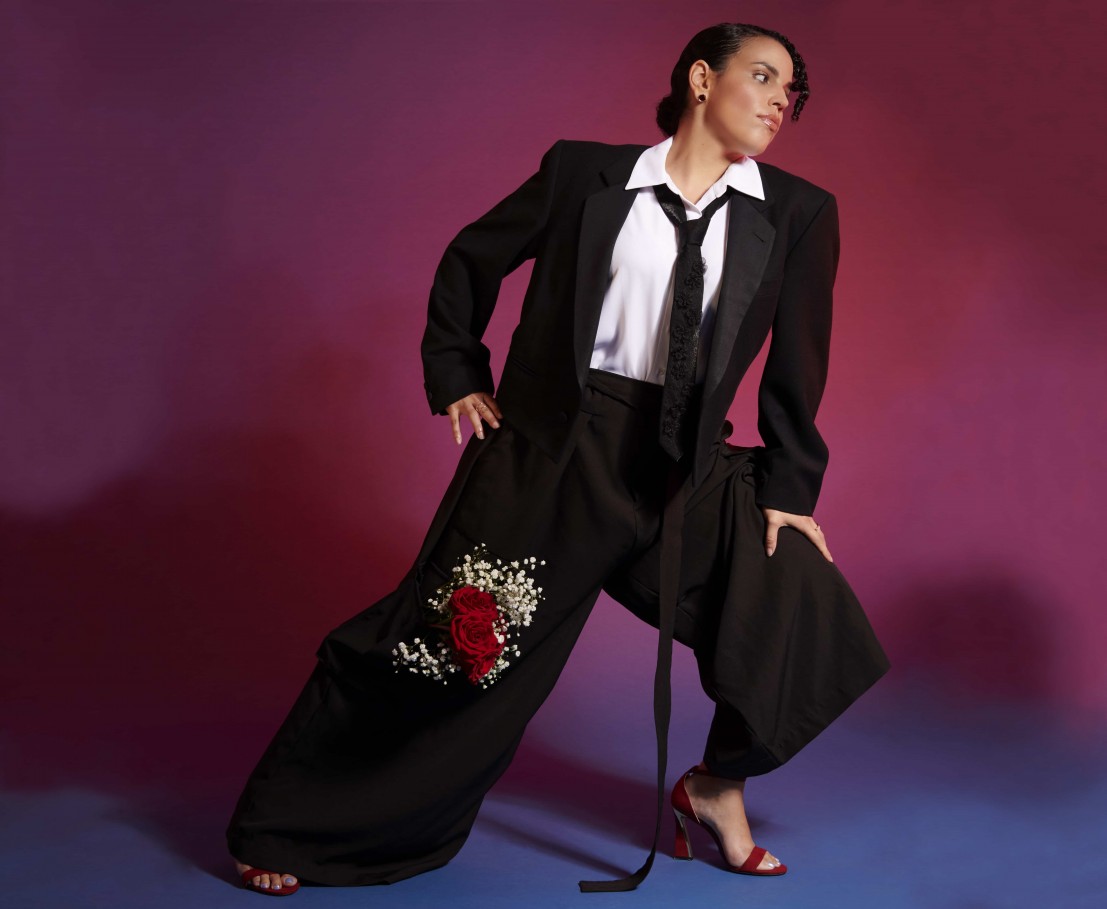 Anyone familiar with Rubinos' work, or those who've seen performances like her KEXP set, know that Rubinos can sing. An alumnus of Berklee College of Music, she has an expressive style which darts up and down the octaves. More than ever though, Una lavk features a heavy manipulation of her voice. I ask her to explain the thinking behind that choice.
"It took a while because I felt I had to prove myself as a singer first, feeling the need to prove that I knew that I was doing and that I was capable of it" she admits. "Live I'd insist I had my voice dry all the time, to show that I could sing. But eventually I realised it wasn't about proving anything and it was more about just making the right music. Letting go of that let me have fun and explore. On the album there's a song called 'Worst Behaviour' where I did a 90s-Maria Carey version with all the runs and everything, and then another sing-talking version where I was thinking about King Krule and Lykke Li. In the end I decided to go more with that one because it felt right! The same thing goes for reverb and delays; it became more about what we wanted each song to convey and choosing the right tools to make that happen".
It's clear that subverting expectations isn't just a choice for Rubinos, it's an instinct. "I naturally want to do the thing that's not supposed to be done. I actually normally have to walk myself back!" she laughs. "Sometimes it's harder for me to make the obvious choice, and that's a huge challenge. I have a habit of calling things 'corny' when really I'm just afraid of what I just made because it was too sincere. We essentially had to ban that word from the sessions" she laughs.
Una Rosa is testament to that instinct within Rubinos. Not only did she make eager fans wait five years for a follow up to Black Terry Cat, but the new record sounds radically different to that one. With a penchant for colourful oddity, and points of reference more specific to her history, it may be harder to unlock than the last. Most English people didn't grow up listening to rumba or Lucia Villa after all. But the album is far from being of those genres either, nor defined by them. Instead it is the world according to Xenia Rubinos, with one eye on the past, and the other firmly on the future.
Una Rosa is out now via ANTI Records