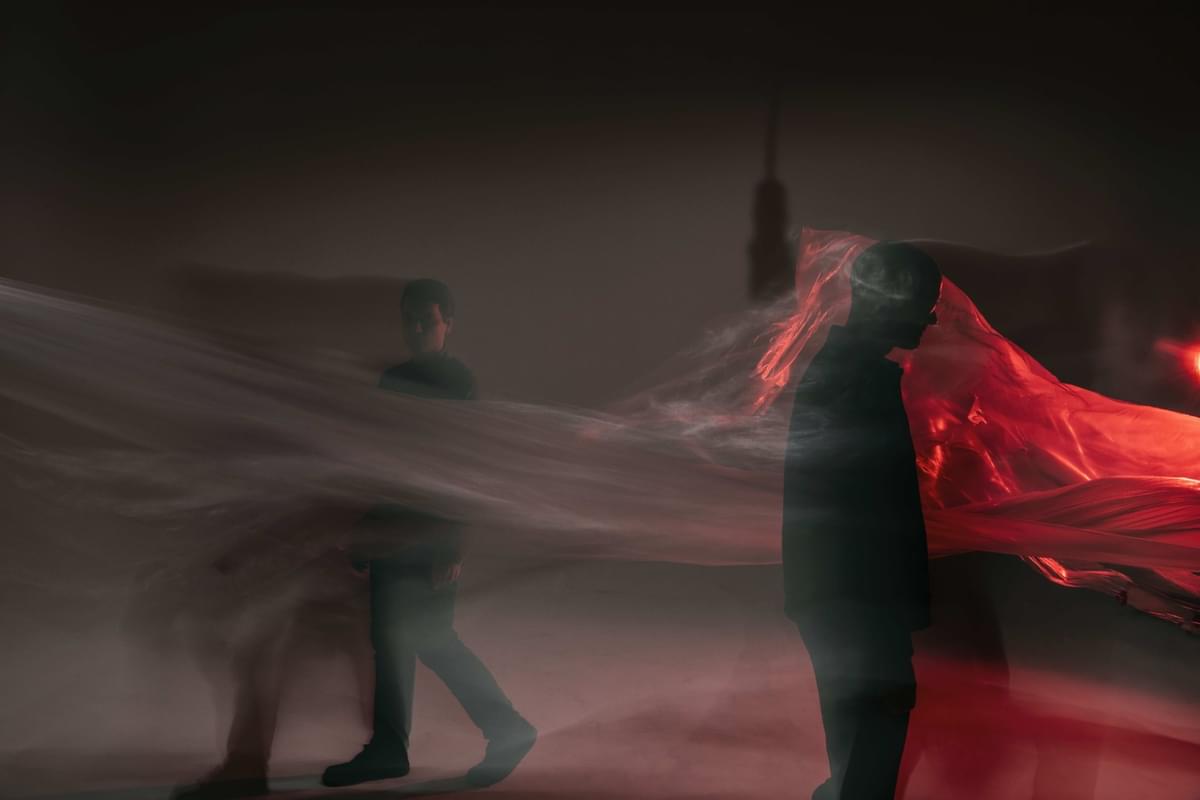 Fyfe and Iskra Strings turned dark into light and friendship into collaboration
18 February 2022, 09:00
It all began at a house in Acton, West London. A young Paul Dixon took violin lessons with his three siblings, their tutor James Underwood often staying for dinner. The chance that a couple of decades later the two might be collaborating on an album during a global pandemic probably didn't come up over the spag bol
As Fyfe, Dixon has forged a well-respected career as a solo artist and songwriter. Signing to Universal Records while he was studying economics at Manchester University, he was unceremoniously dropped by the label before he'd released his debut record. Of course, the silver-lining was a creative path where he called the shots, winning critical and industry acclaim for his own music alongside his work with other artists.
After graduating from the Royal College of Music and hustling on the side as a tutor, Underwood formed the Iskra Strings quartet, touring across Europe with the late Jóhann Jóhannsson who he met via Myspace, and collaborating with artists as diverse as The xx, Sufjan Stevens and Ólafur Arnalds.
Despite the career highs, Underwood still looks back fondly on tea-time with the Dixons. "It was always my dream to study in London, but it's quite tough when you're young. It's quite a lonely place, and I was just skint all the time," he explains. "So to have this chance to go down the road and teach Paul and his three siblings and then have dinner, I just felt like I was in a family once a week."
Across the intervening years the two kept in touch. When Dixon was dropped by his label, he reached out to Underwood for support and understanding. Looking back now, both can see how their relationship began as mentorship, even if it never felt that way. "When you have a student that discovers music for themselves and takes their own path it's just very exciting, so you want to encourage that as much as possible," Underwood smiles. "I don't think at the time I thought of it as mentoring, but when you look at the emails I guess that's what it was, but it was quite natural."
Their friendship eventually evolved into a creative collaboration in 2018, following a recording session with rapper Baloji at Dixon's home studio where Underwood was drafted in to lay down strings. The pair released two EPs which were rolled into 2019's Extended Play. Returning this year with lead single "Interiority", a delicate and lifting riff on philosophical harmony, it's the title track from a forthcoming album which to Underwood, feels to be their true debut. "The first record, we only intended to do an EP together. Then EP two, I had the idea like that's the A side, why don't we now write the B side?" he explains. "So in some ways, this is our first really formed album."
Due 3 June, Interiority is a journey across genres, taking in the many influences of its makers and collaborators. There's bright pop, folk-inflected indie, darkening electronica and a lick of neoclassical. For Underwood, contradictions mark the essence of the record's creation. "I heard this old Brian Eno interview recently and he was saying that when he lived in cities where it's really noisy, he created music which is really calming. When he lived in the countryside, he made records which were really noisy. It's almost like he needs that," he explains. "I felt like in the pandemic, it did change the nature of our record because we wanted to make stuff that felt the opposite of how we were feeling. It was a dark time, but we did a lot of music about wanting to have a sense of wonder, about being warm and embracive."
Dixon and Underwood had already begun work on the album when the world shut down in March 2020. Although sentiment at the time was dark, it pushed them to find light in the escapism of work. "I was feeling so claustrophobic during lockdown, I just wanted to think about space," explains Dixon. "I was Googling outer space and we'd have conversations about stardust and cosmology, anything other than being stuck in this room. I think that became a core influence in my approach to the music and lyrics I ended up writing."
The two wrote remotely at the start, eventually meeting at the studio during the summer of 2020, as restrictions began to lift. The album's tracklist showcases a rich and diverse cast of guests who compliment and stretch the project's boundaries. Conversely, isolation led the pair to experiment more with collaboration. "The previous record we'd done was just us two, and if there was a voice, then it was my voice." says Dixon. "I've been very inspired the last few years of writing with other artists that when you're working with other people the scope multiplies. We were both really keen to try and open up that idea to our project, but try to do it in a meaningful way."
Across lockdowns they reached out to artists with considered pragmatism. "I think that's probably why we were able to get the collaborators, just to be honest," laughs Underwood of the timing. "Some of those people were meant to be promoting their records and they were denied the chance to do that."
Across the album they work with the likes of Rae Morris, Ghostpoet, Kelly Lee Owens and Aquilo. New single "deletia" is a brooding, dynamic and darkly orchestrated strut of electronica that's hooked around the arresting delivery of Ivor Novello-winning, soulful South-Londoner Mysie.
The track's title is borrowed from the same text as the record - Douglas Coupland's 1995 book Microserfs. A diarised novel which follows a group of friends who work at Microsoft during the company's ascension, it's a knowing but warm exploitation of the tech evolution and its often socially awkward pioneers. "I think I saw The Matrix when I was quite young, and this idea that we're plugged into some other digital world just stayed with me," laughs Dixon. "It's these themes of technology and then the relationships in your life, going from a very insular space into real life discoveries."
Underwood re-read the novel during lockdown, posting a copy to Dixon. "I think I was interested in it because of that sense of technology, people finding community and the relationships," Underwood continues. "I thought that was a really interesting theme for now."
The idea for "deletia" came from a friend of Underwood's who was trying to delete his social media history. "He did the thing that no one should do and replied to the comments," Underwood laughs. "He wanted to start again with a blank slate. That's quite an interesting 21st century thing, where we want to delete our past to create this new and redeemed version of ourselves."
At the time, Dixon was working with Mysie for her own project. Adamant her voice would fit the song perfectly, he gently managed to work the offer into conversation. "Her voice is just absolutely amazing and she really loved the music, so we booked another day to write," he smiles, adding that she brought a more human side to the subject matter. "Sometimes there are things about us or memories we have in our lives that are painful or tricky. Sometimes we like to try and bury or delete them and make them our deletia."
While some of us would be quite happy to delete the past two years, you do need a bit of darkness to enjoy the sun. For Dixon and Underwood, it seems they really shine when the lights are out.
Interiority is release on 3 June via Benvolio Music
Get the Best Fit take on the week in music direct to your inbox every Friday