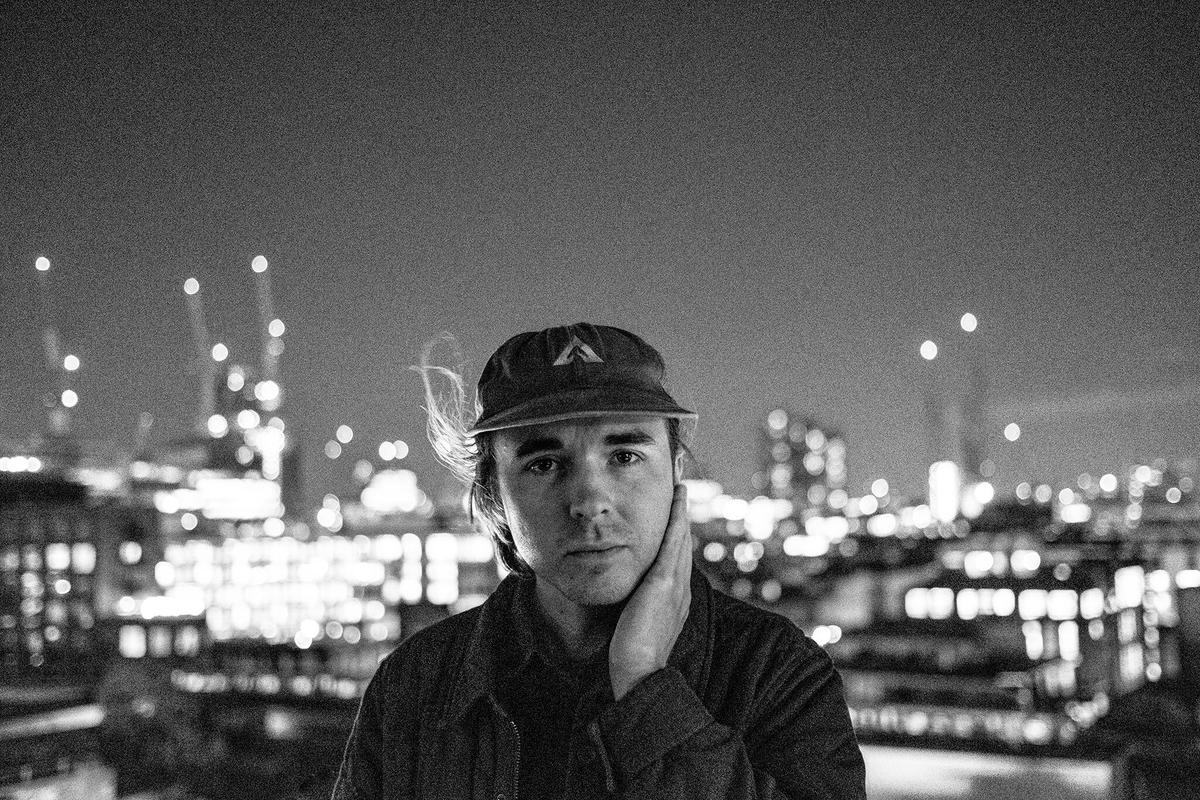 Four albums in, Andy Shauf's still a perfectionist
24 January 2020, 08:01
Towards the beginning of The Party, the 2016 breakout and conceptual album from Saskatchewan-born artist Andy Shauf, the singer addresses a character who has arrived early to a party, and all of the social anxieties that consequently arise; "Pulling teeth 'till anyone arrives."
Fast forward four years, and Shauf returns with a similar scene. On the self-titled opening track of The Neon Skyline, his fourth full-length, we meet our new observant protagonist washing his sins away at his regular haunt, The Skyline, where the barmaid Rose "always knows just exactly" what he needs. His friend Charlie is late, so he sits alone at the bar reflecting on the times there with Judy, an ex. But now there is a sense of contentment, echoed in the spritely rhythm and warm tones as Shauf admits, "I'm just fine / Sometimes I need to clear my mind, you know how that can be."
As I meet Shauf on a visit to London back in November, I wonder whether this sense of peace is reflected in his own life? "Lots of The Party is like my mid-twenties record, and there was a lot more anxiety," he tells me. "So now that the narrator's in his thirties, he can have a couple drinks by himself, haha."
Admittedly I feel some apprehension meeting the Toronto local. We spoke once before - around the time of The Party's release - and it was awkward, to say the least; he clearly didn't enjoy talking about himself, and offered me only monosyllables and long pauses in spite of my efforts to draw more from him. But this time around he seems more ready and relaxed. I ask if he's learnt to enjoy the attention at all now? "A little bit. I've been trying to tell myself for years that when you do interviews there aren't wrong answers because you're... you. It's still a little uncomfortable." And how about the heightened exposure? The Polaris Music Prize nomination? Performing on The Late Late Show with James Cordon? He has a similarly stoic approach: "It's not something that I think about that much. I really like performing and that side of it, but yeah. Most of my brain thinks about it like its a list of things that you need to do, and you want them to keep going well."
Shauf also spent a good deal of the past year performing with Foxwarren, his old band from back home in the prairies of Saskatchewan, as well as finally releasing their collections of songs that they had been sitting on, some of which for the good part of a decade. "Getting ready for that tour was just five days of rehearsal. We had finished the Foxwarren right after I finished The Party, so it was all ready. We finished it and were like, 'What are we gonna do with this?' I had to put out my solo record and tour a bunch, so it was kinda on the backburner from the get-go. But then I kept missing album deadlines, and I still really liked this Foxwarren record, so I thought maybe we could put that out and buy a little time. I mean, that wasn't the only album we put it out, ha, but it sure helped."
Though texturally Foxwarren had all the markings of an Andy Shauf record - with its peeling '70s patina and cockle-warming melodies - it often melted into moments more proggier and dreamlike than his solo pieces that are tied to a specific context, be it the prairies, a party, or a bar. "That's partially a product of working with the other guys," he tells me, "because we do write lyrics and stuff together. But it was also a conscious thing. For the Foxwarren record, the songs that I would bring that maybe we didn't all write together, I would save for my more narrative solo stuff. I don't wanna do story stuff with them; it's nice to have an outlet for more spacey writing."
Foxwarren is comprised of Shauf's childhood friends, Dallas Bryson and brothers Avery and Darryl Kissick. Whilst his newfound platform and connection to ANTI- Records may have helped justify the record deal, the debut received strong praise across the board, and spending time touring it with his oldest friends had a refreshing effect on Shauf. "The people I tour with solo are friends, and they've become friends," he explains, "but you know, it's different going into a tour with people that you're just getting to know as you go along. When it's your old pals it kind of feels like a vacation; we'd hang out pretty much every night and drink beers and just have so much fun. I had moved away and Dallas had moved away, so we hadn't got to hang out like that in a really long time."
As a self-proclaimed perfectionist who's used to recording all of the parts himself, I mention it must have taken a bit of adjustment returning to work with old school friends who have an equal say, and he half-jokes that there were times when someone might be struggling with a section and he felt an impulse to butt in and get it done quickly. But when it comes to it, he adds: "it's important for the band that it's not just me."
Whilst the rest of the band live in Regina, Shauf relocated to Toronto four years ago, where he now has a studio space set up exactly to his taste, with every mic and chair in its right place, no longer interrupted by roommates walking around upstairs. Though he doesn't necessarily find himself writing differently, there's a different energy to the city that pushes him along. "Everyone's so busy and it's so expensive, everyone's on their toes trying to survive. In Regina, it's more like you're on your heels coasting. But in Toronto you feel like you've got to get shit done, and when you've not you feel guilty."
Though getting shit done might not be a problem for a prolific writer such as Shauf, learning to finalise on a song and be content with it can be. Speaking to the iconic Canadian broadcaster and radio host Terry David Mulligan at the tail end of 2018, he admitted that one day he might think he had finished The Neon Skyline, and the next he would scrap it and start again. As Mulligan himself put it: "You're your own worst enemy."
Was the following year any easier? "It was kind of always like that; this one was really tricky. I think albums get harder every time you make them, because you're trying to get better each time. But I love scrapping stuff. Foxwarren always get mad at me, because they'll be like, 'Oh we need to work on that one,' and I'll be like, 'Nah man let's fucking scrap it. Get rid of it.'"
With the pressure of Toronto's thrusting energy and an eagerly awaiting label, The Neon Skyline took its final form regardless of its creator's toil. Though I skirt around the term 'concept album' awkwardly for a little while, he is comfortable using it, and goes on to tell me how he wanted to build on what he had learnt from before. "I've come to terms with it now but when I initially had just finished The Party, it felt really lazy to me. The writing, and the way that I had connected everything felt kinda lazy. So with this one I started with this plan, and I knew not exactly what I was going to do, but I at least knew how I was going to try to do it."
"I wanted to write an outline: this is the plot, here are the plot points, this is what each song is going to do. And that didn't happen, because I feel like that's a little unrealistic and probably would have made for a shit record. But I at least went in knowing that I was going to build it around certain main points. So I wrote 'Neon Skyline' early on and committed to that idea – which I didn't do actually. I tried to scrap that whole Skyline concept. But I had a place and I had characters, so after that I kept writing about those things, hoping that a framework would come."
The record maps the course of a night at The Skyline, where our narrator is meeting Charlie for what we learn is a familiar night of drinking and chewing the fat: "Charlie asks me if I believe in reincarnation. I say 'No, but please go on.'" Charlie also tells him the news that Judy is back in town, from which point Shauf's vignettes become blurred by nostalgia, no longer so easily defined by context. On "Thirteen Hours," an instant highlight with a gloomy groove, we're taken away from the bar to a sore and unresolved resentment in the narrator's relationship with Judy. The narrator falls even more reflective in the lead single "Things I Do," where he realises, "I should have known better than to turn my head like it didn't matter," before a friend Claire who is ordering drinks at the bar breaks the trance and brings them back into the room. In the same way that made The Party so effective, Shauf becomes observant and impressionistic at once, capturing the all-too familiar duality of such a social event.
I wonder if this style of writing he has been refining since 2015's The Bearer of Bad News has helped him process his own social relationships and standing in the world. "If I was actually writing about my own life, it would be pretty boring. Boring songs. But you find a way." I take this as a deflection, so I prod a little. "Charlie's a combination of all my drinking buddies. Judy's probably a combination of all my exes. They're partially real people. With fiction you find a way to embellish your own life."
So what about Andy Shauf? After a while I tell him about our interview four or so years ago, on his thirtieth birthday, and how he seems far more at peace with it all tonight. "A lot of my friends are older than me, and when I was just about to turn 30, everyone was just like 'Ah, thirties are the best!' And I agree! I dunno, there's just a little switch that happens and you're like, 'No one actually gives a fuck about you, so just do it.'" I tell him that's encouraging, as I'm about to turn 29. "Oh no," he replies, "29 is hell!"
The Neon Skyline is released today via ANTI- Records